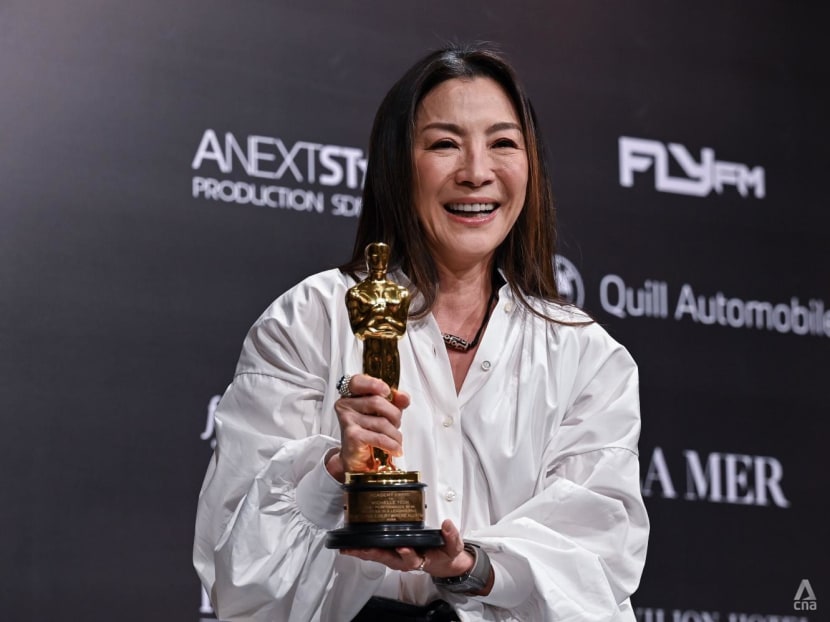 KUALA LUMPUR: Malaysia's first Oscar-winning actress Michelle Yeoh said that she has always refused to be "put in a box" and that has allowed her to sustain a career in the entertainment industry.  
"We should never allow somebody to put us in a box. That's always what I have strived to do is not to be put in a box. If I had been put in a box, I honestly wouldn't have been working so much," she said on Tuesday (Apr 18) during a "homecoming" press conference in Kuala Lumpur - her first in Malaysia since winning an Oscar last month. 
Yeoh made history after becoming the first Asian and Malaysian to win a best actress trophy at the Academy Awards for playing Evelyn Wang in the sci-fi comedy film Everything Everywhere All At Once.
Yeoh said that it was her passion for acting that drives her when asked about what kept her going in the industry.
"In our business, it is very important that you are truly passionate about what you do because you never know what's around the corner … It's not like you have a steady job," she said.
She added that she has been blessed to be able to work with forward-thinking filmmakers that have allowed her to fight for representation and diversity, especially the empowerment of women.
"I don't believe just because you are a woman, you are the weaker sex. That is such an old-school thought. I don't think men think that either so why do we have to continue doing the same," she said.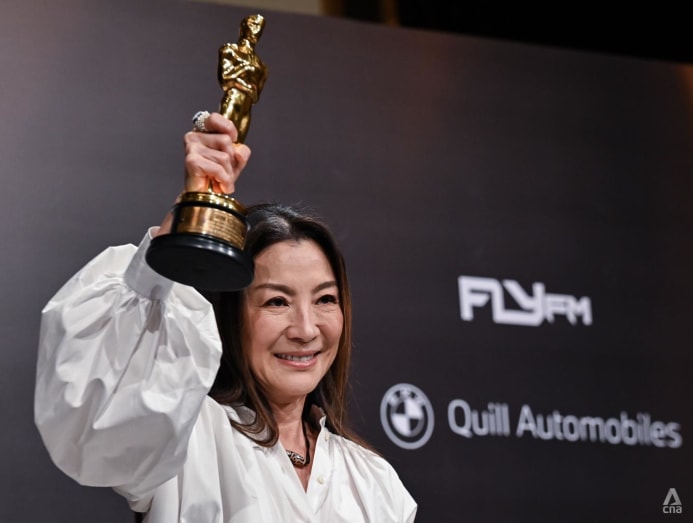 Yeoh, 60, also said that she had never thought of giving up her acting career that has spanned 40 years and that she would not have won an Oscar if she had allowed it to happen. 
When asked about how she broke the glass ceiling by winning the Oscar, Yeoh reiterated that it was about "never giving up".
"Always always show up. It's perseverance. It is hard work. It is to keep pushing the envelope and hopefully you will meet storytellers especially, producers, people who are able to make the change who have the vision and foresight," she said, adding that she would not play a role that typecasts her.  
When asked what could be done to elevate the Malaysian entertainment industry, Yeoh said that they had to be "bold and courageous".
"A lot of times we box ourselves in our comfort zone where we just deal with our own market. When you make a movie, it should be global. It should not be for this or for that. That's when you speak a global language and that's what we strive to do continuously.
"I know there are amazing filmmakers from this part of our world. First of all, we have to create opportunities for them. We have to create platforms that will showcase their talents. I do want to work very closely with heads of studios here, people who can make the change and push the path forwards," she said.
Everything Everywhere All At Once entered the Oscars race this year with a leading 11 nominations and swept seven awards in all - including best picture, best director, best film editing and best original screenplay.
In the movie, Yeoh plays an exasperated Chinese immigrant laundromat owner struggling to finish her taxes. She edged out nominees Ana De Armas (Blonde), Andrea Riseborough (To Leslie), Michelle Williams (The Fabelmans) and Cate Blanchett (Tar) for the award.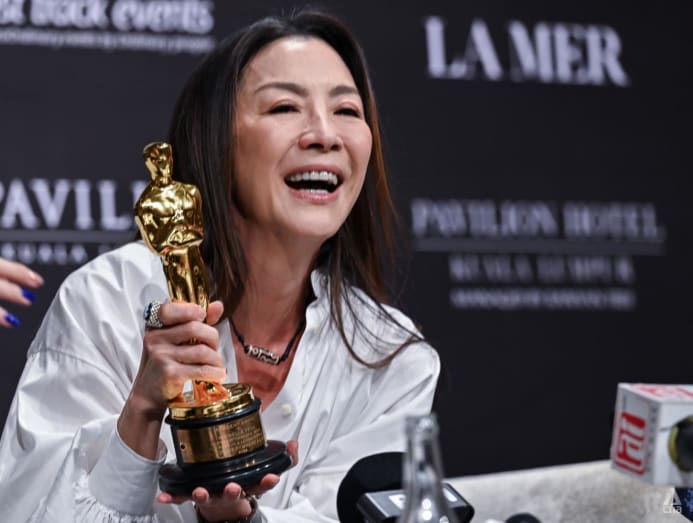 THOUSANDS ATTEND MEET-THE-FANS SESSION IN KUALA LUMPUR
Following the press conference at noon, Yeoh attended a meet-the-fans session at the Pavilion mall at 5.30pm where she was greeted by thousands of people who had turned up to celebrate her historic Oscar win.
As she made her way down the red carpet with her partner Jean Todt, Yeoh stopped by to sign autographs and took selfies with her adoring fans.
It took Yeoh almost an hour to reach the stage where she addressed her fans.
"I'm so happy to be here and so happy to see many of you. These last six weeks continue to be a beautiful dream. I hear your love," she said as she waved her Oscar statue to the crowd.
Yeoh said that she would let her mother keep the Oscar trophy - whom she had earlier referred to as her "little man" - for a while.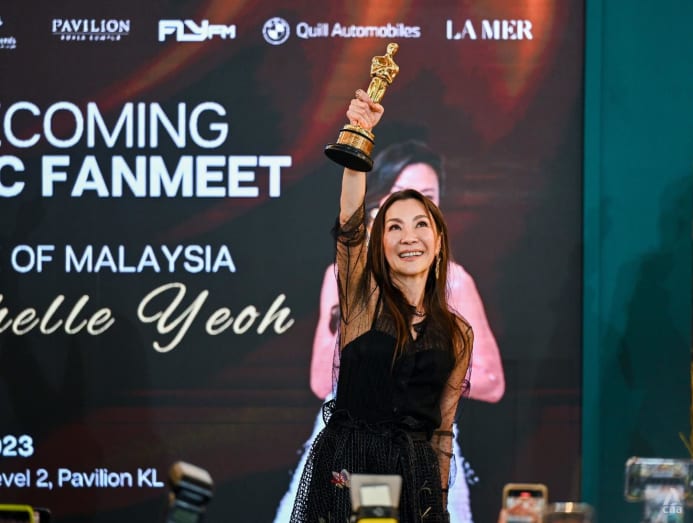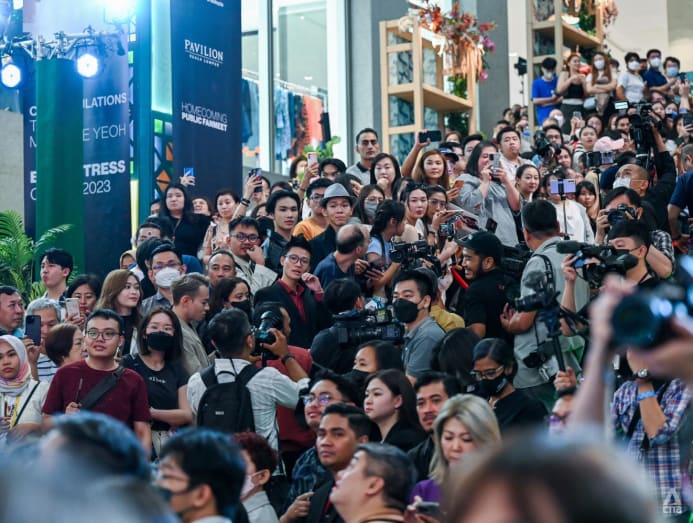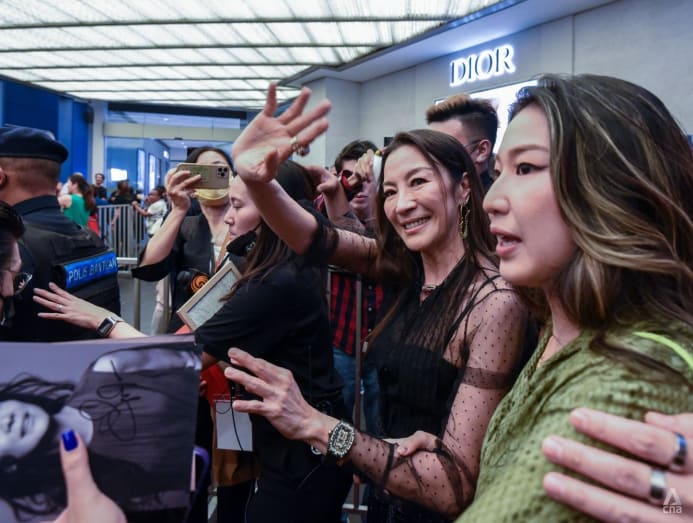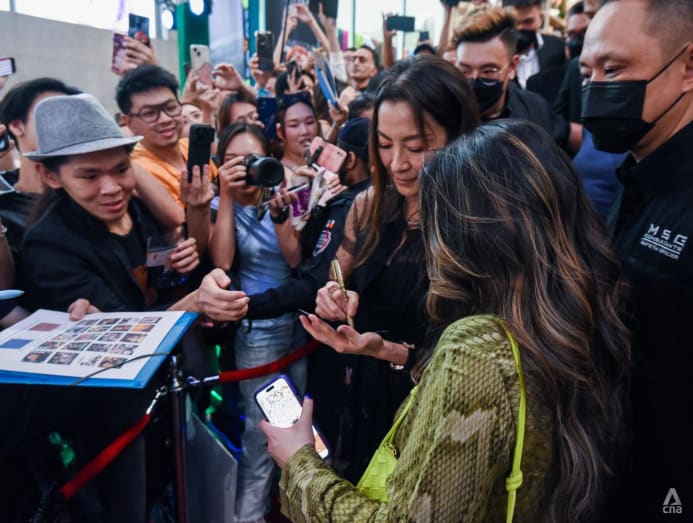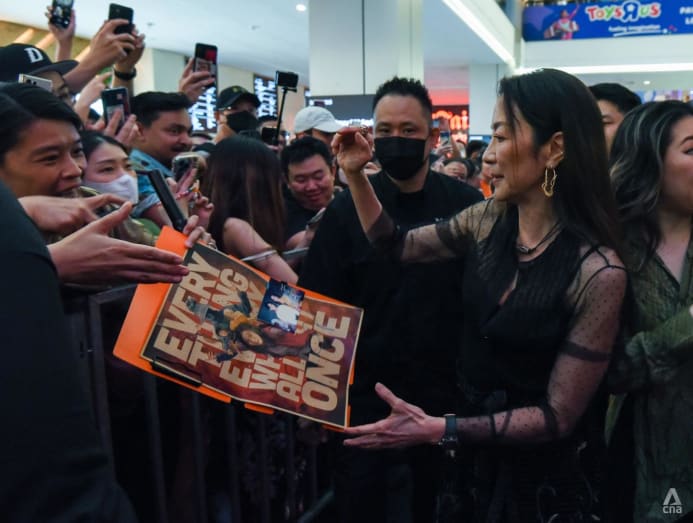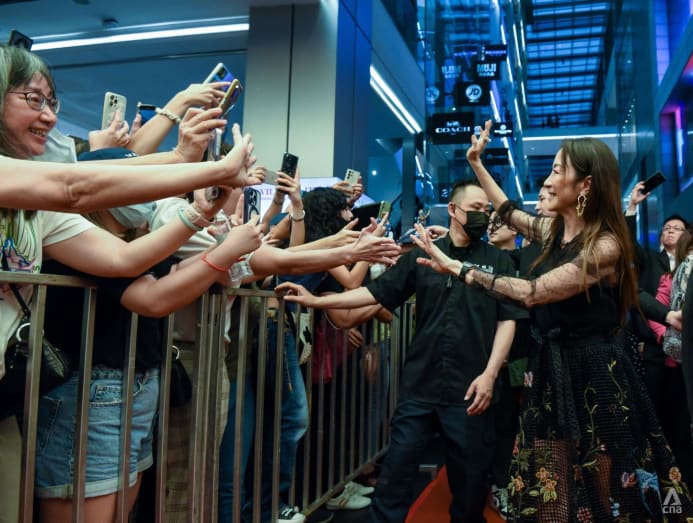 Fans who were in the crowd told CNA that Yeoh was a big inspiration that made a difference in their lives.
Banker Michele Lee, who is from Klang Valley, took leave from work just to see Yeoh on Tuesday. She told CNA that she had been waiting at the mall since 11am.
Lee, who was also celebrating her birthday, said that her wish of seeing Yeoh in the flesh for the first time came true.
"She is such a brilliant actress and an inspiration to me. After she won the Oscars, she told the ladies to 'not let anybody tell you you have passed your prime'. Her win is a testimony (to that)," she said, adding Yeoh had inspired her to take up a masters in sustainability at a local university.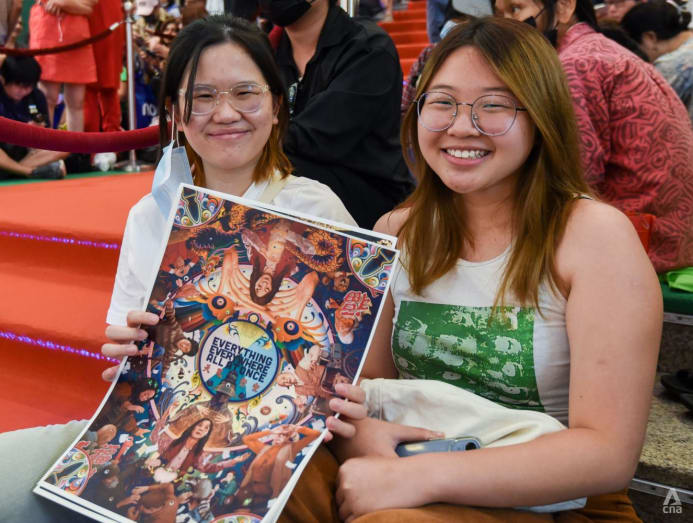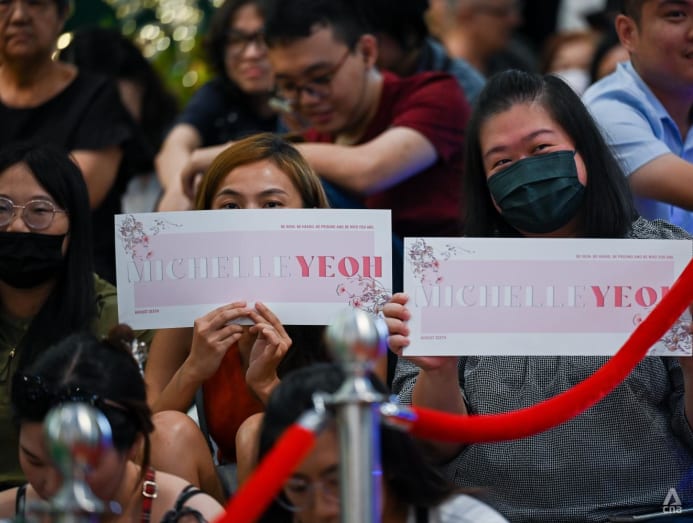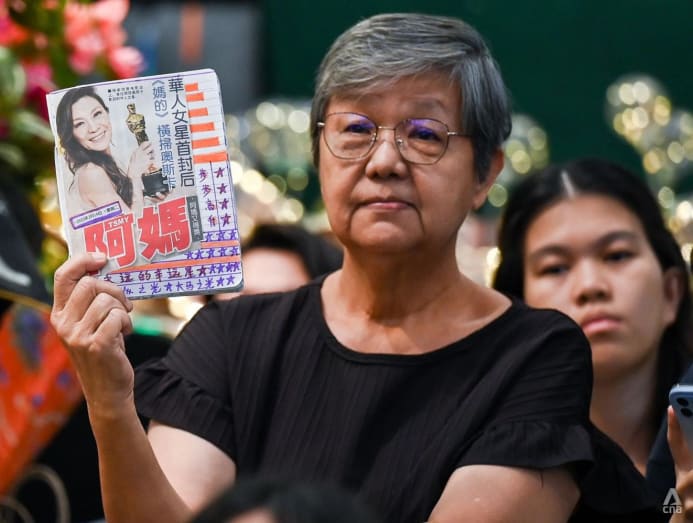 Arts student Chloe Koh, 19, said she hopes to work alongside Yeoh one day.
"I hope to work with her one day. This will be the first time I am seeing her, but hopefully not the last.
"She showed that no matter what age, ethnicity, gender that if you have the passion and put in effort, you are able to achieve your dreams no matter where you are," said Koh.
Another fan, Daniel Sequerah, 27, said that seeing a Malaysian like Yeoh make it big on the Hollywood stage was a rare achievement.
"She makes Malaysians proud and (allows us to) believe that we can do anything we want and achieve our dreams," said the customer service ambassador at an airport.