'Making us proud': Malaysian politicians, netizens laud Michelle Yeoh for historic Oscar win
Mrs Janet Yeoh, the actress' mother, said: "I'm proud of my daughter. She is very hardworking."
KUALA LUMPUR: Malaysian politicians took to social media to congratulate Michelle Yeoh on her historic win at the Academy Awards in the Best Actress category on Monday (Mar 13) for her lead role in hit indie film Everything Everywhere All At Once. 
Yeoh is the first Malaysian and Asian to win Best Actress at the prestigious award ceremony.
The Ipoh-born actress won the Oscar over her fellow nominees Cate Blanchett (Tár), Ana de Armas (Blonde), Andrea Riseborough (To Leslie) and Michelle Williams (The Fabelmans) for her portrayal of Evelyn Wang in the zany sci-fi film.
In a Facebook post, Malaysian Prime Minister Anwar Ibrahim congratulated the actress on her win and paid tribute to her illustrious career. 
"In creating history by being not just the first Malaysian but the very first Asian actress to win in this category, we take enormous pride in her achievement, adding to a long list of successes and capping a critically acclaimed acting career spanning decades.
"Coupled with this latest accomplishment, Michelle's illustrious and exemplary career in this field will certainly continue to be a source of great inspiration and motivation to our homegrown actors and actresses and provide even greater impetus to the growth of our local industry," Mr Anwar wrote.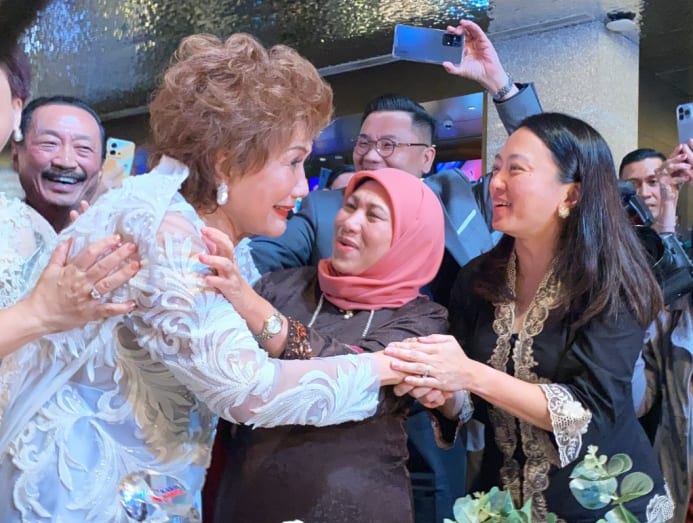 Minister of Youth and Sports Hannah Yeoh praised the actress for her acceptance speech in which she said: "Ladies, don't let anybody ever tell you that you are past your prime." 
"Most inspiring quote for all of us ladies," said the Segambut Member of Parliament who earlier on Monday was at an exclusive Oscars viewing party in Kuala Lumpur with the actress' family and friends. Malaysia's Minister of Women, Family and Community Development Nancy Shukri was also present at the event. 
Mr Wee Ka Siong, president of the Malaysian Chinese Association (MCA), also took to social media to congratulate Yeoh and thanked her for making Malaysians proud.
"Heartiest congratulations to our very own Tan Sri Michelle Yeoh for being the first Asian and Malaysian to have ever won an Academy Award in the Best Actress category.
"Thank you for breaking the glass ceiling and making us Malaysians proud, Tan Sri!" said Mr Wee. MCA is a component party of the Barisan Nasional (BN) coalition.
Also commending Yeoh on her win was Mr Lim Guan Eng, the chairman of the Democratic Action Party (DAP). The DAP is a component party of the Pakatan Harapan coalition.
"Congratulations to Tan Sri Michelle Yeoh! First Malaysian to win an Oscar! Making all Malaysians proud. We are so proud of you!!!" he wrote on Facebook. 
He added in Mandarin that the actress is the "pride of Malaysia". 
"MALAYSIA BOLEH": NETIZENS 
The popular local phrase conveying encouragement, "Malaysia boleh (can)", flooded social media platforms as Malaysians tuning in to the awards ceremony congratulated Yeoh on her win. 
"This is history, Malaysia boleh. Congratulations Tan Sri Michelle Yeoh!" said a netizen on Twitter. 
Another praised the actress for spotlighting Malaysia on the global stage.  
"No longer a little girl, but thank you Michelle Yeoh for paving the way, for letting us hear 'Malaysia' on an Oscar stage. History in the making indeed!" said a netizen on Twitter, referencing Yeoh's speech. 
"This might be the first time the words 'Malaysia' and 'KL' appear in a major show on American TV. Been following her and the movie's success all year ... So proud of Michelle Yeoh," said another netizen. 
In her acceptance speech, Yeoh expressed hope that the award would be a "beacon of hope" for those who looked like her.  
"For all the little boys and girls who look like me watching tonight, this is a beacon of hope and possibilities," she said at the Dolby Theatre at Ovation Hollywood in Los Angeles.
"I'm taking this (trophy) home to (my mom). She's watching right now in Malaysia, in KL with my family and friends. I love you guys, I'm bringing this home to you." 
After the speech, Yeoh's mother, Mrs Janet Yeoh, was seen in a video celebrating the win in KL with family and friends while on a video call with the actress who was displaying the trophy. 
The 84-year-old Mrs Yeoh told CNA: "I told my daughter I love her very much. I miss her. You can see how well she fights, you can see it from your own eyes. Yes, she's very good. Hardworking girl."
Yeoh's niece Vicki, who is also in the film industry, draws great inspiration from her aunt's success.
Even though Michelle spent a lot of her time overseas, she has never neglected them, she told CNA.
"She's like a mother to us as well because she has no children but she keeps telling us, 'you know what, I don't need anybody. You are my kids, you are part of me as well.'," she said.
"She's always there through all our journeys. Through university and graduation, she's always there for us. She's the most supportive aunt you will ever get."
Besides Yeoh, Everything Everywhere All At Once won big at the 95th Academy Awards. It swept seven awards, including best picture, directing as well as three of the four acting categories.  
According to IMDb - an online database of information relating to films, among others - Yeoh has won more than 40 awards for her role in Everything Everywhere All At Once, including a Golden Globes Awards as the Best Actress in A Musical or Comedy Motion Picture and a Screen Actors Guild Awards for Outstanding Performance by a Female Actor in a Leading Role. 
Additional reporting by Melissa Goh.