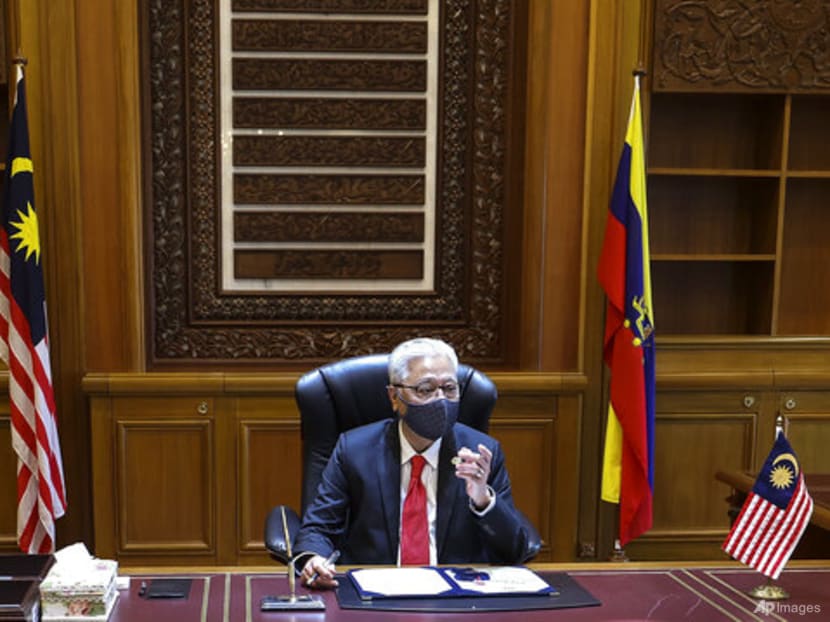 Many of the ministers have been retained from the Muhyiddin-Yassin led Cabinet
Among the senior ministers, Mr Mohamed Azmin Ali keeps his trade portfolio while Mr Hishammudin Hussein will now oversee defence
Senator Tengku Zafrul Tengku Abdul Aziz has retained his finance minister portfolio
Mr Khairy Jamaluddin, who oversaw Malaysia's COVID-19 vaccination programme, will now serve as health minister
KUALA LUMPUR: Prime Minister Ismail Sabri Yaakob unveiled a Cabinet line-up with four senior ministers on Friday (Aug 27). 
No deputy prime minister has been appointed.
The four senior ministers are Mr Mohamed Azmin Ali from Parti Pribumi Bersatu Malaysia (Bersatu), Mr Hishammuddin Hussein from United Malays National Organisation (UMNO), Dr Mohd Radzi Md Jidin from Bersatu as well as Mr Fadillah Yusof of Gabungan Parti Sarawak (GPS).
Mr Mohamed Azmin remained as international trade and industry minister. Dr Mohd Radzi and Mr Fadillah also keep their education and works portfolios respectively.
Mr Hishammuddin, who was the foreign minister, will now serve as defence minister. 
All four of them also served as senior ministers in the Muhyiddin Yassin-led Cabinet. Quite a few ministers in Mr Muhyiddin's Cabinet were also included in the new line-up.
Senator Tengku Zafrul Tengku Abdul Aziz has retained his finance minister portfolio.
Mr Khairy Jamaluddin, the former minister of science, technology and innovation who also oversaw the country's vaccination programme, will now serve as health minister. 
Former health minister Adham Baba will now take over the science technology and innovation portfolio.
Mr Saifuddin Abdullah, who served as communications and multimedia minister, will again be in charge of foreign affairs. He served as foreign minister during the Pakatan Harapan (PH) administration.
The prime minister, in his televised speech announcing the line-up, said he would ensure that this Cabinet emphasises a high-performance work culture. 
"Therefore, each ministry needs to make short-term and long-term planning and achieve the targets. For that, each ministry needs to prove its initial achievement within the first 100 days," he said.
The prime minister added that he hoped the Cabinet would inject new confidence for the country to rise and unite in the fight against COVID-19.  
The swearing-in ceremony will be held on Aug 30 at 2.30pm.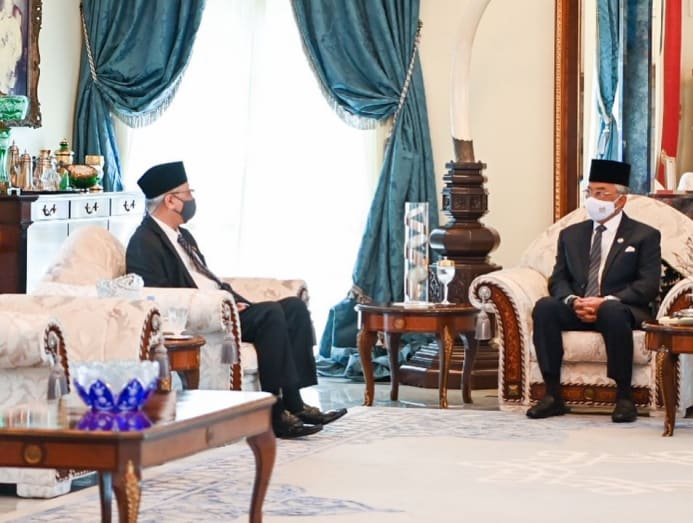 The Cabinet line-up was unveiled after Mr Ismail Sabri presented the names to King Al-Sultan Abdullah Ri'ayatuddin Al-Mustafa Billah Shah in Kuantan, Pahang, on Thursday morning.
Mr Ismail Sabri was sworn in as prime minister on Aug 21, following Mr Muhyiddin's resignation last Monday. 
Mr Ismail Sabri's appointment is widely seen as UMNO's return to the front seat of national politics, having been defeated in the 2018 general election when UMNO-led Barisan Nasional (BN) was replaced by PH as federal government.
The PH government later collapsed in March 2020 following the exodus of Mr Muhyiddin's Bersatu from PH and a number of MPs from PKR, who worked together with BN and other parties to form the Perikatan Nasional (PN) government.
However, infighting among the new partners saw a number of UMNO MPs withdrawing their support for Mr Muhyiddin in early August, causing him to lose his majority in the Lower House.   
Malaysia's 220 MPs were then asked to submit a statutory declaration stating their preferred prime minister candidate to the palace, and a total of 114 MPs picked Mr Ismail Sabri, giving him a simple majority.
Mr Ismail Sabri was supported by 50 MPs from PN and 41 MPs from BN. Additionally, 18 lawmakers from GPS, one from Parti Bersatu Sabah and four independent lawmakers also backed Mr Ismail Sabri.
Another UMNO politician who was said to be in the running to be nominated by the party as its prime minister candidate was veteran lawmaker Tengku Razaleigh Hamzah. He abstained from backing Mr Ismail Sabri.
Last Thursday, Mr Muhyiddin said PN's support for Mr Ismail Sabri was "conditional" and he must ensure that his Cabinet appointees are those who have integrity, trustworthy and free from court cases. 
King Al-Sultan Abdullah had earlier decreed for the MP appointed as the new prime minister to seek a confidence vote in the parliament as soon as possible. 
He called for all parties to work as one team and set aside the "winners take all" mentality. 
On Monday, Mr Ismail Sabri said opposition politicians would not be appointed as Cabinet ministers. If opposition lawmakers would like to contribute in the country's fight against COVID-19, they can do so via the National Recovery Council or the special committee, he added.
Three leaders from the opposition PH coalition were invited to meet the prime minister on Wednesday. 
A joint statement issued later stated that they have reached consensus on parliament's role, good governance, judiciary independence and institutional reforms in the context of "Malaysian family", a concept introduced by Mr Ismail Sabri to promote inclusivity across religious, racial and ethnic boundaries. 
Mr Anwar Ibrahim, the opposition leader, also said that PH will not "complicate" the confidence vote for Mr Ismail Sabri if the government introduces "pro-people" programmes in its COVID-19 management.
The opposition has expressed disappointment over the Cabinet line-up. 
In a Facebook address on Friday, Mr Anwar noted that Malaysia faced an acute COVID-19 crisis and economic problems, especially for those in the lower-income group. 
"But the steps taken only recycles ministers who don't show the ability to handle the problems effectively," he stated.

He added that the opposition would continue to be vocal in monitoring and objecting to the government if there were no programmes launched to better handle the pandemic, and bring changes to people's lives.
Democratic Action Party secretary-general Lim Guan Eng also wrote in a statement on Friday that the new Cabinet is "an almost identical line-up as the previous failed government". 
"The return of the recycled Cabinet of the previously failed PN government will put into doubt the commitment of the new prime minister towards not only winning the battle against COVID-19 and the economic crisis," wrote Mr Lim.
"It will also raise scrutiny whether Ismail is genuine about undertaking concrete institutional reforms to protect our democratic and constitutional rights as expressed during the meeting with Pakatan Harapan three top leaders two days ago."