Different district, different noodles: Sabah Chinese cuisine a reflection of immigrant history and adaptation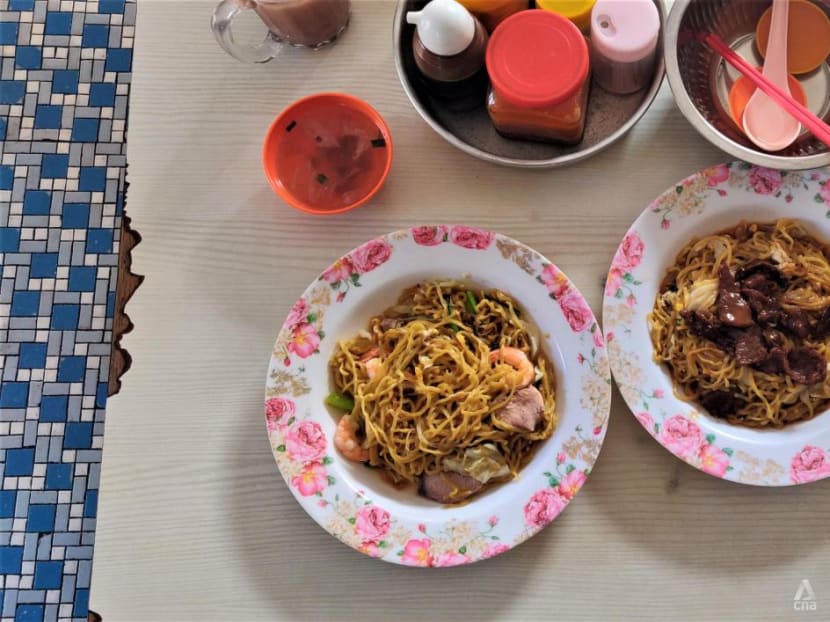 KOTA KINABALU: Sabah is well-known for a variety of Chinese noodle dishes, each named after the districts in the state. 
In Tuaran, the noodles are wok-fried until partially crispy with a beaten egg, before protein and vegetables are added. In Tenom, the noodles are drenched in silky egg gravy and served piping hot to the customer.
One similarity among the Tuaran mee, Tenom mee, Beaufort mee, Tamparuli mee and the like is that they all use fresh egg noodles that are wok-fried over high heat. 
However, appearances and ingredients vary. For example, the Tuaran and Tamparuli noodles are dryer in appearance, while the Beaufort and Tenom noodles are served in gravy. 
Noting the different versions, Mdm Siaw Shui Lian, the director of the women's division in the Kota Kinabalu Hakka Association explained that this was so because the Hakka and other immigrant communities from different parts of China had congregated in specific districts. 
"For example, Tenom and Kudat districts have a lot of Hakka who were immigrants from Longchuan county and their primary occupation was agriculture, hence the focus of simpler, filling dishes." 
"You also have to see what ingredients are locally available, and what they adapted to fit their taste buds," Mdm Siaw said.
Then there is also ngiu chap (literally "mixed beef") noodles in Kota Kinabalu and neighbouring Penampang district. The first ngiu chap shops were said to have roots that traced back to Hainanese immigrants.  
Over the years, these noodle dishes achieved not just local fame, but also gained popularity among Malaysians from other states and even foreign visitors.  
They have become synonymous with Sabah, Mdm Siaw added.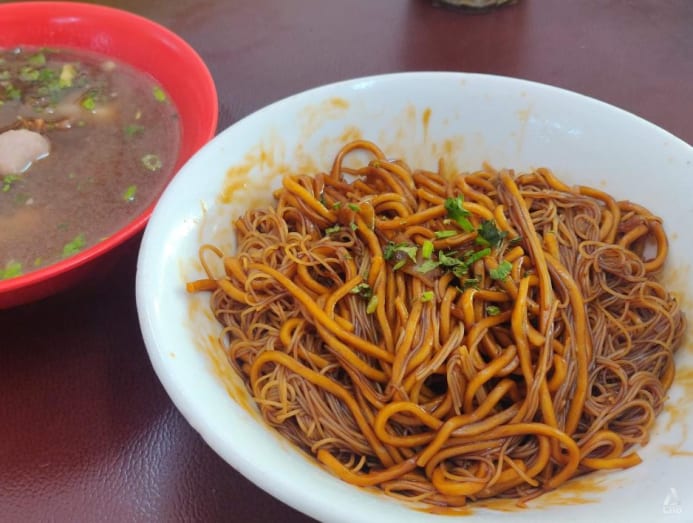 TUARAN MEE: WOK-FRIED EGG NOODLES 
Lok Kyun Restaurant in the coastal Tuaran district, about an hour's drive from Kota Kinabalu, is a well-regarded institution serving Tuaran mee. 
It has been standing along Jalan Keough in the town centre for nearly 70 years.
Before the COVID-19 pandemic, its proprietor Liong Ten Sau, 72, was kept busy especially on the weekends to satisfy the cravings of locals and visitors.
"The most important ingredient is the beaten egg, and you can match any meat ingredients with Tuaran mee. We can have seafood, beef slices, char siew and chun kien (egg rolls with pork filling) or even sang nyuk (pork slices) and ribs even. The main thing is that you're willing to pay for it," he said with a laugh.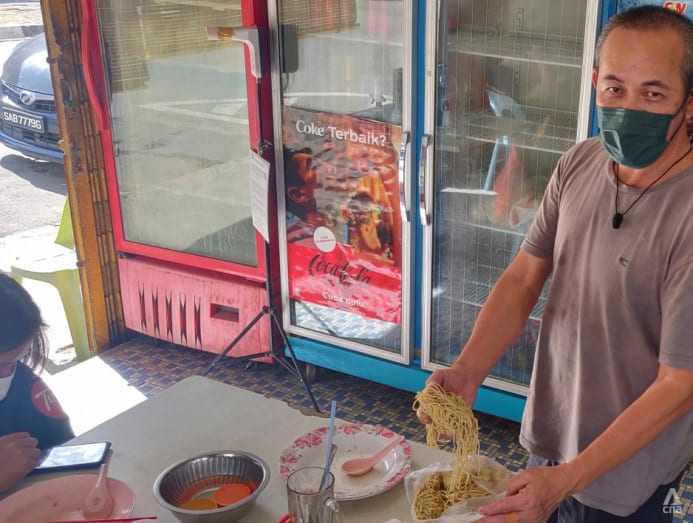 Customers also sometimes request the addition of lihing (Kadazandusun sweet rice wine) to be tossed in for extra aroma and flavour. 
Mr Liong had handed over the reins of Lok Kyun to his children six years ago. 
"Now, we're going into the third generation. If they want to continue, then continue. 
"I still feel this business has a future. We just have to be modest, all we're aiming for is two square meals a day."
"There's no point being too famous, it would be too troublesome," he said in jest.
TENOM MEE: NOODLES IN EGG GRAVY
Like Tuaran, the hilly agricultural district of Tenom has its own local noodles created by Hakka emigrants who arrived here from Longchuan county in China's Guangdong province. 
Mr Lee Keat Vui of Tasty Tenom said he could not recall when the eponymous noodle dish was created.
"But as a kid, I already remember eating this before going to school," the 53-year-old said.
After switching occupations a couple of times over the years, he decided to open up a shop specialising in selling Tenom Hakka dishes, including Tenom mee, in the Kota Kinabalu area.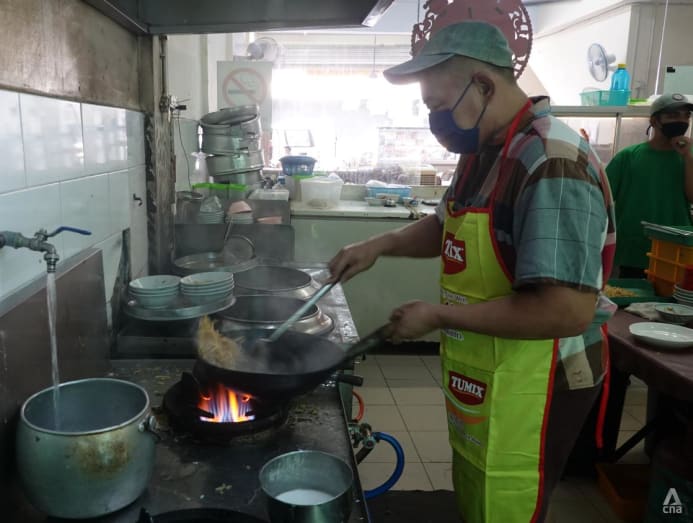 "But first, I learnt how to cook the dishes by helping out at my sister's coffee shop for a few years, before I decided to open up for business myself," he said. 
The dish also uses fresh egg noodles stir-fried in a wok over high heat to attain wok hei (charring or searing), with ingredients such as char siew, siew yuk and a copious amount of chopped baby Chinese cabbage or choy sum tossed in. 
The dish is finally drenched in silky egg gravy and served piping hot to the customer.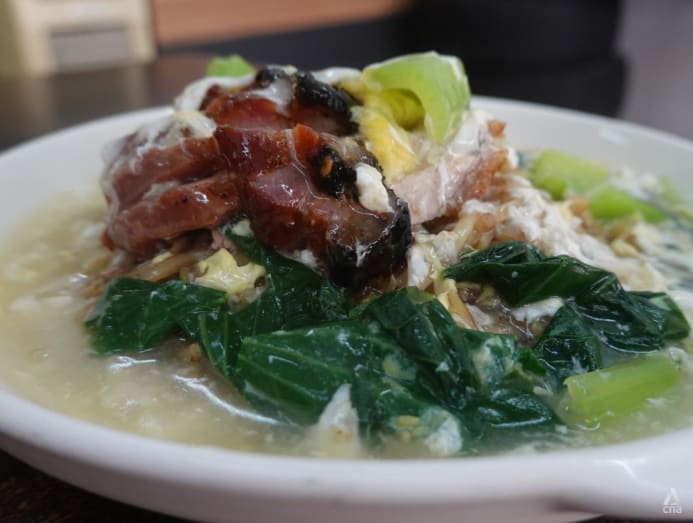 "The technique, for me, lies in the egg gravy," Mr Lee remarked. 
One could not apply too much cornstarch to thicken the egg gravy, otherwise the starch would overpower the egg and the wok-seared flavours, he added. 
Mr Lee observed that the main component of these noodle dishes is always fresh egg noodles. 
"You have to use sang mein (fresh noodles), because if they have already been fried before packing and then you use water to soften them and fry again, there is already that oily flavour," he said.
NGIU CHAP: FROM BUFFALO TO BEEF
Over at Loi Hin Coffee Shop in Kota Kinabalu's neighbouring Penampang district, the early morning crowd has come and gone, but a slow, steady stream of customers was still coming in on a workday morning for its ngiu chap noodles. 
Diners tell a waitstaff how they like their beef noodles - "kon lou", with the noodles swimming in gravy on the side and an assortment of internal organs and beef in a bowl of soup, or everything in one bowl of soup.
Samantha Yong, 29, who runs the shop with her parents Stanley Yong and Rose Yap, gathered a fistful of kway teow and tossed them into a pot of boiling water.
Using chopsticks, she flicked pieces of beef tripe, liver, tendon, and slices of shank and meat into a bowl and ladled a generous amount of boiling soup over them. 
The noodles, shaken to rid them of excess starchy water, were then tossed in sauce and oil before the ensemble was brought to the customer. 
The shop was started by a Hainanese immigrant to Sabah.
Mr Yong, 65, said ngiu chap was something his late father Yong Ah Hing had stumbled into and excelled at, after trying his hand at other businesses. 
The late Mr Yong managed to find work in a kitchen near Kota Kinabalu's Gaya Street during the Japanese Occupation and learnt some culinary skills, he said. 
Once the war ended, he and his wife, a Kadazandusun, moved to a row of wooden shophouses along Jalan Kasigui near the town's waterworks. They opened one of the district's oldest - if not the oldest - ngiu chap shop. 
In the beginning, they used local buffalo before switching to imported beef as it was much cheaper and had already cleared veterinary and food safety barriers. 
"Honestly if you ask me, the local buffalo meat tasted much better. We used to source them from the surrounding area because the Penampang Kadazandusun community used to own a lot of buffaloes."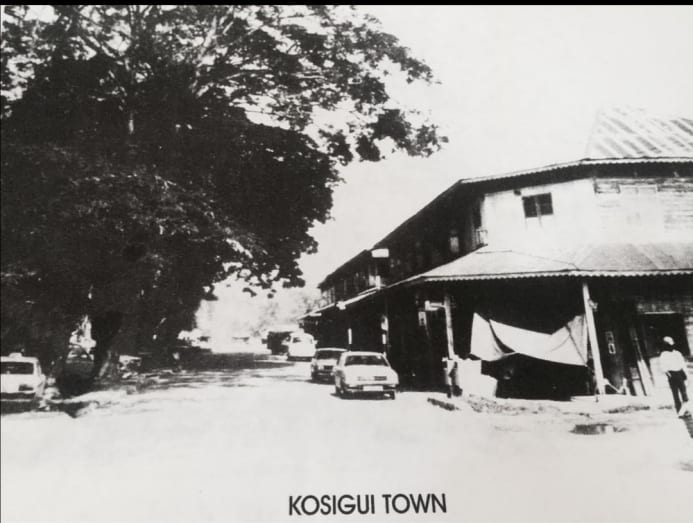 "But now, they (buffaloes) are so rare," Mr Yong said. 
As time progressed, Mr Yong's siblings have also moved on to open their own branches of Loi Hin ngiu chap, with his brother Stanley opening up another shop just down the street from his. 
"Now we have more competitors opening up their own ngiu chap shops, but I think it's great that the dish has become so popular," he laughed.
KEEPING THE DISHES ALIVE
Kota Kinabalu Hakka Association's Mdm Siaw said she was hopeful that these establishments and dishes would last into the future. 
"You have to see the interest of the proprietors' descendants, and maybe you have to encourage them to continue their parents' trade as well," she said. 
In addition, Mdm Siaw noted that as newer generations' tastes evolved, it would not be out of place to tweak the recipes a little to fit new tastes, and in doing so, keeping the dishes and recipes alive.
"As it is, these dishes have also grown beyond just the Chinese community. The Chinese community is not afraid of sharing their recipes and our Kadazandusun friends have also grown to appreciate these dishes."
"In fact, they have also learnt to tweak the dishes and found new customers and diners to cater to," she said.