Second Omicron case detected in Malaysia; Nigeria added to list of high-risk countries, says Khairy
KUALA LUMPUR: Malaysia has detected the second Omicron case in an eight-year-old citizen arriving from Nigeria via Qatar on Dec 5, Health Minister Khairy Jamaluddin said. 
Speaking to the press at the parliament on Thursday (Dec 16), Mr Khairy said the girl's real time-polymerase chain reaction (RT-PCR) test before departing for Malaysia was negative. 
"The RT-PCR result on arrival was found to be positive on Dec 7. She was asymptomatic and ordered to undergo isolation at home for 14 days," Mr Khairy said.
On-arrival and subsequent COVID-19 tests for her mother and sister on the fifth and 11th days returned negative. 
The taxi driver, who sent them to their residence from Kuala Lumpur International Airport, was being tested for COVID-19, the minister added. 
All three were asymptomatic and have been ordered to quarantine for 14 days, he said. 
Following the case, Nigeria has been added to the list of high-risk countries, Mr Khairy said, adding that travellers from high-risk countries have to wear digital tracking devices throughout their mandatory quarantine period. 
Also on the list are South Africa, Botswana, Eswathini, Lesotho, Mozambique, Namibia, Zimbabwe and Malawi. 
Malaysia's first Omicron case was detected in a 19-year-old woman who arrived from South Africa via Singapore on Nov 19.
A student at a private university in Ipoh, Perak, she had been fully-vaccinated and was quarantined for 10 days before her release on Nov 29.
Mr Khairy said during the Thursday press conference that there were also another 18 suspected Omicron cases and whole genome sequencing results would likely be out on Friday. 
The 18 suspect cases came from various countries, he added. 
ADDITIONAL MEASURES TO PREVENT OMICRON WAVE 
Mr Khairy said the Health Ministry was monitoring the spread of the Omicron variant, which was "very worrying in other countries". 
"In the last seven day, for example, many Omicron cases were reported among the West European and South African populations. 
"South Africa has reported daily record high cases, and so has the UK (United Kingdom). The situation is such that the WHO (World Health Organization) has issued a global warning to prepare their healthcare systems to handle Omicron cases, which will be more serious in the weeks to come," he said.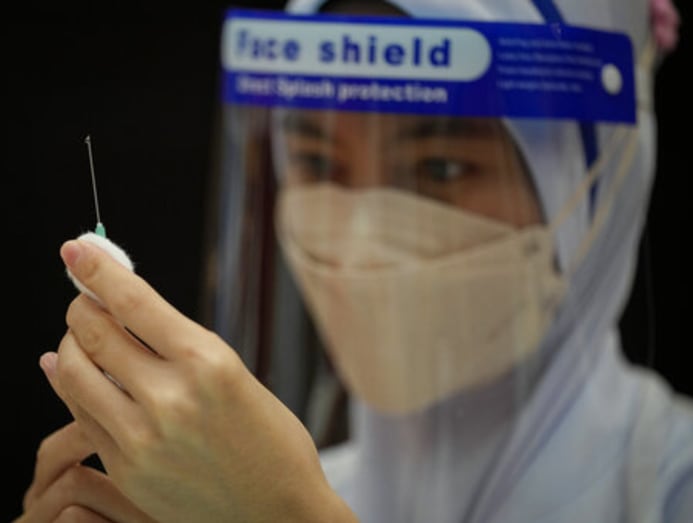 As such, the ministry would be implementing a number of additional measures to prevent an Omicron variant wave in Malaysia. 
"Travellers returning from the UK must self-test daily throughout their quarantine and report the results on the MySejahtera app," he said. 
While large-scale New Year's Eve celebrations were prohibited, people attending small-scale, private Christmas and New Year's Eve celebrations have to do self-tests prior to the events, Mr Khairy said.  
"Mega vaccination centres will be restarted to speed up booster dose administration, beginning with the Klang Valley," he added. 
Residents aged 60 year and above who have been fully-vaccinated (regardless of vaccine type) and Sinovac recipients aged 18 and above have to get their booster doses by February next year to retain their fully-vaccinated status, the minister said. 
"If not, their status will be switched to the white label on MySejahtera, which means they are not fully-vaccinated," he added.