Additional COVID-19 rapid tests needed for those entering Malaysia via VTL with Singapore, says Khairy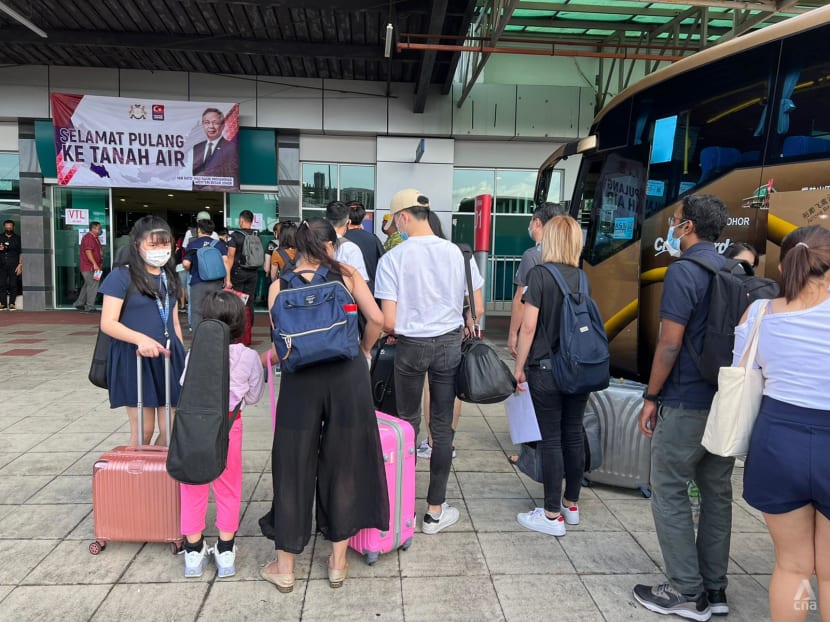 KUALA LUMPUR: Travellers who enter Malaysia via the Vaccinated Travel Lane (VTL) arrangement with Singapore are required to take additional COVID-19 rapid tests on the third and seventh day after their arrival, said Health Minister Khairy Jamaluddin on Wednesday (Dec 1).
In a press conference, Mr Khairy said that the Omicron variant which has been making headlines in the past few days has not been detected in Malaysia so far. 
However, for those travelling from Singapore, either via the land or air VTL, they would have to take additional self-administered tests using Rapid Antigen Test Kits (RTK). These results will have to be reported on the MySejahtera application, he said.
"We will continue to update the national testing strategy from time to time as we discover more about the variant of concern," said the minister.
The RTK test kits can be purchased at supermarkets or convenience stores and cost as little as RM4.90 (S$1.58).
The additional requirements come amid reports about the Omicron variant that is feared to be more contagious and could evade vaccines.
The minister noted that as of Nov 30, a total of 20 countries have reported 215 cases of the Omicron variant, with South Africa reporting 128 cases.  
The VTL arrangement between Malaysia and Singapore kicked off on Nov 29, with thousands taking the opportunity to cross the borders in the past few days.
Singapore Prime Minister Lee Hsien Loong said that Singapore and Malaysia want "more open borders" even if the new Omicron variant disrupts plans to expand the VTL between both countries.
On Wednesday, Mr Khairy also said that Putrajaya would temporarily ban non-Malaysians from countries that have reported the spread of the variant or have a high-risk of transmission.
Those who have travelled to those countries within the past 14 days would also not be allowed into the country.
Malaysia has so far banned travel to and from eight countries - South Africa, Botswana, Eswatini, Lesotho, Malawi, Mozambique, Namibia and Zimbabwe.
Mr Khairy said that Malaysians who are travelling from these eight countries and those who have permanent resident status or spouse visas will be allowed to come back but must undergo a 14-day mandatory quarantine. 
As for several other countries that have also detected the variant, Mr Khairy said that the authorities would review the information and conduct risk assessments.
"Those countries are being reviewed now and once we have more information and after having done a risk assessment, we will decide whether or not those countries will be included in the list," he said.
Mr Khairy said that all the measures taken were just temporary until they knew more about the Omicron variant.  
"Even though we have put travel restrictions on people coming in from South Africa, this is a temporary measure. The moment we feel that it is safe, we will lift these measures. This is by no means a measure that we have taken to punish these countries.
"Rather, it is more precautionary as far as Malaysia is concerned. We congratulate and thank the South African scientist who detected Omicron, sequenced it and shared it with the world. That speaks volumes of South Africa's response," he said.
The World Health Organization (WHO) had designated Omicron as a Variant of Concern (VOC), saying that it has a large number of mutations. It said that preliminary evidence suggests an increased risk of reinfection with this variant, as compared to other VOCs.
The variant was first reported to WHO from South Africa on Nov 24.
On Tuesday, Senior Defence Minister Hishammuddin Hussein announced that Malaysia's efforts to transition to an endemic phase will be put on pause as the government looks to find out more about the Omicron variant. 
Since the beginning of the pandemic in February last year, Malaysia has reported more than 2.6 million infections, with more than 30,000 deaths.
The caseload has generally been plateauing in the past two weeks, with 5,439 new cases reported on Wednesday.
Authorities have however been advising Malaysians to get their COVID-19 booster vaccinations shots, saying that vaccine effectiveness wanes over time.