KUCHING: When the date for the 12th Sarawak elections was announced last month, the first thing that Leona did was to check the price of flight tickets to go back home.
The trainer at a government-linked company was determined to vote in the elections but was taken aback by the RM3,000 (US$710) price for a return ticket from Kuala Lumpur.
After several airlines added flights to Sarawak, the price of tickets dropped to RM500.
"RM500 is still a lot of money but it's quite low compared to RM3,000 and I am lucky to be able to afford it," Leona, who only wanted to be known by her first name, told CNA.
The 38-year-old, who will be voting in the hotly contested Batu Kawah assembly seat in Kuching, will be flying back just before the election on Saturday (Dec 18).
Leona has voted in every election except one since she became eligible. She is able to work remotely and plans to remain in Sarawak until January so that she can celebrate Christmas and the New Year with her family.
"Being able to vote means having a say in how our country is run. Furthermore, in the past suffragettes had to fight for women to have the right to vote. Women especially should never take the right to vote for granted," she stated.
In the backdrop of the COVID-19 pandemic, Leona said that she will be extra cautious when voting, such as wearing face shields and taking COVID-19 tests.
"Those who can afford to go back to vote should do so. Our votes shape how Sarawak will be run in the next five years," she added.
While the cost of flight tickets may have fallen, there are other Sarawakians unlike Leona who are unable to bear the travel cost and will not be making their way home.  
Air ticket prices and COVID-19 fears are among factors that are expected to cause a low voter turnout for the election.
The Election Commission (EC) has said that it is targeting a 70 per cent voter turnout for the election, but observers and political parties are sceptical that this figure can be achieved. 
Political parties, especially the opposition have claimed that they will be disadvantaged because of lower voter turnouts.
Dony Dugun, 62, who has been living in Pasir Gudang, Johor for the past 20 years said that a one-way ticket from Johor Bahru to Kuching was priced at RM800, something which he said was out of his reach.
"Last time the tickets were much cheaper. We are just fed up with this issue of high-priced tickets. If the tickets were cheaper, I would definitely go back," he told CNA.
Prior to the pandemic, a one-way ticket would cost around RM200.
Another Sarawakian who will not be voting this time round due to travel costs is an IT executive who only wanted to be known as Soo.
When she last checked the prices of return flights from Kuala Lumpur to Kuching for December, most were priced above RM1,000.
Before COVID-19, a two-way trip would usually cost around RM400.
The 35-year-old who is based in Petaling Jaya said she voted back in 2016 during the last state election when she was in a better financial position to make an impromptu trip back.
"I want to vote for change. Without any challenge to a status quo, complacency sets in," she said. 
In the 11th state election back in 2016, the parties now in Gabungan Parti Sarawak (GPS) were part of the Barisan Nasional (BN) coalition.
Under the popular former chief minister Adenan Satem, they won 72 seats during the elections.
Mr Adenan died in January 2017 and was replaced by Mr Abang Johari Tun Openg.
After BN lost power at the federal level in the May 2018 general election, the four Sarawak parties withdrew from BN and formed the GPS coalition.
They now have an informal alliance with BN and Perikatan Nasional at the federal level. 
LOW VOTER TURNOUT EXPECTED
According to Malaysia's Election Commission (EC), around 1.25 million voters are eligible to cast their votes to elect those vying for a seat in the 82-member state assembly.
Nomination Day took place on Dec 6, while early voting was held on Dec 14.
A record 349 candidates will stand in the election, which has been delayed because of COVID-19. 
Dr Jeniri Amir, a senior fellow with the National Professors Council, said that even under normal circumstances, the voter turnout in the 2016 Sarawak elections was about 70 per cent. He noted that the highest voter turnout was 82 per cent during the 1969 election. 
"This time, it will be very tough and difficult to get that turnout," he said, adding that there are about 250,000 Sarawakians who are not residing in the state. 
He also said that the recent Melaka elections saw a voter turnout of just less than 66 per cent.
He said that as Christmas was one week apart from voting, most of those coming back would rather use their annual leave to be with their families during the festive season.
"Very few would have the privilege of long leave. The timing is not very right. Being with the family would be more important than voting," he said.
Dr Jeniri also pointed out that there are more than 330,000 voters aged 60 or more. They might be worried about social distancing at the polling centres.
He added that the annual rainy season in the state was also likely to affect voter turnout
Sarawak Democratic Action Party (DAP) chairman Chong Chieng Jen who will be contesting in the Padungan seat said that they were expecting a lower voter turnout than the 2018 general election. DAP is contesting in 26 seats.
He said that the COVID-19 pandemic, political fatigue and high travelling costs were among factors that would contribute to this.  
"During the last election in 2018, everyone was talking about changing the government. Everyone was very eager to make their vote count. But this time that excitement is not there," he told CNA.
Mr Chong also said many were disillusioned with politics and questioned if their vote actually mattered.
"We can be disappointed and be in despair, but we must hold on to the struggle and keep the hope alive. I will urge the people to come out and vote," he said.  
Meanwhile, Parti Sarawak Bersatu (PSB) secretary-general George Lo said the party is concerned over potentially low voter turnout, especially because of the COVID-19 situation and the Standard Operating Procedures (SOP). The party is contesting in 70 seats.  
However, Mr Lo said it was tough to predict which parties would be most affected in this scenario.
"It is a concern for us, but it could also affect GPS whose voters might be complacent and think that they are already home and dry. It is hard to predict," he said.
The Sarawak state assembly was originally set to dissolve on Jun 7 this year, since the last state election took place in June 2016.
The dissolution was delayed after a nationwide state of emergency was proclaimed on Jan 12 by Malaysian King Al-Sultan Abdullah Ri'ayatuddin Al-Mustafa Billah Shah on the advice of then-prime minister Muhyiddin Yassin to prevent the spread of COVID-19.
After the nationwide emergency expired on Aug 1, a Sarawak-specific emergency proclamation was promulgated on Aug 2. It was supposed to last until Feb 2, 2022.
However, Mr Abang Johari advised Governor Abdul Taib Mahmud to seek the king's consent for Sarawak's state of emergency to be terminated earlier.
Mr Abang Johari said that this was done in the spirit of the government's oath to preserve and protect the state and federal constitutions.
CONCERNS OVER OMICRON VARIANT
With the Omicron variant looming, some are afraid that COVID-19 curbs might be suddenly reinstated.
Although vaccination rate in Sarawak is considered high, with over 75 per cent of the total population being fully vaccinated, there are fears that Omicron could cause another wave of cases.
After the Sabah state elections in September last year, Malaysia experienced new waves of infection that led to various lockdowns in the country.
Theresa Nona, 58, who works in a stationary factory in Johor said besides high fares, she was afraid that travel curbs might be suddenly reinstated.
"If I had the chance, I would vote, but I am afraid. What if the cases suddenly spike and there are new restrictions that would force us to quarantine ourselves? I am unable to do this," she said.
"Voting is a responsibility, and I am sad that I will not fulfil it," said Ms Nona who last returned to Sarawak two years ago before the pandemic.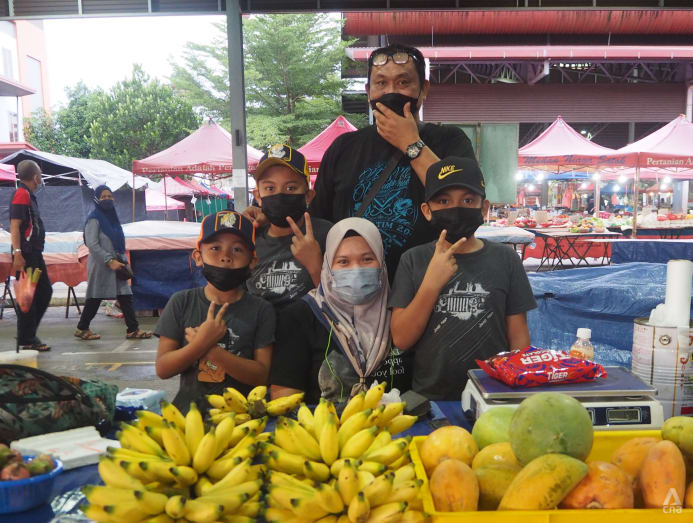 On the ground, there are also signs of voter fatigue, given the politicking which has been taking place since the fall of Pakatan Harapan in March 2020, just 22 months after winning the watershed election.
Trader Roslan Salleh, 50, told CNA when met at the Satok Weekend Market in Kuching said that he isn't bothering to vote in the coming election.
He said that he will not vote in any further election unless and until there is an anti-party hopping Bill in place.
"When politicians can jump here and there, then democracy doesn't seem to be relevant anymore," said the father of three.