SINGAPORE: Malaysian nurse Darmaraj Vasudevan has not seen his baby daughter since March this year.
Vasudevan and his wife, who is also a nurse, left for Singapore when their child was 3 months old. Their daughter is in Negeri Sembilan being cared for by Vasudevan's mother. 
They made the painful decision to live apart amid prolonged border closures due to COVID-19. Recognising the hazardous nature of their jobs, they wanted to avoid exposing their child to the coronavirus.   
"Only God knows how painful it is to be separated from our new born. Our fear is that our daughter can no longer recognise her parents," said Vasudevan.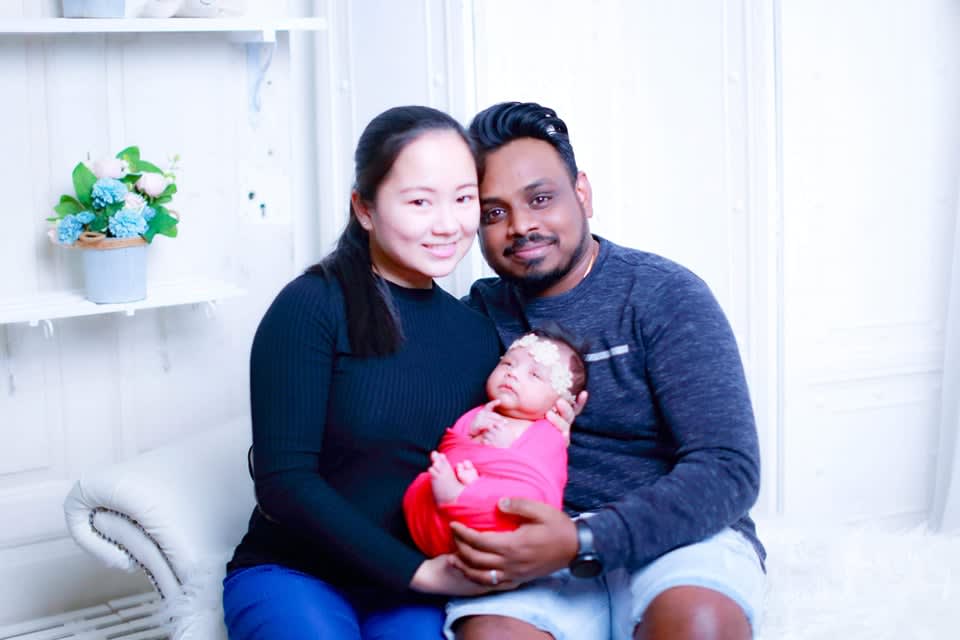 With the launch of the air Vaccinated Travel Lane (VTL) between Singapore and Malaysia on Nov 29, he is counting down to the reunion. 
"When the VTL was confirmed, my wife and I planned to take a month-long holiday to go to Malaysia and spend time with her and celebrate (our daughter's) first birthday together," he told CNA. 
Despite the spike in interest in the air VTL after its announcement, some travellers have expressed concern over the costs involved to make a round trip. 
On Nov 8, the prime ministers of both countries said that a VTL between Changi Airport and Kuala Lumpur International Airport (KLIA) will begin on Nov 29.
Under the VTL, those who are fully vaccinated will be able to travel between Singapore and Malaysia, and be subjected to COVID-19 tests in lieu of serving quarantine or stay-home notice. 
Additionally both countries are also in discussions to open the land border for a VTL arrangement by the end of November. 
For those like Vasudevan who have not been able to shuttle back and forth due to prolonged border closures, the air VTL scheme is soothing news. 
Singapore and Malaysia currently have in place the Periodic Commuting Arrangement, which allows work pass holders to travel between the two countries.
However, under the PCA, commuters are required to serve quarantine upon entering both countries. They are also only allowed to travel home for leave once every 90 days. 
The VTL means that there is no quarantine requirement and workers can potentially travel home more often to see their family members. 
Vasudevan told CNA that he and his wife did not use PCA to travel home because of the costs associated with quarantine fees, and the unpaid leave they would have to take.
He plans to travel home in January under the air VTL. "We are reviewing the protocols and will buy our tickets soon," he said. 
The air VTL has also been welcomed by Singaporeans who are in Malaysia. 
Singaporean Daniel Wong, who is based in Kuala Lumpur, told CNA that this would enable him to go home and see his family for the first time in almost two years. 
Wong, who works in the sports industry, has booked tickets for the air VTL to head back to Singapore on Dec 1. 
"The last time I was in Singapore was pre-COVID-19 in February 2020," said Wong. 
"With quarantine on both sides (for the PCA), it was impractical. The duration was too long and costs too high," he added. 
Since the air VTL announcement, there are signs of a spike in demand for flight bookings. 
Travel portal Traveloka's vice president for marketing transport and financial services Andhini Putri told CNA that there has been a "double-digit percentage growth" in flight bookings from both Singapore and Malaysia.
"We've also seen searches increase over 20 times for flights between Singapore and Kuala Lumpur. Interest has also consistently increased as more people learn about the news," said Putri. 
Last Thursday (Nov 18), it was announced that six airlines have been designated to provide VTL flights between Singapore and Malaysia. 
The airlines are AirAsia, Jetstar Asia, Malaysia Airlines, Malindo Air, Scoot and Singapore Airlines. 
Checks done by CNA showed that the prices for a VTL round trip varied across the different airlines in December, ranging between S$100 and S$500. 
Responding to CNA's queries, a Malaysian Airlines spokesperson said that ticket pricing is "dynamic", and the amount is dependent on demand. 
"Currently, as published on Malaysia Airlines' website, the Economy Lite Fare from Kuala Lumpur – Singapore starts from RM309 (S$100.74)," the spokesperson said.  
While the prices did not vary much from before the pandemic, travellers noted that many of the air tickets were snapped up quickly. As a result, they had to fork out more due to the dynamic pricing model. 
According to the Singapore Airlines app, tickets between Changi Airport and KLIA are no longer available on Nov 29, the first day of the air VTL.
Malaysian Abdul Hadi Kareem told CNA that he paid around S$300 for his return ticket via Malaysia Airlines when he bought them last Friday, a day after the health protocols were announced. 
He works for an aerospace firm based in Seletar, and wants to visit his wife and 3 children who live in Selangor next month. 
"When I first checked the prices on Thursday, it was around S$150. But less than half a day later, it had more than doubled," said Abdul Hadi.
"I think the tickets are being snapped up fast. Some of my fellow Malaysian colleagues are not able to get suitably priced tickets for December," he added. 
SOME PREFER TO WAIT FOR LAND VTL OPTION 
There are also travellers who told CNA that the air VTL was not an option, as they were not willing to pay for the flights. They would rather wait for protocols for the land VTL to be finalised before firming up their plans. 
Among them is Suria Prakash, a Malaysian who works as a bus driver in Singapore. Prakash has been separated from his infant son and wife for around 18 months. He longs for the moment to finally "hug and kiss" his son again. 
"The VTL allows me to go home and see them without the need to pay for quarantine. Since this is now finally a possibility, I will just go for it," he added. 
However, he said the price of air tickets is a hurdle. Air ticket prices for the period when he is planning to go home are now north of S$300. 
"I prefer to wait for the SOPs to be finalised for the land VTL. Air VTL is expensive." 
Prakash might not need to wait for too long. Last Saturday, Singapore's Trade and Industry Minister Gan Kim Yong said that he was "optimistic" that the land border between Singapore and Malaysia would be able to be opened by the end of November, and that details were still being worked out. 
Mr Gan also said that it may be "possible" the land VTL is launched "on the same day" as the air VTL. 
On Tuesday, Malaysian Health Minister Khairy Jamaluddin said that a dry run for the land VTL was held at the Johor Causeway.
This is also welcome news for another Malaysian working in Singapore, Muhammad Yani Hussein. He told CNA that he was excited when he first heard about the air VTL, but was put off by the air ticket prices.
"Maybe I was too slow in buying the tickets, but now the prices to go back in December are too high. I will wait and see, perhaps postpone my trip to next year when prices drop," he said. 
Muhammad Yani added that he is now awaiting news on the land VTL protocols, so that he can travel into Malaysia via the land checkpoints before taking a bus to his hometown in Perak. 
COSTS OF SWAB TESTS NEED TO BE FACTORED IN
Besides the cost of air tickets, travellers using the air VTL must also consider costs for COVID-19 swab tests. 
Under the VTL, travellers are required to take four COVID-19 swab tests in total during a round trip. 
They would need to produce a negative COVID-19 polymerase chain reaction (PCR) or antigen rapid test (ART) test result within 48 hours prior to departure. There is also a need to undergo a PCR test upon arrival, for each leg of the trip.
A pre-departure ART test could cost between S$30 and S$50 while a PCR test costs between around S$100 and S$200.
Meanwhile, a PCR test on arrival in KLIA costs RM150 (S$48.80) for Malaysians and RM250 (S$81.33) for foreigners. PCR tests on arrival at Singapore Changi Airport cost S$125. 
In total, an individual traveller would need to fork out between around S$305 and S$600 on COVID-19 swab tests alone.
Wong, the Singaporean based in Kuala Lumpur said that "he had no choice" but to set aside some money for this. 
"At least they allow us to take the RTK-ART (RTK- antigen rapid test) for the pre-departure flight (instead of PCR), so it lowers the cost a bit," he added. 
Prakash, the bus driver who is awaiting updates on the land VTL, said that he has set aside S$500 for the swab tests. However, he hoped that the authorities in both countries could consider subsidising the costs further.
He said that the cost of the PCR tests on arrival in both countries are "very high". "If the price is lower, a lot of workers can benefit," he said. 
Vasudevan, the nurse, said that he and his wife have set aside S$1,000 for air tickets and COVID-19 swab tests for their round trip to Negeri Sembilan 
"The amount we have to fork out is still less than what we needed to before the VTL scheme as we no longer have to pay for quarantine," he said. 
"At the end of the day, all I care about is to spend quality time with my family."
Editor's note: This article has been updated to correct the estimate of the overall costs involved that an individual traveller may incur for a round trip between Singapore and KL.