Taliban takeover in Afghanistan could embolden Indonesia's terror groups, inspire more recruits: Experts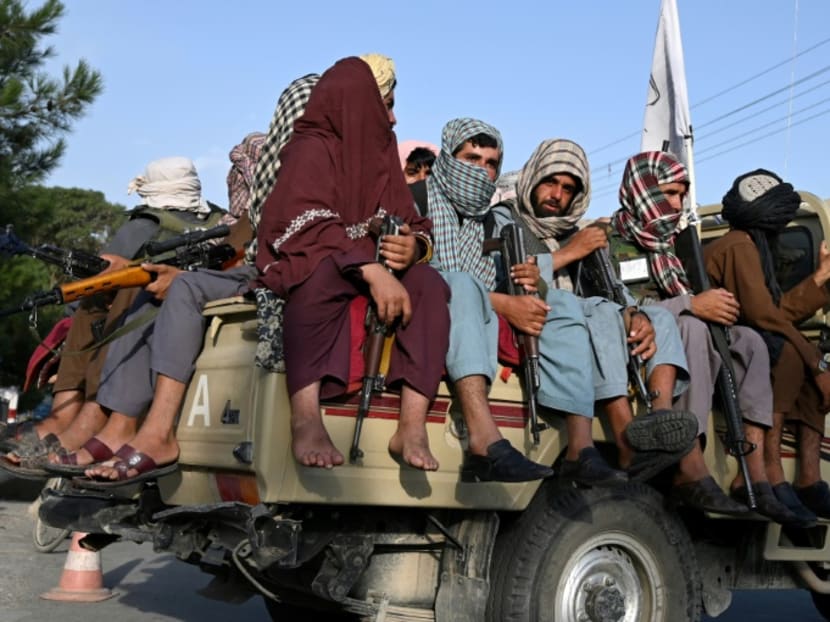 JAKARTA: News that the Taliban has taken full control of Afghanistan could embolden Islamic militants and conservatives 6,000km away in Indonesia, experts and officials warned, potentially posing a major security threat to the Southeast Asian country.
Mr Muhammad Taufiqurrohman, a senior researcher at Jakarta-based security think-tank Centre for Radicalism and Deradicalisation Studies noted that several militant and conservative groups have been celebrating the Taliban takeover on social media and private online chat groups. 
"(The Taliban takeover) has given a moral boost to jihadists and Islamists in Indonesia to continue their struggle to establish an Islamic government and impose Sharia law in Indonesia," he told a discussion on Tuesday (Aug 26).
Some of these groups have been pushing for Indonesia to adopt a strict Islamic law, while others strive to secede from the country and form their own Islamic government. Indonesia is a secular country where the majority of people practise a moderate form of Islam.
"Some have stated their intention to travel to Afghanistan. They want to learn from the Taliban, learn military (strategies) from them and want to use the skills they have acquired to topple the regime in Indonesia," he said.
The government should not take these statements lightly, Mr Taufiqurrohman added.
"When the Syrian conflict erupted, jihadists in Indonesia openly pledged allegiance to the Islamic State (IS) and stated their intention to join (the IS) in Syria. We underestimated them and said that there was no chance that they would actually go to Syria. We realised how serious they were when it was too late," he said.
The National Counter-Terrorism Agency (BNPT) estimated that more than 1,200 Indonesians have travelled to Iraq and Syria to join the Islamic State since 2014. Many more tried to do so but their plans were foiled by Indonesian immigration officials before they even left the country or by Turkish authorities who stopped them from crossing Turkey's porous border with Syria.
Several IS sympathisers, including those who failed to go to Iraq and Syria, have since launched terrorist attacks, most notably the 2016 attack on a busy intersection in downtown Jakarta which killed eight people and the 2018 attack on several locations in Indonesia's second biggest city Surabaya which killed 28 people.
Since then there had been several small scale attacks involving IS sympathisers across the country.
RE-EMERGENCE OF JEMAAH ISLAMIYAH?
Experts predicted that the Taliban takeover could pave the way for the re-emergence of the regional terror network Jemaah Islamiyah (JI).
The group was among the first organisations to send militants to a military training camp in Afghanistan after the Taliban first took control of the country in 1996. The training camp was run by the global terror network Al-Qaeda, an ally of the Taliban, and led by the slain terrorist Osama bin Laden.
Upon returning home, JI militants launched a series of deadly terrorist attacks armed with the knowledge and skills they have learned in Afghanistan. The attacks on Indonesian soil intensified after a United States-led coalition invaded Afghanistan and overthrew the Taliban government as a response to the Sep 11 attack.
"JI has a historical and emotional connection with the Taliban. They share the same ideology with the Taliban of establishing an Islamic government in their respective countries. They retaliated against the American invasion of Afghanistan and they continue to wish that they can emulate the Taliban," former JI member Nasir Abbas told CNA.
"When the Taliban regained control over Afghanistan, many JI members rejoiced and wished that they could go to Afghanistan and learn from the Taliban. If anyone were to send militants to train in Afghanistan, it would be JI."
The consequences may be dire if that happens, said Mr Noor Huda Ismail, a visiting fellow at the S. Rajaratnam School of International Studies.
"Islamic State-linked terrorist groups in Indonesia send people to fight and die in Syria. Jemaah Islamiyah sends people to train and get experience. Their goal is to learn as much as they can and apply their knowledge back home," Mr Ismail told CNA.
JI had been responsible for some of Indonesia's deadliest terrorist attacks, including the 2002 Bali bombings which killed 202 people. Some of these attacks involved several militants who had been trained in Afghanistan.
Mr Ismail noted that the level of devastation seen in the attacks carried out by JI had not been able to be replicated by IS-linked terror networks.
Although the last attack which was directly authorised by the JI dated back to 2007, the terrorist group is believed to have continued recruiting members, raising funds and stockpiling weapons.
"It is only a matter of time before JI becomes active and violent again," Mr Taufiqurrahman said, adding that the Taliban takeover could serve as one of the impetuses to the network's re-emergence.
According to an estimate by the BNPT, JI had been able to recruit around 6,500 members before the Taliban's success in regaining control of Afghanistan.
The takeover could inspire more people to join JI, noted Mr Abbas, the former JI member. "They have been using this issue as part of their recruitment strategy. They want to appeal to conservatives who know nothing about the Taliban and what they are fighting for," he said.
POLITICAL DYNAMICS IN AFGHANISTAN ARE EVOLVING
Mr Abbas predicted that it would take two to three years before JI starts sending its sympathisers to the Middle Eastern country.
"Right now, we don't know if the Taliban is willing to accept foreign fighters on their soil. The pandemic has made (international) travel hard. For JI, the willingness to go to Afghanistan is there and has always been there, but the opportunity has not presented itself," he said.
The speed of this happening appeared to be closely linked to the political dynamics occurring domestically in Afghanistan, other experts have noted.
In February last year, the United States under President Donald Trump signed a peace deal with the Taliban in Doha, Qatar. The US promised to withdraw from Afghanistan and the Taliban in turn promised to prevent terrorism groups from using Afghan soil to facilitate attacks on the US or other countries.
"But there are many factions within the Taliban and not all see eye-to-eye. If there is infighting between the factions, it is likely that the weaker faction will seek help from foreign fighters," Mr Ismail said.
The Doha agreement does not explicitly stop the use of foreign fighters in the event of a civil war in Afghanistan.
Mr Adhe Bhakti, executive director of the think-tank Centre for Radicalism and Deradicalisation Studies, said although Afghanistan has been largely free of foreign fighters today, that may not be the case in the future.
"There have been no meaningful conflicts in Afghanistan. The Taliban was able to capture major Afghan cities with little resistance. If the situation is like Syria, people will go there in droves," he told CNA, adding that the JI terrorism group is monitoring the situation in Afghanistan closely.
CRACKDOWN ON TERRORISM NETWORKS TO CONTINUE: BNPT
Mr Ismail said he is concerned about the many organisations and individuals who have expressed their support for the Taliban, even those who only use this issue to promote themselves, advance their political agenda and gain support and praises from conservative Muslims.
"JI has been actively mapping out who are voicing their support for the Taliban back home in the hopes of recruiting them," he said.
Mr Ismail also predicted that several individuals who were earlier drawn to the IS, seen as a rival to the Taliban, would want to switch sides and join JI because of the takeover.
Brigadier General Eddy Hartono, BNPT's enforcement director, said they too are monitoring closely who have aired their support for the Taliban.
"We have to be vigilant. Terror networks are using (the Taliban takeover) as a momentum and inspiration," he told CNA.
"The BNPT together with other institutions and organisations are building a counter-narrative to combat intolerant, radical and violent messages which radical groups have been disseminating."
The BNPT director noted that missing from the praises and messages aired by conservative and militant groups is the fact that the Taliban takeover came as a result of the US troop withdrawal.
"Instead, it is being portrayed as a triumph which came from a military confrontation. It is being portrayed as a victory of a particular religion against another. People should be wise in seeing what has happened in Afghanistan," he said.
Brig Gen Hartono said officials will continue to crackdown on the terrorism networks operating in Indonesia to weaken their grip on the country.
"We are tackling this issue from both downstream and upstream. Downstream through arrests, prosecution and rehabilitation. Upstream through building counter-narratives. The latter is hard. Because we cannot change someone's ideology in one or two days," he said.