'Bangkok is ready': Thai capital gears up to welcome international tourists without quarantine in November
Countries in the region are taking careful steps to reopen borders for both inbound and outbound tourism. In the second part of a series, CNA reports on Bangkok's preparations to take in visitors next week.
BANGKOK: The well-trodden streets of Bangkok have been empty of foreign tourists. 
Their absence paints a stark contrast for the residents to what their city used to be like before the pandemic. The difference is especially noticeable for those whose livelihoods rely on tourism.
"Last year, I barely had any customers," said Peerasith Seemoolsathien in an old shophouse dating back a century. 
Located in Bangkok's old quarter, the building has withstood the test of time, providing a unique space of relaxation and comfort to global travellers who were drawn by its history and vintage charm. 
In 2018, Peerasith named it Kanvela House when he started his guesthouse business. Foreigners used to make up 90 per cent of his customers but because of COVID-19, "that dropped to 2 per cent," he said.
For nearly two years, the guest rooms have been left vacant, save for a few foreigners who stayed there before moving back to their home countries.
"Our employees have gone down from 15 to five," Peerasith told CNA. "We barely had any customers. It's so lonely."
But change may be coming next week, when Thailand reopens its borders to fully vaccinated travellers without quarantine on Nov 1.
In Bangkok, preparations are underway for what is hoped to be a new beginning for international tourism, exciting opportunities for locals and economic recovery.
According to its deputy governor Sophon Phisutthiwong, the Bangkok Metropolitan Administration (BMA) is gearing up to welcome back tourists from abroad. Detailed plans have been laid out and rehearsed to ensure the reopening of the city takes place smoothly and safely, both for visitors and local residents.
"The vaccination of Bangkokians is an important factor here," he said when interviewed by CNA.
"We have already inoculated 75 per cent of the residents with the second dose. This means 5.8 million people of the 7 million or so population are fully vaccinated. So, in terms of the vaccination, Bangkok is ready."
BMA has also formulated operating procedures to ensure tourists would enjoy a safe and comfortable stay in the capital amid the new normal. They cover a wide range of activities - from arranged transport on a sealed route between the airport and hotels to guided tours, boat rides, massages and healthcare services in case of infection.
"We want tourists to have a memorable and impressive experience," Sophon said. 
"The more tourists visit Bangkok, the more income is generated. Right now, we want our economy to improve, especially for Bangkokians in the service sector. They don't have income because many businesses have been closed for a long time."
According to the deputy governor, BMA has also developed "an exit plan", which will kick in if quarantine-free travel is terminated under the scenario of COVID-19 transmission reaching a critical level. The indicators for such a scenario are daily case numbers, casualties and hospital bed occupancy rates.
"For example, if the average number of daily infections in a week's time exceeds 2,300, we may need to end the programme as it means there is a new outbreak. We have it all planned out," Sophon stated.
WHO CAN TRAVEL TO THAILAND WITHOUT QUARANTINE?
From Nov 1, international travellers from 46 low-risk countries and territories will be able to enter Thailand by air without quarantine.
This includes people from Singapore, China, the United States and Australia.
To enjoy the exemption, they must have been fully vaccinated against COVID-19 for at least 14 days and resided in the eligible countries and territories for at least 21 consecutive days.
Travellers are also required to present a negative reverse transcription-polymerase chain reaction (RT-PCR) test result issued within 72 hours prior to travel. For non-Thais, medical insurance with a minimum coverage of US$50,000 is compulsory.
Once they arrive in Thailand, another RT-PCR test will be performed. Travellers must then wait for the result at an approved hotel for one night and can only travel freely afterwards if they test negative.
"As for children, whether they have been vaccinated or not, they will need to take an RT-PCR test when entering with their parents because data has shown that some children tested positive," Deputy Health Minister Satit Pitutecha said in a press conference on Tuesday (Oct 26).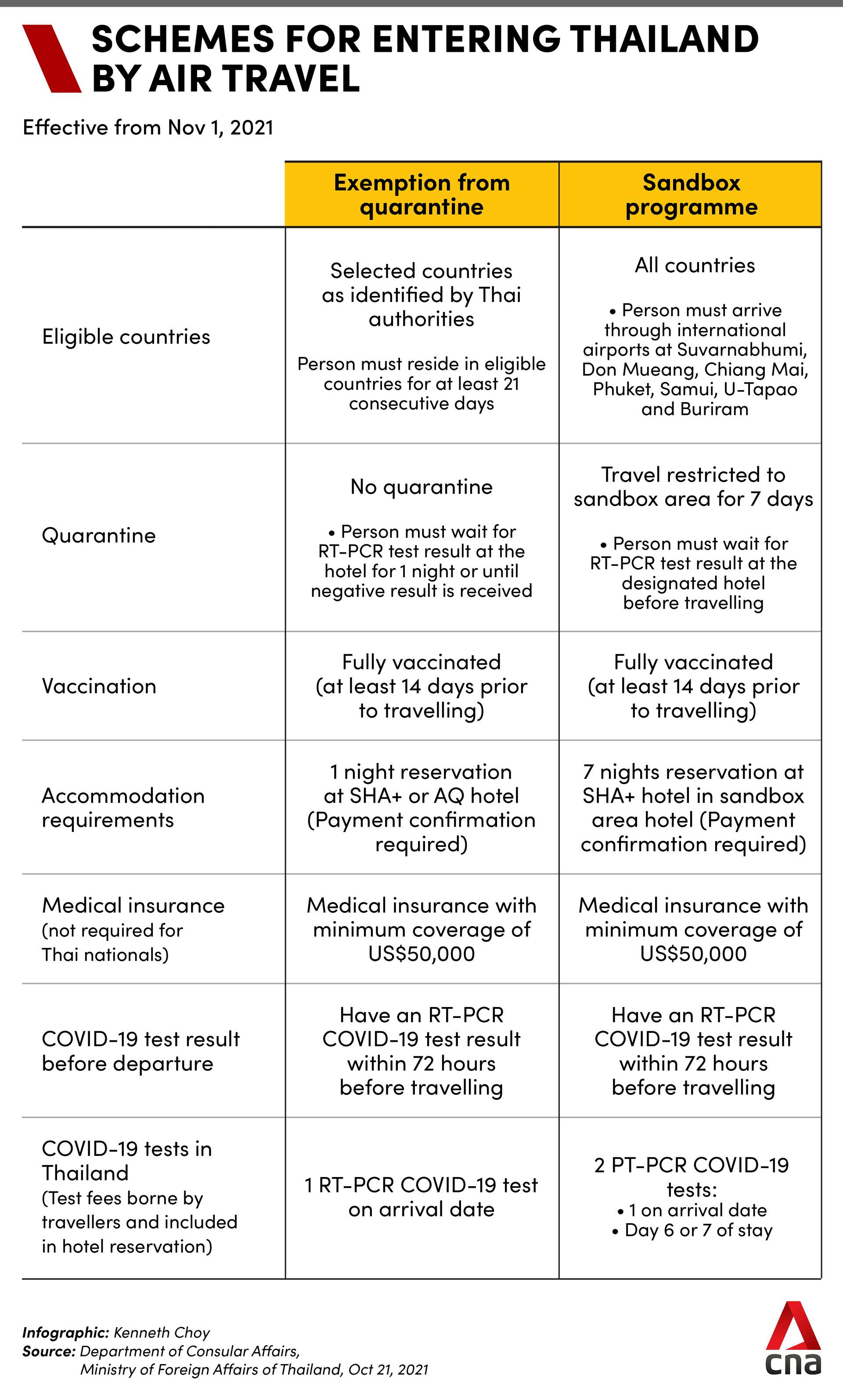 Besides the 46 low-risk countries and territories, Thailand will also welcome travellers from elsewhere with relaxed requirements as part of its Sandbox tourism programme. It was piloted in Phuket in July and will extend to include several tourist destinations such as Bangkok, Chiang Mai and Pattaya on Nov 1.
The Sandbox programme allows fully vaccinated travellers to visit any of the so-called "blue zone" destinations without hotel quarantine, regardless of where they travel from. However, travel is restricted to the chosen area for the first seven days. Travellers can subsequently visit other parts of the country if they test negative to COVID-19.
The quarantine period remains seven days for fully vaccinated travellers who are not from the low-risk countries and choose to visit non-blue zones.
For unvaccinated and partially vaccinated travellers, the quarantine period is ten days if they enter by air and 14 days by land.
SPIKE IN INTERNATIONAL TRAVELLERS' INTEREST: TRIPADVISOR
As Thailand gears up to reopen its borders, international travellers' interest in the country has grown significantly this month.
According to online travel platform Tripadvisor, Thailand is currently a popular destination among travellers from the United Kingdom, Germany, the US, France and Australia.
"We're already seeing an increase in searches and bookings to various destinations in Thailand and as traveller confidence grows, we're expecting to see a continued increase in the coming months," said Sarah Mathews, head of media partnerships in Asia Pacific at Tripadvisor in response to CNA's queries.
The platform currently focuses on increasing awareness among global travellers around Thailand's reopening and the various guidelines in place. 
Its search data shows that the most popular tourist destinations in Thailand include Bangkok, Phuket, Chiang Mai and the seaside city of Pattaya in Chon Buri.
"Thailand has always been a huge tourist destination in Asia Pacific and it's clear that there is a pent-up demand for travellers wanting to go back to exploring the beautiful country," Mathews added.
BUSINESS OPERATORS LOOK FORWARD TO WELCOMING TOURISTS
With just a few days left until Nov 1, tourism and hospitality operators are getting ready to welcome back international tourists. But given the many outbreaks and lockdowns over the past two years, many of them are adopting a cautious approach.
For Oasis Spa, the reopening of borders may come with risks but it also means an opportunity to recover. Since the pandemic hit Thailand last year, its branches in Bangkok, Chiang Mai, Pattaya and Phuket have bore the brunt of disrupted international travel and various restrictions.
Its CEO Pakin Ploypicha told CNA that 90 per cent of revenue has been lost. The spa also had to adjust itself constantly to the ever changing situation with COVID-19. 
"Every risk comes with an opportunity. We have to see how that risk can be managed," he said. "We see an opportunity for things to get better and totally agree with the reopening of borders."
Citing the Phuket Sandbox programme, Pakin said he could see a clear improvement in the number of customers, which has gone up by about 30 per cent since July. Although the business has yet to break even with its current revenue, the spa's CEO believes it is better than sustaining losses.
"This is a small beginning that would help rebuild the strength of entrepreneurs," Pakin said.
Currently, Oasis Spa does not operate all of its branches due to a lack of customers. Its staff has shrunk from more than 600 people to about 200. Many employees decided to leave for their hometowns because the lockdowns, business restrictions and limited compensation from the government made it hard to keep their jobs.
However, the business is getting ready for a full operation. Nearly 100 per cent of its employees have been fully vaccinated and new procedures have been established for welcoming international tourists. According to Pakin, advance reservation will be required, along with proof of the COVID-19 vaccination or a negative test result.
"We'll need to communicate with our customers more closely," Pakin said, adding that promotions will be offered to tourists who will fly in.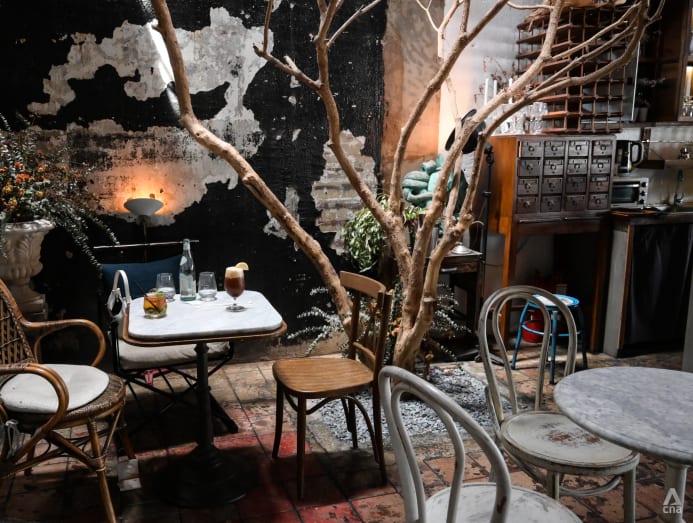 Like many business operators, Peerasith from Kanvela House is optimistic the tourism sector will start to recover from next month and has begun to recruit more employees.
Besides the guesthouse, his business also includes a cafe and a jazz bar on the ground floor. They have managed to attract local customers during the long tourism hiatus and the owner has been preparing them for when tourists finally return. 
Still, he expects it to be slow-going at first, given that a ban on alcohol consumption at eateries and various COVID-19 restrictions are still in place in several provinces including Bangkok.
"I don't think there will be a lot of tourists in November," he told CNA. "If nothing serious happens, these measures should be relaxed in December and the situation should be better in January."
According to the deputy governor, "there is a high possibility" for the alcohol ban to be eased in certain venues.
On Thursday, the Disease Control Department of Thailand reported 9,658 new infections and 84 deaths. Bangkok accounted for at least 894 of the total cases, followed by Songkhla (678), Nakhon Sri Thammarat (614), Yala (534) and Chon Buri (375).
Since April, when the latest wave of COVID-19 broke out, the country has recorded 1.86 million cases and 18,912 casualties. As of Thursday, 40.86 per cent of the population have been fully vaccinated against the coronavirus.