IN FOCUS: Thai civil society steps up as Bangkok's public healthcare buckles under COVID-19
As the pandemic rages in Thailand, CNA looks at how volunteers have jumped into action to help those on the margins of society.
BANGKOK: In April, a video clip of an e-sport legend went viral in Thailand.
It was a Facebook live recording broadcast by Kunlasub 'Up' Wattanaphon, who once led a big e-gaming clan named VGB or Vagabond Team to successfully compete in various tournaments.
"I'm close to collapse. I'm quarantining myself now but I don't think I'll make it," said the 34-year-old ex-gamer in the clip. 
He had been trying in vain to seek treatment for COVID-19 for about a week and his condition was deteriorating. Coughing and struggling to breathe, Up recounted his ordeal with despair.
"The hospital wouldn't take me. Hotlines didn't help. Hopeless. I'm going live in case any friends of mine could help. Please help me."
Up was admitted to a hospital the following day. By then, his lung function was only at 20 per cent. He died two days later.

His final Facebook broadcast not only captured his painful moments, but also put the state of the public healthcare system in the spotlight.
At that time, Thailand was witnessing the start of what would soon become the worst wave of COVID-19 it has dealt with so far.
Infections spread very quickly from one of Bangkok's fanciest neighbourhoods, where the wealthy had partied in exclusive nightclubs, into poor communities, crowded prisons and squalid worker camps.
In just over five months, Thailand has reported more than 1.32 million cases and 13,826 casualties. Most of the cases are concentrated in Bangkok.
Several months of soaring infections has turned the Thai capital into a hotbed of the pandemic, placing an enormous strain on its public health infrastructure. 
Many people have been left frustrated and disappointed by the government's handling of the health crisis amid reports of limited testing, full hospital beds and shortages of vaccines.
Voluntary groups started by ordinary citizens have since jumped into action, doing whatever they can to help the most vulnerable people.
ZENDAI: A SOCIAL THREAD THAT SAVES LIVES
For Bangkok residents, each day begins with reports of thousands of new infections. But for Kamonlak 'Mahmud' Anusornweeracheewin, a former inmate on death row, his day starts with a race against time to save as many lives as he can.
He walked free from prison after serving 15 years and 10 months for drug charges. His sentence had initially been reduced to life imprisonment, and good behaviour later resulted in him being released.
Currently, he volunteers with a COVID-19 response group called Zendai to rescue people in critical condition. Many of them are old, debilitated and living alone, with no family member to care for them.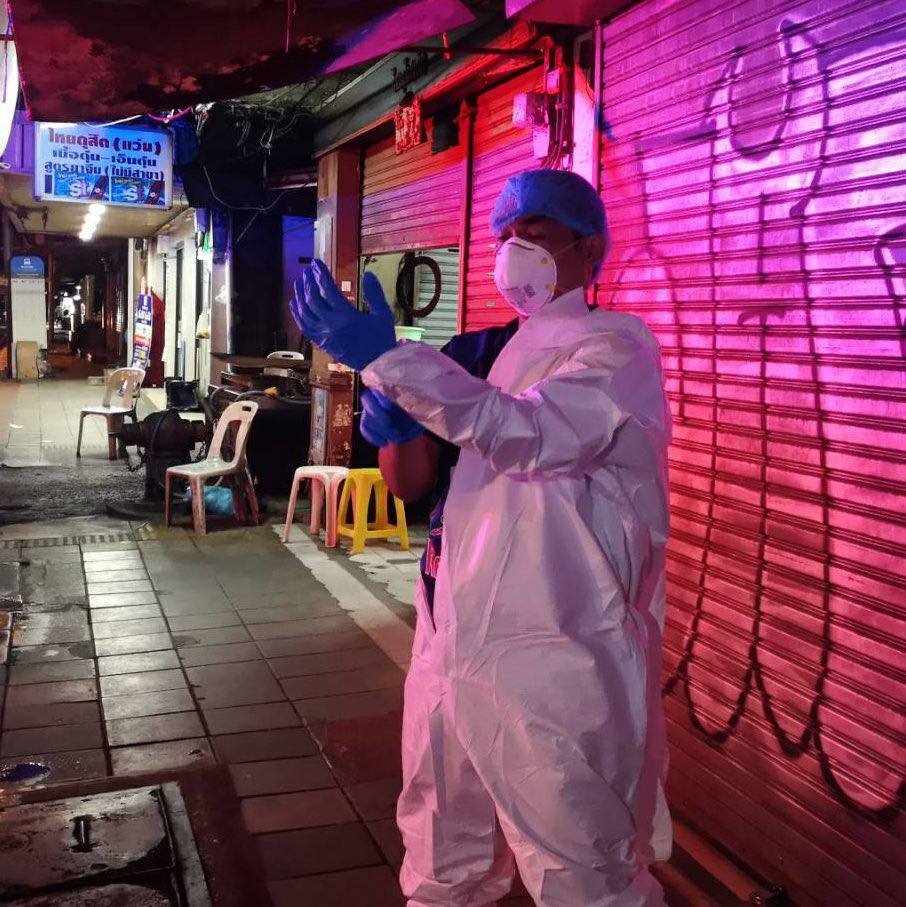 Mahmud, 41, knows what it is like to be forsaken and suffering. He also remembers how it feels to be given another chance at life when there is no hope.
"Whenever I come across a severe case, I feel sorry for them. So when I have a chance to help them, I want to do it," he said.
Zendai has provided healthcare assistance to tens of thousands of people in Bangkok and nearby provinces, often when help from the government was unavailable or delayed. 
Its Facebook page receives about 1,000 requests for help daily - from hospital transfers to finding hospital beds - while its hotline is flooded with a further 1,000 calls every day.
Taking its name from a Thai word for 'thread', Zendai functions as a connector between patients and healthcare providers. It was formed in April, shortly after Up's death, by people who did not want his story to be repeated.
The group offers emergency hospital transfers for people who are infected with the coronavirus but unable to travel by themselves. It also assists those in need with basic medical care and provides rapid testing in local communities as RT-PCR tests remain limited in public hospitals.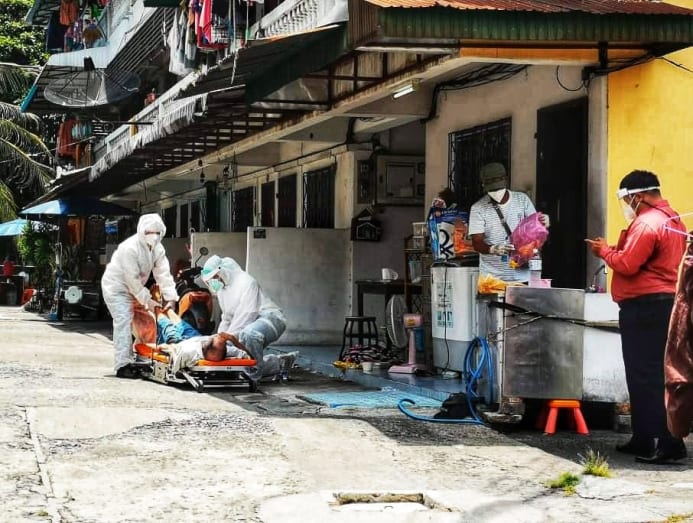 Zendai's volunteers in white protective gear are often seen tending to elderly patients and the less fortunate in underprivileged areas. 
Day and night, they travel around Bangkok to visit patients stuck at home, supplying them with food, medicines and oxygen cylinders to keep them alive.
"The public healthcare system is truly overwhelmed. Government schemes - whether it would be the home isolation system or the registration of patients in the yellow and red groups for hospital beds - aren't working so well just yet. Their COVID-19 testing isn't working well either. This could be because they weren't designed properly," said Zendai co-founder Chris Potranandana.
"Zendai's mission isn't just about helping people. We also want to encourage the right way to manage a system."
With 130 volunteers, Zendai has managed to save many lives when Bangkok's healthcare system is overflowing with patients. 
Its latest campaign was a one-stop COVID-19 response operation, where testing facilities were set up in different parts of the capital. Using a simplified system, people could get tested for free and transferred to appropriate healthcare programmes in one location. 
If the test result came back positive, they could choose to be placed in home isolation and receive telemedicine services co-arranged by Zendai and the Thai Red Cross Society. Hospital referrals could also be provided.
"We're a middleman who connects left with right. We connect patients with hospitals - both public and private," Chris said.
"We do as much as we can and we show others that when it comes to solving COVID-19, good management can really help."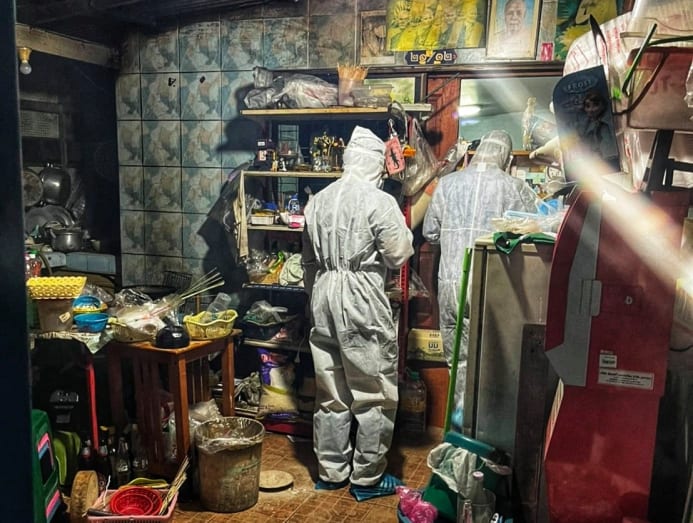 Last month, Prime Minister Prayut Chan-o-cha admitted the healthcare system was overwhelmed and apologised for the loss of life. 
Speaking in parliament on Aug 31 during a no-confidence debate, he acknowledged some patients were not able to get admitted to hospitals because beds were fully occupied. 
"As a result, I have developed field hospitals and improved them. The situation has begun to improve for a few weeks now," said the prime minister, who eventually survived the no-confidence motion in parliament.
"We have to try our best. I am sorry. I am sorry there were losses and afflictions. Nobody wants that to happen."
BANGKOK HEALTH SYSTEM "INCOMPLETE": HOSPITAL DIRECTOR
Data from the Department of Disease Control showed that the COVID-19 situation in Bangkok is more critical as compared to the other provinces.
Since the pandemic occurred, Thailand has reported 1,352,953 infections and 25 per cent of them are in the capital city. It also recorded the highest COVID-19 death toll of 5,425, or about 39 per cent of the total casualties in Thailand. 
On Friday (Sep 10), the country logged 14,403 new cases, with 189 deaths. 
According to Supat Hasuwannakit, director of Chana Hospital in Songkhla and chairman of the Rural Doctor Society, Bangkok's health infrastructure was "incomplete". 
Unlike other provinces, he explained, the capital city does not have health units at the sub-district level to carry out primary care or proactive healthcare work for local communities.
"There are sub-district health promoting hospitals in other provinces, which are responsible for disease control, health promotion and proactive work," Supat explained. "But in Bangkok, there is no public health infrastructure at the sub-district level."
The Thai capital is densely populated. Data from the National Statistical Office showed it is home to about 6 million registered residents and 2.35 million non-registered dwellers. These people live in 50 districts and share 68 public health service centres operated by the Bangkok Metropolitan Administration (BMA).
According to Supat, these centres do not have enough capacity to provide proper healthcare for millions of residents during times of crisis. As a result, patients have to flock to hospitals, clinics or pharmacies for health services.
"There are many hospitals in Bangkok but they don't do proactive work. They only admit patients and treat them. Let's say a person was admitted for COVID-19. Doctors in the hospital may treat him but what about his 10 family members? Are they infected? Who will carry out tests for them, their neighbours or their community?" Supat said.
Months of high caseloads in Bangkok have exhausted its medical resources. Hospital wards are full of COVID-19 patients and many others are queuing to get in. 
At the same time, patients are required to have a positive RT-PCR test result in order to be admitted but testing remains limited, time-consuming and unaffordable for many people. 
Although the situation in Bangkok has improved with fewer reported infections than before, there are still many patients in communities who need urgent help from volunteers. 
For Mahmud, every minute is a matter of life and death. He drives a rescue truck to transport infected people every morning and stands by every night for severe cases.
"If we're late, even only slightly, their condition could be critical and we may not be able to save them in time," he said. "Sometimes, they died just after we arrived (at their homes)."
HOME ISOLATION SYSTEM BEING REFINED 
With the caseload spiking, home isolation has become an important solution for health authorities to ease the strain on medical resources. However, the system has pitfalls.
Last month, director-general of the Medical Services Department, Somsak Akkasilp, described the COVID-19 situation in Thailand as "critical". Noting insufficient hospital beds, he said it was necessary to place patients with mild symptoms in home isolation.
"According to the process, patients will receive telemedicine services twice a day - in the morning and in the evening - where they report their body temperatures and blood oxygen levels. This is a preventive measure," he said during an academic panel organised by his department.
"If their condition deteriorates, we need to know so we can take them out for treatment."
However, frontline workers and volunteers told CNA this has not always been the case for patients undergoing home isolation. 
They have come across cases where people had no access to medical care even though they were registered for home isolation through the government's hotline.
"They're hostless patients, which means they have yet to be taken up by a hospital. As a result, they won't receive anything until then, whether it is their medication, three meals per day or a tool kit for home isolation such as a pulse oximeter, a thermometer and paracetamol," Chris said.
"These patients are registered in the home isolation system but they're floating aimlessly in what I'd like to call 'an aimless and silent universe of home isolation'."
Patients who registered themselves for the programme through the government's hotline are allocated to different healthcare units by the National Health Security Office. 
According to Bussabong Wisetpholchai, a professional registered nurse from the Society and Health Institute which is under the Public Health Ministry, the effectiveness of home isolation largely depends on which hospital or health unit the patient is referred to.
Since June, she has volunteered to take care of patients in home isolation with ComCovid. It is a community healthcare programme operated by the non-profit Institute of HIV Research and Innovation to monitor and provide treatments for COVID-19 patients with mild symptoms and those who are waiting for hospital beds.
The programme is part of a collaboration between civil society groups to help the government contain infections and prevent unnecessary hospitalisation as well as casualties.
Participating patients can be at home or community isolation facilities. They receive daily telemedicine services for at least 14 days from volunteer medical personnel through phone calls or the Line messenger app. 
Patients are also provided with food and equipment for self-monitoring, thanks to additional support from the National Health Security Office.
"Home isolation needs a support system that's strong enough. Patients must be provided with a pulse oximeter and a thermometer. They must be guaranteed three meals a day, an ambulance that would pick them up if their conditions worsen, and a hospital bed. They cannot be tricked into staying at home, with no access to a hospital bed even when their conditions turn critical," Bussabong told CNA.
When she started volunteering in June, the home isolation system was new and had many teething issues. "Some patients waited for ten days and still nobody called them," she said.
"But it's faster now, taking just two or three days. This is because there are more volunteers and the programme has been solidified."
According to Nattapong Wongwiwat, deputy director of the Medical Services Department, the National Health Security Office has been developing a system to ensure timely medical response for patients in home isolation, including medication and hospital referral.
"Everything is all new. Hence, the chaos," he said during an academic talk about home isolation last month. 
"The system is increasingly in order. It's just happening when there are a lot of patients. So, its efficiency and effectiveness is not good enough. Still, we're working on it to give people opportunities and what they should get," he added.
CONSTRUCTION WORKERS LEFT ON MARGINS OF SOCIETY
Since April, the Thai government has introduced various measures and restrictions to contain the deadly virus. Public movement has been reduced by a night curfew and several bans on social activities in highly infected areas such as Bangkok and its nearby provinces.
While most people have been allowed some freedom of movement, one profession has spent at least a month in enforced confinement - construction workers.
In June, clusters of COVID-19 broke out at construction sites and worker camps in Bangkok. As a result, hundreds of such venues were shut and sealed off for at least 30 days from Jun 28. 
All construction work was suspended and workers were prohibited from leaving the sites, even to buy food. Security officers were also employed to guard the entrance and exit of camps with cases of infected people.
"It has been proven that they are hotbeds of a lot of transmissions," said the prime minister in a press conference on Jun 25. 
"The measures will last about a month only, just a month. Please bear with it."
Bangkok is home to some 80,000 construction workers in more than 500 work sites, according to Labour Minister Suchart Chomklin. Many of them are not covered by social security and had to live with zero income for several weeks. 
The government asked construction companies to provide food for their employees, with additional support from the Labour Ministry. The plan was to conduct proactive testing among workers and treat those infected during the closure. 
Workers who are registered in the social security system will be compensated for the period without work. 
However, not everything went as planned. Some companies took care of their employees while others left them to starve.
At a construction site in Bangkok, 154 workers could have been seriously ill if it had not been for volunteers who helped them with food and medical treatment. Their site became a big cluster after more than 100 workers tested positive for COVID-19. 
From Jun 28 to Aug 2, they were locked up in their squalid camp without much assistance from the government. Their employer provided US$1,500 for food every week for all in the camp, but it was not enough to keep everyone from going hungry. 
During the day, the workers had to find ways to occupy themselves outside their scorching tin shacks before cramming into them at night.
"The space in the camp is quite crowded with narrow walkways. It's hard to walk around because there are many workers in a small space," said Rachaneekorn Komtang, a liaison officer of the construction firm that operates the site.
"It's not surprising they infected one another."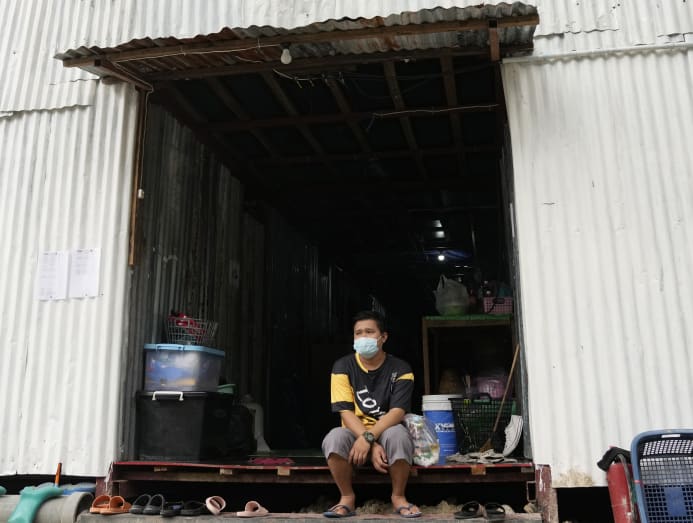 According to Rachaneekorn, the Ministry of Labour only provided food for two weeks and it was just one meal for every one per day. 
The workers had to rely on their employer and donations from the outside world to survive. A lot of help came from a group of volunteers called No One Cares, which was formed to help construction workers with food and basic COVID-19 treatment.
"Without them, I don't know what it would have been like for the workers," Rachaneekorn said. 
"They are all day labourers. If they don't work, they don't get paid. The government's compensation is not available for them because they don't have social security," she added.
"WHY CAN'T THE GOVERNMENT DO ITS JOB?"
No One Cares was set up shortly after the government's order to seal off worker camps and construction sites. It developed its own database with information of about 1,200 such venues in and around Bangkok as well as a web application that connects donors with worksites in need of help. 
Donors can look up if there is any camp in their neighbourhood, what assistance it needs, who the contact person is and how to reach the site. 
The help listed ranged from food to medicines and items for everyday life such as soap and toothpaste. The online platform also provides information on how many people at the site are infected with COVID-19 and what has been done to help them.
Its co-founder Chaiwat Wannakhot told CNA the group specifically targets construction workers because they have been neglected and badly affected by the government's restrictions. 
With limited food supply, he said many workers had to lie down in their tin huts during the day to save their energy and avoid hunger.
"This is the starvation we've witnessed," he said. "People don't have food to eat, to put it simply. They have no income. They have no food."
Besides food, No One Cares also provides daily telemedicine for infected workers, along with oxygen cylinders and medicines.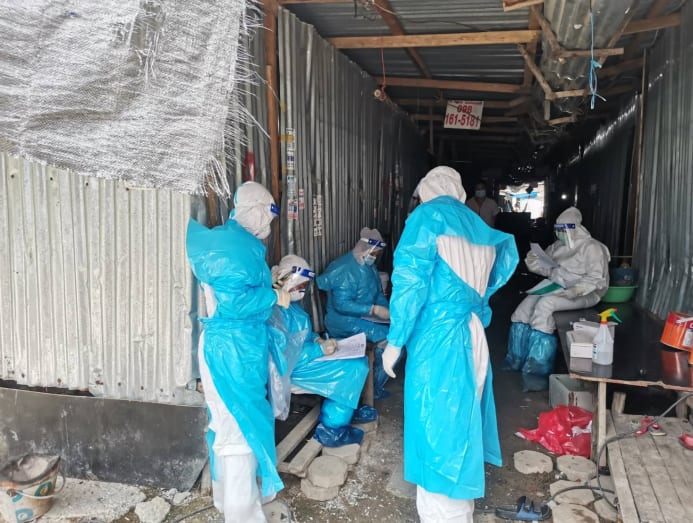 According to Chaiwat, a number of sites reported internal transmission of COVID-19 as workers were barred from leaving their camps while testing and treatments were limited.
"The plan to close these camps in order to control the disease and conduct proactive testing wasn't realised. It ended up making people in the camp infect one another," he said.
No One Cares' founding members felt the government has failed to do its job in taking care of people, especially those who were directly affected by its policies.
"We work so the government can see that even volunteers like us, who don't have many resources, can still do so much. We can take care of people in the camps and the unwell. Why can't the government do its job? This is what we want to show," Chaiwat told CNA.
"It's not a good thing for our group to exist. It's a bad thing," he added. "It shows how much the government has failed."
As of Aug 10, No One Cares has helped more than 1,500 people from different parts of Bangkok.
Certain restrictions were relaxed earlier this month after the daily infection rates slowed down. 
Several construction sites have resumed their work and many infected workers have recovered. Still, a number of volunteers keep working to save vulnerable patients whose calls for help have not been answered.
For Mahmud, the Zendai volunteer, his hard work continues.
Every day, he puts on his protective suit and two face masks. He has been driving the rescue truck for about five months now, lifting and carrying patient after patient. Work is exhausting but it gives him joy.
"Whenever I see someone suffer and have nobody to turn to, it's like seeing myself in prison before. It's just a different scenario but I think we share the same feelings and thoughts," he said.
"I'm happy I can help people no one cares about."