'It's like a graveyard': Thailand's famous Khaosan Road is struggling despite return of tourists
While international tourists are again visiting Thailand, places that rely on nightlife to draw people have yet to reap the benefits.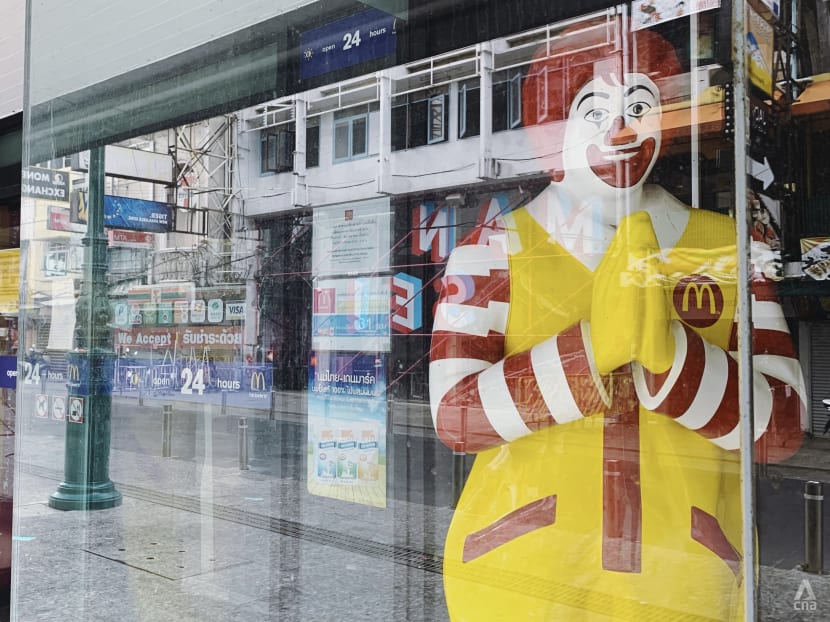 BANGKOK: The McDonald's clown mascot stares blankly at the empty road outside the restaurant. Its wide red grin and big lifeless eyes were visible through the glass window.  
"Open 24 hours", reads a blue sign on the door. But there was nobody inside the burger joint. The business has closed as a result of the pandemic, a grim fate shared by many others on Bangkok's landmark street where they are all located - Khaosan Road.
The 400m stretch is well-trodden by visitors from around the world, once drawn to its active nightlife, cheap street food, shops and hotels.
It used to be known as a street that never sleeps. But today, Khaosan Road feels deserted.
"It's like a graveyard," said food vendor Supaporn Promto. Her northeastern Thai food stall at the top of the street is completely empty. Its prime location becomes irrelevant when there are hardly any visitors to the area. 
"It used to be so lively with tourists. At night, people almost had to jostle when they walked," she added. "It's totally different now."
Thailand has further reopened its borders to welcome back international travellers since the start of this month. Data from the Disease Control Department showed 30,538 air travellers arrived in Thailand between Nov 1 and Nov 10. Most of them came from the United States, followed by Germany, the United Kingdom, Japan and South Korea.
The Tourism Authority of Thailand forecasted that various entry schemes would bring at least 700,000 visitors to Thailand this year. For 2022, it expects the tourism sector to generate 1.58 trillion baht (US$45.7 billion), including 818 billion baht from international tourists.
With relaxed COVID-19 measures, various businesses embraced what they hoped would mark the start of a recovery and resumed their operations after a long hiatus. 
However, many along the famous Khaosan Road remain shut. Bars and nightclubs lining the street are not allowed to reopen yet. They are categorised as night entertainment venues, which according to the government, entail the risk of spreading the coronavirus.
Since March last year, pubs, bars and nightclubs in Thailand have been ordered to close repeatedly. The government has feared their operations would encourage social gatherings and lead to new infection clusters.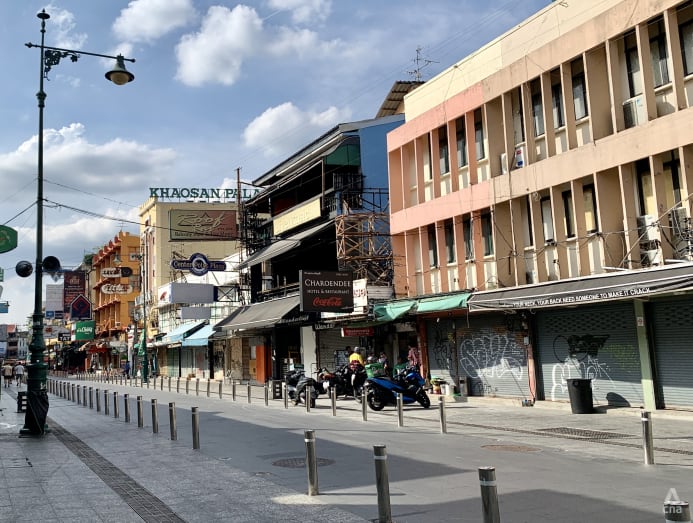 For business operators on Khaosan Road, the past 18 months has been a desperate struggle with very few or even no customers, close to zero income and limited help from the government.
"I haven't done anything but pay rent. People here don't own the place so we have to keep paying rent. It's like we're buying our future in case it will be good," said Phudit Jiradamangmun, the owner of the Sky 999 beer bar. 
To survive, he has switched to selling milk tea and coffee for about a month now. But that is not enough to cover his staff's salaries, utilities and rent. His savings were all used up last year. Phudit said he had to borrow money to maintain his business as there is hardly any help from the government. 
The only financial assistance he received from the social security fund was worth 10,000 baht. "It's not enough," he told CNA. "It has been nearly two years already and we have to keep shouldering the burden."
DON'T BE SELFISH: THAI PM TELLS BUSINESS OPERATORS
The COVID-19 situation in Thailand may have improved from how it was several months ago but the new daily infection rates are still in the thousands.
The country reported 7,305 new cases and 51 deaths on Friday (Nov 12). Data from the Disease Control Department showed there were 76,511 infections and 596 casualties within the past 10 days alone.
To promote the tourism sector, the government has eased several COVID-19 measures in certain provinces frequented by international tourists.
In Bangkok, a ban on alcohol sales and consumption at eateries was lifted on Nov 1, although this only applies to restaurants which have been certified for the required safety and hygiene standards to control COVID-19. Moreover, the sales and consumption must stop at 9 pm.
For business areas that rely on night entertainment such as Khaosan Road, the gradual return of international tourists has not helped them recover from economic woes if they cannot fully operate like before.
"The revenue has been zero for more than a year now. When there are just a few businesses open, nobody comes because Khaosan Road is all about the nightlife. If they're allowed to reopen but not to sell alcohol, it's like they can't really open yet," said vice president of the Khaosan Road Business Association, Prasit Chiaranaisakul. 
"The objective of both foreign and Thai visitors to Khaosan Road is to eat and drink. If it is to reopen, it should resume full operations in order for this to work."
On Tuesday, Prime Minister Prayut Chan-o-cha assigned the government spokesperson to relay his message about COVID-19 preventive measures in a press conference at the Government House.
"Everybody must not be negligent. The business sector and entertainment businesses must not be selfish by only thinking of increased income without precautions. For Thailand to move forward, we need to live with COVID-19 cautiously," said government spokesperson Thanakorn Wangboonkongchana.
"The government does not wish to impose another lockdown if not necessary."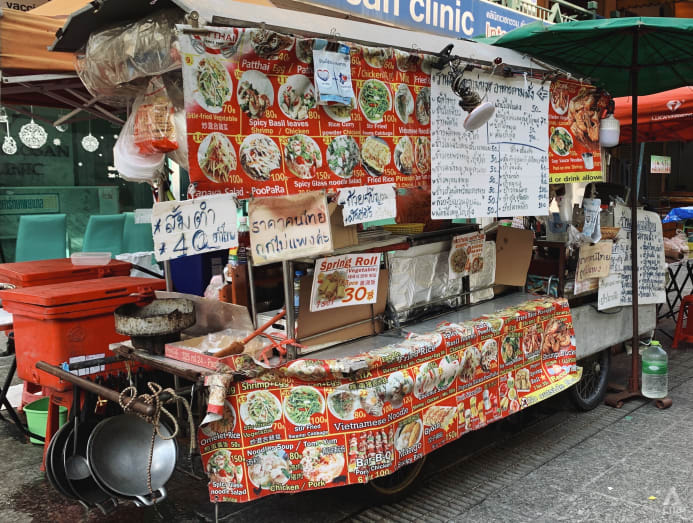 For Prasit, the gradual relaxation of COVID-19 restrictions is "the right thing" to do because a lot of people in Thailand are still concerned about the situation.
"As for all the rules and regulations, we're willing to follow them so the government can feel at ease," he said. 
According to him, there are preparations to ensure all business operators and employees on Khaosan Road are fully vaccinated against the coronavirus before they start working again, which he hopes could happen early next month.
"When we reopen, I hope there won't be any more incidents because we can't take it anymore," he said, referring to outbreaks and lockdowns. 
"If that keeps recurring, we have no more strength to deal with it again."
On Friday, Thailand's Centre for COVID-19 Situation Administration (CCSA) announced the postponement of its plan to consider allowing night entertainment venues to reopen in December. 
Citing concerns about ventilation and transmission of the coronavirus, CCSA spokesperson Taweesin Visanuyothin said operations may be allowed to resume on Jan 15, depending on the situation.
On Khaosan Road, a local man is getting his dreadlocks at a small pop-up shop on the pavement. Once in a while, some foreign tourists would appear and stroll past the empty McDonald's.
If anyone looks through the dusty window, they will see the smiling mascot and its beautiful 'wai' - a traditional hand gesture Thais use in greeting, which has not welcomed any customers for perhaps far too long.