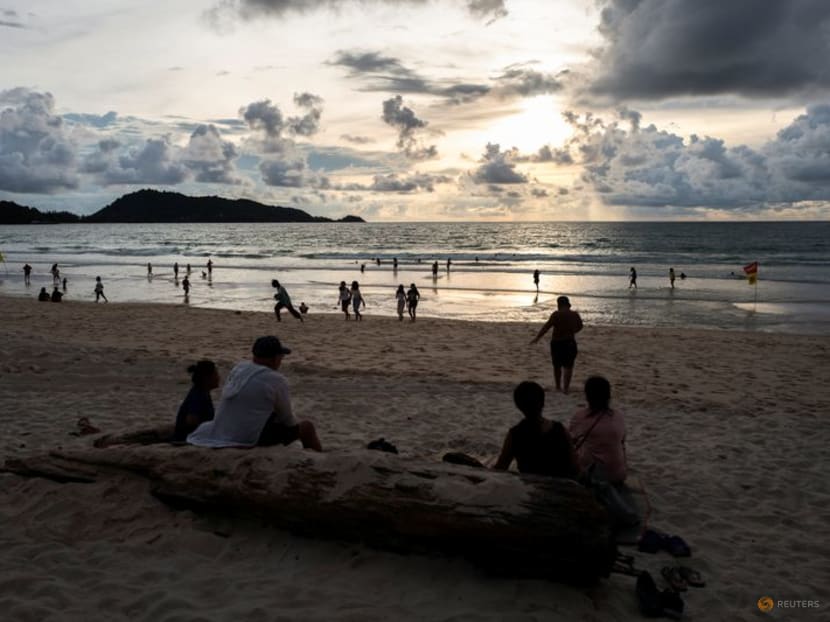 BANGKOK: Thailand is preparing to downscale its COVID-19 quarantine requirements for fully vaccinated international tourists and reopen the country in four phases, starting from October, according to the COVID-19 Situation Administration Centre (CCSA).
Starting from Oct 1, international travellers who have been fully vaccinated against the coronavirus for at least 14 days and can prove it with a vaccination certificate will only be required to undergo seven days of quarantine upon their arrival.
However, there will be no quarantine requirement in certain provinces that will have reopened to international travellers.
"They'll be swabbed twice. The first time is between Day 0 and Day 1, which is the first day they arrive. The second time is between Day 6 and Day 7," said CCSA spokesperson Taweesin Visanuyothin during a press conference on Monday (Sep 27).
International travellers who are not fully vaccinated will have to be quarantined for 10 days if they enter Thailand by sea or air. If they enter by land, the quarantine period will be 14 days.
According to CCSA, they will also be required to take PCR tests twice after their arrival. 
Currently, all international visitors are subject to a 14-day quarantine period unless they participate in Thailand's quarantine-free tourism scheme.
Besides adjusting the quarantine requirements, Thailand has also laid out a plan to reopen to international tourism in four phases.
In each stage, different provinces will be added to the so-called Blue Zone, where travel is not restricted and various social activities as well as gatherings of no more than 500 people are allowed.
The initial pilot phase is from Oct 1 to Oct 31. It covers Phuket and parts of Krabi, Phang Nga and Surat Thani such as the popular islands of Phi Phi, Samui and Pha-ngan. 
While parts of these provinces have reopened to international travellers since July, others still need to speed up their vaccination programmes and ensure the COVID-19 situation remains under control for the full reopening next month.
The second phase is from Nov 1 to Nov 30. It covers ten provinces where income from international visitors usually makes up at least 15 per cent of their tourism revenue. They include Bangkok, Chiang Mai and Chonburi, among others.
CCSA's announcement confirmed a change of plan for the Thai capital, where reopening to international tourism was initially scheduled for mid-October.
"We are confident that on Oct 15, Bangkok will be able to reopen to international tourists," said Tourism and Sports Minister Pipat Ratchakitprakan on Sep 15 after a discussion with Bangkok governor Aswin Kwanmuang.
At least 70 per cent of Bangkok residents were expected to have been fully vaccinated against COVID-19 by that time. However, based on CCSA's Monday announcement, its reopening has been postponed to November.
The third phase is from Dec 1 to Dec 31 and the last phase takes effect from January 2022 onwards.
On Monday, Thailand reported 10,288 new COVID-19 infections and 101 deaths. The country has been battling a deadly wave of outbreaks for several months. Since April, it has reported 1,543,063 cases of the coronavirus and 16,275 casualties.
Various measures have been imposed by the government to control the spread of the virus, including restrictions on social activities and curfew. However, as the situation has begun to improve, CCSA announced on Monday that the curfew will be shortened by an hour come Oct 1.
Currently, Bangkok and 28 other provinces with high rates of COVID-19 transmission are required to observe the nightly curfew between 9 pm and 4 am.
"It will be adjusted to 10 pm-4 am. This will be used for at least 15 days before the reassessment," Mr Taweesin said.
He added that department stores in such provinces will also be allowed to extend their operations until 9 pm from next month. However, alcohol consumption at eateries will still be prohibited.