Thai start-up on a mission to revive old clothes and slow down fashion industry
A new online start-up in Thailand wants to make clothing repair easy and stylish in order to make the fashion industry more sustainable.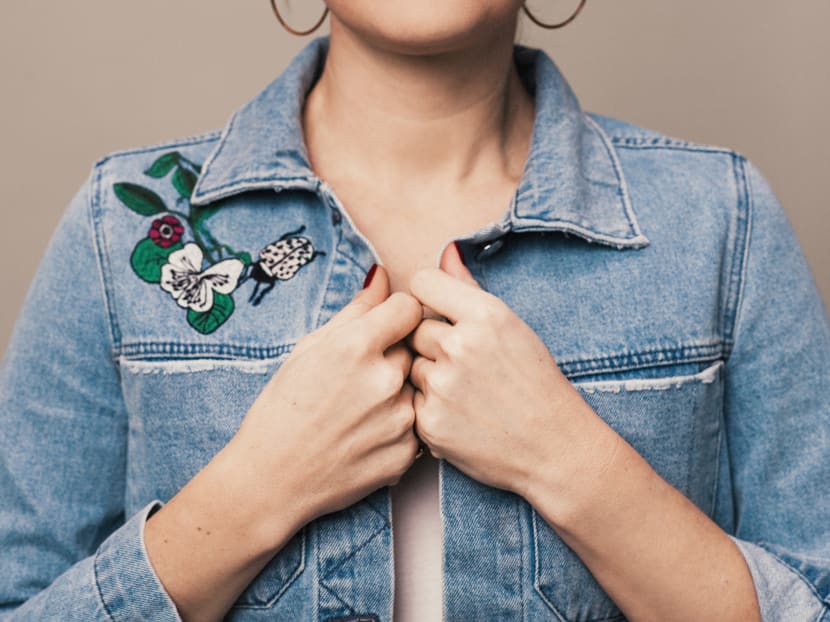 BANGKOK: Hau Thi Pa was heavily pregnant with her first child. Still, she insisted on joining a workshop in Bangkok with other Hmong refugees from Vietnam earlier this year.
A few of them were mothers with young babies. Their tiny faces popped out from sling bags on their mothers' backs, all hand-sewn and decorated in the ethnic Hmong style.
"I want to be able to earn income by myself," Hau Thi Pa told CNA. 
The 20-year-old arrived in Thailand with her family at a very young age. She is skilled at sewing, which is a Hmong traditional art form passed down from mothers to daughters for generations.
Like other participants, Hau Thi Pa was learning the art of redesigning old clothes for customers in the workshop organised by Reviv - a Bangkok-based online start-up that offers clothing repair and alteration services.
Besides giving old clothes a new life, it also promotes a fashion culture that cares more about the environment and the vulnerable in society.
"People are increasingly talking about problems of the fashion industry, which consumes a lot of resources - whether it would be trees, land, water or energy. It also generates waste, not to mention labour issues," said Reviv co-founder Poom Kometsopha.
"In fact, we've already had enough clothes for everyone in this world. The problem is a lot of them were simply discarded."
Reviv was launched in early September with a main goal of educating consumers about the environmental and social impacts of the fashion industry. It offers online services to make clothing repair and alteration easier and more convenient.
Although such services are not uncommon in Thailand, it is not always easy to find the providers nowadays. Many of them are scattered outside the city centre and do not have a fixed working schedule.
Moreover, many Thai consumers have adopted a negative attitude towards old clothes, according to Poom. 
"Repairing or reusing old clothes may not be so fancy or well accepted," he said. 
"The culture of fast fashion has taught us to associate our self-worth or value with buying new clothes all the time. So, opting for old clothes doesn't quite boost people's self-esteem."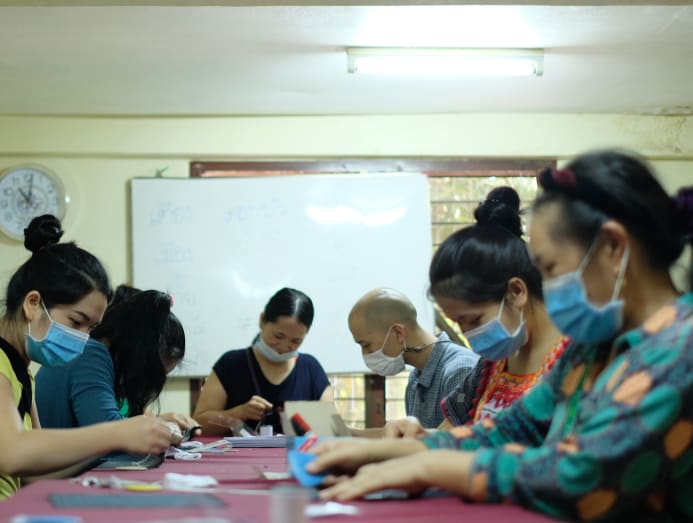 By connecting consumers with quality artisans online, his start-up hopes to change such perception and advocate a more sustainable kind of fashion in the country.
Its services are available on the web and the Line messaging app. Customers can choose from the menu how they want their clothes repaired or changed - from patching to size adjustment and embroidery. 
Once payment is made, customers can post their clothes to the company. They can also track the work progress online and get their clothes back within two to three weeks.
FAST FASHION DAMAGES ENVIRONMENT
Despite its main service in clothing repair, Reviv was in fact created with a green mission to fight fast fashion in Thailand, where garments are affordable and easily discarded. 
Fast fashion refers to the mass production of inexpensive, trendy garments that are low-quality and disposable. The business model is common in Thailand and often employs low-paid workers.
Data from international market research and analytics firm YouGov showed four in 10 Thai adults have thrown away an item of clothing after wearing it just once.
In October 2017, it conducted research with 1,137 respondents in Thailand and found that one in five millennials - those aged between 25 and 40 now - keep their clothes for under a year before throwing them away.
"The most popular reason for disposing of clothes is because they no longer fit, which 45 per cent consider grounds for throwing garments away," YouGov reported.
Other common reasons are because their clothes have been damaged. The research also showed millennials are more likely to dispose of their garments because they are "bored" of wearing them, compared to the older generation.
"Across all generations, nearly one in five (17 per cent) have thrown unwanted clothes in the bin," YouGov added.
Each year, various practices in the fashion industry have devastating impacts on the environment. According to the United Nations Environment Programme, the industry produces between 2 per cent to 8 per cent of global carbon emissions and releases half a million tonnes of synthetic microfibres into the ocean annually.
Every second, the UN said, the equivalent of one garbage truck of textiles is landfilled or burned and if nothing changes, "by 2050 the fashion industry will use up a quarter of the world's carbon budget".
Although more retailers are moving towards sustainable fashion that is friendlier to the environment, their transformation does not address the overconsumption in the fashion industry.
"If consumers continue to consume too much and forget about their old clothes, the problems of this industry will never end, no matter how many fashion brands are environmentally friendly," Poom said.
"FELT LIKE I GOT A NEW PAIR OF JEANS"
By making clothing repair easy and more accessible, Reviv's co-founders hope more people would reuse their clothes instead of buying new ones while saving the planet from more carbon footprints, waste and plastic.
They also offer various styles of needlework to help clients customise a new look for their old garments, giving them a new life that is not just stylish but also tailored to what each person needs.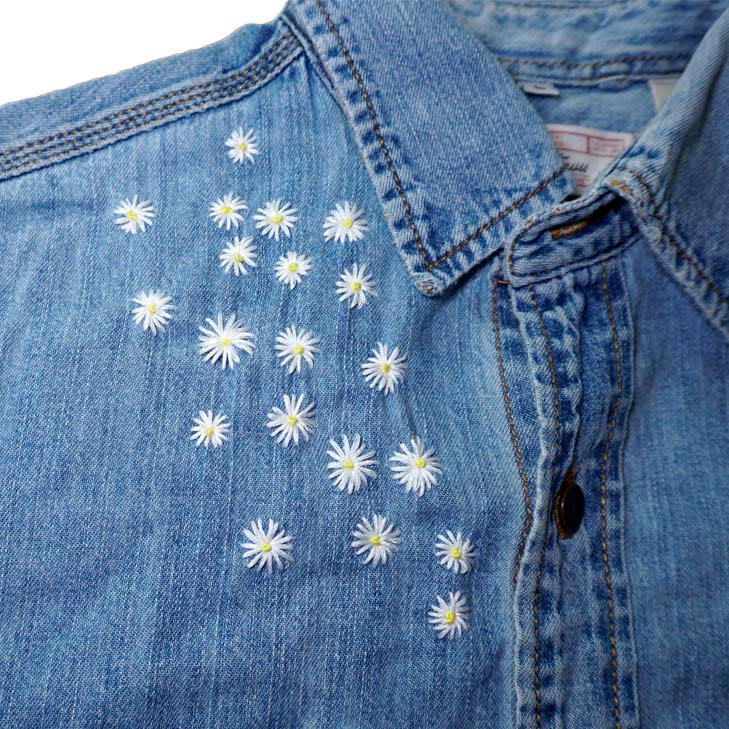 One of its customers is Jirapa Chonweerawong. She has a pair of jeans that have been with her for more than 20 years. Well-worn and damaged, they were left in the closet for a long time until Jirapa came across the start-up and sent them in for repair.
"When I got them back, I wasn't so excited. But when I put them on, I felt like I had got a new pair of jeans. Nowadays, when I need to go somewhere, I'd grab them first with no hesitation," she told CNA.
"I like that there are patterns and we can choose them ourselves. The needlework is neat."
Besides a new look for her old jeans, Jirapa also enjoyed the fact that one more garment was saved from the landfill. Her purchase also went towards helping ethnic minorities such as Hau Thi Pa as well as other vulnerable groups in society.
Through its choices of raw materials, business partners and artisans, Reviv hopes to remind its customers of various social issues, from the statelessness of refugees to a lack of social security among non-registered garment labour. 
It also works with suppliers who have special needs and visually impaired craftsmen who create textiles and embroidered fabrics for its customers. 
"Customers can use their work to repair or redesign their clothes. By doing so, they give voice to these voiceless people," Poom told CNA.
"They do it by wearing their stories, showing and telling them to others."
For Hau Thi Pa, who currently heads the sewing team, the job has enabled her to utilise her sewing skills to support her family.
Each time she works, the young mother also gets to save a piece of clothing from landfill. 
"I want my customers to be happy with the clothes they still want to keep wearing," she said.