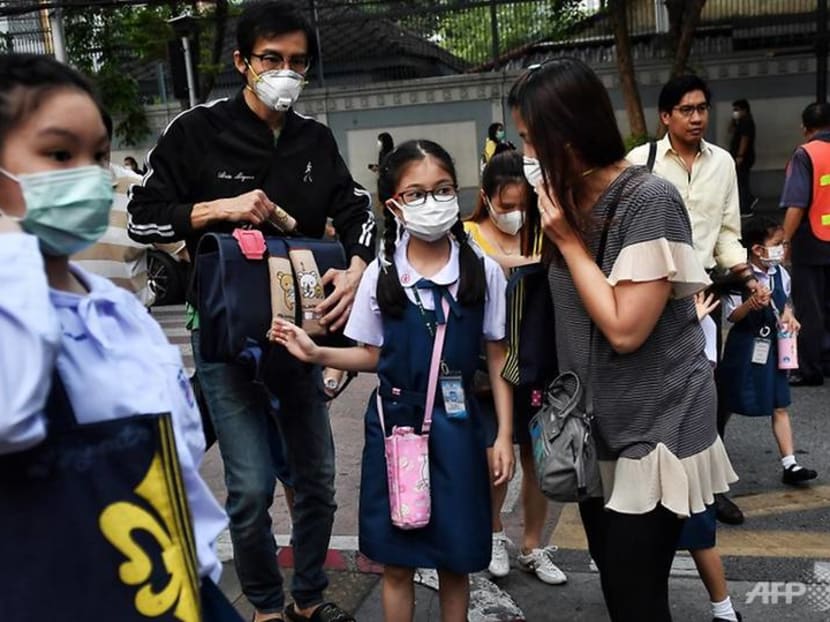 BANGKOK: Thailand unveiled various strict COVID-19 control measures on Tuesday (Sep 14) in preparation for classes to resume in schools.
Known as Sandbox Safety Zone in School (SSS), the initiative was jointly developed by the education and public health ministries. The measures aim to create a safety zone in educational institutes once they are allowed to resume on-site operations. 
"The Public Health Ministry is fully aware that it is crucial for students to go to school as usual because it affects the interactions among themselves and their interactions with society. Besides, there are many activities that children cannot fully learn online," said Dr Suwanchai Watthanayingcharoenchai, director-general of the Health Department, in a press conference on Tuesday.
Many schools in Thailand have remained closed for several months due to the COVID-19 pandemic. 
However, on-site learning is expected to resume in the second semester in November as the government plans to vaccinate 4.5 million children aged between 12 and 17 next month.
Under the SSS initiative, educational institutes will be categorised according to the severity of the transmission in their respective provinces, from green to yellow, orange, red and dark red. Each category will entail different COVID-19 control measures.
These include the requirement for educational institutes to assess their readiness for on-site education based on guidelines provided by the Health Department and to carry out learning activities in small groups.
Those located in the high risk zones such as Bangkok will need to conduct COVID-19 rapid antigen tests one or two times per week. They are also required to issue a school pass for every student, teacher and educational staff for screening and monitoring purposes.
"The school pass will contain information such as their personal risk assessment, results of their rapid antigen tests, vaccination records or medical history going back one to three months in case they've been infected before," said Dr Suwanchai of the Health Department.
Before on-site learning can resume, each school must also ensure that at least 85 per cent of the teachers and staff have been vaccinated against the coronavirus. If an infection is detected, the school is required to strictly follow the Public Health Ministry's incident action plan.
For the red and dark red zones, businesses located within a 10m radius of the schools are also required to conduct risk assessment and adopt the so-called "COVID Free Setting" measures developed by the health department. 
They include limited seating, regular cleaning of surfaces and weekly COVID-19 rapid antigen tests among employees, among others.
"Although we've developed all these measures, we can't avoid the possibility of detecting infections. That's why we've designed an incident action plan and practised it. We've also prepared what we call 'school isolation areas'. We can't let the children do e-learning from home forever," Dr Suwanchai said. 
"Various measures have been designed to create safety for students, communities and their families."
The SSS initiative has been implemented in boarding schools during the trial period. Each school is divided into three zones, including the screening zone, the quarantine zone and the safety zone, where students and teachers can carry out activities close to normal.
Data from the Health Ministry showed a continued increase of COVID-19 infections among school-age children and adolescents, which went from 2,426 in April to 69,628 in August.
According to Dr Chawetsan Namwat, the emergency health hazard and disease control director of the Disease Control Department, 30 million doses of the Pfizer-BioNTech COVID-19 vaccine will arrive in Thailand later this year and will be used to inoculate secondary school and vocational students. 
Since Feb 28, 40.95 million doses of COVID-19 vaccines have been administered in Thailand. 
According to Dr Chawetsan, 38.2 per cent of the population or about 27.54 million people have received their first shot and 17.8 per cent have been fully vaccinated.
"Educational institutes in each area will report the numbers of students to the respective provincial public health office for vaccine allocation, which will begin in October," said Dr Chawetsan.
About 2 million doses will be dispatched in the first two weeks of October, followed by 2 million doses in the third week and 1 million doses in the fourth week, he added.
"Then we will use another allocation plan for November. The Pfizer COVID-19 vaccine will be administered in two doses, about three to four weeks apart."