These angels bring warmth into the lives of Hanoi's homeless elderly
Students and young professionals are among the volunteers stepping in to help the sick and homeless elderly, who otherwise die alone and uncared-for on the streets
HANOI: It is 1am and medical student Chu Thương Minh Trang, 22, is squatting on the cold pavement listening intently to Nguyen, a 70-year-old homeless man with a toothy smile on his face.
The street is poorly lit and dirty, but it is this man's only refuge and home on some nights.
Huddled against the wind chill, Mr Nguyen, who is wrapped up in three layers of clothes, grumbles about how his hands are sore, and his back painful from repairing bicycles. Without hesitation, Ms Chu reaches across and gently massages his knobby fingers.
Along with other volunteers of the Ấm Volunteering Club, the young woman has been providing free weekly health screenings and medical supplies for the homeless elderly.
She typically lugs around a blood pressure monitor and a medical satchel filled with tablets, syrups and ointments on these weekly Saturday rounds, which stretch from 10pm to 3am. On this occasion, she passes three packets of Salonpas gel patches to a grateful Mr Nguyen for his aching back. He responds by giving Miss Chu a hug.
He said: "I lead a difficult life, but I am touched when these young volunteers visit me. I have gone through many hardships but I don't feel so sad now, because I know there are good people around helping me."
WATCH: How 'Am' volunteers touch lives (4:28)
DEATH ON THE STREETS
The Am Volunteering Club – Am meaning 'warmth' – started out in 2011 delivering warm clothes and blankets to the homeless during the cold winter months.
"They didn't have enough clothes; they had to wrap raincoats around their body to keep warm," said club manager Vu Trung Anh.
But when several cases of homeless folks dying on the streets due to a lack of medical attention came to the volunteers' attention, they realised they needed to do more, said Mr Vu.
"There was an old man on Hang Dong street who died from a flu, on the street. Nobody knew that he had died.
"And there was an uncle near Tay Son park, who died of illness in severe weather. We'd asked him his wish for Tet (the Vietnamese new year). His only wish was clean water. We didn't have enough time to make his wish come true."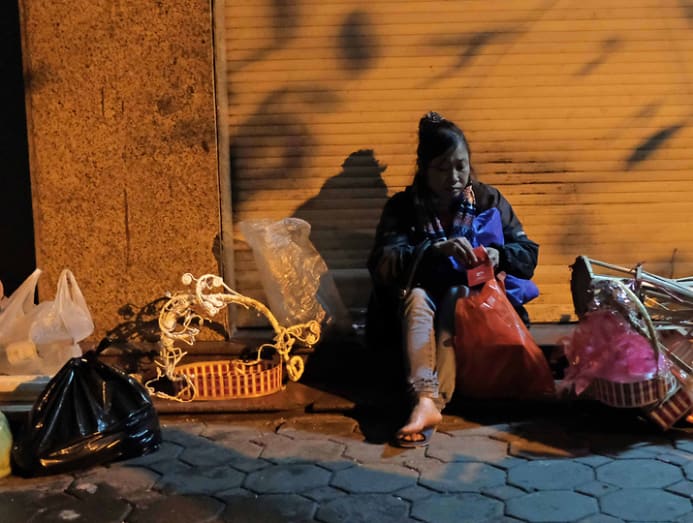 Mr Vu added: "Even though we'd distributed presents weekly, we did not know about their health conditions. We could have provided them with medicine."
And so last year, the volunteers expanded their work to include weekly health checkups for the homeless.
BRINGING RESPITE FROM PAIN
Today, the group has around 22 regular members, who include young working professionals and university students.
Every Saturday night, the volunteers pack and distribute goodie bags with food items such as instant noodles and sticky rice. They also spend hours talking to the homeless, taking note of requests for necessities such as clothes, toothbrushes, towels and medicine.
Miss Chu, who was roped in as a volunteer by a friend, said some of the most common ailments among these homeless are lung disease, high-blood pressure and diabetes.
Those with pressing medical issues are conveyed to hospital for treatment, with the group covering their expenses out of a fund supported by online donors, sponsors and friends.
Said Ms Chu, a student at the Vietnam Academy of Traditional Medicine: "We can only perform general check-ups and give them advice. For example, if they have diabetes, we will advise them about the foods to eat and to avoid."
For 69-year-old Madam Tran, these volunteers are a godsend in an otherwise painful and hard existence. She spends her nights collecting used glass bottles, waste paper and metal cans from the streets to sell.
Her knees cause her much pain following a motorbike accident, but still she trudges on digging for junk as that is her only source of income. She often has to sleep on the streets as she has difficulty coughing up the monthly rental of VND600,000 (S$37) for a small room.
Her only relief is when medical students like Ms Chu turn up once a week with free medication to ease her pain. She said: "They also encourage us, which is so valuable. We are thankful, but we also told the volunteers that they take too much time caring for us - they should focus more on their studies."
JOBS FOR THE HOMELESS
Mr Vu is proud of the achievements of the club, and how it has raised awareness about the homeless in Hanoi.
He said: "Five years ago, no volunteer group paid any attention to the homeless. Now, more and more groups have been formed to help them or give them presents. This is a very positive sign that the community is thinking differently about the poor and the homeless."
But giving them material gifts is just the start. "The next step is to research what are their actual needs, and finally find some suitable jobs for them," he said.
So far, a few companies have contacted Am and offered "several vacancies" for the homeless, Mr Vu said, such as an organic farm which is offering food and accommodation as part of the deal.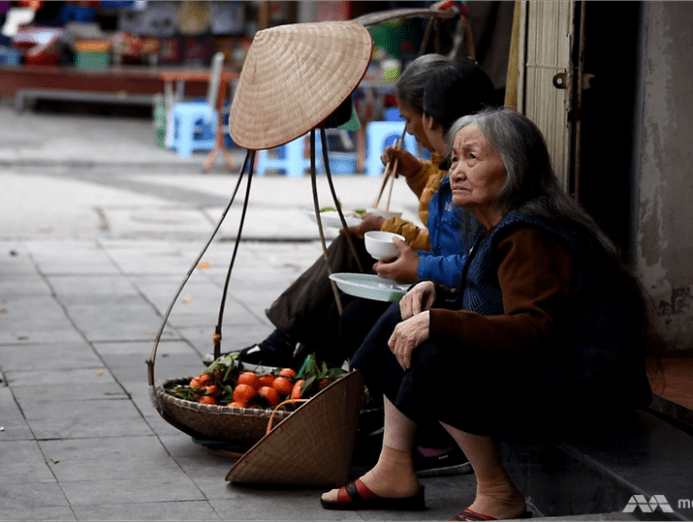 The homeless, Mr Vu noted, tend to fall into three groups: Rural folks who come to the city to earn a living and can't afford the rent on a room; elderly folks who fall out with their families; or those who simply do not want to depend on their children and grandchildren.
The number of elderly in need is expected to grow, with Vietnam bearing the dubious distinction of having the world's most rapidly-ageing population.
Besides Am, other NGOs and social enterprises have sprouted up to help the growing number of elderly poor in Vietnam, for whom there are very limited safety nets.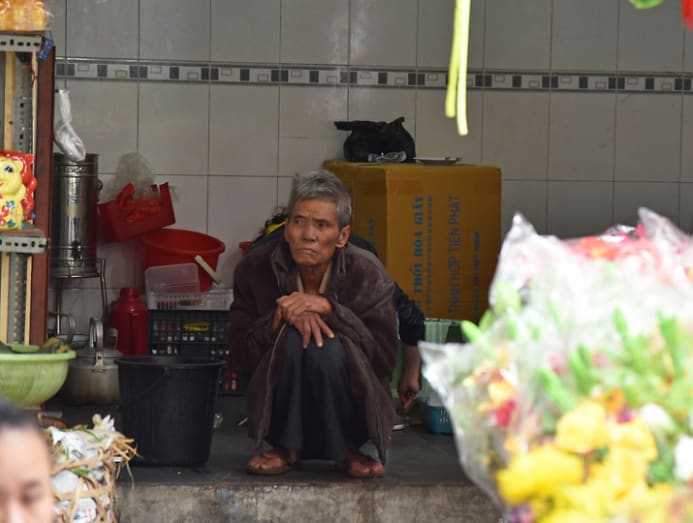 SELF-HELP CLUBS ACROSS VIETNAM?
Still, such NGOs are few and far between, according to Ms Nguyen Ngoc Quynh, an official with the United Nations Population Fund (UNFPA).
Which is why the UNFPA piloted the Inter-Generational Self-Help Club model in 2013 to boost the quality of life for older and disadvantaged Vietnamese, and to help reduce poverty.
Initiatives include health screenings, income generation activities, community support, home care for those in need, and microcredit funding to help them start their own business. The clubs are led by local communities, funded out of the State and provincial government budgets, as well as by private donors and communities themselves.
"The pilot programme went very well and by the end of 2016, the prime minster had approved a plan to replicate that model nationwide," said Ms Nguyen.
"We hope that there will be more community based models like that in all of the provinces in Vietnam. But it will need a lot of investment and technical support which is still lacking in Vietnam," she added.
There are currently over 1,000 of these self-help clubs across 17 provinces, and the national plan is to have an additional 3,200 clubs in at least 65 provinces and cities.
Ms Nguyen said the UNFPA is also pushing the government to develop long-term care systems for the elderly. "Social protection is a big issue in Vietnam," she said. "We need to review the social protection policies and expand the coverage to all."
This is part of a series by CNA Insider exploring the issues of elderly poverty in the region's countries, such as South Korea, Singapore and Myanmar. Read part 1 about Vietnam's problem with elderly poverty here.