China's COVID-19 curbs put spotlight on youth mental health
More young people are accepting the idea of seeking help for mental health issues, as the Chinese government places more emphasis on such issues in recent years. Ahead of Mental Health Day on Monday, CNA looks at recent developments.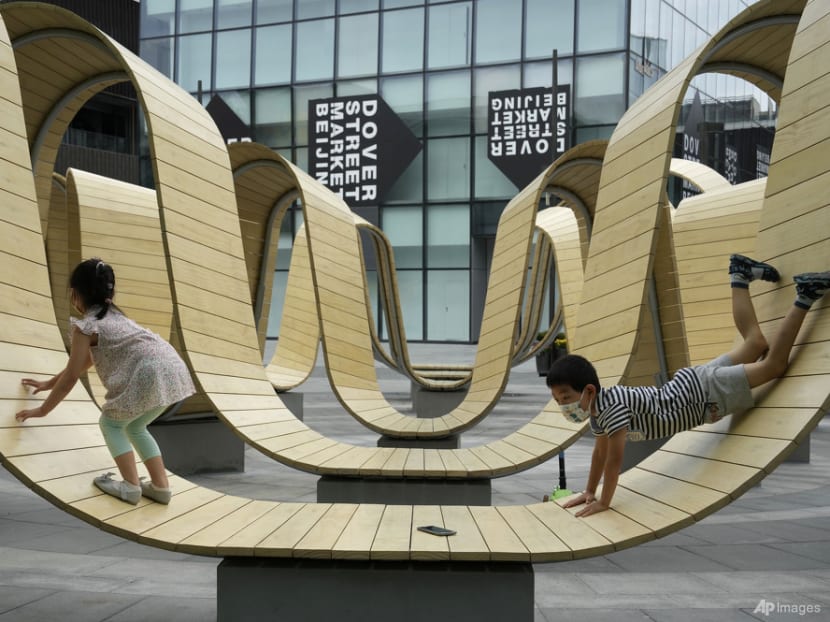 BEIJING: Psychological counsellor Zhang Mingguo chose to solely focus on working with children and youth six years ago, at a time when awareness of mental health issues in the young was low.
The 51-year-old Shanghai-based therapist, who has been practising for 15 years, recalled why he decided to specialise in counselling this group. 
"After the parents sent their children here, they hoped that I could help counsel their children," said Mr Zhang, general manager of Bethesda Psychological Support and Counselling Center.
"They seldom realised that many of their children's problems were related to family education and the family environment."
Mr Zhang stuck with his decision, after noticing that many issues faced by adults he had counselled stemmed from their childhood. He also noted that societal values today are more diverse than before. 
"It has been difficult to adapt … many youth are overwhelmed because things are developing too quickly," he added.
Now, the number of clients under him has more than tripled from six years ago. Those he counsels range from kindergarten-going three-year-olds to teenagers and young working adults.
SPOTLIGHT ON MENTAL HEALTH
Part of the spike, experts believe, is due to increasing awareness amid the COVID-19 pandemic. 
In recent years, the Chinese government has placed more emphasis on the mental health of young people.
Under the Healthy China campaign rolled out by the authorities in 2019, the aim is to ensure at least 80 per cent of those suffering from depression have access to treatment. 
At least 80 per cent of primary and secondary schools are also to be equipped with mental health personnel by this year.  
"This has been very helpful for parents to change their understanding," said Mr Zhang.
The COVID-19 pandemic has also brought more mental health issues to the fore.
"This pandemic is a fuse," said Mr Zhang. "Many hidden problems in the family have been highlighted through this pandemic."
Published in June, the first national survey on psychological distress during the COVID-19 pandemic in China found that 35 per cent of respondents had experienced some form of distress – including anxiety and depression.  
According to data from Chinese online search engine Baidu, the number of searches on psychological counselling spiked in April, as Shanghai endured a two-month long lockdown and other parts of the country dealt with a resurgence in the virus.
COVID-19 CURBS TAKE A TOLL 
For Mr Huang Zihao, a 22-year-old who graduated from a university in Beijing in June, the last few months of his education were marred by a resurgence of the COVID-19 virus.
A rule that barred students from leaving the campus, except for emergencies, affected the mental state of many of his peers, said the mathematics major.
Such a move was also reported in other campuses as part of the country's strict zero-COVID policy, which it has maintained since the pandemic began more than two-and-a-half years ago. 
Mr Huang said he felt frustrated at times. The uncertainty behind the ban meant that "we could not see how long before it will end, and we're just stuck in that cycle", he added. 
China's strict measures also meant that many schools had closed with lessons moved online, depriving students of in-person interaction with their peers.
"A child's feelings of anxiety or loneliness can be especially strong," said Ms Victoria Yang, founder of Resoul Psychological Counselling Center in Shanghai.
The 38-year-old, who has been a therapist for over a decade, has seen an increase in adolescent-specific issues such as Internet addiction since the pandemic began.
The harsh lockdowns and quarantines have also taken a toll on parents, as China's economy and livelihoods have suffered.
Some of them are under greater pressure, said Ms Yang, adding that their children may end up suffering because of this.
Citing an example, she said: "A couple may go from seeing each other before and after they go to work in the past, but now they are together every day and all the time, which will magnify some of the potential problems in the relationship."
But the country has made some progress, said Ms Yang. "Ten years ago, many in China were not able to receive psychological counselling. They thought it was very strange."
Even as more people accept the idea of seeking professional help for mental health issues, Ms Yang said this may be limited to China's bigger cities like Shanghai.
People in lower-tier cities, particularly seniors, may still ignore the importance of mental well-being.
"They may not want to expose some parts of their life too much, because they feel that we should not wash our dirty linen in public," said Ms Yang.
Watch CNA Leadership Summit live on 10 October 2022 from 1.30pm SGT via cna.asia/leadership-summit.
You may also be interested in:
Where to get help:
Samaritans of Singapore Hotline: 1767
Institute of Mental Health's Helpline: 6389 2222
Singapore Association for Mental Health Helpline: 1800 283 7019
You can also find a list of international helplines here. If someone you know is at immediate risk, call 24-hour emergency medical services.