Cruise ship Genting Dream to start trips from Singapore under new Resorts World Cruises brand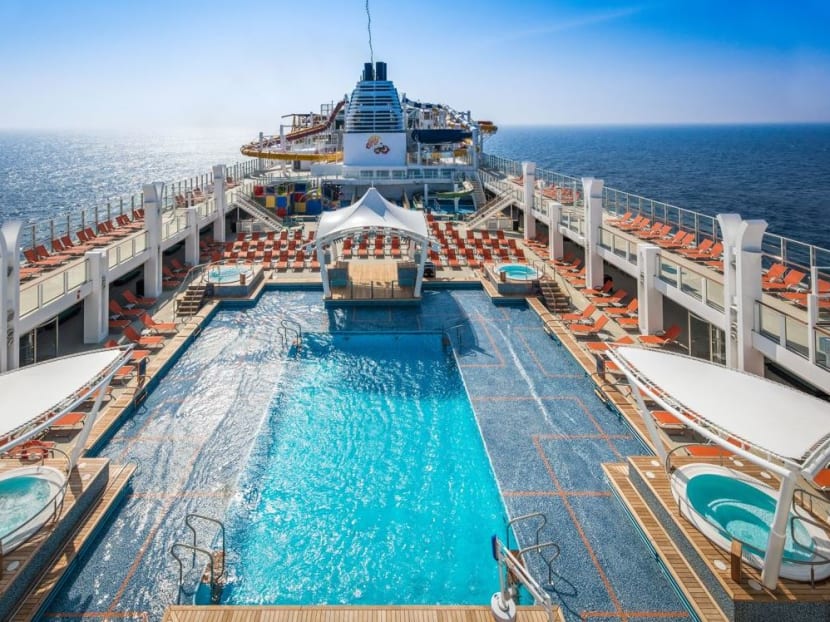 SINGAPORE: A vessel that used to be operated by Genting Hong Kong-owned Dream Cruises will sail from Jun 15 under a new company called Resorts World Cruises.
The company was set up by Malaysian tycoon Lim Kok Thay, who is chairman and board executive of Genting Group. It was registered on Mar 9, less than two months after Genting Hong Kong filed to wind up the company after failing to secure funding to pay its debts.
Dream Cruises ran three ships - Genting Dream, Explorer Dream and World Dream. Resorts World Cruises has taken over Genting Dream and is currently in negotiations with banks and interested parties to acquire the other two ships.
World Dream, which operated cruises to nowhere from Singapore, stopped taking new bookings after its parent company ran into financial trouble. The ship ceased operations on Mar 2.
Resorts World Cruises said on Wednesday (May 18) that it would offer complimentary cruise credits of "equivalent value" for all paid affected passengers by World Dream's cruise cancellations in Singapore between Mar 2 and Aug 31 this year as a "gesture of goodwill".
The credits will be valid from Jun 15 to end-March 2023.
At a news conference on Wednesday, the company said this would only be applicable to affected World Dream customers who have yet to receive any refund from their original booking source.
"From our records, there were 13,000 (affected) customers but we also understand that many of our customers have actually got their refund through credit card companies," said Mr Michael Goh, president and head of international sales of Resorts World Cruises.
He added that the company does not have a record of how many people have claimed their refunds so far.
What happened to Genting Hong Kong?
On Jan 19, Genting Hong Kong, which owns Dream Cruises, Crystal Cruises and Star Cruises, announced that it was filing for bankruptcy.
This came after a US$1.7 billion record loss for the company in 2020 and a US$743 million loss in the first half of 2021.
Its wholly owned shipbuilding subsidiary, MV Werften, also filed for insolvency in Germany after it failed to secure funding for the completion of its Global One mega-liner.
Genting Hong Kong, which was at that time 76 per cent owned by tycoon Lim Kok Thay, then filed a petition in Bermuda to wind up the company and appoint provisional liquidators.
The company also said its cash was expected to run out around the end of January and it had no access to further funding.
It added that it had "exhausted all reasonable efforts" to negotiate with its creditors and stakeholders.
NEW COMPANY "NOTHING TO DO" WITH GENTING HONG KONG
Although the new company has taken over the Genting Dream vessel, it maintains that Resorts World Cruises is separate from Genting Hong Kong.
"The provisional liquidator could not revive the (Dream Cruises) brand and so, we worked with the Chinese lessors who are the owners of the ship and decided to restart the cruise under the Resorts World brand," said Resorts World Cruises' CEO and executive director Colin Au, who was formerly deputy CEO of Genting Hong Kong.
"This new brand has got nothing to do with Genting Hong Kong, it's a new cruise brand," he added.
Mr Lim and Mr Au both resigned as CEO and deputy CEO of Genting Hong Kong respectively in January this year, after the cruise operator filed to wind up the business.
Trading of Genting Hong Kong's shares has been suspended since Jan 18, and will remain so until further notice. 
"Genting Hong Kong is under provisional liquidation, and (Mr Lim) is not joining any of the companies under provisional liquidation. This is a new cruise liner that is being set up," Mr Au reiterated when asked about Mr Lim's role in the new company.
Mr Lim, who is the executive chairman of Resorts World Cruises, holds shares in the new company, said Mr Au.
"There are many parties who would like to join the company and there are negotiations with them, and so this will be a work in progress in the next couple of weeks," said Mr Au, adding that this should be finalised "in the next few weeks".
LAUNCH OF NEW CRUISE IS IN "EVERYBODY'S OBJECTIVE"
When asked about the timing of the launch of the new ship, which will come about six months after Genting Hong Kong filed to wind up its business, Mr Au said it was in "everybody's objective to go back to normal ... as fast as possible" to protect jobs and to help the economy grow.
In response to CNA's queries, a company spokesperson said it has re-employed about 1,700 of its former employees based in Singapore. This comprises 1,600 former crew members from Genting Dream and about 70 former employees from its Singapore office.
In March, The Straits Times reported that at least 60 employees from Genting Hong Kong's Singapore office had been laid off, with no retrenchment benefits.
When asked about the remuneration packages for re-employed staff members, Mr Goh said this would be "based on experience" and did not disclose further details.
Mr Au said the launch of the new cruise will also help to give the Singapore Cruise Centre more revenue.
Noting the strong market appetite for cruises in the region, including Thailand, Malaysia and India, Mr Goh expressed confidence that Resorts World Cruises will be able to meet demand.
Genting Dream will launch several cruises to nowhere departing from Singapore on Wednesdays, Fridays and Sundays. It plans to launch destination cruises to Malaysia, Thailand and Indonesia from Sep 30.