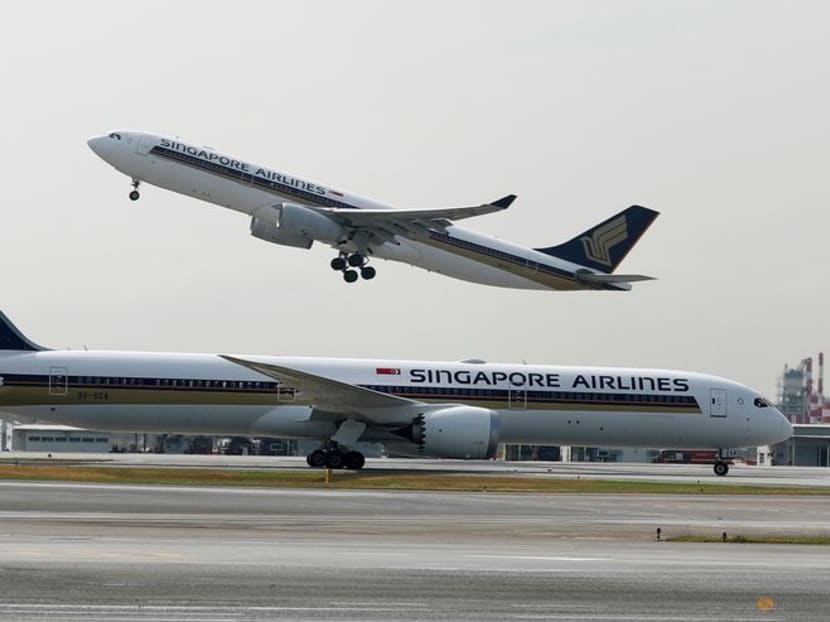 SINGAPORE: Singapore Airlines' (SIA) share price rose as much as 9.6 per cent on Monday (Oct 11) after news that Singapore would extend its vaccinated travel lane scheme to eight more countries. 
The national carrier's share price rose to an intraday high of S$5.62 on Monday, before ending the day at S$5.52, according to Reuters. 
The share price for ground-handling and inflight catering service provider SATS also jumped, rising as much as 6.5 per cent to an intraday high of S$4.44. 
SIA's shares went up sharply "primarily because of positive sentiment on the reopening front and the easing of testing requirements", said DBS analysts Paul Yong and Jason Sum. 
"The inclusion of more countries to the vaccinated travel lane scheme over the weekend includes important tourist and business locations like the US, UK and Italy, which are crucial long-haul markets for SIA," they said.
More investors are buying SIA shares on "optimism that the opening up of more vaccinated travel lanes would lead to increased demand and hence traffic and improve SIA's earnings", said K Ajith, director of Asia transport research at UOB Kay Hian.
On Saturday, the authorities announced that the vaccinated travel lane scheme would be extended to include Canada, Denmark, France, Italy, the Netherlands, Spain, the United Kingdom and the United States.
Under the arrangement, travellers vaccinated against COVID-19 can fly to the countries identified and enter Singapore without needing to serve quarantine.
They will, however, be subject to requirements such as having to take polymerase chain reaction tests before departure and upon arrival.
The latest announcement came a day after Singapore announced another vaccinated travel lane with South Korea, on top of the existing lanes with Brunei and Germany. 
 
The SIA website was down briefly on Saturday afternoon after the announcement of the new vaccinated travel lanes. 
SIA has said it will expand flights under the vaccinated travel lane scheme to nine more cities - Amsterdam, Barcelona, Copenhagen, London, Los Angeles, Milan, New York, Paris and Rome - from Oct 19. 
The airline already operates vaccinated travel lane flights to Brunei's Bandar Seri Begawan, as well as Frankfurt and Munich in Germany. It will also begin flights from Seoul from Nov 16. 
Budget carrier Scoot, which is under the SIA Group, will also operate vaccinated travel lane flights from Berlin from Oct 20. 
HIGHER AIRFARES
DBS' analysts said that traffic levels for travel websites such as Skyscanner and Google flights also rose over the weekend, with robust demand reflected in ticket prices. 
"Airfares for near-term return flights to various population destinations like Seoul and London rose quite sharply over the weekend, and are now hovering at close to pre-crisis levels," they said.  
"Originally, we had expected SIA to offer discounted flights to stimulate demand because there could be some apprehension amongst the public and because of hefty testing costs ... but this was not the case, signalling that consumers are eager and ready to splurge for their next trip." 
In terms of passenger volume, independent aviation analyst Brendan Sobie said that the vaccinated travel scheme may not have a big impact because of current caps. 
Transport Minister S Iswaran had said on Saturday that up to 3,000 travellers will initially be allowed to enter Singapore daily from all 11 vaccinated travel lane countries.
"Based on the number of VTL flights and the cap they are subject to, the impact is up to 3 per cent of SIA Group's pre-COVID passenger traffic," said Mr Sobie. 
"However, the general sentiment is positive as this represents the first step in the recovery," he added. 
Looking forward, analysts said that they see "limited upside from hereon" and that SIA's share price should "remain range-bound around current levels".
Ms Carmen Lee, head of OCBC Investment Research, noted that for now, SIA was trading "above our fair value estimate" as well as the street's estimate. 
"We believe the next re-rating will take place when more vaccinated travel lanes are open and this will eventually, over time, help to bring SIA's load numbers closer to pre-pandemic levels," she said. 
Ms Lee added that with global vaccination rates rising and with more countries opening up, "outlook is likely to improve" next year.
"There is also the likelihood that SIA could return back to the black in FY23 as more markets open up," she said.