Aviation and travel-related stocks up after Singapore announces easing of COVID-19 border measures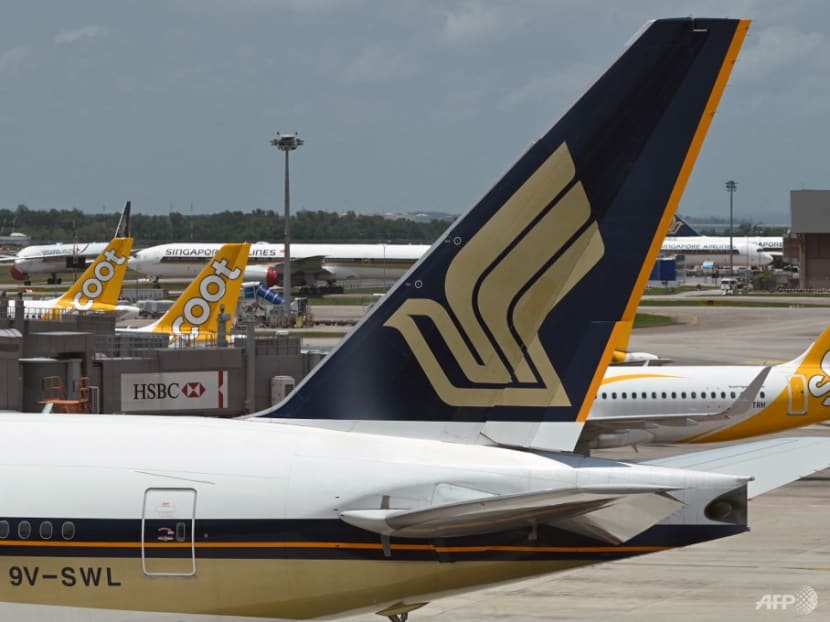 SINGAPORE: Aviation and travel-related shares in Singapore rose on Thursday (Mar 24) following news that the country will reopen its borders to all fully vaccinated travellers from Apr 1.
National carrier Singapore Airlines (SIA) was the most traded counter, with 33.3 million shares worth S$177.7 million being transacted. Its share price ended the trading day at S$5.40, up 4.3 per cent of S$0.22.
SIA Engineering also jumped 4.5 per cent, or S$0.10, to S$2.33, while ground handler SATS climbed 5 per cent, or S$0.20, to S$4.17.
Meanwhile, hospitality group Genting Singapore advanced 3.8 per cent, or S$0.03, to S$0.82.
The benchmark Straits Times Index (STI) finished 1.1 per cent higher at 3,399.70. For the day, advancers outnumbered decliners by 297 to 165 with 1.7 billion units worth S$1.65 billion changing hands.
Singapore announced several key changes to its COVID-19 measures on Thursday, including larger group sizes and making mask-wearing optional in outdoor settings from Mar 29, as part of what Prime Minister Lee Hsien Loong described as taking a "decisive step forward" towards living with COVID-19.
Testing and quarantine rules for travellers will also be drastically streamlined – a move that will help reconnect Singapore with the world and reclaim the country's position as a business and aviation hub, Mr Lee said.
Under the new vaccinated travel framework – where countries and regions will be classified into either the general travel or the restricted category – all fully vaccinated travellers, as well as children aged 12 and below, will be able to enter Singapore with just a pre-departure COVID-19 test from 11.59pm on Mar 31.
The new simplified framework will replace the existing vaccinated travel lanes (VTLs) and unilateral opening arrangements.
This means that travellers will no longer need to apply for entry approvals or take designated flights to enter Singapore quarantine-free. There will also be no more quotas on the number of daily arrivals.
In a report following the announcement, OCBC's chief economist Selena Ling said the new measurements should pave the way for a faster improvement in the number of visitor arrivals, food and beverage (F&B) spending and private consumption appetite in general in the coming months.
"The key to a more robust and broad-based recovery for Singapore this year would depend on the services momentum picking up speed as they account for two-thirds of the economy," she added. 
"Hence, the moves to relax the number of people dining-in and allowing alcohol sales etc may be an important lifeline for the domestic F&B, retail and entertainment industries.
"Unsurprisingly, the domestic risk assets, including the tourism-related stocks in the STI, have reacted positively," Ms Ling wrote.
AVIATION AND MICE PLAYERS WELCOME NEWS
In a media statement, SIA said the latest move "opens up" its entire network to all eligible customers. Currently, SIA and Scoot, its budget arm, fly to 97 destinations in 34 countries from Singapore.
The flag carrier said it will no longer designate specific VTL flights from Apr 1. Those who are already booked on a VTL flight on or after Apr 1 may travel as planned and need not make any changes to their bookings.
Travellers, regardless of vaccination status, will be allowed to transit through Singapore on almost all of its flights from Apr 1, as long as they meet the entry requirements of their final destination.
"The SIA Group welcomes the latest measures to simplify travel protocols for entry into Singapore," said a spokesperson, adding that the firm will continue to closely monitor travel demand, and increase its capacity and services accordingly.
Qantas Airways' budget arm Jetstar, in its press release, said it is "heartened" by the country's latest announcement.
 
"The easing of Singapore's border measures, including the removal of VTLs and on-arrival testing for vaccinated travellers, will ensure overseas travel is more convenient, helping to restore customer confidence and boost international travel demand," said its chief executive Bara Pasupathi.
"This marks an important milestone in the recovery of the aviation and tourism sectors in Singapore."
Those in the meetings, incentives, conventions and exhibitions (MICE) industry also cheered the latest announcement.
Mr Richard Ireland, president of the Singapore Association of Convention & Exhibition Organisers & Suppliers (SACEOS), said the industry had made use of the downtime during the pandemic to transform their businesses, build new capabilities, and create innovative solutions.
"SACEOS will continue to work closely with the industry and Government to lead the way in reimagining the format of MICE events, setting Singapore apart as the world's leading destination for safe international MICE events," he added.
Mr Poh Chi Chuan, executive director of exhibitions & conferences at the Singapore Tourism Board, said: "Over the last two years, Singapore has safely and progressively scaled up MICE events, allowing the global business community to meet and exchange ideas in person.
"We have secured a strong pipeline of events for 2022 and beyond, and are confident that this will anchor Singapore's position as a Global-Asia Node for MICE."