Top espresso machines and accessories to elevate your home brewing game
Dreaming of crafting café-style flat whites and cappuccinos in the comfort of your home? Here's your guide to making it happen.
This article contains affiliate links. If you buy through these links, we may earn a small commission.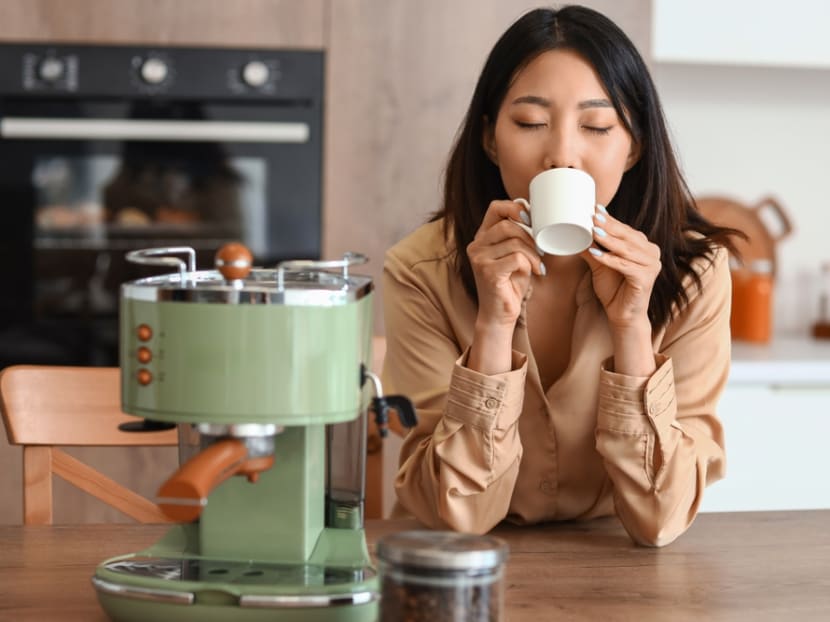 If you've grown tired of the limitations of capsule coffee machines and are yearning for richer, more flavourful shots of caffeine, you might be tempted to try brewing your own café-quality beverages. Sure, you could dash to a coffee shop for a quick fix, but if you're keen on being more hands-on and saving money in the long run, the idea of acquiring an espresso machine has likely crossed your mind.
Espresso machines come in a range of options, offering varying levels of user involvement and automation. At one end of the spectrum, there are machines where aficionados manually generate the pressure needed to extract a shot by using a lever. On the other end, you have super-automatic or bean-to-cup machines that perform the entire process at the push of a button – a boon for those prioritising ease over control.
For those who aspire to master the craft, the ideal option often falls in the middle ground – a semi-automatic espresso machine. This type of machine aims to strike a balance between control and automation, enabling users to fine-tune the coffee's flavour with each shot.
HOW DO THEY WORK?
All semi-automatic machines share a common process. Users load a portafilter – a handle with a basket-like end – with coffee grounds, tamp (compress) the grounds and then lock the portafilter into the group head. Hot water is then forced through the grounds to extract the espresso.
As a novice, be prepared to learn about the impact of coffee grind size, dosing (amount of coffee grounds) and tamping on the flow rate, which in turn affects the flavour of your espresso. Entry-level machines usually include a pressurised portafilter, ensuring a more palatable shot even if your grind size or tamping isn't optimal.
As with any new hobby, there are two schools of thought when acquiring gear. Some opt for a basic, budget-friendly option to test the waters before investing in a high-end machine. Others choose to dive right in and invest in a premium model to future-proof their setup. Do note that most espresso machines – entry-level or otherwise – typically lack integrated grinders, so you can either buy one separately or use pre-ground coffee from a local roaster or grocery store.
Whether you're a seasoned coffee connoisseur or just beginning to explore the depths of this craft, the choices before you are both exciting and intriguing. To help you in your coffee-making endeavours, we've curated a selection of five semi-automatic espresso machines and two essential accessories to kickstart your journey.
SEMI-AUTOMATIC ESPRESSO MACHINES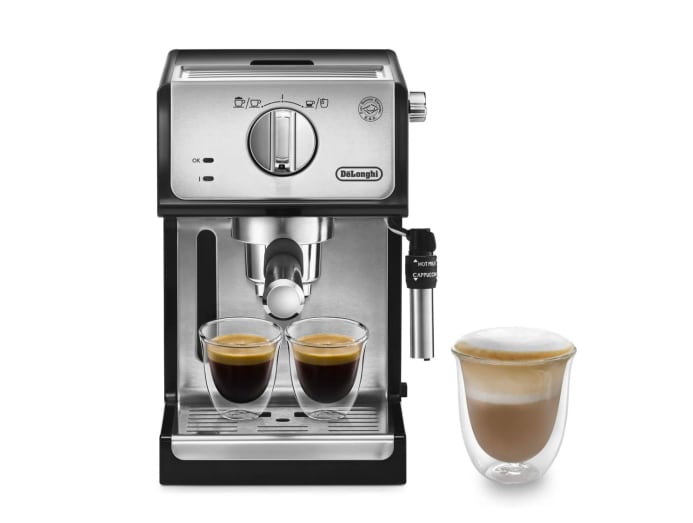 This compact entry-level model delivers good value for beginners. It features a 15-bar pressure pump, stainless steel boiler and a wand for milk frothing. The package includes pressurised filters for various shot sizes and an easy-serve espresso (ESE) pod option. A potential drawback: Preheating may take up to 15 minutes.
De'Longhi Dedica Style Pump Coffee Machine EC685M (S$353.92)
Designed for those with limited space, the Dedica stands out as the slimmest espresso machine available. It comes with a flow stop feature, allowing users to programme water flow for consistent shots, and takes only approximately 45 seconds to warm up. The three-in-one filter holder with pressurised filters accommodates different shot sizes and espresso pods.
Breville BES840 the Infuser Espresso Machine (S$868; usual price: S$998)
For those who enjoy experimenting, the Breville BES840 offers a bevy of customisable functions. Users can preset shot volumes or manually control the extraction pressure using a pressure gauge. The machine comes with both pressurised and non-pressurised single- and double-filter baskets.

Gaggia Classic Pro RI9480/11 (S$889)
Designed and made in Italy, the iconic Gaggia Classic Pro is ideal for enthusiasts who prefer a hands-on approach. It features a three-way solenoid valve for precise water pressure control, a commercial steam wand and a large 58mm portafilter.
Lelit Anna 2 (S$1,038)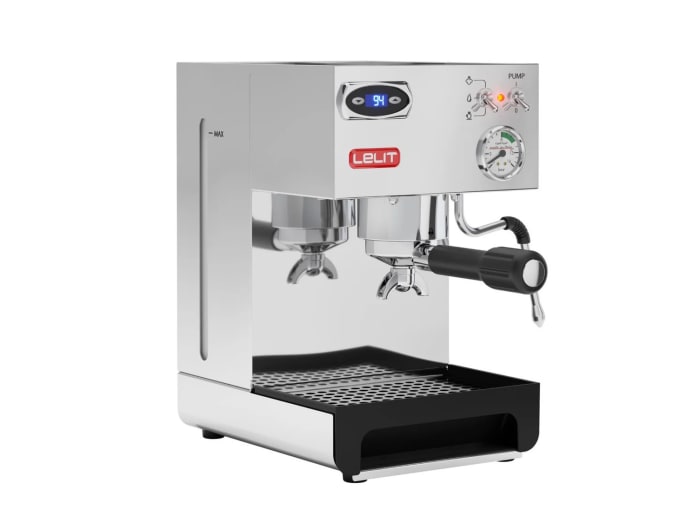 Geared toward intermediate to advanced users, the Lelit Anna 2 is renowned as a top-tier prosumer espresso machine. The Italian-made espresso machine features a PID (proportional integral derivative) brew temperature controller – typically only found on much more expensive machines – that allows the user to precisely adjust the brew temperature and improve temperature stability. Other features include a brew pressure gauge, multi-directional steam wand and a 57mm chrome-plated brass portafilter.
ESSENTIAL ACCESSORIES FOR YOUR ESPRESSO JOURNEY
Baratza Encore Conical Burr Coffee Grinder (S$356.91)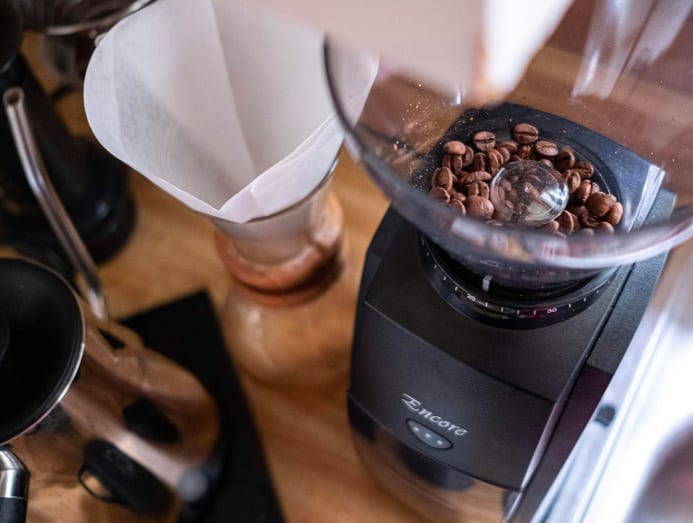 For discerning espresso drinkers and baristas, freshly roasted and ground coffee is an essential part of the espresso experience. Considered one of the best entry-level burr grinders, the Encore grinder is equipped with precision conical burrs and offers 40 individual grind settings.
Apexstone Espresso Scale with Timer (S$26.63)
While it may seem fiddly to have to weigh every espresso you're making, a digital coffee scale with an integrated timer is an indispensable tool for those in pursuit of the perfect flavour and body in their brew. It not only measures coffee grounds but also tracks brew time and espresso volume, allowing for precise adjustments in subsequent brews.
The Apexstone scale offers affordability without compromising on functionality. Its dual weight and time LCD display ensures that every measurement is clear and easy to read, even in the midst of a bustling morning routine. A silicone mat adds a layer of protection, guarding against accidental spills. With a wide weight range spanning from 1g to 3,000g, the scale accommodates a variety of measurement units, all conveniently accessible with the press of a button.
So, whether you start with a tentative step or leap headlong into the world of espresso mastery, know that with each cup you create, you're not just brewing coffee; you're crafting an experience that is uniquely yours.
This article contains affiliate links. If you buy through these links, we may earn a small commission.
Prices are correct at the time of publishing.