Ho ho no waste: Simple, eco-friendly ways to decorate your home for Christmas
CNA Lifestyle brings you festive decor ideas that are low-cost, DIY and, best of all, result in little or no waste.
If you gave up using plastic straws months ago, you probably don't want to end the year by going out and purchasing a bunch of plastic ornaments to decorate your environmentally-friendly home this Christmas.
The Yuletide season is a very festive time of year, but the truth is, it can also be a very wasteful time of year.
Instead of spending money on over-consumption, shouldn't we think of ways in which to enhance the Christmassy mood in our homes without making too big an impact on the environment?
Here are six home decor ideas that are zero-waste, reusable, recyclable and/or biodegradable – and incredibly easy to make yourself.
TROPICAL LEAF WREATH
Okay, so, we don't live in a temperate clime and we don't have holly, pine cones or poinsettia in our backyard (or void deck). That's totally okay. Make your own tropical wreath with pandan leaves, ferns or even herbs.
Get an old sewing frame, picture frame or wire hanger that can be twisted into a circular shape, and go to town wrapping it with your foliage of choice. And what better way to decorate it with pops of colour than to use pretty little clusters of chilli padi? Simply thread the stems together and tie them onto the wreath. It's going to make your home smell delicious, too.
EDIBLE TERRARIUMS
Transform your bail lid jars, mason jars or old jam jars into edible miniature Christmas wonderlands that will put everyone instantly into the festive, feasting spirit.
You're limited only by your imagination – use crumbled chocolate cake, cookies or nuts for soil; herbs for foliage; grated coconut for snow; and gingerbread cookies, marshmallows, popcorn or candy canes as decorations.
Decorate your jars with bits of ribbon you squirrelled away from last year, and they'll also make fabulous gifts that are sure to be well-received.
O' ECO CHRISTMAS TREE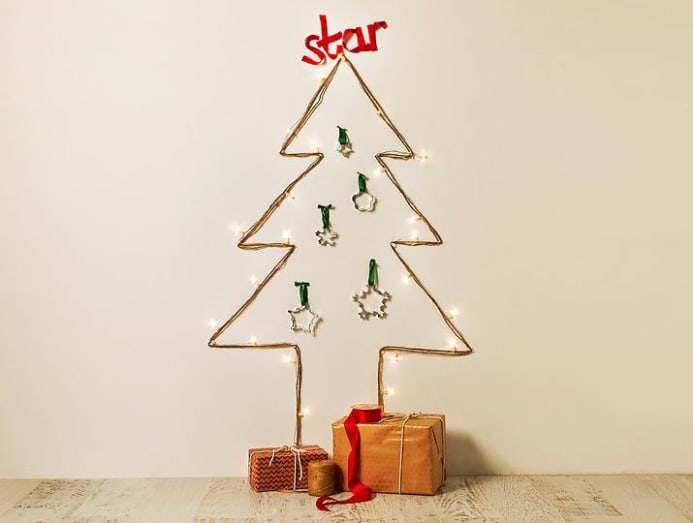 Sure, a plastic tree might be reusable and result in less waste than a real tree each year, but who has the storage space for that?
This rope tree wall installation is the perfect way to make your living room look festive without cramping up its style, especially if you live in a small apartment. And even if you have to go out and buy some rope, you'll be able to use it again for years to come.
Simply fashion your own rope design and attach it to the wall using adhesive tack or reusable hooks. We decorated our tree with cookie cutters strung on bits of old ribbon – zero per cent waste, 100 per cent adorable. Plus, you'll have bragging rights when your friends come over for Christmas parties and you can tell them you made it with your own two hands.
ORANGE SLICE ORNAMENTS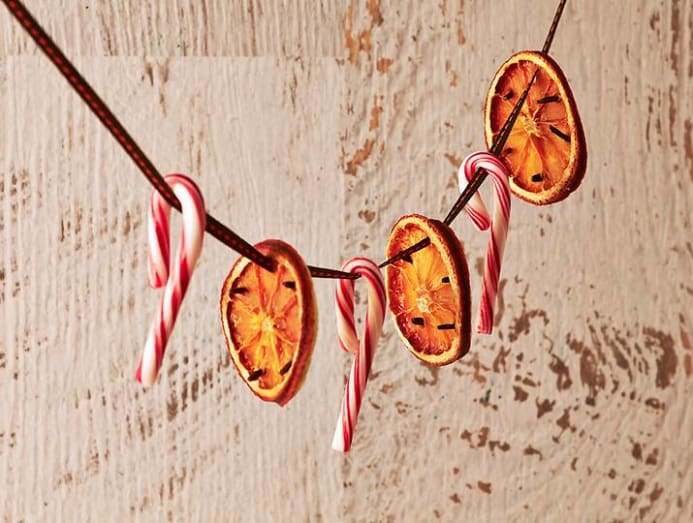 These pretty trinkets are super easy to make, don't cost a lot and also double up as a fun activity for the kids.
Slice oranges thinly and bake at a maximum temperature of 90 degrees Celsius for about four hours until they are dried out. String them up or use them as individual ornaments for the Christmas "tree". You can also use cloves and cinnamon sticks as embellishments – as an added bonus, they'll make your house smell like a warm, toasty Christmas.
If you want them to last for more than one Christmas, you can spray them with Shellac or coat them in clear nail varnish.
UPCYCLED BOTTLE CANDLE HOLDERS
Hang on to your old glass bottles and they can be transformed into beautiful candle holders with just a few scraps of ribbon – easy-peasy lemon-squeezy. These can line your shelves or sit clustered together for an elegant dining table centrepiece. Then, when you've decided you don't need them any more, off they go to be recycled.
TOILET PAPER ROLL CHRISTMAS CRACKERS
Fill your empty toilet paper rolls with candy, wrap them up in squares of cellophane or tissue paper, tie the ends with scraps of ribbon, and voila, you have a table decoration that's super simple to pull off, yet looks eminently festive.