Mala Chocolate and Gingerbread Latte: Enjoy festive flavours at local ice cream parlours
These flavours have been specially concocted for the season, so taste them before they're all gone.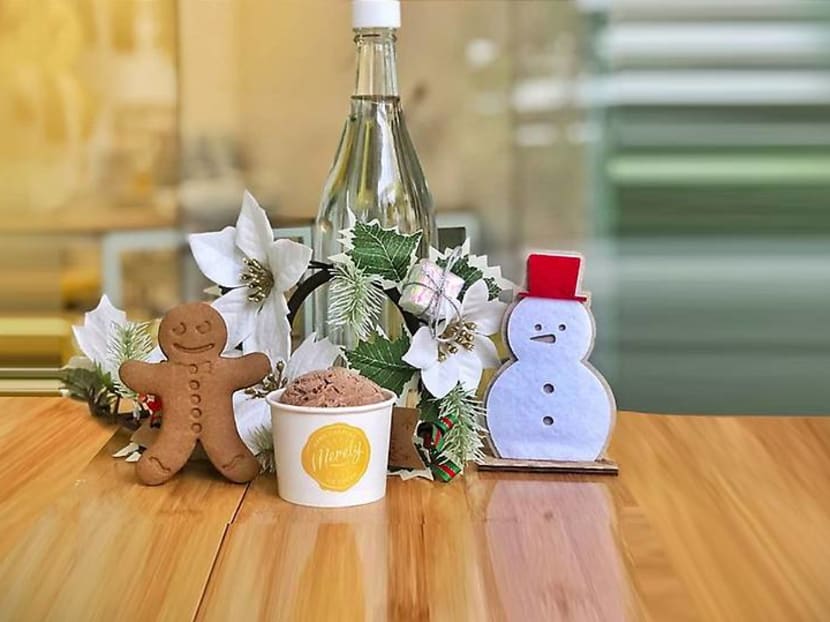 The Christmas season is the time of year when we become overwhelmed by the thought: "So many flavours of ice cream to try; so little time."
That's because many local ice cream shops churn out varied, imaginative and always delightful seasonal flavours that are available for a limited time only, making our FOMO little hearts go pit-a-pat.
This year, we've surveyed the landscape and turned up daring new flavours – ice cream with a numbing mala spice is certainly for adventurous tasters only – as well as creamy concoctions that are as comforting as a sweet hug on a chilly December day.
CHRISTMAS COOKIE DOUGH AT CREAMIER
This sweet, creamy ice cream is filled with bits of chocolate cookie dough for an old-school chewiness that tastes of childhood. Not into cookie dough? That's okay – there are also festive favourites making a seasonal comeback at Creamier: Mint Oreos and Chocolate Peppermint. We'll have one of everything, please.
MALA CHOCOLATE AT MERELY ICE CREAM
Spice up your tropical Christmas with this achingly on-trend flavour, which Merely Ice Cream's boss apparently dreamt up while dining on mala hotpot. The milk chocolate ice cream base features liberal bits of peanut brittle infused with dried chillies and tingly Sichuan peppercorns, then coated with white chocolate. Bring on the burn.
GINGERBREAD LATTE AT TOM'S PALETTE
Christmas in a cone? Yes, please. Tom's Palette's Gingerbread Latte is a medley of sugar, spice and everything Christmassy: Coffee, cinnamon, ginger, maple syrup, molasses and ginger cookies. Yup, you can almost see the stockings hanging over the fireplace. In addition, there's also a Mulled Wine flavour – red wine ice cream spiced with lemon, lime, orange, cinnamon, cloves, nutmeg, star anise and vanilla pods, with citrus blondie chunks – for those who prefer their ice creams to conjure up a Christmas market.
CANDY CANE CHOCOLATE AT FATCAT ICE CREAM BAR
The folks at Fatcat reached out to their fans and followers asking for ideas and suggestions for this year's Christmas flavour, and they picked this one: Candy Cane Chocolate, a peppermint chocolate gelato with crisp candy cane bits. Isn't democracy wonderful?
MRS CLAUS AT HOLY COW CREAMERY
Proving that you can never go wrong with a combination of chocolate, coffee and mint, Holy Cow's charmingly-named "Mrs Claus" flavour is a peppermint mocha ice cream topped with crushed candy cane bits. Mr Claus would approve.
HOLLY JOLLY AT BUTTERKNIFE FOLK
Need a break from milky or minty flavours? Butterknife Folk's Christmas offering is a fresh and zingy ice cream with flavours of honey, orange zest, pistachio and cranberry. Go ahead and deck the halls until the reindeer come home.