Release the Turducken – delicious festive goodies to order for your Christmas party
If you're playing host this year but would rather not cook for a crowd, CNA Lifestyle has got you covered with wagyu lasagna, crispy pork belly, lychee ice cream cake and more.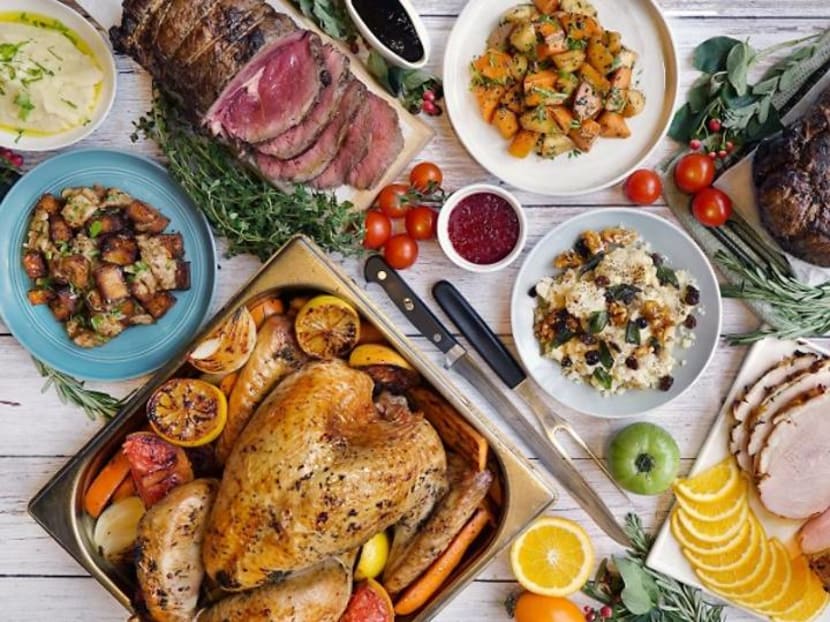 It's the most wonderful time of the year, especially if you're not the one cooking Christmas dinner for a crowd. But if your party involves more than a few people, why not outsource the good stuff to the professionals? Or call it a potluck?
We picked out festive treats we'd like to see at our own Christmas soiree.
FESTIVE CHICKEN AND CHRISTMAS KUGELHOPF FROM FIREBAKE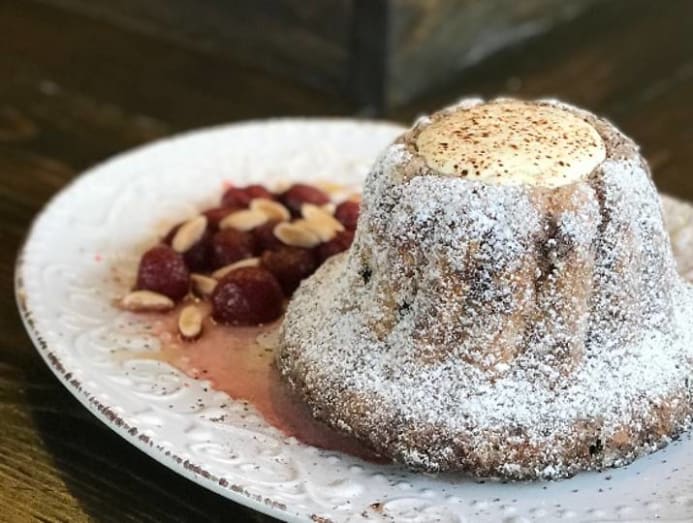 A hearty whole chicken, slow-cooked with a medley of root vegetables and trumpet mushrooms – this was a quintessential taste of Konstantino Blokbergen's Christmas memories growing up in Cully, Switzerland.
The owner of popular wood-fire restaurant Firebake is offering the festive chicken dish (S$55) and a traditional sugar-dusted kugelhopf (S$25) as Christmas takeaway specials throughout the month of December. Pre-order for takeaway two days in advance.
237 East Coast Road. www.firebake.sg
LOW GI FLOURLESS VALRHONA DARK CHOCOLATE LOG FROM SIMPLE INDULGENCE PATISSERIE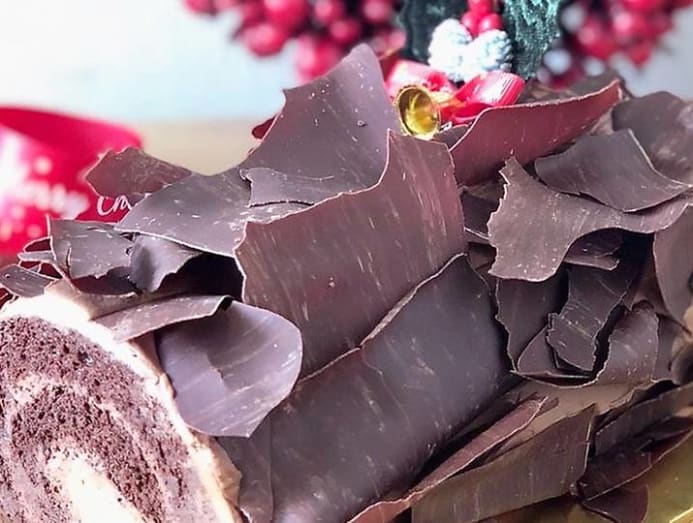 Great for those eschewing gluten – not that you'd miss the flour in this luscious low GI flourless dark chocolate log cake (S$86 for 500g).
Owner and baker Christine Ng also makes an ethereally light Japanese yuzu white chocolate chiffon log cake (S$62 for 500g) scented with yuzu zest and iced with a not-too-sweet yuzu-infused white chocolate ganache.
You can buy both cakes as a bundle for S$140. Order before Dec 8 and get 10 per cent off.
#01-02 Parc Somme, 62 Somme Road. https://simpleip.oddle.me/en_SG/
ISPAHAN LYCHEE ICE CREAM CAKE FROM CREAMIER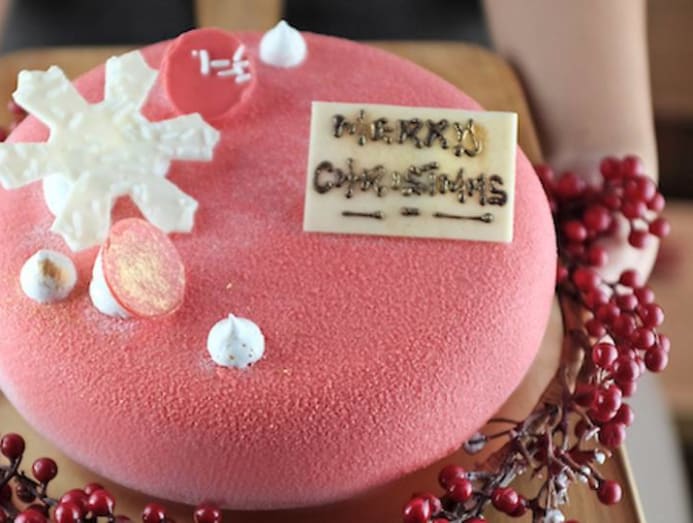 Inspired by the classic Ispahan dessert by iconic French patissier Pierre Herme, Creamier's Ispahan lychee ice cream cake (S$58) is a dreamy concoction. Think layers of silky lychee mousse, white chocolate and vanilla sponge flecked with bits of lychee, raspberry ice cream and lychee cream.
While you're at it, you might hear the siren call of their holiday ice cream flavours like chocolate peppermint and mint Oreos (S$12 a pint) as well.
Order online at creamier.com.sg
ROASTED TURKEY WITH HERBS AND ANGUS RIBEYE WITH MERLOT JUS FROM MARMALADE PANTRY
If you're responsible for feeding a crowd, the most fuss-free of options is letting someone else do the hard work.
Though roasted turkeys in all sorts of novel flavours abound, sometimes, going back to basics is your safest bet. The Marmalade Pantry does a simple but delicious roasted turkey seasoned with herbs (S$98) and other always-popular carvery meats like Angus ribeye with merlot beef jus (S$88).
Order a festive bundle and you can choose from two sides such as a cauliflower and bulger salad, garlic mash, or roasted winter vegetables, along with one carvery item for S$110.
#01-01 Oasia Hotel Downtown, 100 Peck Seah Street. www.themarmaladepantry.com.sg
HONEY AND TRUFFLE-GLAZED GAMMON HAM FROM THE ST REGIS SINGAPORE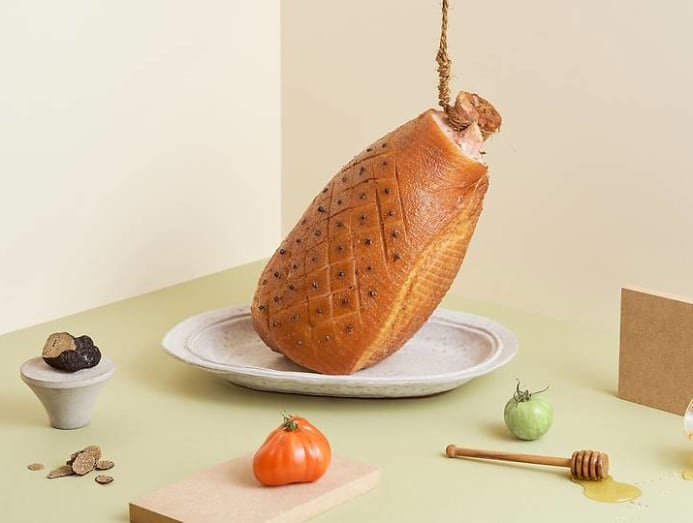 Truffle lovers might find it difficult to turn away from the honey and truffle-glazed gammon ham (S$168), which comes with buttered vegetables, truffle mashed potatoes and wild mushroom sauce.
If you must, there's also a turkey infused with truffle oil (S$248) accompanied by buttered Brussels sprouts, glazed chestnuts and truffle mashed potatoes.
29 Tanglin Road. www.brasserielessaveurs.com/festive2018
EGGNOG BREAD PUDDING AND CHRISTMAS CHIFFON CAKE FROM SPRMRKT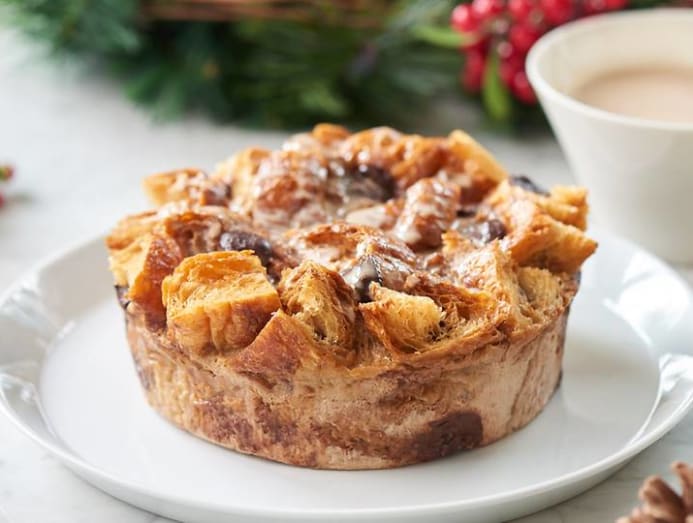 We love the idea of a hearty bread pudding soaked with boozy eggnog custard and baked till thick and bubbly, with a buttery pastry top (S$38). But if that sounds like too much of an indulgence after a heavy Christmas meal, there's also a bourbon-infused chocolate Christmas chiffon cake (S$86) cloaked in coconut shavings and prettily decorated with white matcha Christmas tree toppers.
Place your orders at least three days ahead.
41 Robertson Quay. http://sprmrkt.com.sg
HOLIDAY BRANDY FRUIT CAKE FROM SUNDAY FOLKS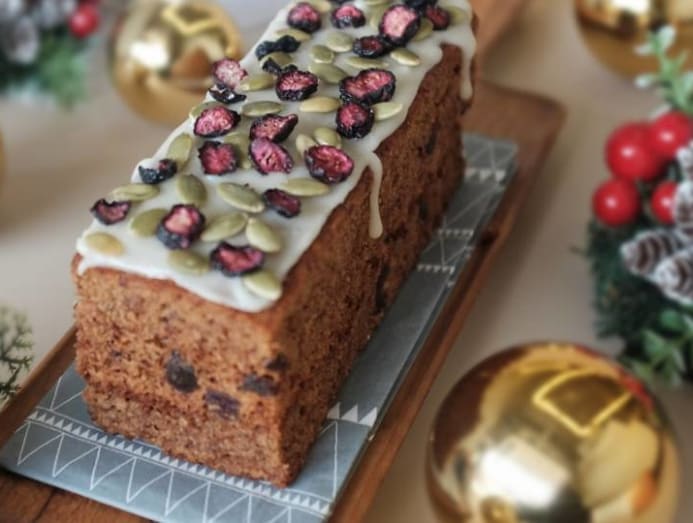 The good people at Sunday Folks have made an elegant fruit cake with a light, moist crumb, studded with lush brandy-soaked raisins and dates. Even the snowy white icing is spiked with brandy and topped with pumpkin seeds and dried blueberries.
A single gift box (S$18) serves one to three people, while a double (S$32) is good for four to six.
While you're at it, grab a box of 55 per cent dark chocolate sea salt honeycomb (S$12 for 100g), which makes a fantastic topping for ice creams, desserts, and even your breakfast cereal. It's the holidays, isn't it?
#01-52 Chip Bee Gardens, 44 Jalan Merah Saga. https://order.sundayfolks.com
WAGYU LASAGNA AND SLOW-ROASTED CRISPY PORK BELLY FROM REGENT SINGAPORE
A bubbly tray of wagyu lasagna (S$128) is exactly the kind of communal Christmas dish that the whole family can dig into. This one is layered with supple sheets of pasta, a rich sauce made with San Marzano tomatoes, melted mozzarella and lots of premium wagyu. 
For a crunchy, succulent contrast, pick up a fat roll of slow roasted crispy pork belly (S$188) marinated with fennel seeds, blood orange and salty Nocerella olives.
http://shop.regentsingapore.com.sg/
GINGERBREAD HOUSE FROM WILDSEED CAFE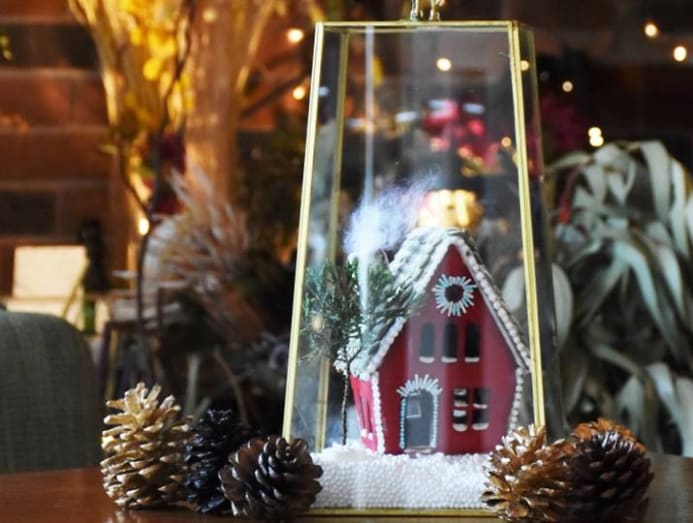 We love the idea of a gingerbread house, but putting one together isn't always as fuss-free as we'd like to think.
At Wildseed Cafe, you can buy an unassembled gingerbread house for S$38 and try your hand at putting it together in the cafe. That way, if you hit a snag, there'll be someone onsite to help you.
Otherwise, a fully assembled and decorated gingerbread house is yours to take home for S$50. Regardless of who put it together, the gingerbread house is a charming addition to your holiday table. Available till Dec 30.
3 Park Lane. www.thesummerhouse.sg
TURDUCKEN FROM RESORTS WORLD SENTOSA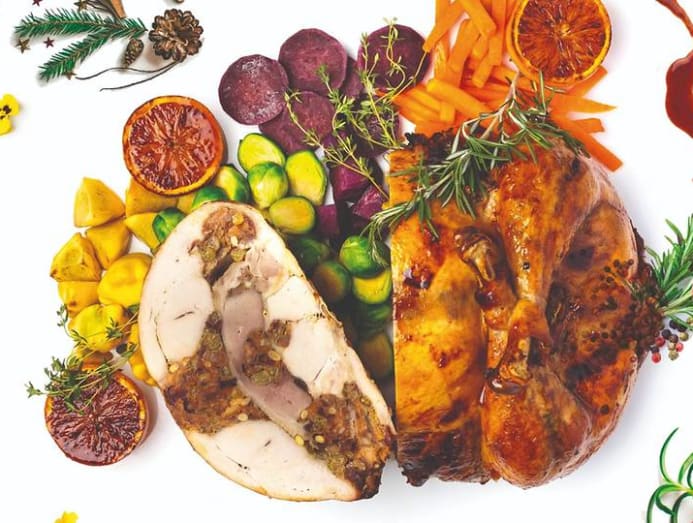 For a truly maximalist approach to the holiday meal, look no further than the Turducken (S$268). A whopping 11 kg of a deboned chicken in a deboned duck in a deboned turkey. The meat on meat action is layered with a pork sausage stuffing perfumed with golden raisins, dried cranberries, sage and thyme.
This bird-of-birds takes a whole 12 hours to prepare and comes with a tub of its own tasty jus, some roasted yellow squash, Brussels sprouts, carrots and purple potatoes – because you'll need the roughage with all that meat! Available until Dec 26.
Seasons Festive Kiosk, Hard Rock Hotel Singapore, 8 Sentosa Gateway. www.rwsentosa.com Email festive [at] rwsentosa.com or call 6577 6567 to order.