'Tis the season to upcycle: More eco-friendly ways to decorate for Christmas
Worried about the impact of plastic on the environment? Unwilling to indulge in holiday consumerism? Here are six jolly ideas for super cute, low-cost DIY decorations.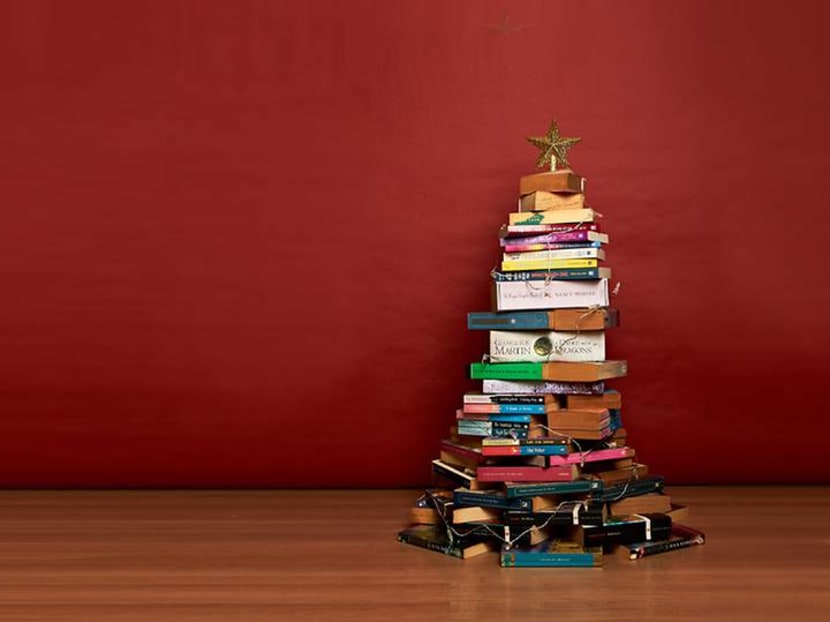 It's that time of year when even the scroogiest Grinches feel compelled to deck the halls with a little something pleasing to the eye (or have been arrowed to put up decorations for the office Christmas party).
But instead of boughs of polluting plastic holly or landfill-choking tinsel, why not think of ways to get into the festive spirit with as little wastage as possible?
To kick you off, here are some ideas for eco-friendly ways to spruce up your space for the holidays. They're easy, eye-catching and budget-friendly, using scrap materials, biodegradable materials and stuff you probably already have lying around the house.
SCRAP COASTER ORNAMENTS
Give your old coasters new life by turning them into delightful ornaments. Incorporating other scraps you have lying around will give them visual interest and texture. We made our reindeer's nose from a leftover Chinese New Year angpow and gave him snap fastener eyes and clothespin antlers. Don't forget to make a hole in the top to thread a scrap of ribbon through, so that Rudolph can hang comfortably on the tree.
ANYTHING-BUT-COOKIE-CUTTER WREATH
When you're done baking your Christmas cookies, put the cookie cutters to good use by tying them together with bits of bright ribbon, forming a festive wreath that's sure to put you in a good mood instantly.
The best part is that you can build a wreath out of almost anything – think cheery old neckties rolled up and pinned together; balls of yarn or spools of thread; Ferrero Rocher, if you swing that way – heck, maybe even McDonald's apple pie boxes, 'cause why not?
MODERN-CLASSIC MASON JAR TREE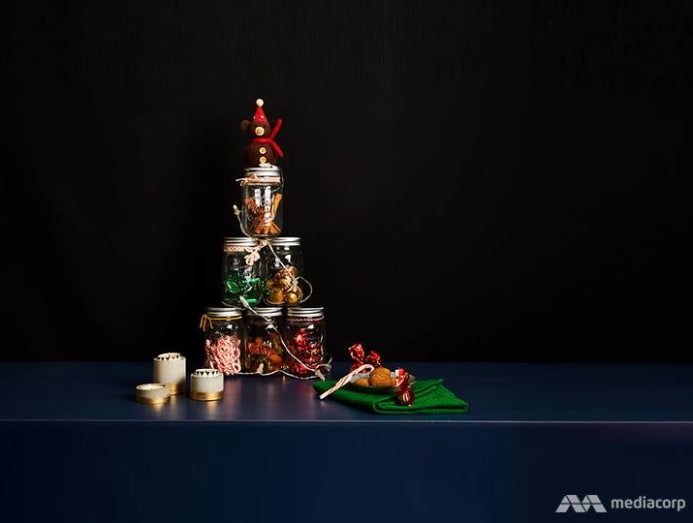 Here's an idea for those of you who don't have the space for a Christmas tree. If you have old jars sitting in your cupboards, bust them out. Fill them with candy, ornaments, trinkets or whatever your heart desires, then stack them in a pyramid shape to form a mini tree. Decorate your tree with fairy lights, bells, ribbon or anything else you can think of – and don't forget to top it with something eye-catchingly festive. If you have more jars and want to build a larger tree, secure the jars together with a bit of sticky tack to prevent them from getting knocked over and tumbling down.  
UPCYCLED NATURAL WREATH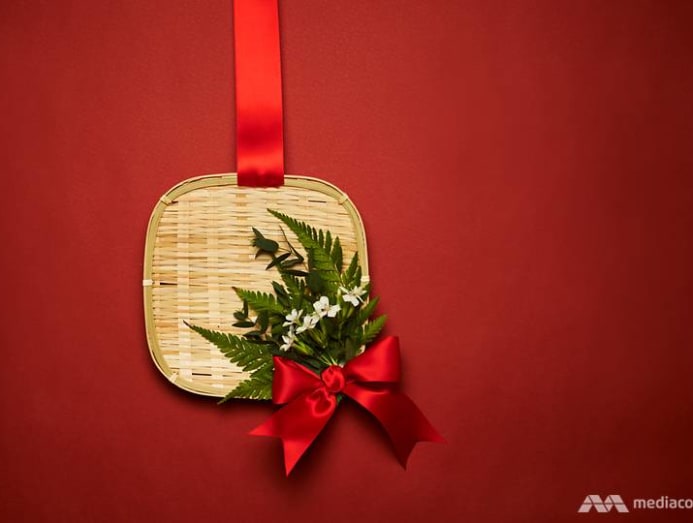 If a more traditional-looking wreath with greenery is more your thing, just find yourself an old basket – we used a shallow bamboo colander – and go to town decorating it with your favourite leaves and flowers. Eucalyptus leaves, for example, look Christmassy and give off a gorgeous scent. Add a pretty bow and your wreath is good to hang on the front door just before the guests arrive for dinner.
TISSUE BOX LETTERING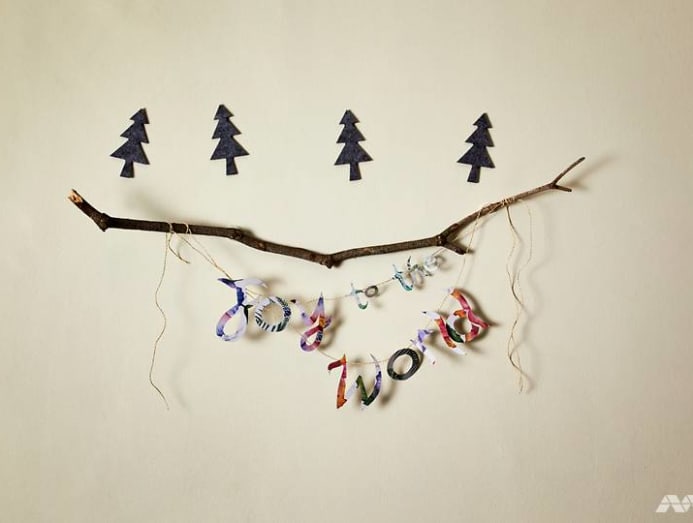 Make a statement with lettering on the walls – it's sure to give you that wow factor, and yet is so easy to do. We used old tissue boxes for ours, and of course, you can also use cereal boxes, cake boxes or magazine covers. Stencil your letters onto the cardboard, then carefully cut them out with scissors or an X-acto knife. You can tack them directly onto the walls, or string them up like we did. Don't limit yourself to boring old "Merry Christmas" – the sky's the limit, because you're the boss of this project.
CHRISTMAS TREE O' KNOWLEDGE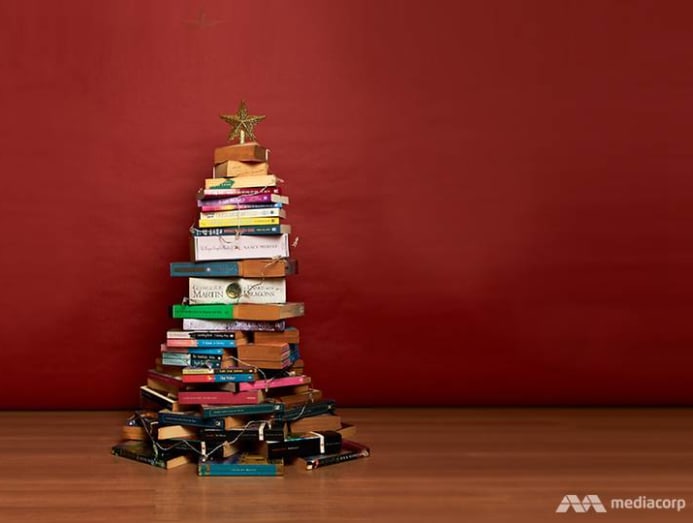 Instead of buying a plastic tree or killing a live one, try building one from things you already have at home in abundance: Books. Choose your favourite tomes – preferably those with brightly-coloured spines – and layer them on top of one another in concentric circles, making sure the books in each layer are of roughly the same thickness. You can make your book tree as tall or small as you want, depending on how many books you own (or can borrow). If you already own ornaments and lights, decorate the tree as you wish – it's a fun activity for the whole family.