Caught in South China Sea tangle, Southeast Asia's fishermen worry about livelihoods
Up against larger Chinese vessels, small-scale fishermen from the Philippines and Vietnam share their 'scary' encounters at sea with the programme Insight.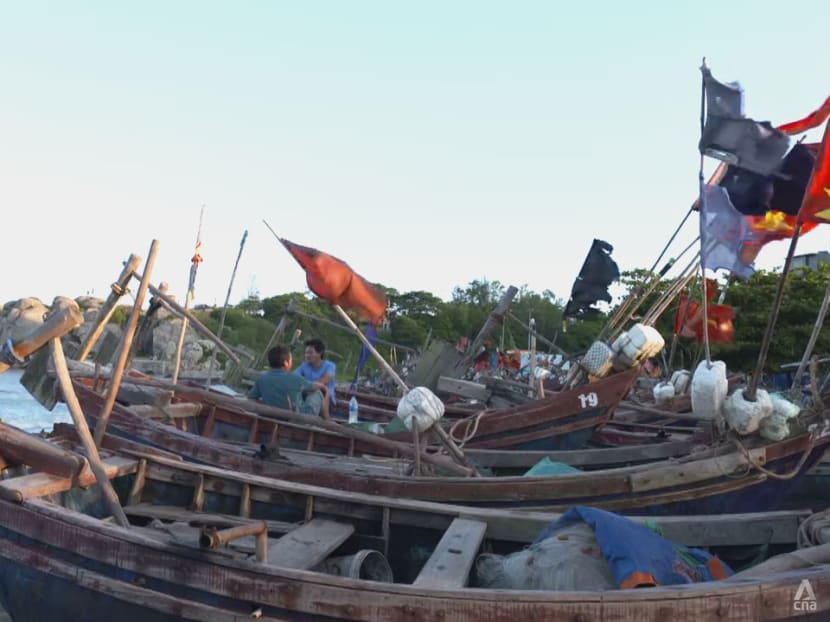 LUZON, Philippines: Filipino fisherman Bobong Lomuardo used to net a quality catch at the rich fishing grounds around the Scarborough Shoal.
Each trip to the shoal — a rock in the South China Sea lying about 120 nautical miles (222 km) west of the Philippines' Luzon Island — lasting about 15 days earned him 15,000 to 19,000 pesos (S$405 to S$500).
"It's easier to catch fish there," said the 47-year-old, describing it as a "steady livelihood".
These days, he and his 22-year-old son venture only up to two nautical miles from shore. They catch octopus and snapper, earning just over 400 pesos from a kilogramme of fish and 4.5 kg of octopus. If they are lucky, they manage to catch tuna.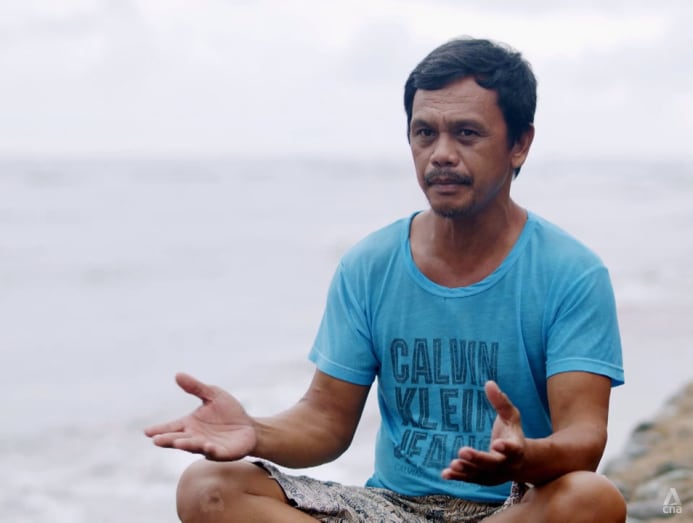 Their income is now barely enough to feed a family of seven, but Lomuardo dares not venture farther out to sea owing to the presence of Chinese vessels.
"Ever since the Chinese have guarded the entrance to Scarborough Shoal, we can no longer enter," he told the programme Insight.
Speedboats have chased him away, with their crew telling him to "go back" to the Philippines. "I'd say, 'This is Philippine territory, this is Panatag Shoal,'" he recounted. "The Chinese would say, 'No, no, no, no. This is Chinese territory.'"
According to the Asia Maritime Transparency Initiative — an information resource of United States think-tank Centre for Strategic and International Studies — China has "maintained a constant coast guard presence" at Scarborough Shoal since 2012.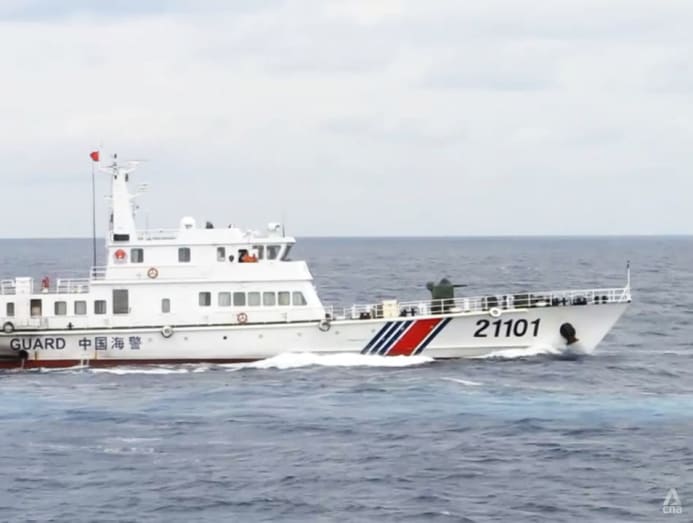 Fishermen like Lomuardo are no match for the Chinese fishing vessels backed by China's coast guards.
"It's scary because the Filipinos use small vessels at sea, basically just small boats. In comparison with their ships, ours would seem like flies," said Bobby Roldan, the National Federation of Small Fisherfolk Organisations in the Philippines' vice-chair for Luzon.
"Even if they don't spray us with water, our boats would surely capsize once their ships collide with us."
Five years after the Permanent Court of Arbitration in The Hague rejected most of Beijing's claims to the South China Sea in a case brought by the Philippines, small-scale Southeast Asian fishermen still find their right to fish under threat.
WATCH: Goliath vs David? China and fisherfolk of the Philippines and Vietnam (5:00)
The waters they fish are well within their countries' exclusive economic zones (EEZs), which generally extend 200 nautical miles from shore. Under international law, countries have exclusive rights over resources found in this area.
However, the South China Sea is the site of overlapping claims, and Beijing, which does not recognise the arbitral ruling against it, claims sovereignty over as much as 90 per cent of the contested waters.
GROWING TENSIONS
Like Lomuardo, Vietnamese fisherman Tran Hong Tho's favourite fishing spot is a site where China has staked a claim: The Paracel Islands, part of which lie within Vietnam's EEZ.
There, the 33-year-old can catch shrimp, fish, crabs and snails. The fishing season lasts for six to seven months each year, and the 60 to 69 million dong (S$3,500 to S$4,100) he earns allows him to support his family.
But a perilous night in April last year has landed him in debt. His boat was chased and pelted with stones for over an hour and eventually rammed by a Chinese ship in the Paracels, he said.
His boat broke and sank. The crew of eight managed to escape with their lives, but Tho said he now owes the bank and his neighbours 986 million dong.
Recounting the encounter, he said: "We all tried to hide. For five to 10 minutes, I steered the boat around to escape. I thought they'd stop chasing us, but they didn't.
"When (the Chinese) rammed (my boat), we heard a loud crack … About 15 minutes later, my boat sank, and only the prow was afloat."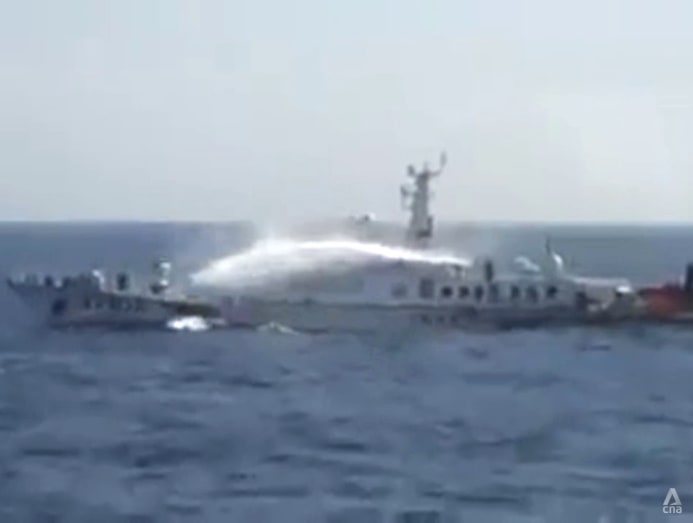 Tensions remain high in the South China Sea as surrounding countries take steps to protect their interests and the US conducts freedom of navigation operations to challenge Beijing's claims.
In 2009 and 2019, Vietnam's National Assembly passed a series of resolutions under its laws on civil defence forces allowing the formation of maritime militia units. Local fishermen were conscripted, with fishing enterprises also involved.
There are an estimated 8,000 fishing boats and 46,000 fishermen, or more, in the maritime militia now.
"It can be said that Vietnamese people are ready to sacrifice their blood and lives to protect territorial integrity and sovereignty as well as the legal rights of Vietnam," said Tran Cong Truc, a former head of the country's National Boundary Commission.
"That's the nature and tradition of the Vietnamese people."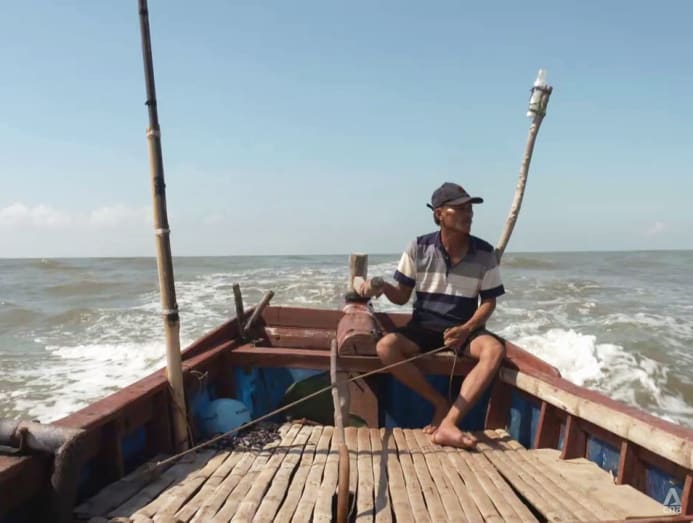 Besides expanding this militia, Vietnam has installed new anti-aircraft and coastal defence systems on its island outposts.
In China, its maritime militia is mostly organised by the country's large fishing companies, and "can be considered a reserve force for the People's Liberation Army Navy", said Zhang Hongzhou, a research fellow in the China Programme at Singapore's S Rajaratnam School of International Studies (RSIS).
China also passed a law in January empowering its Coast Guard to fire on foreign vessels and demolish structures built in waters claimed by Beijing.
In the Philippines, Filipino fishermen and some of their fellow countrymen are unhappy with the way President Rodrigo Duterte has handled the South China Sea face-off.
Fishermen such as Ernie Igana lament the weak presence of the Philippine Navy, while National Federation of Peasant Women secretary-general Cathy Estavillo wants the government to "fight" for their sovereignty and protect their natural resources.
Critics note how Duterte's hard-line stance on China during his presidential campaign in 2016 has shifted to a more muted and accommodating one.
Instead of using the arbitral ruling to "unify positions" within the Association of Southeast Asian Nations and the international community, the government "put it on the back burner", cited Jay Batongbacal, an associate professor at the University of the Philippines.
"It assumed that China would reciprocate with massive infrastructure support and development assistance … Not much has come out of that," said Batongbacal, the director of the university's Institute for Maritime Affairs and Law of the Sea.
"Instead, or in exchange, China was able to gain much headway in the West Philippine Sea through fishing, marine science exploration and possibly even exploration of our resources during this time."
The West Philippine Sea is the country's name for the parts of the South China Sea falling within its EEZ.
In May, its Department of Foreign Affairs rejected Beijing's annual fishing ban in the South China Sea, which was to run from May 1 to Aug 16.
The Philippine government, which also lodged a diplomatic protest, said the unilateral ban violates national sovereignty and international law. But in the same month, Duterte barred his Cabinet from publicly discussing the South China Sea dispute.
OVERFISHING AND FOOD SECURITY
Explaining Beijing's actions, observers say the South China Sea is a core national interest.
"To the Chinese, there's no way they're going to give up … the South China Sea territory," said senior research fellow Yu Hong at the National University of Singapore's East Asian Institute.
"Using President Xi (Jinping)'s words, China won't give up an inch of territory left behind by the ancestors."
China's economic rise means it also has a greater capacity to safeguard what it considers its national interests, he added.
The territorial dispute is as much a food security issue as it is a law and order and national security issue, said Gloria Ramos, vice-president of ocean conservation organisation Oceana.
An analysis of China's seafood production and consumption, published last year, found that consumption is likely to outstrip domestic production by 2030.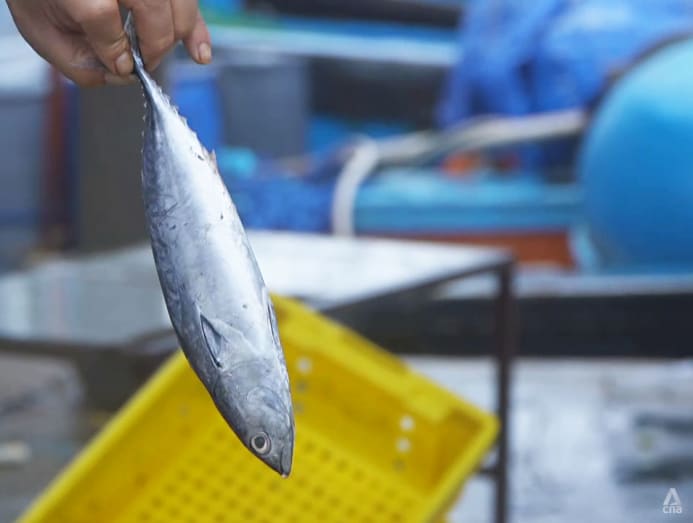 The researchers said China will most likely meet demand by increasing aquaculture and seafood imports and possibly by expanding its distant-water fishing industry as well as investing in seafood production abroad.
Zhang from the RSIS said that as the country's traditional fishing grounds became overfished in the 1990s, more Chinese vessels began to venture farther from the coast and into the South China and East China seas.
The Chinese government also introduced a 10-year fishing ban in the Yangtze River last year to allow stocks to replenish. This year, the ban was extended to the river's key tributaries.
"China's been very willing, even eager, to negotiate (with) other Southeast Asian claimant states regarding (marine) resources," Zhang said.
"(But) not many countries are willing to talk about joint development without any discussions about sovereignty. That's why the proposals for joint development haven't really moved."
WATCH: The full episode — South China Sea dispute: The war on fishing rights (45:59)
Ramos noted that the Philippines also has a large population, and many are considered as poor. "We have to do a lot to ensure that our people are protected from illegal fishing incursions — poaching happening in our waters," she said.
Roldan agrees. "We have to fight for the right of our fisherfolk to fish freely in our waters, because it's ours," said the fisherman.
"The lives and livelihood of our fisherfolk depend on what's ours, but we're the ones who get driven away … Why don't they just tell us directly to die of hunger?"
Vietnam Fisheries Society standing vice-chairman Nguyen Chu Hoi stressed: "You must respect the order at sea in accordance with international law, including the United Nations Convention on the Law of the Sea."
Watch this episode of Insight here. The programme airs on Thursdays at 9pm.