How does a luxury hotel turn itself into a stay-home notice facility? Behind the scenes at the Conrad Centennial
From dealing with virus-contaminated laundry, to what happens when a guest tests positive for COVID-19 - the programme Pandemic Borders goes behind the scenes of one Singapore hotel.
SINGAPORE: When, in the early days, COVID-19 threatened to shut down hospitality businesses, chef Low Boon Han never imagined how busy he'd be - serving up five times the amount of food the hotel normally channelled through room service in pre-pandemic times.
The Conrad Centennial Singapore, which was designated a stay-home notice dedicated facility (SDF), decided to prepare all its guests' meals in-house, instead of outsourcing to caterers as some other hotels did.
With strict safety protocols preventing the luxury hotel from giving guests its usual personal touch, one way the Conrad found to do that was through food. It even specially asked Low - its Chef de Cuisine, who had returned to Malaysia, to come back to Singapore in June 2020 to help keep guests fed.
This herculean task starts every day at 4am when breakfast is cooked, portioned, packaged, and finally delivered to some 300 to 350 guests. 
"Some people request Indian cuisine, halal cuisine, Western meals," Low said, on an episode of the programme Pandemic Borders that revealed the work that goes on behind the scenes at an SDF. "Every day, they have a different requirement. I try to make them happy." (Watch the episode here.)
Having to leave his family again "was the hardest moment of my life", he added, and he poured those feelings into creating his menus for guests who were confined to their room for a whole two weeks.
"We want them to feel that we're concerned about them."
A DRAMATIC SWITCH
The hotel was one of the first 20 in Singapore to open its doors to stay-home notice (SHN) guests in April 2020 (to date, more than 90 hotels have done so). And general manager Mike Williamson still remembers the day he was called to meet the Singapore Tourism Board. 
At the time, the hotel's room occupancy was only 15 per cent, and things were looking bleak indeed. What he heard proposed was a radical strategy - a lifeline, as it were: Convert the Conrad into a paid isolation facility for travellers entering the country.
"Without that business, the hotel would have had to close its doors, and that would've been an awful situation to be in," he said. "We have more than 400 team members employed within the hotel, and all have got families who are dependent on them."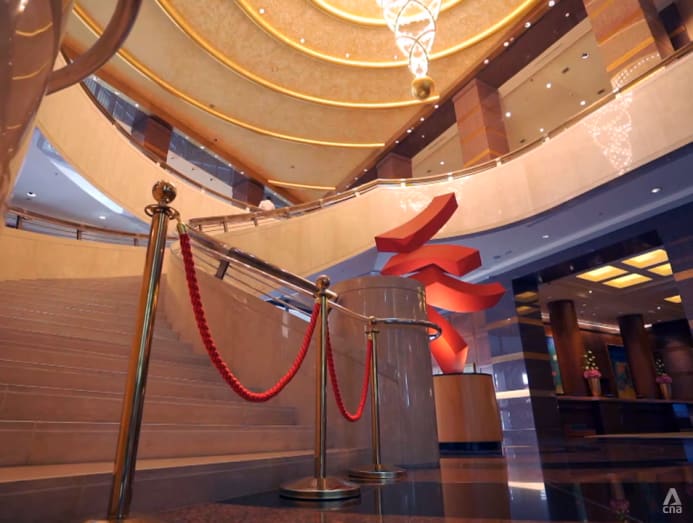 Singapore had barred all short-term visitors, effectively removing the pipeline of international travellers that were most of the hotel's guests. Returning citizens, permanent residents and long-term pass holders could still enter the country - on condition of serving a SHN.
Singapore was one of the first countries to require this 14-day isolation period for incoming travellers, according to Professor Teo Yik Ying, dean of the National University of Singapore's Saw Swee Hock School of Public Health. But the mistake made at the start was to have them serve it out at home.
"Singapore unfortunately learned the lesson the hard way," Teo said, explaining that the local outbreak of COVID-19 cases that resulted in last year's 'circuit breaker' was seeded by returning travellers from Europe and North America. "If I'm the traveller... quarantined at home, I'm interacting with my family, my children, my parents, but they are still allowed to go about in the community."
A new strategy was needed to house many people in very little time - and for the STB, hotels were the obvious choice. "They provided single rooms with attached ensuite bathrooms, and we could activate them...  since they were not receiving tourists anyway," said STB's assistant chief executive of policy and planning Jeannie Lim.
For me, being called a frontliner is very, very heartening.
The hotels would have to adhere to STB's "very stringent" infection prevention protocol and guidelines. For example, they would need to have well-trained security personnel and a CCTV system, as guests on SHN were not allowed to leave their rooms except for specific purposes such as swab tests.
The hotels' air-conditioning, ventilation and mechanical systems were also important, and were audited to ensure they met requirements, Lim added.
SEGREGATION
The Conrad had to be split into three separate zones: Red for each guestroom; amber for the room floors; and green for all other parts of the hotel where SHN guests have no contact with.
The lobby was also divided in two, giving SHN guests a separate entrance and area to check in.
Teams assigned to the different zones are not allowed to intermingle, and both have different resting and changing areas.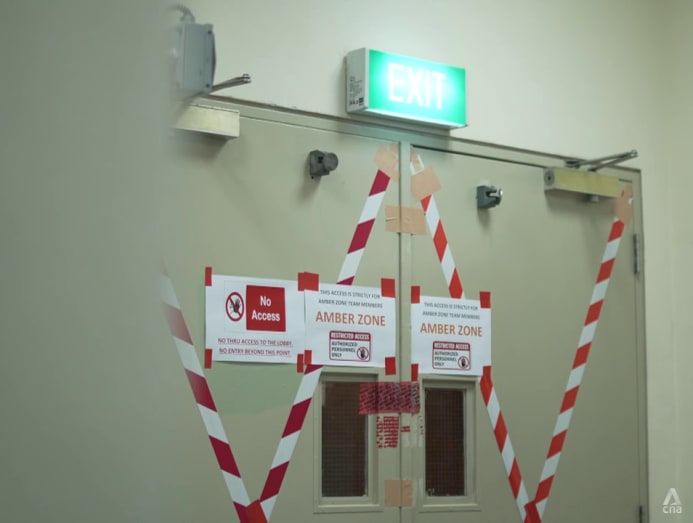 Assigning staff to the amber zone was a heavy decision that fell to the hotel's director of operations, Teun Engbers, who decided to follow two guiding principles.  
"The elderly above 60 – we don't move them into the amber zone," he said. "We also don't put anybody there against their will."
The team he ended up with, eventually, were mostly from "the younger generation" and the majority had volunteered, he said.
One of them was housekeeping supervisor Xin Mingji, who is in his 20s. "I like to be challenged," he said. "I think I can gain more exposure from this. For me, being called a frontliner is very, very heartening."
HOSPITAL-GRADE SAFETY STANDARDS
But trying to maintain the hospitality standards worthy of a luxury hotel while observing rigorous hospital-level safety protocols has been a challenge. 
Staff serving the amber zone have to don personal protective equipment (PPE), and are trained how to do so properly by Health Ministry nurses.
Partial PPE, consisting of just a gown, surgical mask and gloves, is meant for deliveries or tasks that do not involve direct contact with guests, said front office manager Manolo Gatchalian Santos. "The full PPE – where you have direct contact with a guest – that one is a bit of a challenge," he added.
"With the N95 mask, you can't really breathe very easily," said his colleague Siti Fatimah Noorali.
Chief concierge Mohamed Fasle Mohd Rifaeh admits he misses the "human touch" and building relationships with guests through face-to-face conversations. 
Said Santos: "At the heart (of the hospitality) industry is the desire to serve and make experiences for guests. As much as we want to provide luxury for all our guests, even during this SHN time, there's less opportunity for that."
DEALING WITH DELIVERIES
While they are treated to hotel-standard cuisine, guests sometimes also want to get external food delivered for a change – and it's the job of the amber team to make sure it gets to them while still reasonably hot.
This involves the team shuttling between the reception to more than 25 floors to deliver the never-ending influx of orders.
As for taking delivery of things from the guests, like laundry, this can be complicated business.
At the Conrad, laundry is sent to an external laundromat which also has to take exceptional precautions. California Laundry says preparations and procedures have increased threefold, and protective gear when handling the laundry "is a must".
Guests place their clothes in a special water-soluble bag and leave it outside their room door. The bag, used in infectious disease departments in hospitals, dissolves in water at a temperature of 65 degrees Celsius, according to California Laundry's director Eugene Tay. 
This is "so we have no direct contact with the garments", said Tay. "We wash above temperatures of 65 deg C to eliminate all the bacteria and viruses." 
I don't really meet up with my friends and family, because I'm just afraid there might be something.
The first time they received laundry from a positive COVID-19 case, Tay said his staff "were all afraid". But now, this happens about three times a week and is par for the course for them.
The hotel will place the laundry into a red plastic bag and inform the laundromat, said Tay. The laundry is then left under the sun for six hours, before being washed at 70 deg C to eliminate viruses.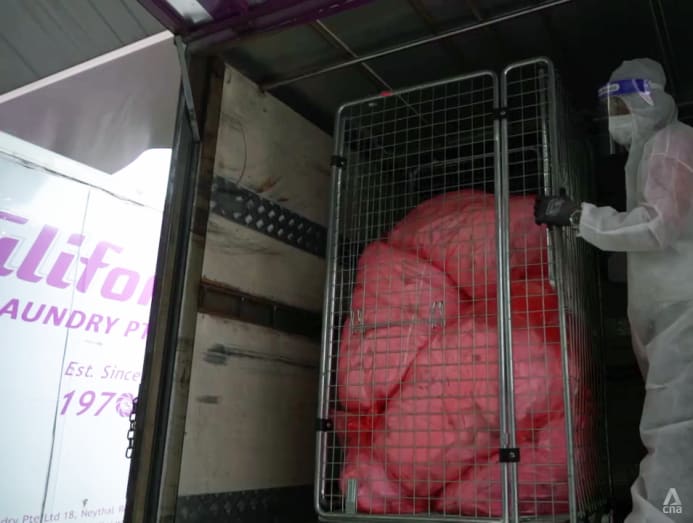 LIKE A CRIME SCENE
When COVID-19-positive cases are detected in the middle of their SHN, Engbers said, the Ministry of Health will send an ambulance to ferry the guest to a designated facility or hospital.
There are dedicated lifts, referred to by staff as "red zone" lifts, which paramedics use to escort the affected guest down.
The vacated room is now a danger zone, treated almost like a crime scene before anyone can enter safely again. The hotel will first engage external cleaning specialists to thoroughly disinfect every surface before the amber zone staff go in to double-disinfect the room.
Despite the many layers of precautions, the rare infection can occur. In May 2021, a cleaner at Park Avenue Rochester hotel tested positive for COVID-19, despite the fact that she had not worked in its amber guest zones and had no direct contact with high-risk guests.
Yet, according to MOH, there was "great genetic similarity" between her and one of the cases that stayed at the hotel. "The virus can remain on a surface for up to a couple of days, and when another individual comes and touches that surface, and unfortunately touches the nose or the mouth, the virus can transmit in that manner," said Vernon Lee, MOH's senior director of communicable diseases.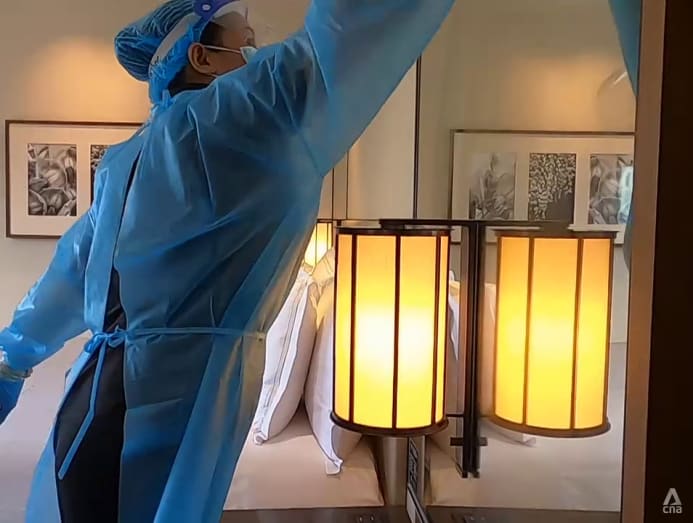 This incident was a sobering reminder to the Conrad's staff that everyone, not just those in the amber zone, is vulnerable.
Front office manager Fatimah said all amber zone staff are required to take a shower at work before going home. Once home, she will sanitise herself, go directly to the bathroom and take another shower.
"I don't really meet up with my friends and family, because I'm just afraid there might be something," she said.  
But for all the concerns, staff like chief concierge Fasle are happy to be at the frontlines.
"I would love to look back and say I was there to help out and was part of the team," he said. "I can inspire the younger generation – don't be scared if the next pandemic happens, step forward."
Watch this episode of Pandemic Borders here.