Madam Koh's bak chang: The recipe
It's part-Teochew, part-Hokkien, but mostly this grandmother's own recipe that she has developed over the years.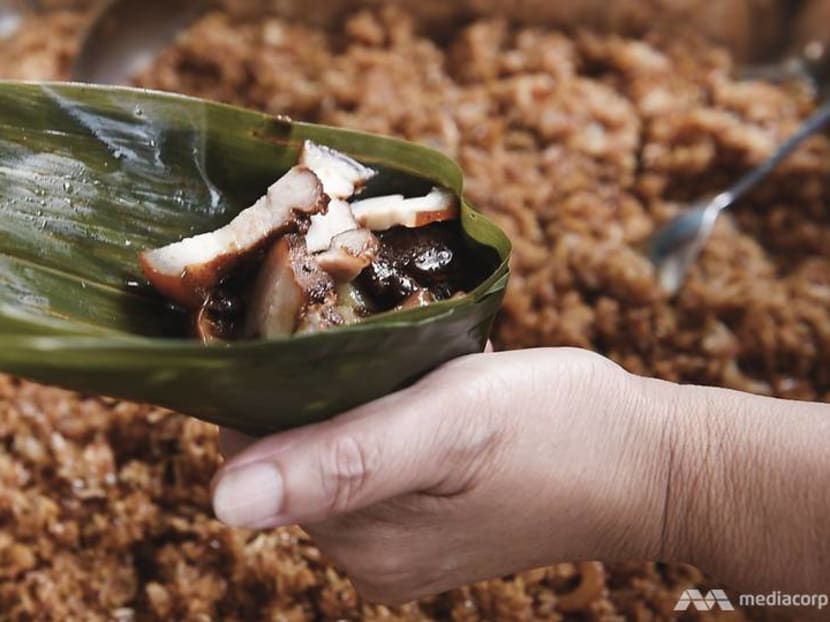 From the kitchen of: Mdm Koh Peck Hiang, age 68.
This recipe makes approximately 35 rice dumplings.
PREPARE THE FILLING
Braised pork belly:
2kg pork belly
Salt
2-3 cups water
¼ cup sugar
½ cup dark soya sauce
1 tsp MSG
¼ tsp five spice powder
¼ tsp cinnamon powder
2 cinnamon sticks
2 tbsp Martell cognac
10 star anise
20 slices blue ginger
1 Chinese bowl garlic cloves, unpeeled
1. Rub salt all over the pork belly. Leave for half an hour, then wash the salt off. Boil water and scald the meat.
2. In a big pot, melt the sugar on low heat. Keep stirring so it doesn't burn.
"Heat until it becomes a golden brown liquid."
3. Add the dark soya sauce, MSG, salt, five spice powder, cinnamon, cognac, star anise, blue ginger and garlic.
"I add Martell to everything that has an odour to mask it."

4.  Add the pork belly and leave to simmer on low heat. Flip the chunks periodically so they absorb the sauce evenly.
"It's like helping them bathe."

5. Stop flipping when the sauce reduces and becomes darker, and the chunks are all evenly coated.

6. Add more water, cover the pan with a lid, and leave to simmer for approx. 30-45 mins.

7. Poke the meat with a satay stick to test if it's cooked.
*Tip: Don't cook the pork until it's too soft – as though you were cooking it to serve – because it will cook further when the dumplings are boiled.

Braised mushrooms:
1 tbsp oil
4 cloves garlic, chopped
¼ tsp dried oysters
200g dried mushrooms, soaked for 3 hours.
1 tbsp dark soya sauce
1 tbsp Hua Diao wine
¼ cup water
1 tsp mushroom seasoning granules
¼ tsp cinnamon powder
1 tsp cornflour, dissolved in water
1. Heat the oil in a wok. Fry garlic and dried oysters until fragrant.

2. Add the mushrooms, dark soya sauce, Hua Diao wine, and water.

3. Flavour with powdered stock and cinnamon powder.

4. Add the cornflour, mixed with a bit of water.

5. Cook for a few minutes, until the water reduces. 
Chestnuts:
300g dried chestnuts, soaked overnight
1 tbsp oil
3 cloves garlic
1 tsp salt
A dash of MSG
1 tsp sugar
1 tsp pepper
1. Peel the skin off chestnuts.

2. Boil the chestnuts for 30 mins to soften further.

3. In a pan, heat the oil, fry garlic till golden brown.

4. Throw in the chestnuts, and the rest of the ingredients.

5. Fry for a few minutes, then set aside.

PREPARE THE GLUTINOUS RICE
5 tbsp oil
½ cup shallots, sliced
3 handfuls dried shrimp
¼ cup garlic, chopped
2 tbsp dried oyster, chopped
2kg glutinous rice, soaked for 2 hours
1 tsp cinnamon powder
2 tsp five spice powder
1 tsp coriander powder 
2 tsp white pepper
1 tbsp salt
1 tbsp lard
3 tbsp dark soya sauce
1. In a large wok, heat the oil.

2. Throw in the shallots, dried shrimp, garlic and dried oysters.
3. Add the rice. Mix evenly with oil and dried ingredients.
"Make sure there's enough oil and the heat isn't too high, or the rice will burn."

4. Add cinnamon powder, five spice powder, coriander powder, pepper, salt and lard. Colour the rice with dark soya sauce.

5. Mix evenly, fry for a few minutes. Do not let the rice cook.
WRAP THE BAK CHANG
You will need 70 bamboo leaves and raffia string.
1. Soak the bamboo leaves overnight, and wash well.

2. Let all ingredients cool before wrapping.
"If you wrap it while the rice is hot, and the meat is cool, then the dumpling would stink."
3. Using two bamboo leaves, place the coarse sides back to back. Fold the leaves into a cone (refer to video for visual guide).

4.      Pack one spoon of rice in the bottom of the cone. Top with ingredients. Top up with more rice till it reaches the brim of the cone. Pack everything tightly.
"Press it flat, so water won't seep into the dumpling."

5.      Wrap the dumpling tightly. Tie with raffia string.
"If you don't tie it tightly, the dumpling will be loose when you unwrap it."
WATCH: How it's done (3:36)
COOK THE BAK CHANG
1. Set a large pot of water to boil, then place the dumplings in it.

2. Boil it for two hours, and check periodically to push down any dumplings that have floated to the surface. This will allow all dumplings to cook evenly.

3. Take out the dumplings, hang them to dry, and enjoy!