Beyonce and Jay-Z make surprising tribute to Meghan Markle while accepting BRIT Award
The couple won Best International Group at the British music awards earlier today.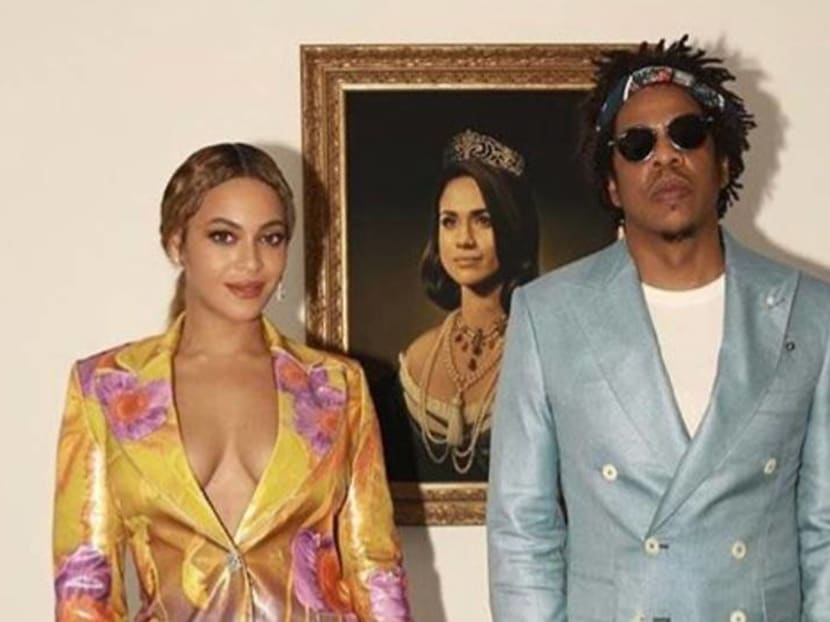 Beyonce and Jay-Z may have been absent at the BRIT (British Record Industry Trust) Awards earlier today (Feb 21), but a pre-recorded acceptance video by The Carters stole the show.
The iconic couple took home the trophy for Best International Group for their album Everything Is Love, their first joint album as the musical duo The Carters.
In the clip, they stand in front of a painting of the Duchess Of Sussex that is modelled after Queen Elizabeth.
"Thank you so much to the BRIT Awards for this incredible honour," Beyonce said in the video. "You guys have always been so supportive. Everything is love." 
Jay-Z adds, "You're welcome", before the two chuckle and turn to face Markle's image.
A child's cry then closes the view, asking, "Why?". Many on social media assumed this to be one of the couple's three children.
The acceptance video is a nod to The Carters' music video for Apes**t, which was filmed at the Louvre. Released last June, the hip-hop clip shows the couple and a group of dancers performing next to seminal pieces of art by Caucasian artists, and turning to face the Mona Lisa at the video's end.
Huffington Post wrote that the video was part of the couple's ongoing effort to dismantle white beauty standards and challenge the erasure of blackness in history. 
"Others interpreted the acceptance speech as a message of solidarity to the royal who's been the target of particularly brutal coverage in the British press as of late," wrote HuffPost.
The royal's friends, including actor George Clooney, have recently come to her defence, saying she's been "pursued and vilified" by the public. Some outlets even compared her treatment to the late Princess Diana. 
The BRIT Awards saw dance music producer Calvin Harris and indie rock band The 1975 take home two trophies each, with the latter's latest album, A Brief Inquiry Into Online Relationships, winning the top prize of British Album Of The Year.