Billie Eilish discusses her Tourette Syndrome on The Ellen Show
The 17-year-old singer dropped her widely-praised debut album last Friday (Mar 29).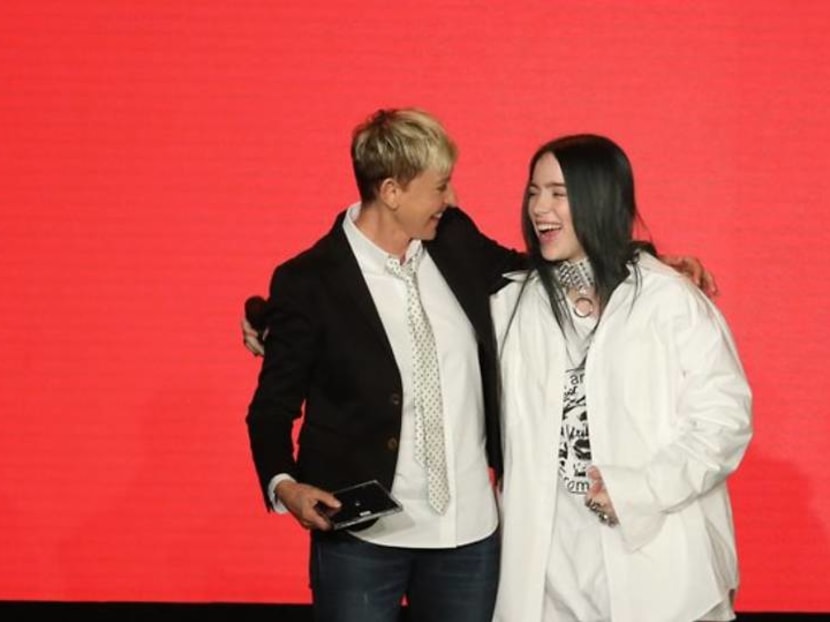 Billie Eilish spoke about living with Tourette Syndrome "her whole life" during an appearance on The Ellen DeGeneres Show on Monday (Apr 1).
Tourette Syndrome is a neurological disorder that causes a person to have involuntary physical or verbal tics. In Eilish's case, she exhibits physical tics, not verbal.
"It's something I've lived with my whole life," Eilish said on Ellen. "I just never said anything about it because I didn't want that to define who I was. I didn't want to be 'the artist with Tourette's.'"
"I also learned that a lot of my fans have it and it makes me feel kinda more at home with saying it."
Following her appearance, Eilish performed her song When The Party's Over from her debut album When We All Fall Asleep, Where Do We Go?, released last Friday (Mar 29).
According to Billboard, the singer-songwriter's new album is expected to land Eilish her first No 1 on America's Billboard Top 200 albums chart. She will also be performing at Coachella on Apr 13 and 20.
The 17-year-old singer first revealed her condition via Instagram Stories last November after compilation videos of her tics began to surface online.
"I've never mentioned (my Tourette Syndrome) on the internet because nobody thinks I'm deada**," Eilish wrote on her Instagram story. "As well as the fact I've just never wanted people to think of tourettes every time they think of me."

"I've taught myself ways of suppressing my tics and certain techniques to help [reduce] them when I don't want to be distracting in certain situations," she wrote then. "Wasn't planning on talking about this on here maybe ever, but it's gotten to a point."