From buses to soldiers, they're creating uniquely Singapore toys for the big boys
They couldn't find the Singapore collectibles they wanted in the market, so the founders of Masterpiece Collectibles and Miniature Stories decided to make their own.
SINGAPORE: Nine years ago, Dickson Ng desperately wanted to get a Singapore traffic police bike scale model for his collection of toy vehicles. But there was a catch: He couldn't find one anywhere.
So the 46-year-old relief taxi driver took matters into his own hands and created one for himself.
It didn't stop there. When Ng realised he wasn't the only local collector interested in such uniquely Singaporean toy vehicles, he began producing not only more police bikes, but also police patrol vehicles, firetrucks, ambulances, and buses.
LET'S MAKE IT OURSELVES
"Back then, nobody had done it before. But it ignited a passion and I kept thinking of new vehicles to make, which were all simply from Singapore," said Ng. 
Today, his small company Masterpiece Collectibles has created 30 types of collectible vehicles as well as a handful of toy figurines of the country's police, firemen, prison force and more.
Ng isn't the only one who's been making Singapore-themed collectibles. Last year, Caleb Lin and Terra Chua released their own miniature figurines of Singapore Armed Forces (SAF) soldiers under their own company, Miniature Stories.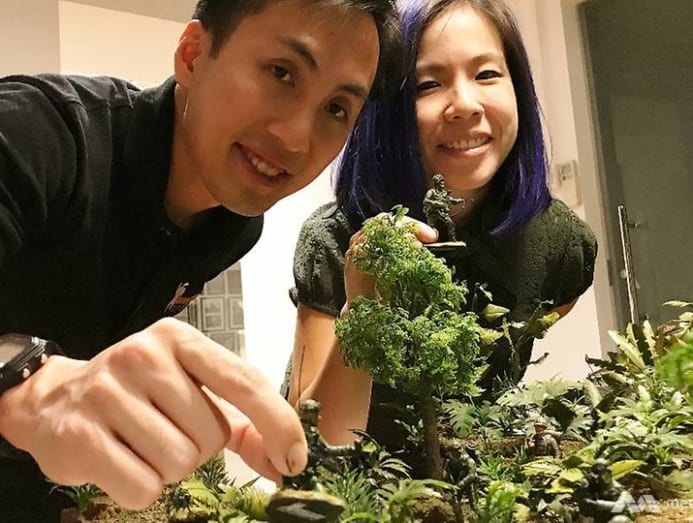 To date, the married couple have come up with 18 unique designs in different variations, which are selling well thanks to the ongoing NS50 celebrations.
Like Ng, the couple decided to start producing their figurines simply because no one was making these.
"I've been a long-time collector of miniature figurines but foreign companies would only produce those on a more international scale, like World War I and II, or the medieval, Roman empire or Samurai ranges. But as a collector, I wanted to see our own SAF soldiers alongside all the other military figurines available on the current market," said Lin.
LOCALLY-THEMED COLLECTIBLES
Masterpiece Collectibles and Miniature Stories belong to a handful of companies that target the overlooked market of locally themed collectibles.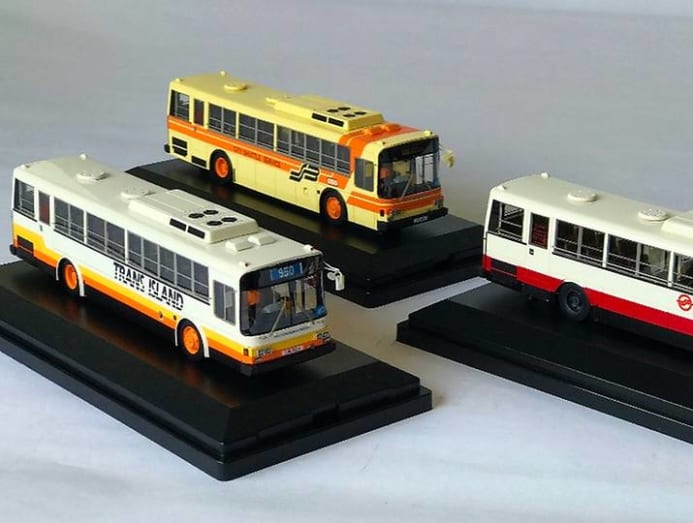 Among the former's offerings are limited edition old and new emergency vehicles, as well as old buses not found on the streets anymore, which is under its Yesteryear Series. It also has cute figurines of riot police and fire and rescue specialists under its Real Hero Series. These range from S$88 to S$295.
Meanwhile, the latter's 6cm metal figures come in a few series, such as the Standard Obstacle Course or Parade Series, and across the different generations stretching back to the classic Temasek Green uniform worn during the 1960s. The pieces range from S$59 to S$75 apiece.
Both companies sell their wares online and select toy stores, as well as at the occasional pop-up event. One can also spot them amid the cosplayers and booths selling more pop collectibles at the upcoming Singapore Toy, Game and Comic Convention in September.
Both companies pride themselves with making intricately designed products, which they then send off to factories in China to produce.
For instance, Miniature Stories' Parade Series figurines come in three different races – Chinese, Malay and Indian.
"You can imagine how insane the inventory is but it was a conscious thing to represent Singapore," said Lin, 35.
For Ng and his collaborators, production on Masterpiece Collectible pieces only begin when they are able to get 360-degree images of the vehicles. They also tap on specialist groups who would offer feedback, which was the case when they did the Yesteryear Series of retro buses.
STILL A NICHE MARKET
While both parties have tapped into a new market, it hasn't been a bed of roses. They pointed out that it's still a niche market.
Masterpiece Collectibles churns out mostly in limited edition resin products, with quantities ranging from 150 to 200. Creating a prototype costs between S$4,000 and S$5,000, and Ng has to factor in his regular trips to China to check on the production process.
"It's not really profitable. When I sell, I get the fund, and then I throw it back in. That's why I'm still driving a taxi!" quipped Ng, who also has had to deal with some recent issues regarding the use of the Singapore Police Force logo on some of his vehicles.
For the couple behind Miniature Stories, it's been a healthy learning curve. Lin and his wife, Chua, decided to take the plunge in Sept 2016 after a long sabbatical to decide on their next career move.
After a long hiking trip in the US, Chua went full-time into managing the new business while Lin returned to the banking sector.
Since they started, the majority of buyers have come from outside the local collectors circuit.
"Most of our customers don't collect collectible figurines – they buy it because of their memories of NS or female customers who buy them as gifts for their boyfriends, husbands or fathers," said Chua, who added that they've been slowly diversifying by introducing knickknacks like keychains, tank-shaped pouches, badges and even an "ammo lunch box" to attract a different demographic.
PEOPLE ARE SLOWLY TAKING NOTICE
But people are slowly taking notice.

The National Civil Defence Cadet Corps and Singapore Prison Service have approached Masterpiece Collectibles to make figurines, the latter for its elite Singapore Prisons Emergency Action Response (SPEAR) Force. And in the pipeline for this year are a few more figurines – including paramedics, as well as taxis and a retro police riot bus.
As for Miniature Stories, they're going into vehicles – starting with the classic AMX-13 SM1 tank, which will be rolled out this year.
They're also thinking beyond – by next year, they hope to produce cultural, non-military diorama pieces that looks at Singapore's history from 1965 onward.
"We want to chart Singapore's post-Independence. It'd be kind of cool – it's not just the clothing, but imagine, the vehicles, the old shophouses you don't see anymore," said Lin, who cited events such as the Konfrontasi, the racial riots and even political parties as some scenes they'd like to tackle.
At the end of the day, both companies continue to be encouraged by the reactions they get from people who buy their products.
"When they see the figurines, they see a part of themselves in it. When we go for fairs or roadshows, we see that spark in their eyes that says 'Hey, that's me'," said Chua.
Added Ng: "Sometimes, I would deliver these to my customers using my taxi, and the moment I see the smile on their faces while they hold the vehicle – I'm very happy already. That means I've done a good job."