Meet Desmond Shen, the young chef behind the most innovative private dining experience in Singapore right now
If you're a passionate foodie, do whatever you can to get a reservation at Alter Native, a unique private dining experience that marries food and crafts.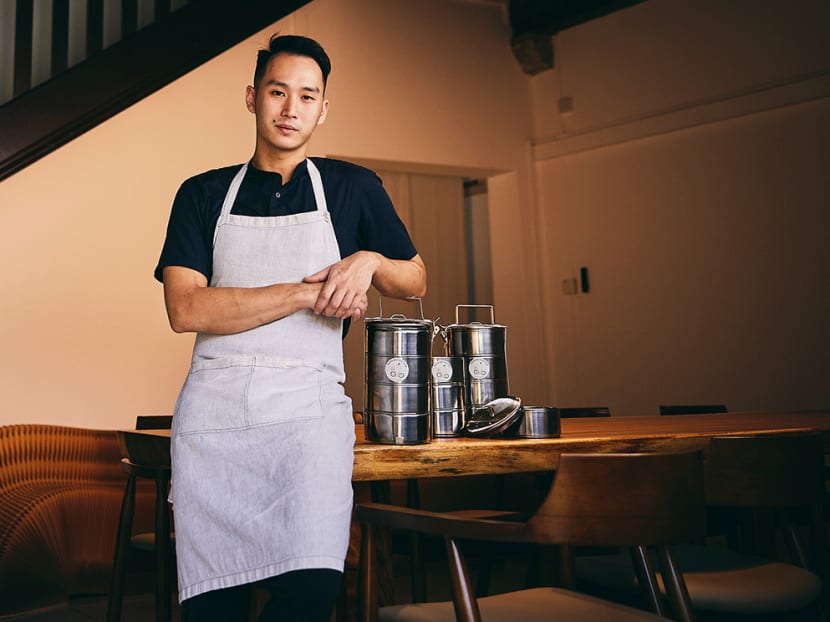 A booking at Alter Native, a private dining experience I'll wager many of you have heard of, might be the hardest reservation to secure in Singapore right now.
It serves just six people a night Wednesday through Saturday and when reservations open up online once a month, they are snapped up within the minute – even as it costs S$220 per head. 
That's a testament both to our foodie scene, in which people are passionately looking for and supporting special and unique experiences, and to the brilliance of chef and proprietor Desmond Shen.
If Shen's name is familiar, it's because he was the genius behind Tiffin Bicycle Club, the unique, gourmet modern Singaporean online food service that emerged during COVID-19 "circuit breaker" and quickly became a cult sensation.
With Singapore re-opening and social distancing measures relaxed, Shen, who turns 29 this year, has opened Alter Native, a private dining experience situated in a charming historic home on McNair Road.
Alter Native is, in my opinion, the most unique, most exciting and truly innovative private dining experience in Singapore today. So if you're a passionate foodie, do whatever you can to secure one of those hard-to-get reservations.
I won't spoil the experience too much, but I will say that the meal is had across two physical spaces. The two dining rooms you'll sit in are filled with gorgeous local craft, some of which directly inspire the dishes. The food is also extraordinary – complex and artful, but also delicious and accessible. I love that Shen draws inspiration from all of the cultures here in Singapore. The meal is a roller coaster of flavours that leaves you simply stunned by what Chef Shen has put together without assistance.
HI DESMOND, HOW DID YOU COME UP WITH ALTER NATIVE? WHAT ARE YOU HOPING TO DO WITH THIS CONCEPT?
I conceived Alter Native as a private dining experience aspiring to bring a new perspective to local cuisine, hospitality and crafts.
Collaborating with craftsmen and artisans outside of the food and beverage (F&B) industry was always a thing I wanted to do. Being in the kitchen all the time, it's hard for me to build these connections with them. I wanted a space that would allow me to do this.
Having always seen parallels in the creative processes of both culinary and the arts, I roped in a close friend of mine, Charice, who's a trained designer, producer and arts curator. Together, we co-programmed Alter Native as a space to house a variety of creative collaborations.
I LOVE THAT YOU FEATURE AND ARE INSPIRED BY LOCAL ARTISANS. CAN YOU DESCRIBE WHO YOU ARE CURRENTLY SHOWCASING AND HOW THEIR WORK INFORMS YOUR CUISINE?
Project Coal by Crystal Lee is our first main artist. Crystal works with natural dyes, textiles, art and woven objects that invoke a lot of emotion. The thing about her work that really strikes me is the usage of natural ingredients for all her work – she does a lot of research into the chemical composition, dye modifiers and even cultural significance; much like what we do as cooks.
Our process is pretty simple. We sit down, talk about our individual work and thought processes, find our intersection point and oddly interesting things that both of us concur on, fixate on that and try to magnify that concept. Her exploration and research on natural dyes and weaves really triggered an emotion in me this time around and the menu was created with that at the back of my mind.
HOW WOULD YOU DESCRIBE YOUR CUISINE?
To be short and precise, it is Singaporean cuisine. For the TLDR (too long, didn't read) version, I'm trying to create food that looks and sounds completely non-Singaporean-related but invokes a sense of familiarity and memory when ingested.
WHAT IS YOUR CREATIVE PROCESS WHEN CREATING A NEW DISH?  
I think of food as a memory, a well-cooked steak seasoned with salt and pepper serves its purpose very well but a well-cooked steak with a sauce or flavouring that evokes memory both serves its purpose and triggers an emotional connection. That for me is the higher purpose of what we do.
I normally begin with a certain flavour combination or ingredient I've come across and try to decipher why and how it works. With that, I try to isolate the part of the equation that I think shines and exhaust all methods of preparation to come up with something new but familiar at the same time.
WHAT IS THE GOAL FOR ALTER NATIVE?
I don't think either Charice or I have goals set for this project as yet. All we know is that we want to build a small community of local artists and craftspeople to get to know each other and see where that takes us.
YOU CAME BACK TO SINGAPORE BECAUSE OF THE PANDEMIC, RIGHT? WHAT WAS THAT LIKE? WHAT WERE YOU FEELING?
To be honest, I'd been away from Singapore for a while by then and I didn't really mind coming home. I had plans to take a job in a new restaurant opening that year in Japan but it didn't work out due to the pandemic. That was the part that really sucked.
DID YOU IMMEDIATELY DECIDE TO WORK FOR YOURSELF AS OPPOSED TO GOING BACK INTO SOMEONE ELSE'S KITCHEN?
I did not. As mentioned, my plans were derailed by the whole pandemic and I was actually waiting for the opening of that restaurant in Japan. In between that, I was taking some time off to reconnect with other hobbies like woodworking, art, farming and things like that. It wasn't before long that Chef Julien from Odette thankfully gave me an opportunity to get back into the kitchen with Odette At Home.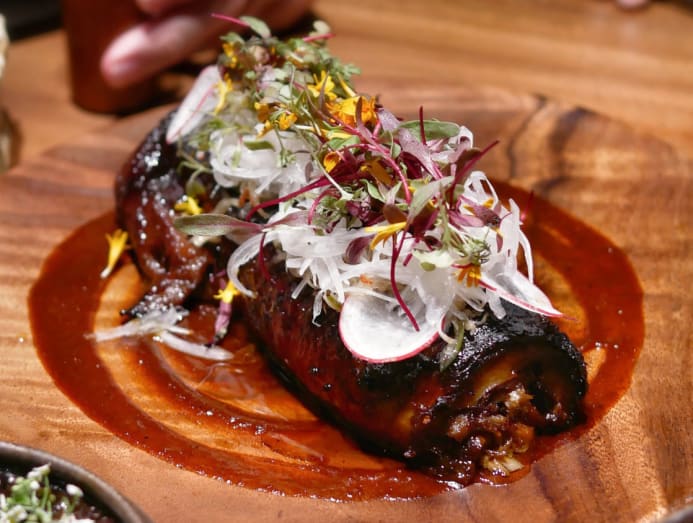 AFTER ODETTE AT HOME, YOU LAUNCHED TIFFIN BICYCLE CLUB. WHAT WAS THE INSPIRATION BEHIND THAT?
Plastic waste. During the first circuit breaker, the F&B scene was turned upside down and businesses had to pivot to takeways within a matter of weeks. Everyone was fixated on turning a profit in the most convenient way. Kitchens turned from metal trays to little plastic boxes. At rubbish points, mountains of plastic waste were piling up. I honestly felt bad that I was part of the problem, so I wanted to find a way to, I don't know… ease my guilt.
TIFFIN BICYCLE CLUB WAS A ROARING SUCCESS. DID YOU EXPECT BUSINESS TO BE AS GOOD AS IT WAS, WITH PEOPLE MADLY CLAMOURING FOR BOOKINGS?
I did not. I was just trying to pay off my debts in building Alter Native to be honest. It was intended to be a temporary project for a couple of months but the demand was so high that I had to order more tiffin boxes and rope in a friend to aid in the delivery system.
I LOVE THAT YOU DID SEVERAL COLLABORATIONS UNDER TIFFIN BICYCLE CLUB. DO YOU FEEL THAT MOST CHEFS ARE HAPPY AND OPEN TO COLLABORATION?
Of course. The food that we did at Tiffin Bicycle Club were mostly meals that we would eat ourselves on our off days with family and friends; we don't get a lot of opportunities to cook this genre of food in fine dining establishments save for rushed family meals. I think it brought them a lot of joy to come together and cook some casual food that hugs the soul for a change.
WHAT GOT YOU INTO COOKING?
I think this is more of a calling than anything else, I don't have a rational answer to this but I was a really fat kid growing up that loved food. I used to have dinner at home then pop over to my godparents' home, pretend I didn't have dinner and proceed to have a second dinner.
WHEN DID YOU KNOW YOU WANTED TO COOK PROFESSIONALLY?
When I was 16, I had a bit of free time in between school and took a part time job with a friend in a catering company. It wasn't the most glamorous job, but I loved the camaraderie between the chefs, the hustle, and the visually, mentally stimulating experience of watching little parts of a meal being put together.
YOU'VE TRAINED BOTH IN SINGAPORE AND OVERSEAS. CAN YOU WALK US THROUGH YOUR CAREER?
I started my career in a culinary course in Temasek Polytechnic, did a couple of jobs in local hotels and restaurants before applying to do an internship in Japan at Restaurant Narisawa.
I came back to Singapore four months after and took a short break from cooking. I joined Edmund of (now-defunct) Farm Delight as a farmer to learn more about growing and farming before continuing my work in local restaurants Whitegrass, Blackwattle and Odette.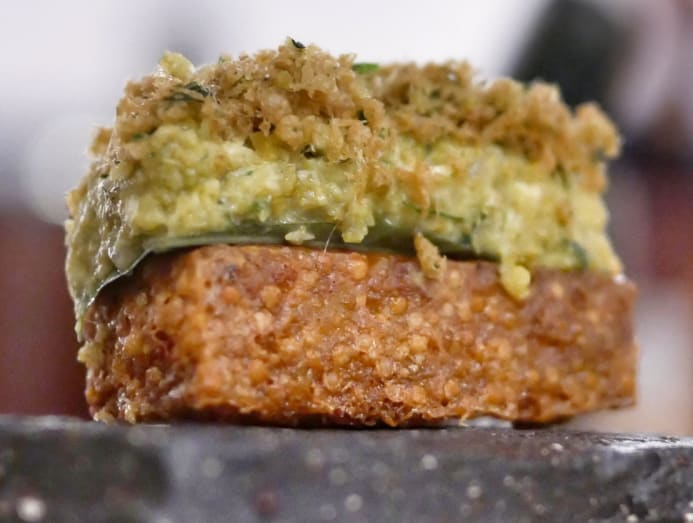 After Odette, Ken Loon of Naked Finn approached me with the idea of an incubator for local chefs and we opened Magic Square together with friends Marcus Leow and Abel Su.
After that exhausting stint, I was in need of a change of scenery so I did some time with a friend, Kenichi Takatsu, at his restaurant in the laidback fishing city Shimonoseki, Japan.
Right after, I travelled to Peru to do a stage with Central and their affiliated restaurants. I was hauled back to Singapore due to COVID-19. As I mentioned, I was thankfully offered a job with Odette to run their offsite takeaway programme and continued to work for Chef Julien at Odette after.
That's when I chanced upon this charming little house along McNair road and started this little project. Because of the second circuit breaker, I had to put Alter Native on hold and transitioned into a takeaway or delivery programme, which was Tiffin Bicycle Club. And now, I have finally opened Alter Native and am excited to share the experience with the public.
HOW IMPORTANT IS IT, DO YOU THINK, AND IF YOU CAN AFFORD IT, FOR A YOUNG CHEF TO WORK OVERSEAS?
I believe it to be of the utmost importance. Being situated in Singapore, we don't have any relationship with our land, products or seasonality. Being overseas working with different chefs gives us more opportunity to understand different products, seasonality, little intricacies of ingredients, techniques and most importantly, cooking philosophies.
All that said, however, I believe that the biggest benefit of working overseas besides life experience is honestly having some time alone to chill out and process life. Singapore is a hectic environment in general – but more so for tightly run kitchens trying to minimise labour and maximise profits to pay off those massive overheads. It makes for us chefs here to be constantly jaded and burnt out. It's refreshing to be overseas and experiencing different working cultures and systems. You come back with a renewed sense of confidence in the industry.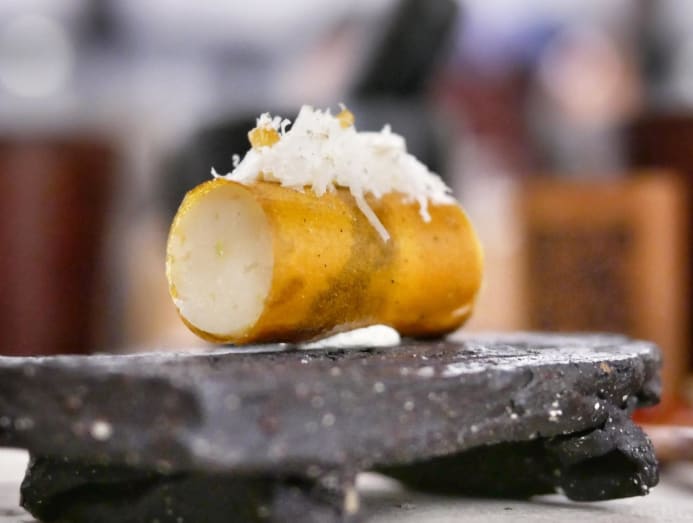 WHAT'S THE BEST PIECE OF ADVICE A FORMER HEAD CHEF OR BOSS HAS EVER GIVEN YOU?
Don't be afraid to do what you love to do. If you put enough heart in, money will come along the way.
At the start of my career, I struggled very much with the meagre salary as a cook and the idea of not having enough money in future. In fact, I still struggle with this from time to time. My ex-boss Ken once told me, when approached with the subject of doing a no-pay internship, that I should go for it, spend the money and invest in myself. Probably one of the best pieces of advice I needed to hear.
WHEN YOU WERE WORKING OVERSEAS, WHAT WAS THE ONE LOCAL DISH YOU CRAVED THE MOST?
Late-night prata and fish curry with freshly made teh tarik – with a side of Singlish. No amount of ramen or tacos can make up for this.