Godfather of Malaysian stand-up Harith Iskander: "I'm not a shock comedian!"
The comedy veteran, who will be performing in Singapore Sept 30-Oct 1, tells Channel NewsAsia's Genevieve Loh why he supports cross-border relations between Singapore and Malaysian comedians.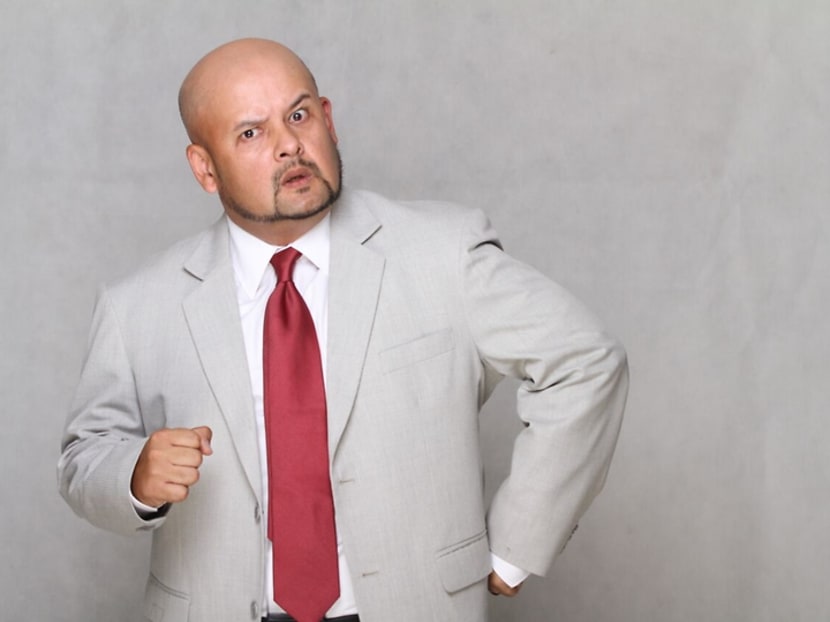 SINGAPORE: Back in 1990, Harith Iskander was cajoled by a university friend to get up on stage in a hotel lobby lounge to tell some funny stories. Nobody would have guessed, much less Harith himself, that the young man from Johor Bahru would become Asia's Best Stand Up Comedian (as crowned in the Top 10 of Asia Awards in 2014) and take on the mantle of the Godfather of Malaysian stand-up.
The secret to longevity in the tough business of stand-up comedy, according to Harith, is to simply "enjoy it". And, of course, to know what's going on in the world.
"I think that if you have passion for something and enjoying doing it, then it makes it a whole lot easier," the 50 year old told Channel NewsAsia. "When it comes to longevity, I think you need to be current and flexible. So I do continue to watch and learn what's happening in the standup comedy scene, and see what the audience wants and finds funny.

"Humour does change ever so slightly. It could change every night based on the audience in front of you so the experience helps me keep the audience laughing. But you do have to keep your finger on the pulse. You need to do a lot of reading. You need to be aware of what people are talking about because comedy is all about the audience reacting to you and recognizing what you're talking about. You can't be playing the same old song for 26 years."
Wise words from the Kuala Lumpur-based comedy veteran, who will be in performing in Singapore come Sept 30-Oct 1 for the seventh edition of Kings and Queens of Comedy Asia.

Harith, who was also part of the show in 2010, 2011 and 2015, will take the stage this year alongside Vir Das from India, Paul Ogata from Hawaii, Shazia Mirza from the United Kingdom, fellow Malaysian Kavin Jay and festival co-organizer Jonathan Atherton from Australia. Presented by The Comedy Club Asia, the Kings and Queen of Comedy Asia has, over the years, served as the launch pad for many comedians with Asian heritage and provided them with a useful platform for wider recognition.
With comedy viewed by many as an important mirror held up against society, is there anything off-limits when it comes Harith's brand of humour?
"I think for every comedian is different. For me, it's very personal. I won't say it's 'no holds barred' because generally as a human being, you have general restrictions in your everyday social life. So I'll do that up on stage as well. I am wary. I am aware of social ramifications and social norms," he explained.

"So I'm not a shock comedian. I am not that kind of person in real life so that's why I am not that kind of person on stage. I think the best comedians are the most authentic comedians. Some comedians are shocking both on and off-stage. That's great, that's your thing, you can do that. I have my own personal 'fence', my own personal barriers. But what I try to do is 'ride' standup and see how far I can push it. But never to the point of not only offending others but also offending myself."
One area where he treads carefully is politics, which he believes isn't an essential topic. He says he sees himself more of a social comedian, who prefers social commentary rather than political.
"There are some politically based comedians like Bill Maher or Trevor Noah, but for me, I don't overly touch on political issues," he said. "But if there is something everyone is talking about, I cannot ignore it. I have to approach and present it in my own way. But not by a long shot am I a political comedian."
What Harith is, though, is a great supporter of cross-border relations between Singapore and Malaysian comedians. He says that with the sharing of knowledge, experience and material, some crossover is bound to happen. And with that, he also firmly believes that "the border and barriers are slowly coming down" and that one's "ethnicity or nationality generally makes less and less of a difference."
"Malaysia and Singapore, we're like cousins. We see each other over the festive season and we inevitably compare what each other is doing. We have our fundamental similarities and also our differences," he mused.

"But at the end of the day, we're in the same family. So I can tell you this: When Singapore comedians and Malaysian comedians all get together, there is no difference. We take ribs at each other but everyone knows each other and I don't think there's any competition or jealously. We are both happy for each other to do well. "
So are there any young Singapore comedians the "Godfather" is excited about?
"I obviously think very highly of Kumar and Gurmit who I've known for years, but amongst the young ones in standup comedy, I really like Fakkah Fuzz. From the first time I saw him till now, I think he's really finding his voice," he revealed. "I also like Sharul Channa and Rishi Budhrani. They are a great asset to Singapore!"
Harith also had high praise for the team behind The Noose, the satirical TV show.
"We did a stage show together where they did their sketches and I did some standup comedy. It was really fun and interesting to see the Noose take on political satire and social commentary on a Singapore stage in Singapore about Singaporeans," he recalled with a laugh. "Now I thought that was very, very cool!"