If a Zoom wedding isn't for you, here's how to plan for later
Just got engaged? Here are a few tips from industry experts on how to plan an in-person wedding celebration next year.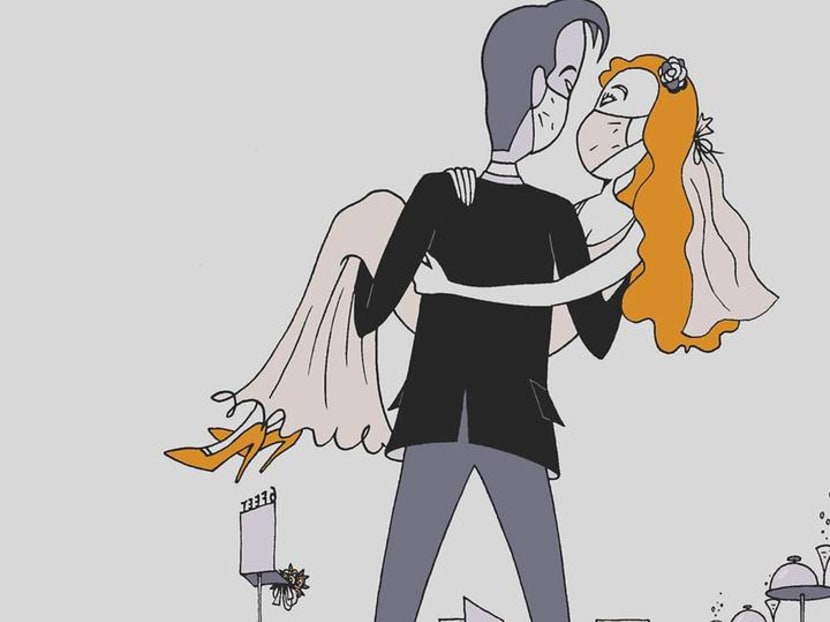 After spending the last several months cancelling, downsizing and postponing weddings, event planners remain cautiously optimistic about forging ahead now that some event restrictions are being lifted. While many couples have resorted to virtual wedding celebrations on Zoom, recently engaged couples who are planning their weddings for next year are hoping to celebrate with friends and family in person. Even as many states begin to gradually lift the restrictions aimed at slowing the spread of the coronavirus, events of all types will have to adjust to new health and safety practices. We asked industry experts to share some of their planning recommendations for recently engaged couples who are looking to celebrate their union, without Zoom, next year.
BE FLEXIBLE WHEN CHOOSING A DATE
The 2021 calendar is already filling up with rescheduled functions, said Desiree Moore Dent, the owner of Dejanae Events, an event planning business in Chicago. "There's going to be a challenge," she said, "for someone getting engaged this year to find a prime calendar date next year." She suggested that couples set on marrying in 2021 consider having their wedding on a Friday or a Sunday.
Having a backup date with the venue and priority vendors on soft hold can also help. Jason Mitchell Kahn, a planner in New York, is coordinating two dates for his clients as they go to contract and recommends a backup date close to a year after the original.
MAKE EVERY GUEST COUNT
Some states have begun reopening certain businesses, though it's uncertain when restrictions on larger gatherings will be relaxed.
In Illinois, for example, Gov JB Pritzker's plan to reopen will only allow indoor gatherings up to 50 people until a vaccine or treatment options are "readily available that ensures health care capacity is no longer a concern."
The office of Texas Gov Greg Abbott, is permitting receptions in facilities that limit their occupancy to 25 percent of the total listed occupancy and has published an Open Texas checklist for wedding venues and wedding attendees. (Outdoor weddings have less restrictions. In the Open Texas guidelines, "wedding receptions held outside are strongly recommended and are not subject to an occupancy limit.")
"I don't see 200-person or more weddings happening for a while and they can't, physically, with our space confinements right now," said Lauren Chumbley, an owner Eclipse Event Co, a wedding planning company in Austin, Texas.
Alicia Fritz, the owner of A Day in May in Michigan, is proposing holding several small celebrations, even in different locales to make travel easier for guests.
HONESTY IS THE BEST POLICY
When it comes to the coronavirus, long-held wedding decorum may no longer be applicable, especially when it comes to uninviting guests. To avoid having to retract invitations, Steve Moore, an owner of Sinclair and Moore Events in Seattle, says couples should either skip the save-the-date cards or include a disclaimer noting they plan to adhere to state and federal guidelines for gatherings. "We'll ask in advance for your flexibility, understanding, and grace," he offered as a suggestion.
Similarly, a pandemic changes what it means to be there for friends and family. Support may come in the form of letters, gifts, or virtual participation as opposed to attending in-person, and couples should accept that some guests may no longer feel comfortable in large group settings.
MAINTAIN REALISTIC EXPECTATIONS
Weddings cannot be expected to look exactly as they did before the coronavirus. Noticeably, the food and beverage industry has been disrupted. "Gone are the days – for right now – of those really beautiful buffet displays that you've seen," Fritz said. Either plated dinners will be served or chef-attended food stations offered, with wait staff in gloves and masks. Passed hors d'oeuvres and cocktails may no longer be an option, and conveniences like self-serve water stations or self-serve bars are likely to be eliminated.
In addition, dance floors will have to be larger. Dent, for one, says she has been in touch with vendors about dance floor decals or spotlights that indicate six feet apart.
Regularly touched surfaces, such as doorknobs, tables, and chairs will be regularly disinfected and hand sanitizer or sanitisation stations readily available. Dent suggests offering personalised masks as favors, and for the weddings Dejanae Events work, her team will be in custom masks of their own.
READ YOUR CONTRACTS
Paige Hulse, a lawyer in Tulsa, Okla, has been advising both vendors and couples on how to legally navigate through wedding cancellations and rescheduling. Vendors that presented clients "less intimidating" agreements, but not legally binding contracts, she said, have suffered financial ramifications.
"Covid has presented some novel contract issues that people now need to contemplate," she said. "Contracts moving forward in 2021 need to have some new provisions."
Hulse advises that the force majeure clause, which essentially frees both parties from liability or obligation when an extraordinary event takes place, be updated to include "pandemic," "epidemic," or "Covid-19" explicitly. Hulse said couples need to look for language that discusses what happens in the event of a rescheduling, cancellation, termination, or incapacitation. A safe working environment clause may also be included to allow vendors to adequately replace themselves if they no longer feel comfortable providing the service.
"If your contract is a couple pages long that a wedding professional is sending to you, do not balk at that," Hulse said, "A long contract, especially if it's from an upstanding professional within the industry, is something that is going to protect both parties. But there's just a lot of terms that need to be discussed."
HIRE A PROFESSIONAL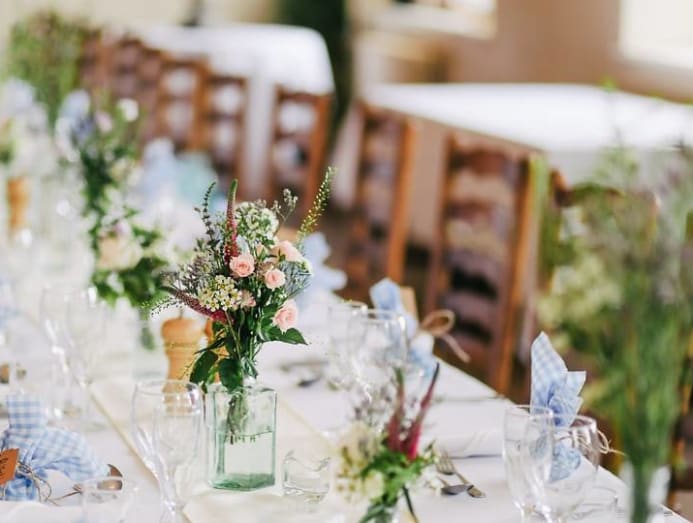 Days after Ryan Kelly, 27, a center for the Indianapolis Colts, proposed to Emma Zieverink, 30, a design consultant for California Closets, this spring, the couple who live in Indianapolis, quickly settled on a May 1 wedding in Cleveland for next year. After watching friends cancel weddings, their intention to hire a wedding planner was reaffirmed. They wanted to feel secure that should they need to reschedule, their planner could handle the chaos on their behalf. "Hiring the wedding planners has taken an insane burden off our shoulders," Kelly said.
Hulse urges recently engaged couples to reach out to the wedding professionals they might like to hire now. "They've been through the war a bit and now they know how to handle it in the future," she said.
Moving forward, Kahn says he is only recommending vendors to his clients who will operate with complete flexibility. "I've been very direct with vendors," he said, "and I would have those conversations in advance before I would present them to a client."
"We have to make plans but be able to change them if needed, which is very challenging and very stressful for clients," Kahn added. "A huge service we can now offer as wedding planners is to take on that responsibility and make that concept – as well as the logistics that go into it – digestible for people."
When Kelly and Zieverink had yet to see their venue in person, they relied on the expertise of their planner, A Charming Fete, to push ahead. Veteran planners are able to walk their clients through the pros and cons of venue options in lieu of site visits and provide comfort in making a decision site unseen. They are also able to pull from a Rolodex of vendors that they feel most confident will remain in business.
REMEMBER WHAT'S IMPORTANT
Couples moving ahead with wedding planning are staying connected to the heart of the matter.
"You can get sucked into the idea of weddings, of all these people and how it's supposed to look," said Amy Widmer, 32, who became engaged to David Ngo, 31, an aerospace engineer, while in quarantine in early April. The couple, who live in Huntington Beach, Calif, are planning a December 2020 wedding in Portland, Ore. "At the end of the day it's about forming a union and celebrating that with whoever and however you can," said Widmer, who is a real estate broker.
Kelly and Zieverink have watched friends be consumed by the planning process, even before the pandemic, and are focused on avoiding a similar fate. "All the details don't matter," Zieverink said, "and hopefully, whether it's 10 people or 300 people, some of our favourite people are going to witness us doing this and that's what it's about."
By Lauren McCarthy © The New York Times