Inside the ring with Singapore's pro wrestlers
The unlikely story of how Singapore Pro Wrestling's stable of action heroes like The Statement, The Eurasian Dragon and Mighty Mighty hold sold-out matches in front of hundreds in their underwear.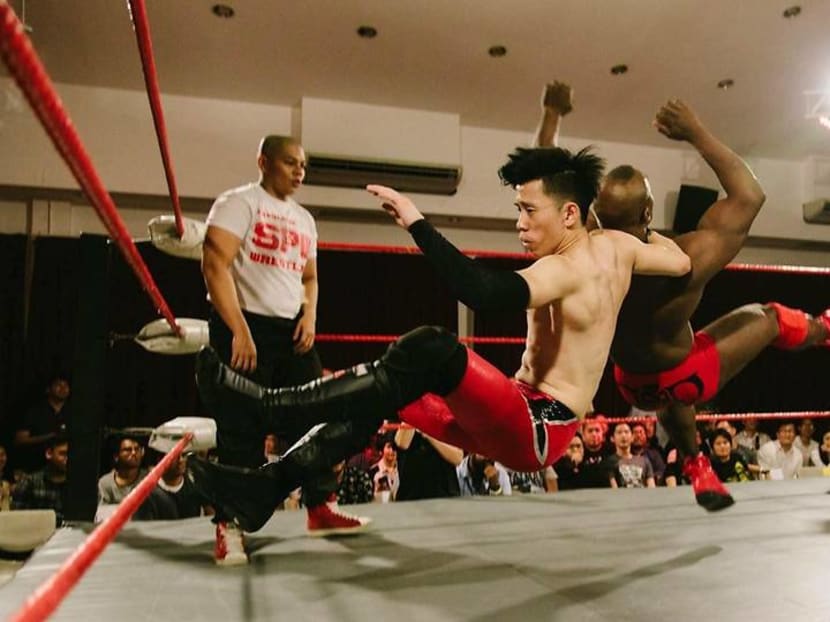 Follow our new CNA LIFESTYLE page on Facebook for more trending stories and videos
SINGAPORE: It's a Friday night in Toa Payoh and madness has erupted inside the strangest of wrestling venues.
At the all-purpose hall of the Singapore Federation of Chinese Clan Associations, a crowd of around 400 are good-naturedly chanting in support of homegrown pro Andruew Tang, aka The Statement. He's inside the ring and locking horns with a giant of a man, a one-time WWE tag team champ from Canada named Rene Dupree.
"Singapore! Singapore! Singapore!" they cheer.
In a split-second, Dupree slams Singapore's most famous pro wrestler against a corner. Ouch.
"Holy s**t! Holy s**t! Holy s**t!"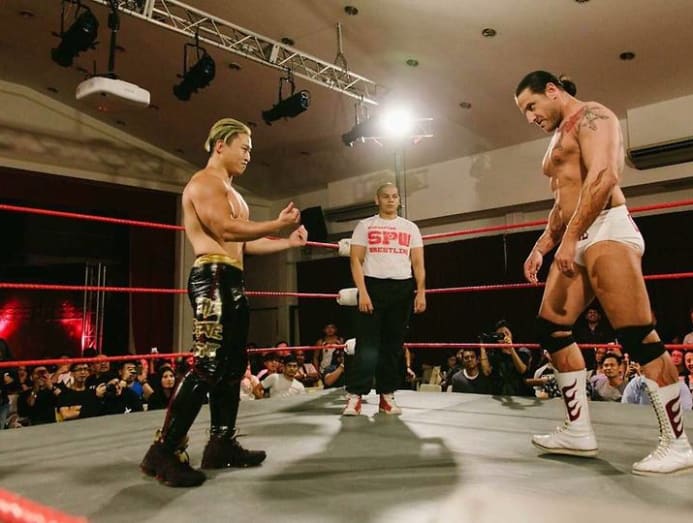 It was the fifth of seven matches during a two-hour event that pulled out the stops: Bombastic announcers, intense ringside commentators, and a crazy assortment pro wrestlers flipping and whacking each other – much to the delight of a lively crowd of men, women and kids, who are suddenly giving props to… the venue?
"Chinese Clan! Chinese Clan! Chinese Clan!"
Welcome to Singapore's professional wrestling scene.
WRESTLING DREAMS VS NO OPPORTUNITY
Spandex-wearing locals giving each other headlocks and flying kicks? It's probably the last thing you'd imagine taking place in the placid streets of Singapore.
But thanks to independent promoters Singapore Pro Wrestling (SPW), it is a scene that has been slowly growing, quite literally, by leaps and bounds.
Formed in 2012, SPW was the brainchild of Tang – who'd eventually win his match against Dupree – and partner Vadim Koryagin from Russia.
The latter, an ex-pro who ran an indie wrestling group back home, was keen on expanding to the region. And Tang, who was itching to fulfil a childhood dream fuelled by watching Dwayne "The Rock" Johnson and other pro wrestlers on TV, was game.
"We told ourselves this was a good place (to set up a pro wrestling school) because we believed there were a lot of aspiring wrestlers out there who had the same mindset," said Tang.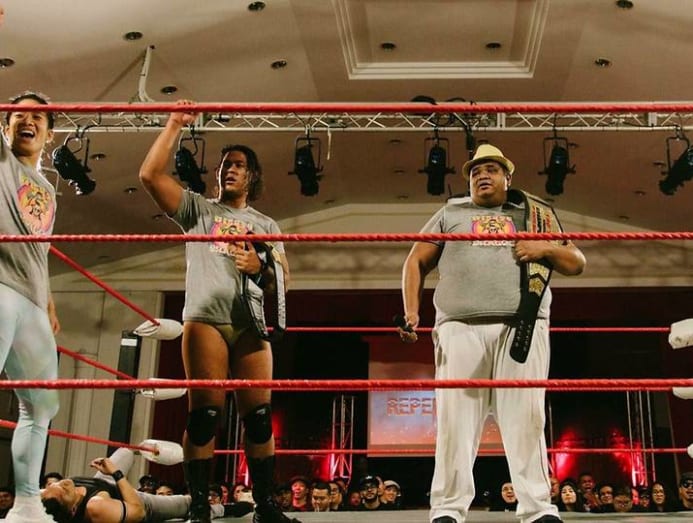 "Now you didn't have to fly all the way to the US, Canada or Japan, where the cost of accommodation and training will be very expensive. We were giving them a chance to step foot inside a ring in Singapore."
Among the first students at the country's first pro wrestling group were Kenneth Thexeira and Mohamad Taufik. The two go by the monikers The Eurasian Dragon and Mighty Mighty, respectively, and are also the current Southeast Asian tag team champions as Mighty Dragon.
"I'd wanted to do nothing else in life except to wrestle. But I thought you needed to save money to go to, like, America. But when they opened their doors, I stepped in," said Thexeira.

LOCAL WRESTLING VS SKEPTICS
It wasn't an instant success, however. Tang recalled the initial scepticism that surrounded SPW.
"We received a lot of negative feedback and got a lot of haters and doubters saying, 'Why start pro wrestling in Singapore?' 'I don't think Singaporeans will actually like the art of pro wrestling.' 'Singaporeans are so small, can they even tangle with the big guys you see on TV?'"
Audiences were slow to catch on. During the early years, they would perform to crowds of around 60 people.
But the fledgling group would stay the course and continue to hold matches both in Singapore and overseas. SPW would also actively invite over big names.
Tang, for instance, tangled with international wrestlers, including the likes of Japan's Masa Takanashi and World Wrestling Entertainment's (WWE) United Kingdom champion Pete Dunne. He would also collect a few title belts along the way.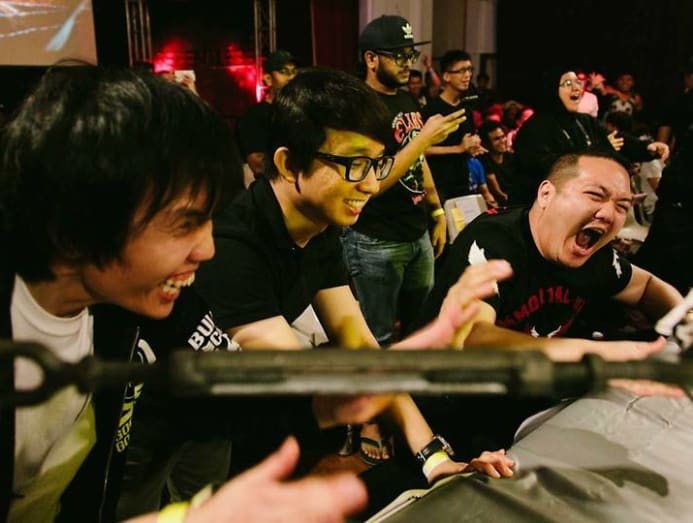 But even as SPW was looking to plug into the international and regional circuit, it also made sure to retain its local flavour.
"You'll hear the crowd chanting 'Referee kayu!' or 'Deepavali! Deepavali!' during Deepavali," shared Tang. He also recalled one match where The Eurasian Dragon brought out a durian and stuck it up someone's behind.
A typical WWE-style flag match is also given a Singaporean twist. Instead of wrestlers scrambling to retrieve a flag, they chase a hongbao.
This local flavour extends to the unique characters they've concocted for the ring. Taufik's Mighty Mighty "happy-go-lucky" persona wears a fedora and a baju melayu. As for his name – "You know during the Friendster days when a lot of us Malays liked to put our names twice on our profile?" he quipped.
SOLD-OUT CROWDS VS WWE BUZZ
Their attempts at connecting with the home crowd as well as putting SPW's name out there overseas have slowly reaped rewards.
Tang reckons one of the turning points was back in 2015 – when SPW had scheduled an event one day before a WWE Live Event at the Singapore Indoor Stadium, which featured the likes of John Cena.
"We were worried we might not be able to sell tickets because people would just watch WWE – but to our surprise we sold out our event," he said.
Two years later came another surprise: A WWE scout dropped by to check out an SPW match. "It meant that the big brothers were actually taking notice of us and they had very positive feedback for some of our wrestlers. It was a remarkable thing," said Tang.
Today, SPW regularly performs to sold-out crowds of around 400 and 500 – and they've even gone mainstream with appearances at the Singapore Night Festival.
New blood – among audiences and aspiring wrestlers alike – are also coming in.
Among their new fans is 21-year-old student Ryan, who was at the Toa Payoh match, wearing a Mighty Dragon T-shirt to boot. He first saw an SPW match last year and was promptly hooked.
"It was quite cool. When you watch it live, the experience is different. The crowd, the chanting… Just the energy was very good! And the main event featuring The Statement and Pete Dunne…" he said, whistling for effect. "Through. The. Roof."
That Friday night in Toa Payoh, one of the wrestlers Ryan caught was making his official debut. Professional street dancer Jonathan Cheong had been training for six months before the big boys decided he was ready to step into the ring as Jangkhawi.
"I had a little butterflies in my stomach but it was awesome. It's very hard to describe but I hope I can do more," he said.
FEMALE WRESTLERS VS ONLINE TROLLS
Today, SPW has a roster of around 15 performers. But the group continues to be predominantly male. Female wrestlers like Marie Lee Xinyi are still rare.
Lee, who wrestlers under the moniker Alexis Lee, is touted as Singapore's first female pro wrestler and is only one of a handful at SPW. (At the Toa Payoh match, she was up against an up-and-coming wrestler named Jane Foo.)
"We've had a couple join in but none of them really managed to stick around for so long," said Lee. "When I started, I was the only girl, so I kind of had to meet the boys' standards. In the beginning it was hard – I'd be like, 'Slow down, guys! I can't keep up!'"
If being the rare rose among the spandex-ed thorns wasn't hard enough, Lee said she often had to deal with unpleasant, testosterone-driven remarks online.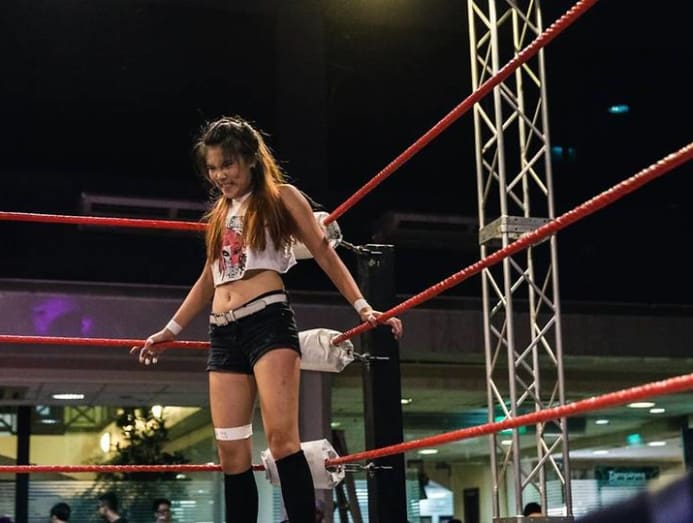 She cited the reactions to an SPW online promo video, which saw her male peers throwing her into the pool using wrestling moves.
"Some said it was cool and everything but we got way more people berating us online. We had people asking why I was letting the guys beat me up. But we're trained professionals and we do this all the time in training," she said.
Lee added: "The guys don't get so much negative stuff but I get all these sexual comments online, too. I've had comments were people are, like, 'Can she kiss me?' and stuff. Which kind of creeps you out."
That said, she reckoned that female pro wrestling is at an all-time high. "There has never been so many eyes on it, and it shows that we can do just as good (as the men) or even better."
NEW BLOOD VS THE NEXT STEP
As the pros – both men and women – continue to take to the ring, SPW has also been nurturing the future. At its home base in a factory along Tannery Lane, aspiring wrestlers are shown the ropes by Tang and the rest.
It's an unusual group, coming from all walks of life – from as old as 37 to as young as 17. Among them are two 19-year-olds, Celine Chia and Joshua Au, who have been training for a month now.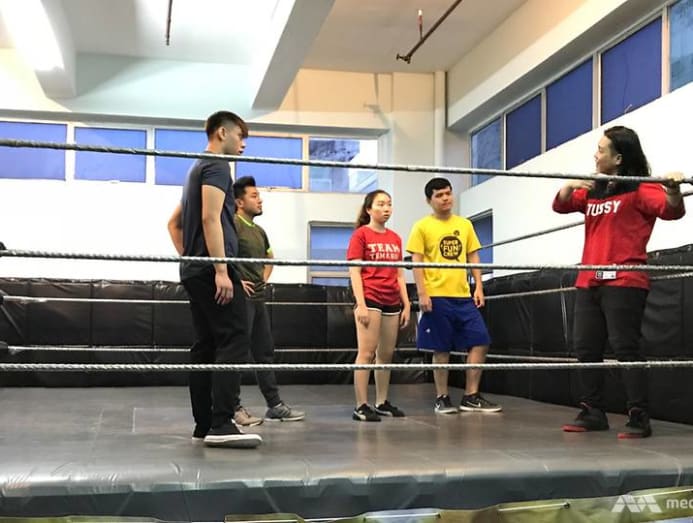 Twice a week, they drop by to learn the basics, like rolling, headstands and how to fall without hurting yourselves. If all goes well, they'll be taking a test before moving to the intermediate level.
Both of them are fans of pro wrestling and decided to take the next step after discovering SPW.
"I've been passionate about it since I was a kid and I always wondered if I could do it," said Chia. She has no plans on turning pro, "but it's cool to try!"
Whether or not the next batch of wrestlers come from these newbies, Tang already has big plans for SPW. "Our main aim is to become one of the top promoters in the whole of Southeast Asia and one of the leading ones in the independent circuit."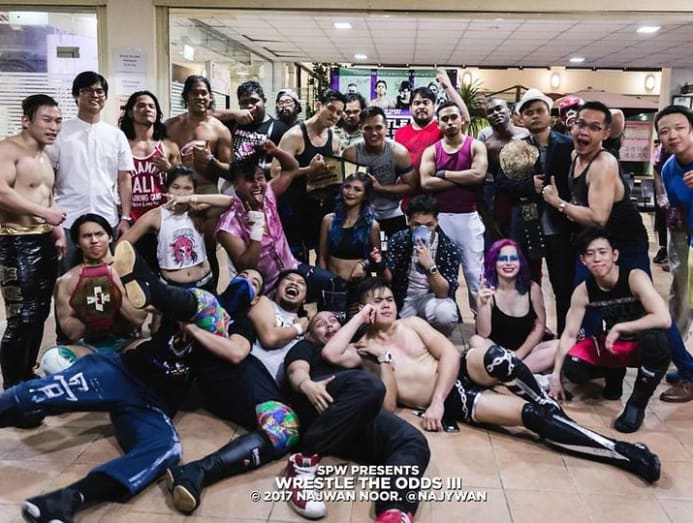 At some point, he hopes they'll be able to secure a network deal and making SPW mainstream entertainment in Singapore.
"And maybe for our wrestlers to transcend to other media, cross over to do acting and hosting, and become icons like how The Rock and John Cena have in the US."
He added: "We want to make sure we tell a good story inside the match. We wrestlers are like heroes and villains, because our characters are all larger than life. We always want to be different, we want to stand out, and want people to draw inspiration from us."