Irrfan Khan: I'll make movies anywhere if the story is good
The Indian superstar tells Channel NewsAsia's Genevieve Loh about working with Tom Hanks, Ron Howard and making films that matter.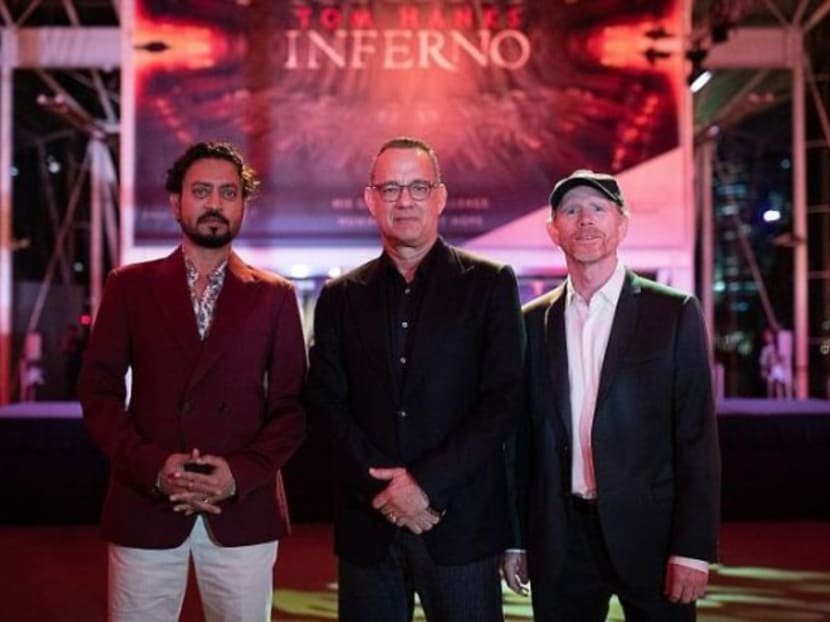 SINGAPORE: It's not every day that two time Best Actor Oscar winner Tom Hanks sends you a personal note to welcome you to work. That is unless you're Indian acting legend Irrfan Khan.
Ahead of the 49-year-old Indian superstar coming onto set for the big screen adaptation of the Dan Brown novel Inferno, Hanks, widely regarded as one Hollwood's biggest (and nicest) stars, sent a signed note: "Irrfan, This will be (a) most pleasant movie to make, I think, provided you and I have a few more scenes together! If not, we will just have to save the world as is!" Khan posted it on twitter last year, simply writing "My journey of Inferno began with a captain's note".
It was a gesture of mutual respect and admiration between a pair of movie stars who are arguably two of the greatest actors that have come out of their respective countries.
The third movie adaptation of one of Brown's best-selling books directed by Oscar winner Ron Howard, Inferno sees Hanks returning as symbologist Robert Landon. And this time, he's joined by Khan, who plays the role of Harry "The Provost" Sims, the head of a mysterious organisation, the Consortium.
But this isn't the first time Khan is holding court in a big Hollywood film, let alone drawing effusive praise from the likes of Tom Hanks. He's a bona fide international star who effortlessly straddles different genres, cultures and film worlds. Bollywood, Hollywood, mainstream, indie - Khan's done them all. Yes, he's that guy in award-winning films like Life Of Pi and Slumdog Millionaire, as well as blockbusters such as the Amazing Spider-man and smaller indies like A Mighty Heart with Angelina Jolie and Wes Anderson's The Darjeeling Limited. And now, alongside Hanks in Inferno.
Khan told Channel NewsAsia that it was a conscious decision to pick bigger films in Hollywood while choosing to go for more character-driven pieces and smaller independent films back in his homeland.
"I tried a few blockbusters in India and they were not gratifying. I became an actor to deal with the stories. And sometimes when you don't get to play the lead character you don't get to tackle the story. As an actor, you want to tackle the story. You want to go through your own personality to flesh out the character…and also the story," he explained in June when he was in Singapore to promote Inferno. "So I was looking for something that could give me that chance. And it's upcoming independent cinema of India which gave me this chance. And also the way the audience accepted it. Audiences in India are now eager to see that kind of cinema."
He went on to explain that perhaps he does films like Spider-Man for visibility, but not for the other films.
"Like Life of Pi or Inferno, the subject matter becomes a lot more important," he said. "These films give you much more to experiment with your own craft. Much more to explore."
Which is why he chooses films with themes that have wider resonance, like Inferno which explores the issue of over-population.
Coming from India, the second most populated country in the world, how important is a film like this to him?
"I think Hollywood cinema (might) make big franchise movies, but still they have a very burning question inherent in that," he replied. "This film is dealing with... an urgent problem which has to be looked at. It's not just India and China's problem. It's going to affect the whole planet. So it's up to us to decide and say (what we're going to do)."
Working on a film like Inferno, Khan's admiration of his colleagues isn't simply reserved for Hanks, who he says is simply "marvelous" - the respect is extended to director Ron Howard.
"Ron has done so much good work. So many great films he's done. But he carries (himself) as a small excited kid, who wants to make things more playful and exciting. And that's what he does!" he shared. "He keeps things very playful and he wants a lot of input from you as an actor. So you become almost like a creator. You become a collaborator. That is very beautiful about him."
Working with Hollywood directors like Howard aside, Khan revealed that he would be more than open to work with a Singapore director or Southeast Asian director if the chance arose.
"I can work anywhere in the world. I'm just drawn to stories and the storyteller," he said. "Recently I got the chance to work in a Bangladeshi film. I just jumped into it because the story and storyteller was so exciting. So anywhere in the world, any part of the world, if I get a storyteller and a story, I'm excited to do it."