Lawson: The road to "Chapman Square"
UK pop rock band Lawson opens up about crazed fans, police escorts and the band's humble beginnings.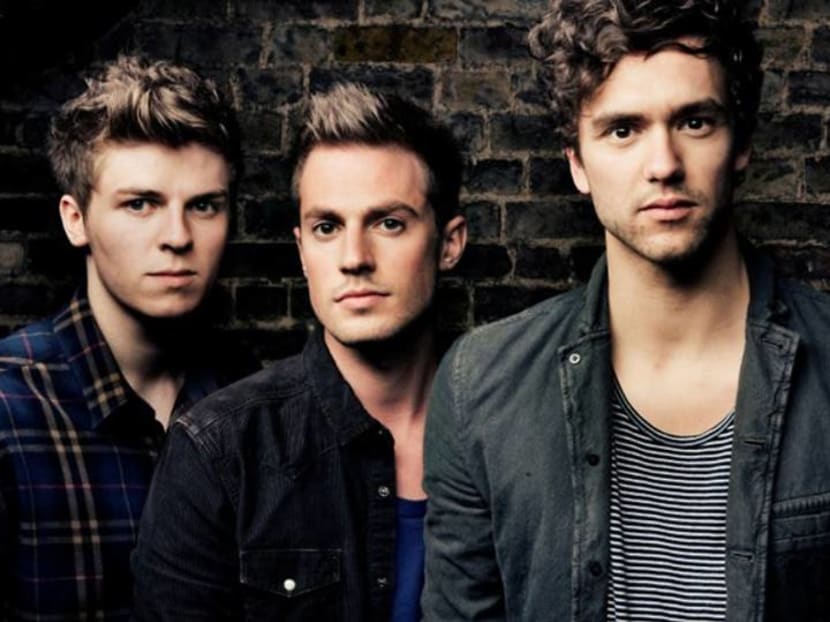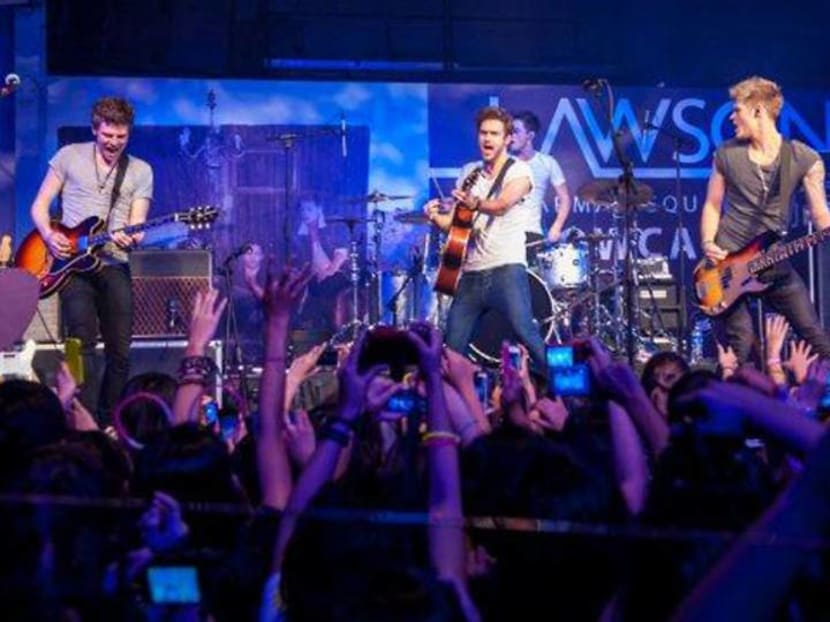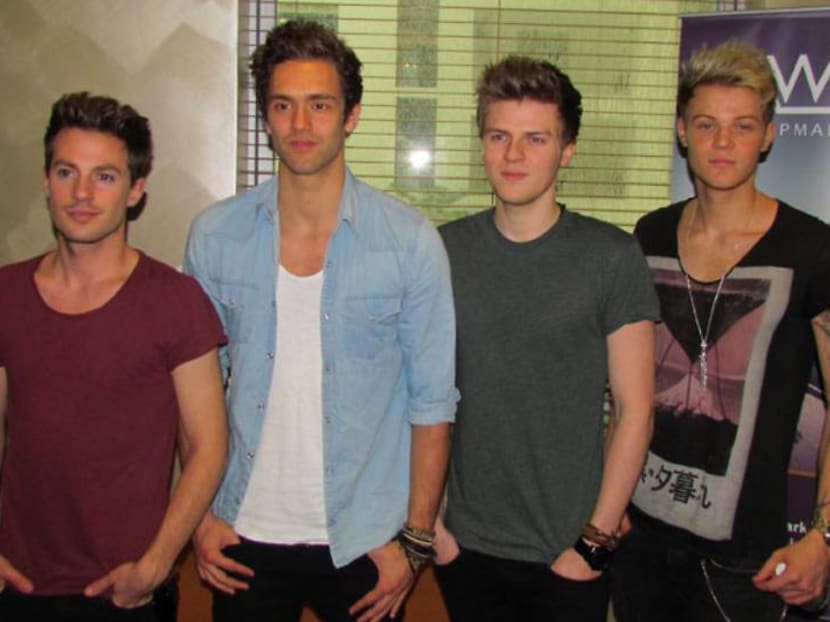 SINGAPORE: UK pop rock band Lawson has staged massive concerts around the world, and drove some 900 fans absolutely wild during their recent gig at the St James Power Station in Singapore.
But the band, which consists of lead vocalist Andy Brown, drummer Adam Pitts, guitarist Joel Peat and bassist Ryan Fletcher, wasn't always this popular.
"When we signed our record contract, we've been working a long time before that.
"We did like three or four years of touring down in the UK. Not many people come to see us. Like two or three people sometimes, 20 people if we are lucky," said Pitts, at a publicity event in Singapore on Saturday.
"There were some dark times there. After we toured, we thought 'Is anyone going to sign us? Are we ever going to get to the place we want to be?'"
While the quartet managed to weather those difficult times with grit and determination on their end, Brown expressed that their parents have also been a big help.
"They are our biggest fans, and they are really invested in the band as well.
"Before we got signed, it was hard to live. Being a band, having a job, you can't really do both. So our mums and dads really helped us out financially as well. They are the best parents you could ask for," said Brown.
"They have been following us since we started like five years ago."
"My dad used to take me to every awful gig, help me carry my guitar and cheering me on in the audience and stuff," Brown recounted fondly.
"The fact that we are travelling the world now is a dream come true for them as well as us."
Of crazed fans and police escorts
Lawson, which has recently released their debut album "Chapman Square", has since gone on to perform in Malaysia, the Philippines, and Thailand, where they were mobbed by hundreds of fans and required a police escort to get around.
"Because we've never come to Thailand, you think you can just turn up there and just walk through the city. But no.
"That's the moment where we are really like 'Wow, things have changed!' We never used to need a police escort before," said Pitts with a grin.
"In Thailand, the fans all got on little motorbikes, mopeds and chased the van (in which Lawson travelled). They'd be driving along, and waving by the side of the van," said Brown.
"It just looked so dangerous!
"No helmet, on the moped, waving. And you're like 'Please look at the road!'" said Pitts.
Lawson's popularity has a lot to do with their songs, which Brown describes as being mostly about love and heartbreak.
"I think that's the best thing to write about because people all over the world can relate to that. Everyone has experienced those feelings," said the lanky singer.
Indeed, Lawson's first single "When She was Mine", about the aftermath of a breakup, hit number four in the UK charts, while their second, "Taking Over Me", hit number five.
Still, not everything Brown touches turns into gold.
"Andy has written some awful songs for us before," said Pitts with a laugh.
"He'd get really excited and be like 'Guys, listen to this. What do you reckon?' We're like 'I'm not feeling it mate!'"
"What's really cool is that it's never going to be a fully awful song. He's a great writer, sometimes he's got a great chorus or a great verse, and we'll go 'Lets keep it, keep it on the side'.
"It's never 'No, that's rubbish and never see it again'. It's always there ready to be used," explained Pitts.
More gigs please
When asked what they hope to achieve in the future, Brown expressed that they simply wanted more opportunities to perform.
"We just like to be doing tours to be honest. Loads more gigs.
"We still want to go to a lot more places in the world and do tours. Hopefully, in ten years, we'd be playing stadiums all over the world. That would be my dream," said Brown.
But there is still a lot of work to be done in the present.
"After our trip to Asia and Australia, we'll go back to England for a couple of days, then fly straight to America and shoot the next music video for our next single, which is a song no one has ever heard yet," said Pitts.
"So we're very excited… you'll definitely be hearing some new music towards the middle of this year."