Learn how to pair hawker food with wine at the Singapore Food Festival's Hawker Wine Safari
In collaboration with the 2017 Singapore Food Festival, this culinary tour aims to open up palates by pairing local street food with wine.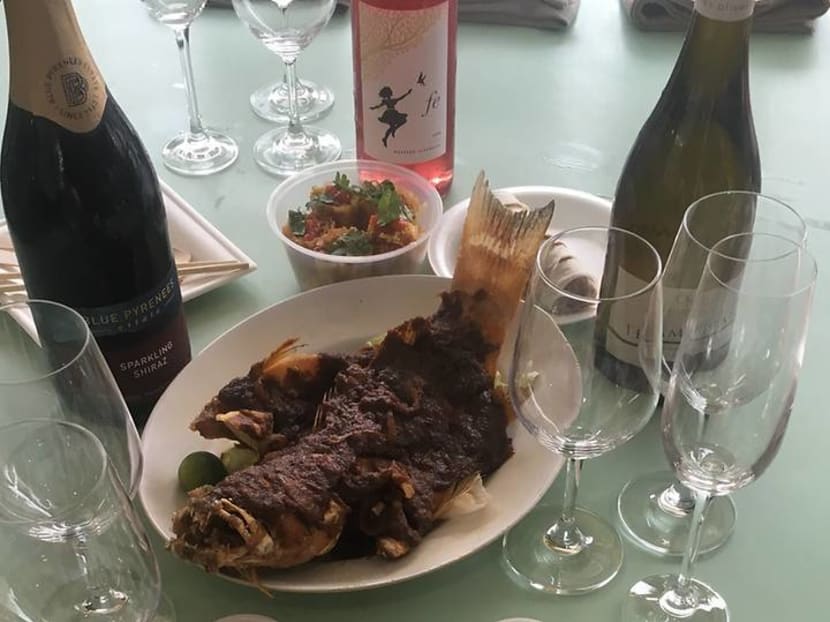 SINGAPORE: When it comes to pairing a meal with the perfect glass of wine – be it white, red or sparkling – most gastronomes know the basic rules: A crisp white with fish, a full-bodied red with dark meat or rich pasta, and bubbles together with crustaceans and mollusks.
Yet, how many of us really know what to do when it comes to figuring out what to match our beloved local hawker favourites like satay chicken, sambal stingray and popiah with?
"People get hung up on the colour of wine," Ainslie Kenny, co-founder and general manager of Merchants Wine Cellar and Store told Channel NewsAsia. "For example, white wine with white meats and seafood only, or red wine with red meat only. We really enjoy busting these myths and breaking down these old-fashioned notions by pairing reds with fish, and whites with red meat, therefore demonstrating that matching intensity of flavour is more important than matching colours."
Which is why Kenny is collaborating with this year's Singapore Food Festival to present the Hawker Wine Safari series, to educate the public to experiment with unexpected and unusual pairings, as well as to do address the common misconceptions people have about pairing wine with hawker food.
Billed as a "sommelier meets street food" adventure, the ticketed Hawker Wine Safari will be running almost daily till Jul 30. Guided by both Kenny and Merchants Wine Cellar and Store director David Elliott, guests will learn how to pair Singapore hawker dishes with specifically curated boutique wines.
The approach to designing the hawker and wine pairing menu was a collaborative one, said Kenny.
"Our Singaporean team recommends the dishes they love, then Dave and I use our expert wine knowledge to come up with a shortlist of wine pairing," she continued. "We also did a few 'recces' with our team (before the tour) to test the pairings and meet the hawkers."
The menu at each of the five hawker centres – Tiong Bahru Food Centre, Maxwell Food Centre, Newton Food Centre, Chinatown Complex Food Centre and Old Airport Road Food Centre – has been designed to showcase Singapore's iconic local cuisine, including some with Michelin star. It also aims to introduce a different range of grape varieties to go with Asian cuisine.
According to both hosts, an important rule of wine and Asian cuisine pairing is that balance is paramount.
"Strong food flavours will obliterate a light wine and vice versa – light delicate flavours need a light delicate wine or you will lose the subtleties of the dish," said Elliott, adding that they believe Australian and New Zealand wines match with the multi-layered flavours of Singapore cuisine well.
Another rule is knowing that spice is better with off-dry white wines, according to both Kenny and Elliot.
"Slightly sweet wines with a richer mouth feel handle spice and heat very well," said Elliott.
That said, red wine can also handle the heat from spice well. Although tannin and spice clash, velvety and fruity reds such as Grenache and Pinot Noir work better when it comes to spicy food, according to Elliot.
He added that Pinot Noir is the best option for a wide variety of Singaporean food, particularly duck and roast pork, and low tannin wines such as the sparkling Shiraz served very chilled is a fine companion to umami and deep fried dishes.
Kenny agreed: "The complexity and variety of Singaporean and Asian hawker food and the myriad flavour profiles of our boutique wines result in endless combinations and unexpected results – it's a true adventure of the palate"
"We encourage people living in Singapore to BYO (bring your own) wine when eating local food – this concept is widespread in our hometown Australia, and allows you to take local Asian street/hawker cuisine to a whole new level of luxurious experience at a wallet-friendly price," she said.
"Pairing jugs of Tiger beer with local food is fine, but in our humble opinion, wine is a far more appropriate accompaniment."