At the new Bacchanalia, 27-year-old chef keeps Robuchon's legacy alive
Vianney Massot turns the restaurant's face towards French fine dining – but with playful inflections involving hairy crab and chicken rice.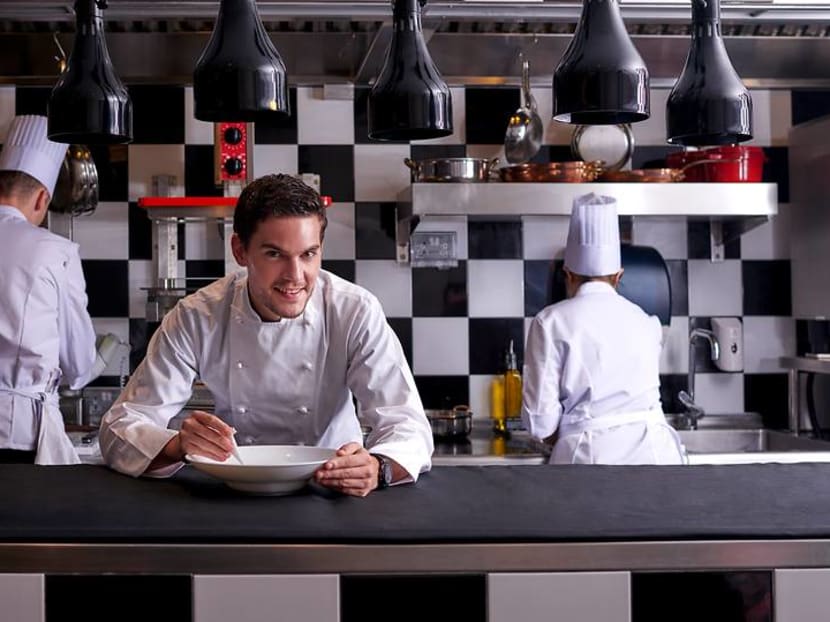 Walk through Bacchanalia's new doors and you'll find yourself standing in the middle of a shiny black-and-white tiled kitchen immediately reminiscent of the ones the late great Joel Robuchon favoured in his restaurants.
It is no coincidence. Not only does the restaurant have a new look, it also has a new executive chef. Taking over from Luke Armstrong is Vianney Massot, who previously headed L'Atelier de Joel Robuchon at Resorts World Sentosa.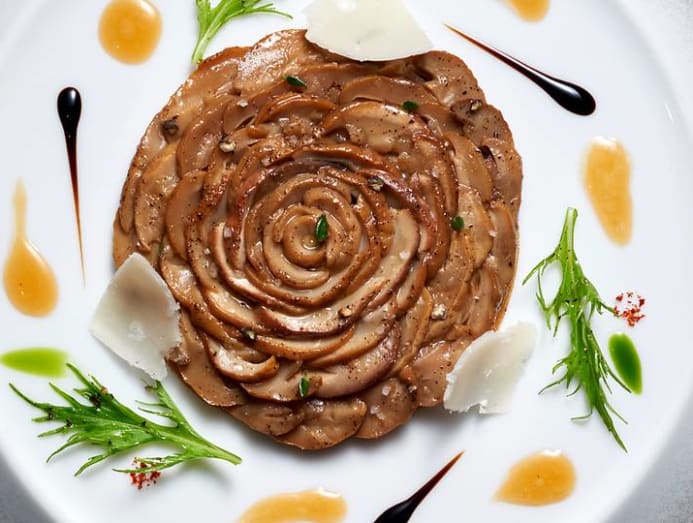 He might be just 27 years old, but Massot is a pedigreed chef. After beginning his career with Eric Frechon at Epicure in Paris, the French wunderkind worked closely with Robuchon for nine years up until the culinary giant's death in August this year. After a stint at the three-Michelin-starred Robuchon au Dome in Macau, the young chef commandeered the kitchen of two-starred L'Atelier de Joel Robuchon and running it up until the restaurant's closure in June.
Bacchanalia might be a familiar name that carries many associations, but Massot's menu and interior redesign signal a clear new direction.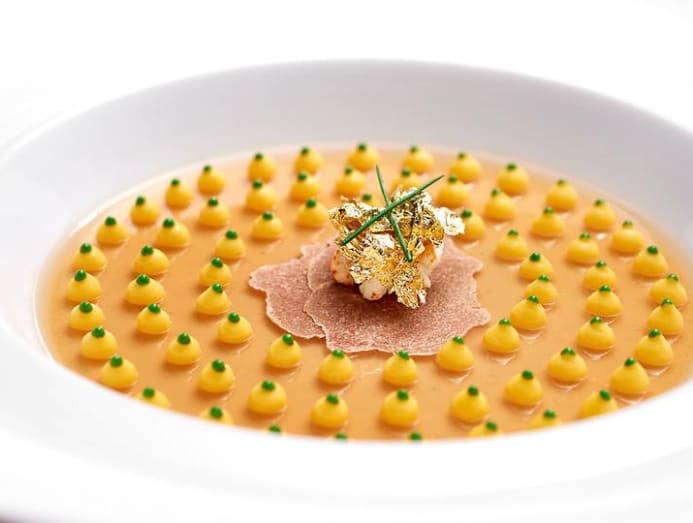 "I want people to understand that here is a new restaurant," he said, over coffee at the conclusion of the meal he had just served us: A preview of the all-new degustation menu he's rolling out.
And indeed – in case you miss that point – after a two-month closure and restaurant overhaul, the one-Michelin-starred establishment has reopened with a new name to boot: It's now called Bacchanalia By Vianney Massot. 
HERITAGE AND SEASONALITY
It's only natural that a desire to perpetuate Robuchon's legacy should be evident in Massot's menu, and nowhere is that more clearly announced than in the opening amuse bouche, a goose liver cream under a film of duck jelly piped with tiny geometric dots of corn puree and concentrated parsley, with white truffle shavings and a kernel of popcorn as its centerpiece. 
While Robuchon's dish used crustacean jelly, crab and caviar, Massot shared that his is done in his own style. "I know what he'd like – I know, for example, that he would like this dish – but I tried to do it a different way."
More than an homage, Massot said, his work is about the heritage left to him by Mr Robuchon. "We were very close. He taught me a lot. When you have the chance to work for someone who is very strong, it's good to continue his skill.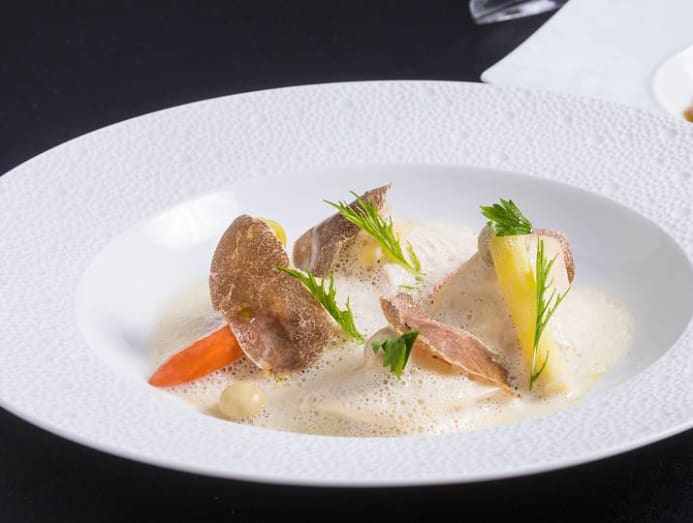 I think I need to continue in the way he taught me, and to try to push to improve, improve, improve, using those skills and creating something new."
For instance, the main course, slow-cooked Bresse chicken with ivory sauce and Paris mushrooms, served with a risotto in a liberal splash of olive oil, is "a little joke" of his revolving around chicken rice. "I like Singapore and I like the ingredients," he said. "And, you know, Mr Robuchon served a mashed potato; I serve a risotto. I try to give my own take."
While he's keen on playing with Asian flavours and spices, his direction is still decidedly French. "I think the fine dining scene in Singapore, when it comes to French restaurants, is a little small," he said. And now, Bacchanalia can now help to fill it out a little more.
Although he wouldn't go so far as to use ingredients such as chilli padi, for example, he does use Sarawak black pepper – in the grilled Omi ribeye steak with red wine sauce.
His menus, which will change every season, will always focus on seasonality. The current L'automne menu, for instance, features Alba white truffle tagliatelle in a creamy Shanghai hairy crab sauce.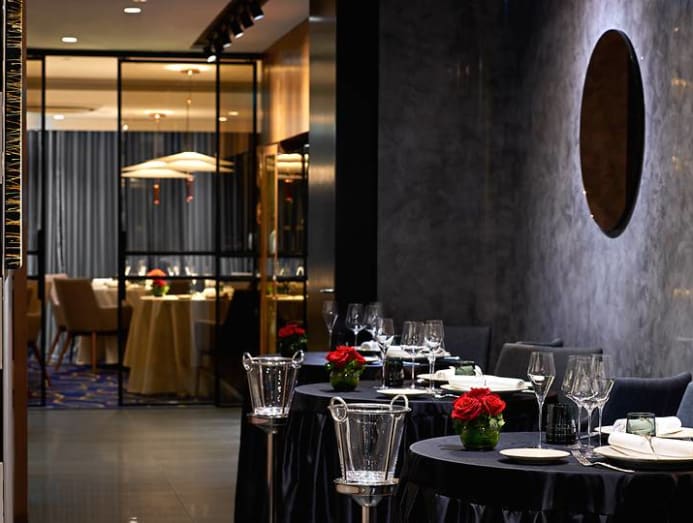 There's also a scallop ravioli with kumquat emulsion, Imperial caviar and young baby leek, drizzled with chilli oil; and perhaps the most inspired dish on the menu – or at least the one that pleased us most – a cep tartlette with spicy eggplant caviar and parmesan shavings. On a feuilletine disc, Massot arranges tiny petals of porcini into an elaborate rose, starting from the outside and meticulously working his way in to the centre.
"If I have cep mushrooms, I want you to feel the cep. Now, you can get mushrooms; you can get Alba truffles. And I have green asparagus coming in," he said. For the a la carte menu, which will be rolled out on Nov 12, Massot shared that he will do lamb. "Because the season for lamb from the Pyrenees is starting soon," he said. He continued: "Some chefs can create things on paper. I cannot do that. I order a product, I look at the quality, I start to cook a little bit, and after, I start to imagine how I will use it for the dish."
LOOKING AHEAD
It's clear that Massot is out to make his mark, but how does he feel about taking over the reins from two previous high-profile chefs – Ivan Brehm, who led the restaurant to its star, and later Armstrong, who retained that star for two years?
"I think the chef before did not have ideas that were the same as mine, so I cannot say too much about before. I don't really know how it was before," Massot said.
Armstrong, who is Australian, left Bacchanalia in August after receiving an offer to work in Tokyo.
Massot said he was introduced to Bacchanalia's current owners, who took over in January, just as Robuchon's Singapore restaurants were closing. "I had quite a good feeling when I saw this restaurant," he said.
During the renovations, he was on site every day for two months, working closely with the contractors to oversee all aspects of the restaurant's design. The number of covers has been reduced from 28 to 24, for a more intimate dining experience, he explained, and includes a chef's table. The restaurant also now has on board award-winning sommelier Roberto Duran.
"We kept the Bacchanalia name because I know Singaporeans know it, so I respect it. But this is a new restaurant. I try my best to give it my own identity, and to give Bacchanalia a good future," Massot said.
The five-course lunch degustation menu is priced at S$158++ and the seven-course dinner degustation menu at S$298++. Bacchanalia By Vianney Massot is at 39 Hongkong Street.