Palau Jellyfish Lake reopens following golden jellyfish rebound
The reopening comes after the lake's jellyfish population saw a drastic decline in 2016 due to drought conditions that hit the archipelago.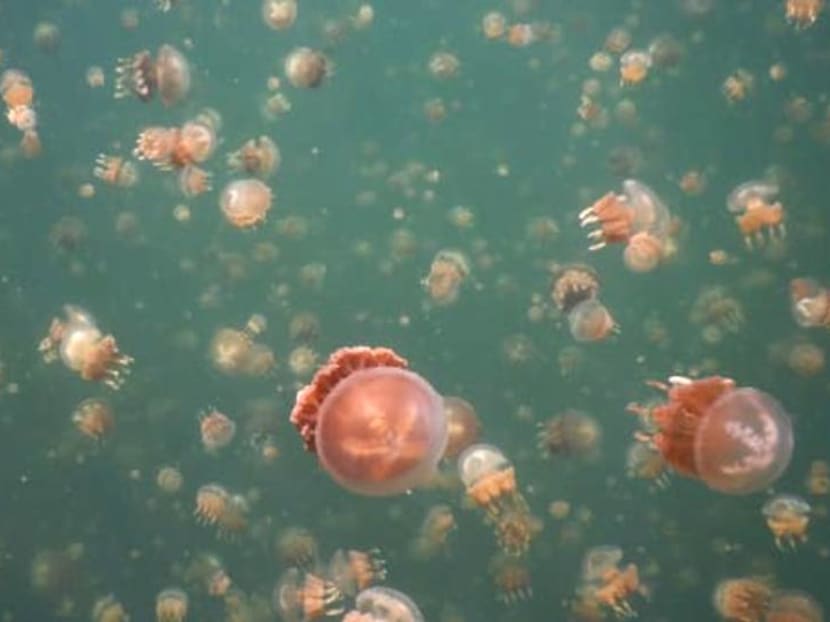 Palau's Ongeim'l Tketau Jellyfish Lake reopened last December, prompted by a rebound in the number of golden jellyfish that have made the lake famous.

"Site managers are confident that the populations of jellyfish will make a full recovery and monitoring data from the CRRF (Coral Reef Research Foundation) supports this expectation," said a government statement issued by Palau's Koror State announcing the lake's reopening.
The lake was officially shut in May 2017, though tour operators and local villagers took the initiative to close it in 2016.

Over 600,000 golden jellyfish have since returned to the lake, according to CRRF researcher Gerda Ucharm, who said in an interview with CNN Travel that the numbers can be expected to continue to rise if Palau continues to receive the rainy weather it is currently experiencing. 

Experts blamed El Nino for causing the shrinking of the jellyfish population from 2006, as the rise in water temperature led to a decrease in algae growth, a major food source for jellyfish.
At 400m long and 30m deep, Jellyfish Lake is part of the Koror State Rock Island Southern Lagoon, a UNESCO World Heritage Site. It was once home to 10 to 20 million golden jellyfish, hitting 30 million at its peak in 2005.

While Palau is home to over 50 different marine lakes, Jellyfish Lake is the only one that is currently open to visitors, with all other lakes preserved to ensure conservation.

The jellyfish found in the lake are a rare subspecies known as Mastigias papua etpisoni, and exists only in this marine lake, according to the CRRF representatives.
While the common myth has been that the jellyfish lost their ability to sting over time due to their isolation, representatives from the CRRF state that the species has a sting that is mild and often undetectable.
Though swimming is permitted, scuba diving is highly prohibited.
Between 13m and 15m from the lake surface, a layer of bacteria seals the poisonous dissolved hydrogen sulphide gas in the bottom water layer and prevents it from mixing with the top layer, according to CNN Travel.
Scuba diving, therefore, is not allowed and any item accidentally dropped in the lake is considered lost forever.
Palau has strict laws protecting the ecology of the island. According to Travel+Leisure, those wishing to visit Palau will need to sign an eco-pledge.
Palau's Responsible Tourism Education Act of 2018 states that "reef-toxic sunscreens" will be prohibited from sale or import into the country after Jan 1, 2020. Tourists who bring banned sunscreens to Palau after that date could have them confiscated, while retailers selling the products will face a fine of up to US$1,000 (S$1,356).
Visitors should avoid applying any sunscreen before entering the water as studies conducted in 2017 indicate that high levels of sunscreen concentration had built up in the lake and was harming the declining jellyfish.
Located in the Western Pacific Ocean, Palau is an island country slightly larger than half the size of Singapore. Palau shares maritime boundaries with the Philippines, Indonesia and the Federated States of Micronesia.