Pay attention to that kids' meal the next time you're eating out
In this week's Chubby Hubby, Portly Papa column, Aun Koh says the way it's prepared says a lot about an F&B or hotel establishment. And that includes mini-burgers.
Way back before I had kids, when I was a full-time journalist, one of my many "beats" was the travel sector. High-end hotel and resort companies would regularly invite me (and my wife, who was also a food and travel writer) to check out and write about their newest, coolest properties. 
When you are writing about a place, you need to pay more attention to the details. So I started to develop a list of things to do to test out new properties. One of my favourites – taught to me by another veteran travel journo – was to unscrew one of the light bulbs in the room (usually a desk lamp) and see how long it would take for the staff to correct the problem. 
Another was to order a kids' burger off the room service menu.
I'm a big believer that room service is important. In the same way that you can determine how much a sommelier cares about his customers by testing a restaurant's house (by-the-glass) wines, the care a hotel's F&B team puts into its room service menu (and the prices of said menu) tells you volumes about how they want you, as a guest, to feel.
If the chefs at an establishment feel that feeding smaller people is beneath their skills and talent, then those aren't chefs I would want to support.

Even before I had wee ones, I had theorised that if a hotel's culinary team puts as much care and attention towards what it prepares for kids as it does for adults, then this was a good team, truly exemplifying the idea of hospitality. 
If, however, the kids' menu is trite; if the only options are fried things with chips; if the food is badly cooked and unattractive; if there is nothing fresh on the plate; if, basically, the chefs at an establishment feel that feeding smaller people is beneath their skills and talent, then those aren't chefs I would want to support. 
One way to test this theory, without stuffing myself, was to order a kids' burger, if and whenever one was available. Over the years, I have had some amazing mini-burgers this way, as well as a fair share of disasters. In some places, I would rather take the kids burger over the adult version.
One property that impressed me and my wife incredibly is Point Yamu, Christina Ong's spa resort, located on an isolated part of the Eastern coast of Phuket. We visited when our family was just three (T2 was in mama's tummy at the time). 
Because of its location, one tends to dine mostly on property. And, in fact, after our first meal at the hotel, we happily ate every single meal on property. The food, back then led by genius chef Amanda Gale, was just that good.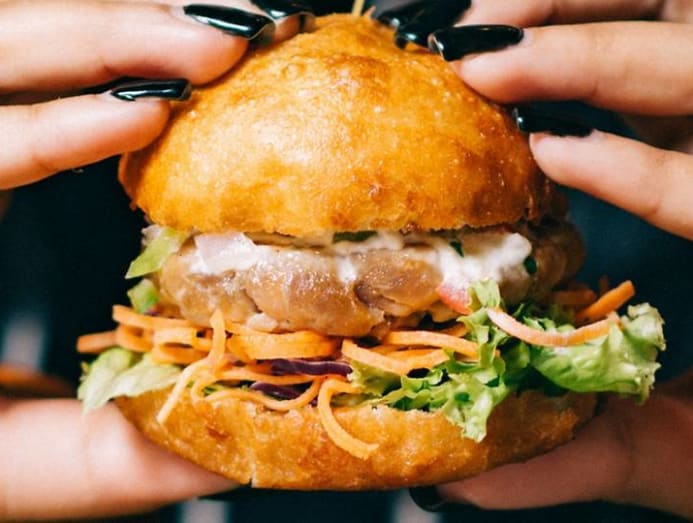 The trip was also the first time T1 experienced the joys of room service. Back then, we were much more vigilant about what we fed our children. So when we saw the kids' menu, we were thrilled. The choices were creative, healthy and very tasty. T1 quickly settled on a favourite item; he asked for the same roast chicken with broccoli and fried rice four times over three and a half days.
Here in Singapore, I'm always scanning menus for kids' items as well. Now, I don't expect all restaurants to cater to children but if you are a casual, family-focused eatery, it would be useful to think about what messages you send to parents and kids alike when you craft your menu. 
A well-thought-out kids' menu tells families that you care, about our children and our (always draining) savings.
One chain that does a good job is Kith. Kids meals here range from S$7.90 to S$9.90. Each dish comes with a choice of watermelon juice or a babyccino, and all of the meals come with a free pen. 
And while most adults may not be particularly excited by a free pen (because, hey, most of us pilfer pens from the office anyway), my son is always thrilled to get his free kiddie pen at Kith. The choices range from pancakes to spaghetti Bolognese – simple stuff but prepared well.
A well-thought-out kids' menu tells families that you care, about our children and our (always draining) savings.

Simple is, when it comes to kids meals, actually better. While we might crave novelty in our meals, most of the times, our kids want to eat things they recognise and love. A great egg fried rice, a delicious mini cheeseburger, et cetera. But simple doesn't mean a chef shouldn't take great care. In fact, it is sometimes the simplest dishes that are the easiest to screw up.
Novelty helps too. A lot of Japanese restaurants achieve this in plating, use flatware that resembles everything from airplanes to trains to cute animals. Shaping the food into the latter is big in the land of the rising sun. 
What I also appreciate about a lot of Japanese kids 'meals is, despite their cartoonish nature, they always offer a variety of foods to try, and almost always try and squeeze in some veg or fruit. 
Too many Western restaurants don't bother trying. Sometimes a children's set is just two things, a fried meat and French fries. And while your little one might love that, as parents, we aspire to have our kids healthy, nutritious meals.
In some restaurants, kids' meals are nice options because the adult portions are just too big. One of our family's favourite cafes, for example, is Casa Rustico, opened by the same lovely couple that own the retro-sensational Casa Tartufo. 
What would be cool is if restaurateurs would let different (regular) customers' kids help create new kids' meals. 

My eldest's favourite dish there is their chicken parmesan. But the portion size is ginourmous. Even for me. I've never been able to finish one order on my own. For the longest time, T1 and I would always split one. T1, creature of habit that he is, is happy to have the chicken parmesan every single time we visit. But I'd rather have something else. 
Rustico has delicious pastas too. In order to appease us both, T1 has been campaigning with Uncle Alex (the owner) to please add a half portion of the chicken parm to their already well-thought-out kids menu. 
That menu also has a half portion of their delicious lasagna, and comes with homemade lemonade and scoop of gelato. It's actually the perfect size for me, and embarrassingly enough, I find myself sometimes asking if it's cool if I order from the mini-me menu. 
Of course, some restaurants that we love serve so many family-friendly items that they really don't need a kids' menu. A good example of this is Standing Sushi Bar, which has become one of my family's go-to weekend lunch spots. 
After a few visits, our kids quickly worked out their favourite items: Our son always asks for the cold Inaniwa udon and an ebi tempura handroll while T2 orders a plate of ebi tempura and some hot soba in soup. They also always ask for watermelon slices to finish off the meal. 
Personally, I'd love to see the owners create a few kids' combos based on their menu items, but that's only because I'm being cheap. I'm well aware that once you call something a kids' meal, there is also a psychological price cap on what you can charge, or rather what customers will be willing to pay.
Maybe I'll get T1 and T2 to start campaigning with the uncle and auntie who own this place too. Actually, what would be cool, and this applies to any family-friendly joint, is if restaurateurs would let different (regular) customers' kids help create new kids' meals. Keep the ones that are popular and drop the ones that aren't. Kind of like crowd-sourcing but for children's menus. I bet kids and parents alike would be into that. I know mine would.