Sea views, flowing streams and a great workout: A day hike in Hong Kong's New Territories
If you think Hong Kong's only good for eating and shopping, this hike through the Plover Cove Country Park will make you think again.
HONG KONG: It's billed as the city that never sleeps, and a popular holiday destination for Singaporeans to pursue two of their favourite pastimes: Eating and shopping.
But Hong Kong has so much more to offer than just dim sum, wanton mee and great bargains for designer wear. About 40 per cent of Hong Kong is designated as country parks for the purposes of nature conservation, countryside recreation and outdoor education, and the resulting expanse of greenery is a nature lover's dream come true.
Just an hour's journey out of the city proper is the Plover Cove Country Park, located in north-east New Territories and one of the most under-populated, pristine parts of Hong Kong. And a hike through the park – enjoying the waterfalls and gorgeous sea views, exploring ancient Hakka villages and getting an intensive workout in the process – makes a great day trip out of the city, especially when the crowds of people thronging the streets get too much to bear.
Don't expect the eight-hour trek to be a walk in the park but the unforgettable experience with views all the way to mainland China is well worth it.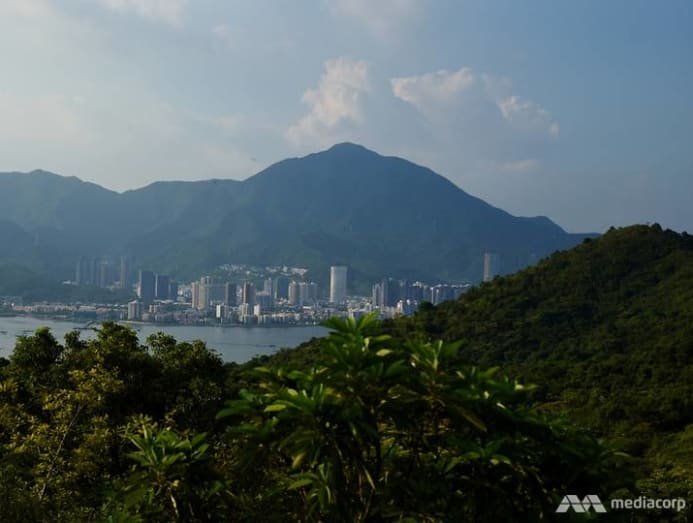 PLOVER COVE COUNTRY PARK: BRIDE'S POOL NATURE TRAIL TO LAI CHI WO
Duration: About seven to eight hours 
Difficulty: The hike is characterised as moderate - it has mild rugged natural trails in the first half and level paths in the latter, with no retreat point accessible by vehicle. 
BEGINNING YOUR JOURNEY
It's about an hour's taxi ride from Central to Tai Po Market MTR station, the gathering point for those keen to explore the park and where I met my guide, Frankie, at 8.30am. The Recommended Geopark Guide has about seven years' experience guiding trekkers through Hong Kong's Great Outdoors and – as I soon learnt – a knack for sussing out the best photo spots and rest stops.
From Tai Po, we took a short taxi ride to where the journey began: Bride's Pool Nature Trail – marked by a small wooden sign, and the sound of rushing water from the nearby Bride's Pool waterfall. Folk legend has it that a bride was passing by in a sedan chair on her way to meet her groom when one of her carriers slipped. The bride tumbled into the swelling river, where she was washed down the waterfall and drowned in her heavy, extravagant wedding dress.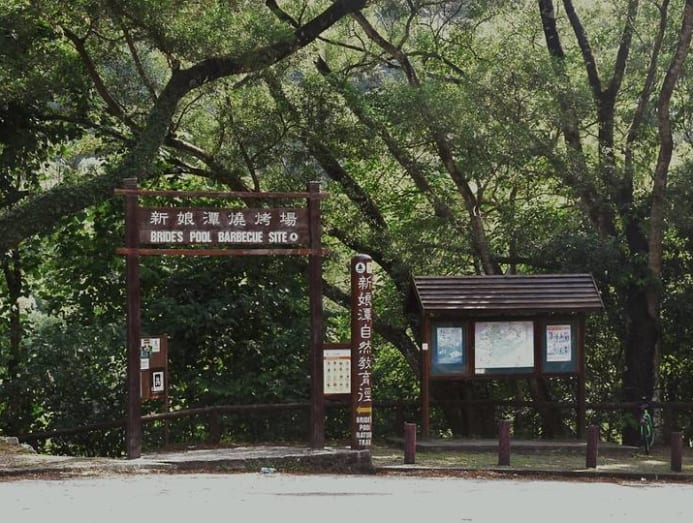 And indeed, rushing water was an integral part to the rest of our journey. Think gushing streams, rolling brooks – which we had to cross by hopping from rock to rock – and the sound of waves crashing on the sand. And here's the bonus: The Bride's Pool waterfall is visible from the barbecue site just near the entrance of the trail. But if you want to get a close-up – and some amazing photos – follow the marked signs, a short distance from the Mirror Pool waterfall.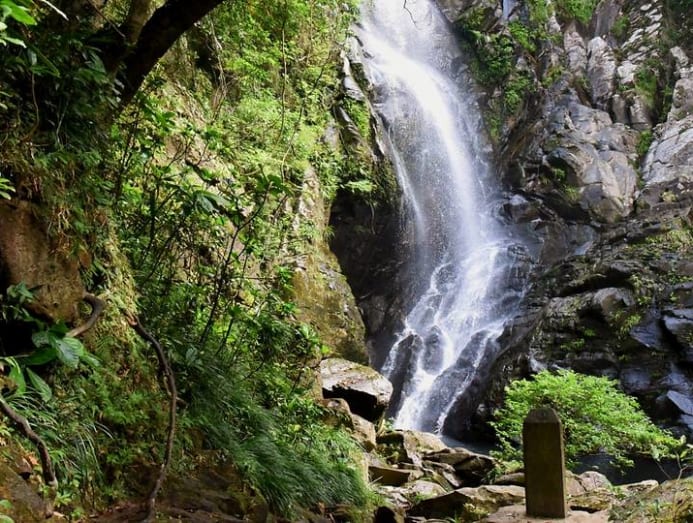 A MULTITUDE OF EXPERIENCES
Those happy to spend an afternoon picnicking by the waterfall can stop here. But if you're looking for an adventure, you've barely scratched the surface. Retrace your steps away from the pool and hike for 45 minutes to the small village of Wu Kau Tang. Set amid the forest and large expanses of fields, this tiny hamlet has about 10 to 20 villagers, and it's hard to imagine their peaceful existence just an hour's ride away from the city. Most villagers, according to Frankie, migrated to Europe years ago, and the few that remain make a living farming and running small tuckshops catering to hikers on the road.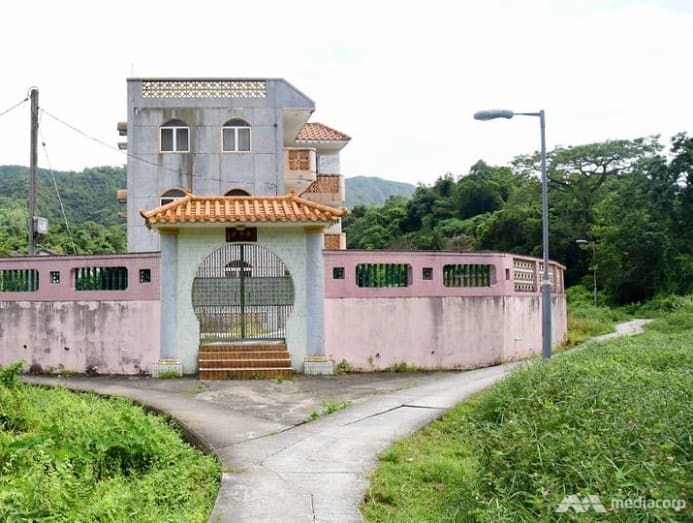 We're soon en route to another village, following in the footsteps of villagers commuting from Wu Kau Tang to our next stop, Sam A. The ancient trail linking both villages will take at least two hours to hike, and forms the main bulk of the journey.
It is not easy: Parts of the trail can be rocky, and you may have to trek uphill for extended periods of time. There are also no proper rest stops along the way, and taking a break could literally mean stopping by the side of the trail to gulp down some water and catch your breath before soldiering on. 
But there are also highlights. You'll see remnants of ancient Hakka villages like abandoned traditional houses, terraces and ancient bridges that villagers used in their commute.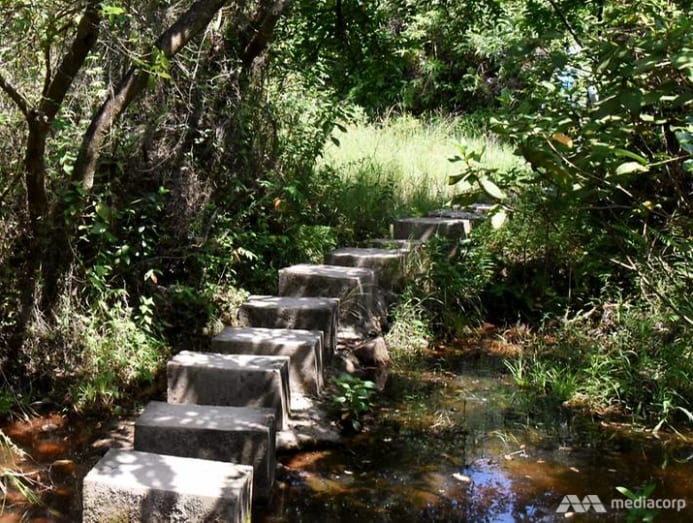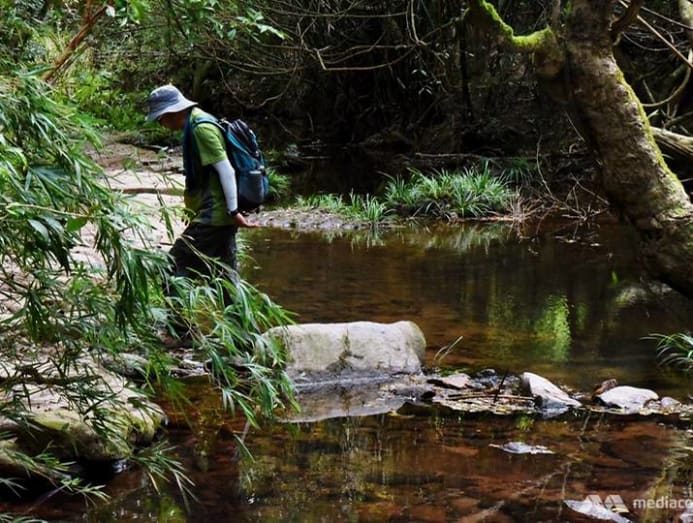 There is also a multitude of different nature experiences one could encounter: One minute, you could be walking along a straight paved path through fields of crops, and the next, gingerly crossing flowing streams by hopping from stone to stone. And before you know it, you've reached Sam A village – just in time for lunch!
The village restaurant is run by an old couple who serve traditional Hakka dishes like fried oyster pancakes and stuffed tofu. But it may not be open every day, so pack some sandwiches just in case.
ENJOYING THE VIEWS
It's just past noon – if you've started bright and early like we did – and hiking in the heat of Hong Kong in October can be exhausting. But press on, and the gorgeous views are just another 45 minutes away. We're now hiking from Sam A village to Lai Chi Wo – the end point of our hike, and the largest of seven villages in the area.
The 400-year-old traditional Hakka village's name literally translates to "lychee cove" in Mandarin, and is a designated site of Special Science Interest. It's the only place, according to Frankie, where we can find rare mangroves and seagrass species. There are also many spectacular geological features like fault systems and an abundance of igneous and sedimentary rocks.
It's a pleasant – if slightly hot – experience walking along the coastline path, with the sea on one side and greenery on the other. Follow the path, and you'll reach the village entrance, marked by this sign.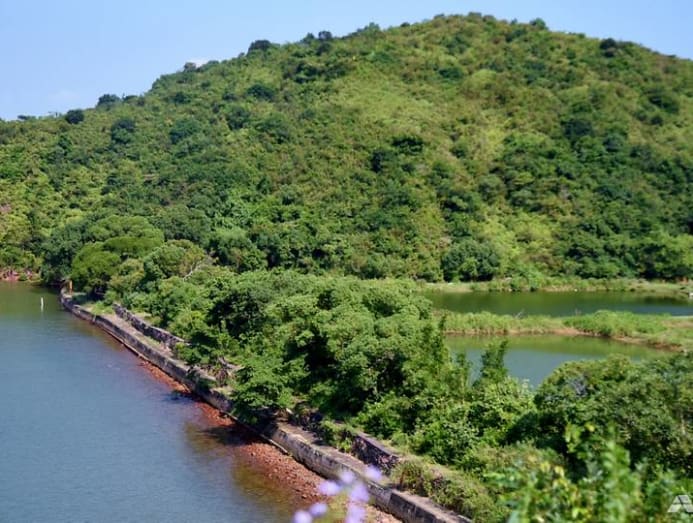 Climb the stairs at the village entrance, take a breather at the shaded pavilion at the top, and enjoy the view. This is a slice of Hong Kong that you would never imagine existed.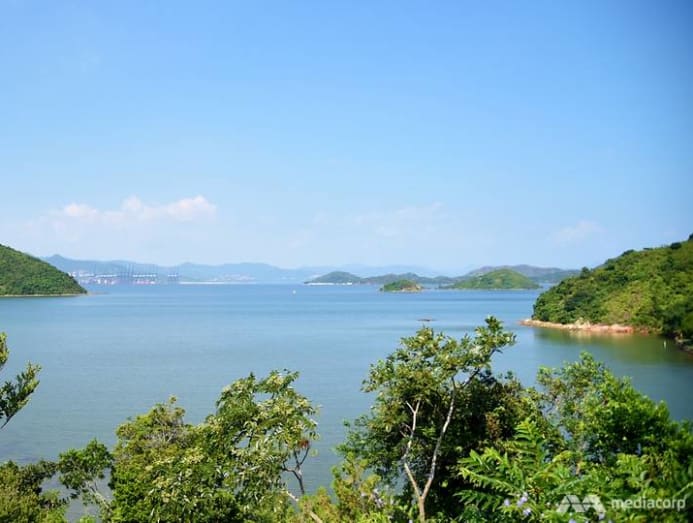 In Lai Chi Wo's heyday, more than a thousand clansmen lived in the village. But today, that number has dwindled to just a handful of people and a few sleepy dogs. After hours of seeing nothing but nature, it's a good change exploring the narrow streets of the walled village.
IS IT WORTH IT?
You've taken in the sights and explored the narrow streets of Lai Chi Wo, but the journey's far from over. Now, it's time for the hike back. On Sundays and public holidays, a ferry service runs from Lai Chi Wo to Ma Liu Shui Pier, which is a 15-minute walk from University MTR station. For a one-way fare of HK$50 (S$9), the one-and-a-half-hour-long boat ride is a good chance to experience the beautiful scenery by sea. But on all other days, the only way out is to hike back to Wu Kau Tang, no mean feat when you're already exhausted and covered in sweat.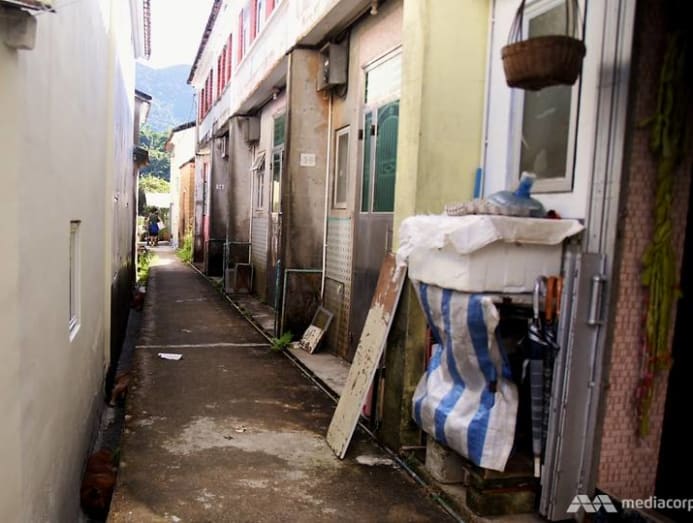 There are two choices: Hike back the way you came in, or take the short-cut route, which will still take about two hours. The path is marked, but the signs can be confusing especially for tourists not familiar with the various village names, which is why it's recommended to do these hikes with an experienced guide.
It was, without a doubt, exhausting and possibly the most difficult part of the journey. Much of the path was uphill, and I had to pause frequently to catch my breath. The path is also not always shaded, which means at times, you'll have to bear the full brunt of the sun.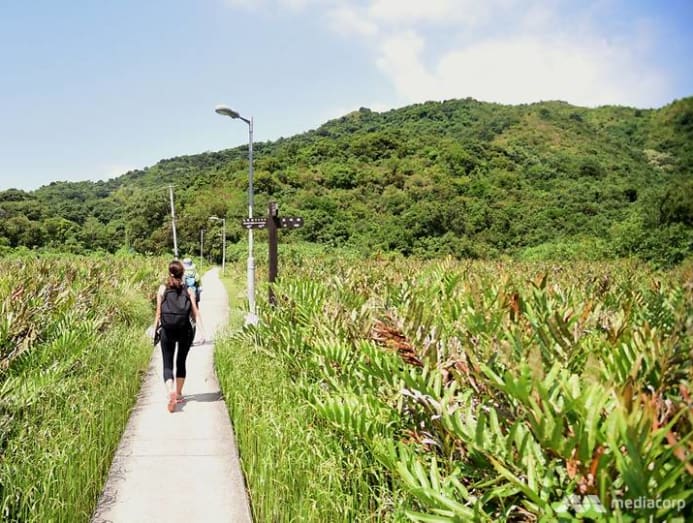 Given all this, you may wonder if the hike is really worth your time. Here's what you get to experience in the process:  
Trekking through shaded bamboo groves and across streams, hearing nothing but flowing water and the sound of your own footsteps as you make your way along the path.
Following in the footsteps of the ancient Hakka people as they make their way from village to village, and exploring the narrow streets of the traditional villages.
Getting completely away from the crowds of people thronging the city – and getting a really good workout in the process.
Just don't forget your sunblock and water.