A Singaporean Spielberg? The challenges of turning interest in films into a viable career
While more opportunities are emerging in filmmaking in Singapore, there are still hurdles to overcome in turning passion for the craft into a job. Genevieve Loh finds out more.
SINGAPORE: When Nur Amirah Hakim was a child, movies were simply a source of entertainment and she had no idea that she would eventually pursue a career in filmmaking.
The first films she remembers watching were by the late Yasmin Ahmad on the Suria channel over the weekends.
"Back then, they were just funny and I had a very shallow understanding of the films," said the 20-year-old.
Over time, though, the entertainment value developed into more of serious passion and she decided to see if she could turn that passion into a career.
"Re-learning and truly understanding the meaning of Yasmin Ahmad's films and her main intent, her portraits of people and her documentation of the human condition really made me want to pursue film and tell heart-warming stories of love and life," she said.
Now in her third year at Ngee Ann Polytechnic, the Film Sound Video (FSV) student is hoping to follow in the footsteps of the likes of Anthony Chen and Boo Junfeng, who graduated from the school to go on to become award-winning filmmakers.
Amirah is just one of many Singaporeans ready to develop a future in the cinematic arts.
Leonard Yip, senior lecturer at Ngee Ann Polytechnic's School of Film & Media Studies, said there has been a general increase in applications for the FSV diploma course over the past 10-12 years. Part of the reason for this is that most people have a device on which they can shoot movies, and with the rise of new and varied distribution pathways, there are far more platforms on which their work can be seen, he said.
"Facebook, Youtube, Netflix and Amazon have provided ways for filmmakers and content creators to distribute content and make filmmaking more viable and films more accessible. Technology has enabled films to be made even with your mobile phones. And that's really exciting! I do believe (the internet) will empower our filmmakers and content creators even more."
A further source of inspiration may be that local filmmakers are increasingly making waves internationally, said filmmaker Wee Li Lin, who teaches screenwriting at National Technological University's School of Art Design and Media.
"I think the success of Singaporean filmmakers such as Anthony (Chen) is a big contributing factor as well as a growing appetite and appreciation for Singapore made content. I feel people want to be part of the excitement and risk taking that goes into making films," said Wee.
As well as more demand for formal qualifications in filmmaking, there is also anecdotal evidence that more people are interested in testing their skills in an arena which could be the stepping stone to bigger and better things.
Last year, the second edition of the Movie Makers Short Film Competition – a contest organised by MM2 entertainment, Cathay Organisation and Fox Networks Group (FNG) - saw entries almost double from the 2015 inaugural contest. And last month, organisers saw a staggering 1,209 entries submitted for Project Lapis Sagu, a film contest on cultural diversity spearheaded by the Ministry of Communications and Information (MCI).
TURNING PASSION FOR FILMMAKING INTO A CAREER?
But while more people are interested in filmmaking, how realistic is to convert that into a job – especially in Singapore, where the film market is small and the industry is still developing?
Director of Objectifs Centre For Photography and Filmmaking and the producer of Ilo Ilo Yuni Hadi said that while it may seem that there is plenty of work available, the reality is more complex.
"The barriers of entry to making films have been lowered in our age of digital filmmaking. Industry players and entertainment platforms are interested in content and there's a flurry to create and put things out there," she said. "The truth is having a career in film, especially independent films, is harder than ever because it hardly fits into the tone and format that people are looking at these days. Having a long and solid career in cinema requires commitment to the craft and it is only with time will we see who the greats are that will emerge from Singapore."
Indeed, carving out a career in Singapore or anywhere else in the world has never been easy, said Ngee Ann Poly's Yip. But at least in Singapore, things are moving in the right direction for those looking to convert their passion into a paying prospect.
"Financial support is ... critical and the Info-communications Media Development Authority of Singapore and the Singapore Film Commission have provided significant support to filmmakers over the years. Non-governmental organisations have also increasingly been supportive of our filmmakers," he said.
Accessing that financial support brings its own challenges. Film directors are typically hired on the strength of their track record, making it very difficult for aspiring newcomers to get a foothold in the industry. The advice from experts is to build up a portfolio of work to attract potential producers and investors.
At tertiary institutions like Ngee Ann Polytechnic, students get a helping hand to build up that essential body of work - the Honour Film Initiative, in partnership with Honour (Singapore), allows third year film students to make a short film with a theme of "Honouring the Invisible People of Singapore". They receive funding of up to S$5,000 per film, which are later screened to thousands of secondary school students.
"This imbues values through the curriculum, gives them a sense of pride in reaching a national audience and relieves them of a financial burden in making films which earlier cohorts had," said Yip.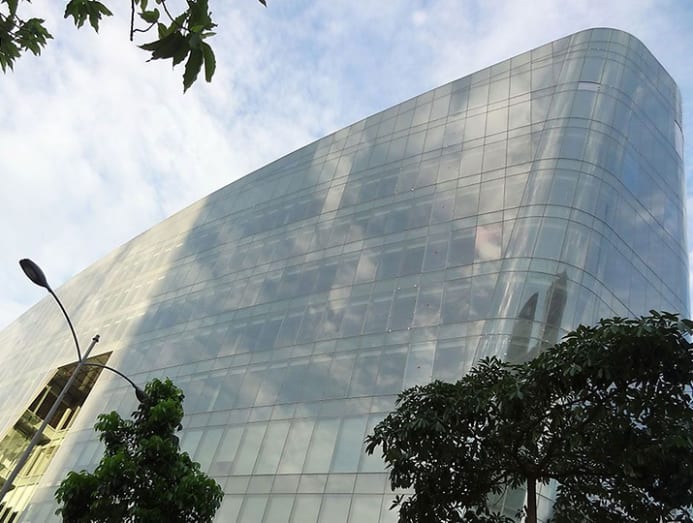 The Sandcrawler, Lucasfilm's Singapore campus (Photo: www.lucasfilm.com)
A GROWING ECOSYSTEM IN SINGAPORE
Although challenges remain to forging a career in the film industry, more opportunities are opening up in Singapore. Lucasfilm opened its first Singapore studio in 2005, since when it has expanded its presence here, shifting into a new, 22,500 square metre regional headquarters at Fusionopolis View in 2014.
In the same year, Infinite Studios, which offers production services via soundstages and back-lot facilities, post-production, visual effects, animation and distribution for the international film and TV industry opened here. Besides working with local and regional large-scale television productions, it has also serviced the likes of Hollywood films Agent 47 and Equals which were filmed in Singapore on their soundstages.
Also in 2014, mm2 Asia made its debut on the Singapore Exchange, becoming the first local film production company to achieve this. The company covers the entire filmmaking process, including securing financing, production and distribution.
The net result of all this is a movie making ecosystem which offers opportunities, said Wee Li Lin.
"I do see more people taking on filmmaking as a career and some people are doing it mid-career, meaning leaving their industry and going into the film industry," she said.
"It is encouraging to see some of these individuals steadily making their mark in various departments such as art, post, tech crew, visual effects and, of course, in directing and writing as well."