What causes balding?
Here are the facts and myths about hair loss, and the solutions to prevent the thinning problem.
SINGAPORE: The average human is blessed with about 100,000 hair follicles to ensure we have a good head of hair. Like all cells, these follicles have a cycle. In work mode, they produce hair for about two to six years; when they rest (which goes on for several months), this is the shedding period during which you lose 50 to 100 strands of hair per day – no big deal as the follicles are not all on the same cycle. It does become a problem, however, when these cycles get disrupted. Weak follicles give lousy renewal, or worse, a barren pate.
CAN BALDING BE REVERSED?
That depends on the roots (the follicles), but if they die, tough. Prevention is better than cure applies here. Ditto getting better results if you arrest the problem earlier rather than dealing with it only when it has advanced.
NOT JUST A MALE THING
True, there is no gender exclusivity on baldness – it affects approximately 35 million men, globally, and about 21 million women. Blame it on hormones. Both men and women (although to a lesser degree) produce testosterone. Testosterone is not what kills hair follicles, but it does make another hormone Dihydrotestosterone (DHT) that disrupts the follicle cycle.
Balding seems more apparent in men because of the way it manifests. In men, it begins above both temples, receding with time to form an M shape; hair thins at the crown progressively (which is why you can lose 50 per cent of your hair) until you see partial or complete baldness. For women, said Kim Fong, chief trichologist at Svenson Hair Singapore, the production of the female hormone, estrogens, helps to prevent a "total baldness" effect; women's pattern baldness tends to show itself with overall hair thinning.
NO AGE DIVIDE
Hair loss affects both young and old. The Belgravia centre, one UK's leading hair loss clinics treats patients as young as 16, and shared that 40 per cent of men have noticeable hair loss by age 35, 65 per cent by age 60, and 80 per cent by age 80.
Fong also pointed out hormonal changes during menopause can cause a thinning problem for women. Dips in female hormones and the rise of androgens (male hormones) can cause certain percentage of hair follicles to atrophy and produce weaker hair until the follicle collapses, and then ceases to produce hair.
TWO KINDS OF BALDIES
True. One in 100 people suffer from alopecia areata that stems from auto-immune disease; reversible once the root cause has been identified and appropriate treatment is done, said Fong. But more common are those who have androgenetic alopecia. "It is a genetic hair condition where the DHT hormone affects hair roots, causing hair follicles to miniaturise leading to atrophy and eventually irreversible baldness," she added.
MORE THAN JUST GENES, BALDING IS A 21ST CENTURY DISEASE
True. You can blame your thinning problem on poor gene pool, but a leading cause of premature hair loss is stress. This is particularly worrying because it affects everybody, young and old, male or female. Late nights, poor diets and stress can disrupt hormonal balances as well as poor blood circulation in scalps, all of which can lead to hair loss, Fong pointed out.
SEE A TRICHOLOGIST ONLY WHEN YOU SEE A BALD SPOT
False. Schedule a visit with the trichologist as you will a dentist: Once a year at least to make sure things are in order. Fong explained: "Very often people do not know there is an underlying problem that is attacking hair follicles constantly even when there is no excessive hair fall seen… treatment should start as early as the 20s to prevent or slow down the process of follicle miniaturisation before it's too late."
The scalp diagnostic tools used by trichologists are now also more advanced. For example, the recent In-Depth Hair Analysis (IDHA) technology allows the calculation of the number of hairs in each follicle unit; comparing in percentage a follicle's work and rest rate, as well as the thickness of hair. This allows for a more accurate diagnosis and effectiveness of a treatment.
WASHING YOUR HAIR TOO OFTEN OR NOT ENOUGH CAN CAUSE HAIR LOSS
Absolutely true. Too much and it strips scalp of natural oils needed for a healthy scalp; not enough and it may cause a build-up of oils in follicles to prevent hair growth, said Fong.
Leo Leong, managing director of Glamour Salon System, agrees. He said you should wash your hair according to your needs. For example those who work out actively need to wash their hair daily, while those with dry scalp conditions need only to wash their hair on alternate days.
Both agree using the right shampoo – one that cleans the scalp, not just hair – is crucial to maintain a healthy head. Leong said: "Avoid using harsh and strong shampoos on a regular basis as this will take away too much moisture not only from the hair but also from the scalp. Only a healthy balanced scalp can produce healthy strong hair."
HAIR PRODUCTS LIKE WAX, GELS, HAIRSPRAYS CAUSE HAIR LOSS
False. They are only a problem if you do not wash them off properly as most of these products, Leong explained, have "plastic resins and waxes that will stick to the scalp and clog the follicle openings and harden, making them very difficult to remove. " Do go for for scalp treatments at least twice a month, to remove the build-up.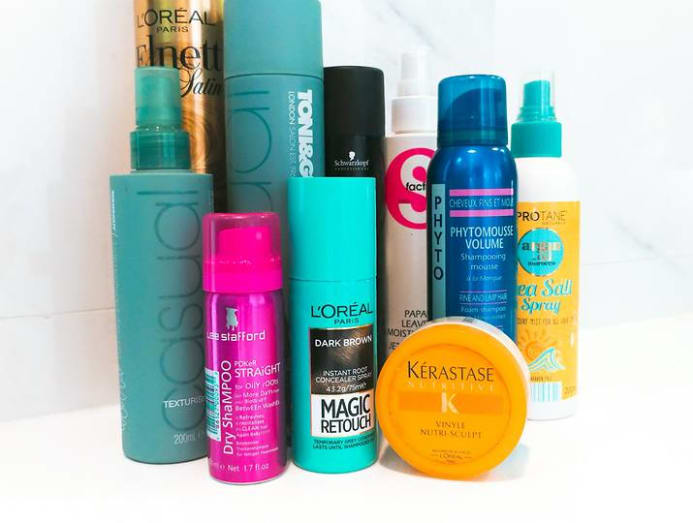 CHEMICAL TREATMENTS LIKE DYEING OR PERMING CAUSE HAIR LOSS
True, if the chemicals are in contact with the scalp often, the follicles and scalp can be irritated. Leong reminded that it is good to do a scalp detox treatment after every chemical treatment to remove chemical residues from the head and replenish the moisture lost.
Note that too frequent chemical treatments as with unprotected heat styling can weaken the condition of hair causing them to break midway in the hair strands and also make hair look thinner.
REGULAR BRUSHING OF THE HAIR AND SCALP WILL STOP BALDING
Brushing will not stop balding itself but the scalp stimulation does increase blood flow to the follicle to promote better hair growth, said senior educator at Kerastase Paris, Kate Lim. It has the added benefit too of spreading out natural oils to hair tips, to make hair look more luscious and healthy.
Leong also added that brushing your scalp and hair before washing aids the cleansing process since it helps to loosen the dirt from hair and scalp.
Do use a natural bristle brush and do not over-brush – 100 strokes is one too many, "twice a day on dry hair, gentle strokes" is enough according to Lim. Just like how over-brushing teeth may cause gums to bleed, combing hair too vigorously stresses scalp and hair fibres, and can cause hair loss and split ends.