Zoe Tay's words of wisdom at age 50
Advice from the award-winning queen of local entertainment include how to survive a cutthroat entertainment industry, celebrity friendships and match-making your son with an A-list Mediacorp star.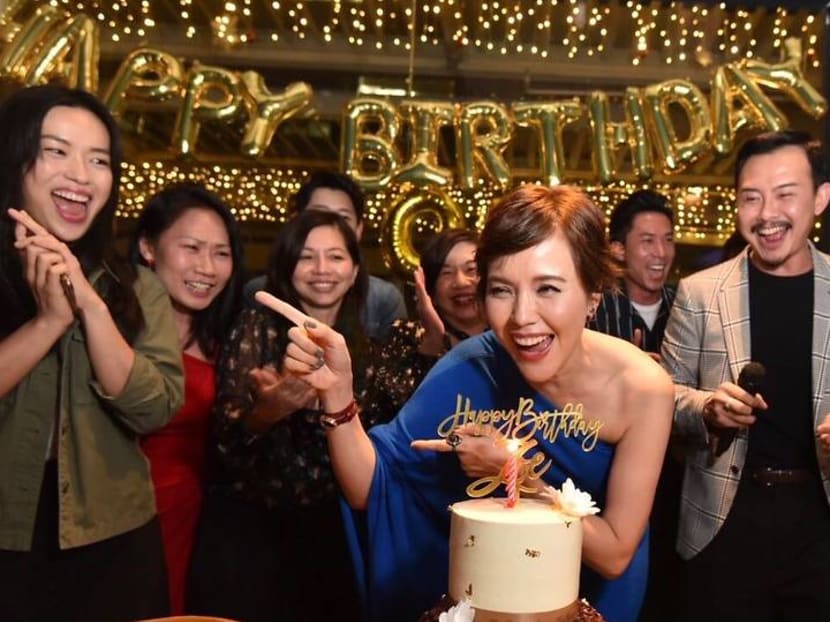 SINGAPORE: Proving that age is just a number, Singapore veteran actress Zoe Tay celebrated her big 5-0 in style with friends and colleagues on Wednesday night (Jan 3), a week before her actual birthday.
Tay, dubbed the undisputed queen of local entertainment, was surrounded by a small group of Mediacorp's A-listers past and present who were all on hand to celebrate television's iconic "Ah Jie" (big sister). Among those on the guest list were Aileen Tan, Pan Ling Ling, Chen Xiuhuan, Bryan Wong, Chen Shu Cheng and Zhu Hou Ren, alongside next-generation stars Desmond Tan, Felicia Chin, Romeo Tan and Rebecca Lim. 
While many actresses from the 1980s and 1990s have retreated from the spotlight over the years, the model-turned-actress, who won the first Star Search talent competition in 1988, has consistently stood the test of time, both in style and substance.
Was it as effortless as Tay has made it look over the years? Here are some life lessons from the older, wiser, but still fabulous Zoe Tay - including how to survive a cut-throat entertainment industry, celebrity friendships and match-making her son with an A-list Mediacorp star. 

ON PERSEVERING DESPITE DOUBT
"That 20-year-old girl had no idea what she was getting herself into when she joined Star Search in 1988. I really joined the competition only because some friends told me it was a good way to further my modelling career and expand my opportunities. So when I actually won the Star Search, I started to panic. What was I supposed to do with a three-year acting contract? 
During the first year, I was so depressed because I felt that I didn't have any results to show, nor did I perform well compared to the other contestants. I was so down, I wanted to ask my boss to transfer me to another department to be an assistant producer. I was quite the boyish girl that was always running about and I thought that would have suited me better. But the bosses disagreed and look what happened."
ON THE ADVICE SHE'D GIVE HER 20-YEAR-OLD SELF 
"Keep it real. Be yourself. Learn from your mistakes. You should not give up and be happy with whatever chances given to you. You may not be the best all the time, but you should give it a hundred per cent. I know it's very tiring and difficult. And it even gets depressing sometimes. But you have to believe that after today, tomorrow will be better. You may not get the best roles, neither will you (always) get the jobs you want to do. But that is the process that will make you become a better you."
ON BEING A STRICT BUT FUN MUM
"I'm 70 per cent strict mum and 30 per cent crazy mother."
ON THE TYPE OF GIRL SHE WOULD LIKE HER SON TO DATE
"I was chatting with my eldest son - who is a teenager now - about the type of girl he looks for in a girlfriend. I suggested examples like Aunty Ling Ling (actress Pan Ling Ling) or Aunty Vivian (host Vivian Lai) - both friends that my kids know well. He replied, 'Ugh! You've got to be kidding!' When I suggested myself, his reply was 'Mummy? No way!' 
So I asked him: 'How about Rebecca (Lim)?' and he immediately nodded his head with a smile. And that's when I told him: 'Good taste, mummy also approves!'"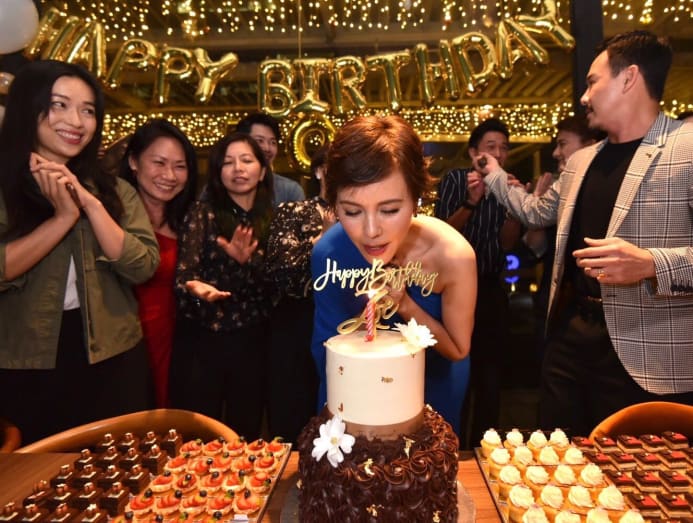 ON NOT HAVING REGRETS
"Even though I started having a relationship and family much later in life, I found the right man and have three lovely kids so no, there are no regrets. Although it's a bit tiring to take care of them at this age. My kids are mischievous … and I'm still running around after them!"
ON LASTING FRIENDSHIPS IN THE ENTERTAINMENT INDUSTRY
"(Over the years), I've learnt that not all friendships are lasting. And that you cannot force people to be friends with you. Chemistry and communication between friends are very important. Because of my job, I don't really have time to make a lot of friends so most of them are from the industry. And I'm very lucky to have met and made a lot of good friends here. I find that to keep friendships strong and lasting, respect and confidentiality are most important."
ON ADVICE FOR THE NEXT GENERATION OF LOCAL ACTORS
"I would say that there were a lot of things in my life that were very unpredictable. I realised that if you never try, you never know. So my advice is - don't ever say no."
ON THE NEXT FIFTY YEARS
"I'll be enjoying (them), that's my wish! I'm really looking forward (to what comes next). It's not the end, you know. I've been in this industry for 30 years and I feel that I've not tried a lot of other different roles. I'm open to trying any role."