Dirt cheap today, will mao shan wang durians get scarce next year as China muscles in?
Malaysia's durian glut has led to even the premium mao shan wang hitting a low of S$10 a kg, but the good times may soon be over, as programme Talking Point finds out
SINGAPORE: By 3.30pm, a sizeable crowd of senior citizens had gathered at one durian stall in Tampines and was starting to swell.
A brief silence descended as a stall employee addressed them. "We are giving out the free durians at 4pm. Within 20 minutes, please finish eating. If you cannot finish, please take away the durians," she announced, to cheers and claps from the senior citizens who had all been earlier issued Pioneer Generation stickers to qualify for the free fruit.
Sam Fruit Trading is one of a handful of durian sellers in Singapore and Malaysia that have been giving away stock for free, thanks to a glut of Malaysian durians that has driven prices to a 20-year low.
In fact, this was the stall's second giveaway in as many weeks, with over 1,000 kg of durians distributed for free at each session.  
But with this cheap run expected to come to an end next week as Johor's durian supply runs out, and China muscling into the market for the mao shan wang variety, are the days of cheap premium durians over?

The programme Talking Point asked this question following weeks in which mao shan wang durians hit a price low of S$10 a kg, down from the usual S$28 to S$35. The 'red prawn', D13 and D24 varieties dropped to just S$6, down from an average of S$15.
So far this year, Singapore has imported 8,900 tonnes of fresh and chilled durians – about six million durians. Almost all came from neighbouring Malaysia.
But the good times could be over sooner than we think.
CHINA'S DURIAN HUNGER
Over at Durian Fullhouse, managing director Siah Wee Cheong is happy that sales have doubled thanks to the low prices and promotional efforts. But, he said, production has already started to drop by about 70 to 80 percent.
"Johor should run out of durians in the next week or so," he predicted. "In fact, prices have been rising since last week."
Durians will still be in supply, albeit more limited, from Pahang and the Genting Highlands region. He projected that mao shan wang could hit S$28 to S$30 per kg come August, or about three times more than the low reported earlier this month.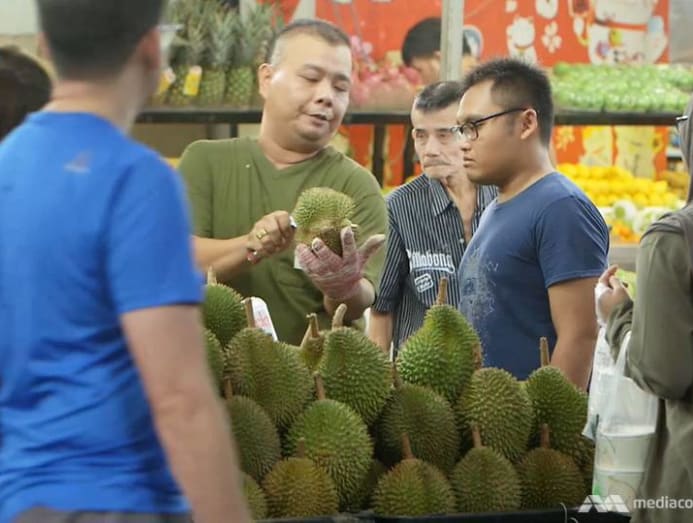 And then, there is the expectation that Malaysia will receive approval to export fresh whole mao shan wang durians to China next year.
Demand is so high there that each kilogramme of the fruit (which currently can only be imported in pulp, frozen or chilled form) can reportedly cost more than S$100.
What would this mean for durian lovers in Singapore?
Mr Lim See Kiang, owner of a durian plantation in Tangkak, Johor, didn't think this would affect supply to across the Causeway. "Johor is closer to Singapore, so it's more convenient to export durians there," he said.
Durians from Thailand would be more likely to better survive the transport to China, he added. Thai durians, in general, are harvested just before they ripen.
Malaysian durians, however, are collected only after they ripen and drop. "That means we have to be quick," said Mr Lim. "If the market is too far away, the flavours would have changed and the durians would not be fresh."
WATCH: At a durian farm (2:29)
The best time to collect durians is between 4am and 6am, which is when the most durians will drop from the tree, he said. "In the afternoon, the durian's flavour will be worse." Plantations would then need to rush these durians to Singapore within three hours.
When the Talking Point crew was at his 80-acre plantation, Mr Lim's workers had 5 tonnes of durians harvested and packed in crates by 7.30am, for loading on a truck headed for Singapore.
FREE STILL GOOD
In recent weeks, durian lovers have had the weather in Johor to thank for bountiful harvests, which have led to rock-bottom prices – the lowest in 20 years, suppliers say – on both sides of the Causeway.
This year's harvest is not only larger but also better in terms of quality compared to previous years, said Mr Lim, primarily because of the ideal weather.
Trees require just the right combination of sun, rain and perfect timing for a good yield: A dry spell of 15 to 20 days to initiate flowering, high rainfall for a month until the flowers mature, another 10 days of dry spell for pollination, and 45 days of rainfall for better fruit growth.
"The rainfall and weather (this year) is optimal, which is to say, we didn't have rain all the time," he said. Which means that just because some sellers have been giving away durians for free, it doesn't mean they are of bad quality, he noted.
Now that Johor's harvest is running out, durians coming from Pahang and the Genting Highlands region will likely cost more, but quality should be even better.
Said Durian Fullhouse's Mr Siah: "There are a few mountains around the Genting Highlands, and every mountain produces different flavours. The higher the mountain, the thicker the flavour."
Watch this episode of Talking Point here. New episodes every Thursday at 9.30pm on Mediacorp Channel 5.