Commentary: Overturning of Roe v Wade abortion decision has upended the US midterm elections
With the US Supreme Court overturning the right to abortion, will Roe v Wade unify Democrats or rally Republicans in the November midterm elections? Yale-NUS College's Trisha Craig says domestic politics could affect America's role as global leader in uncertain times.
SINGAPORE: Abortion in the United States has been a highly partisan issue for decades. Politically, it is often summed up by where one stands on the landmark 1973 Roe v Wade decision that guaranteed a constitutional right to abortion.
So when the US Supreme Court – with a conservative majority of judges - overturned Roe v Wade on Jun 24 after a draft decision was leaked in May, it was expected but no less stunning.
Americans on both sides of the issue have celebrated or protested the ruling in the streets. But the next fight will be at the midterm elections in November.
Shortly after the ruling, US President Joe Biden declared that "Roe is on the ballot". US voters will decide on all 435 seats in the House of Representatives and about a third of the 100 seats in the Senate.
Will Roe v Wade unify the Democrats or rally the Republicans in the lead up to the polls? And why would this matter to anyone outside of the United States?
While the midterms typically focus on domestic issues, changes in the House or Senate - where the Democrats have only tiny majorities – may leave Congress in a political gridlock. This could hamper Biden's ability to enact policy and appoint key leaders, against a global backdrop of uncertainty and turmoil.
DEMOCRATS SEE RULING AS ATTACK ON PERSONAL FREEDOM
Unsurprisingly, Democrats see the Supreme Court decision as an attack on personal freedom, privacy and women's rights.
And it's easy to see why: Conservative justice Clarence Thomas has already argued that other decisions that rely on the same privacy arguments as Roe v Wade should be reconsidered, including the right to birth control, same-sex relations and same-sex marriage.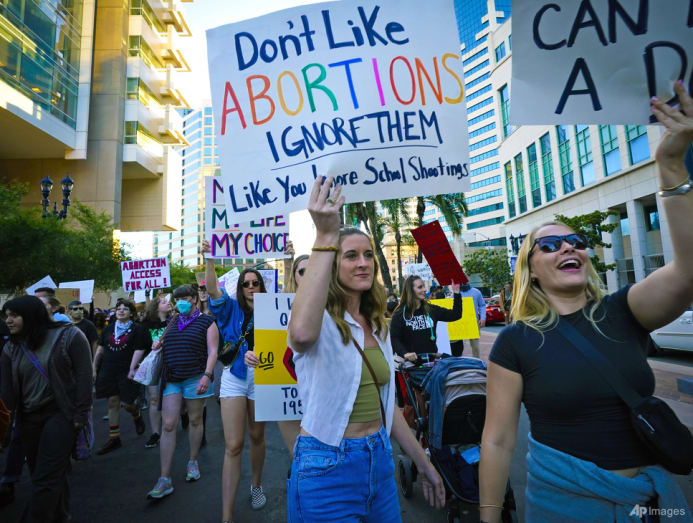 With Biden's approval rating disastrously low and the sitting president's party historically losing seats at the midterms, Democrats likely see this as a rallying cry to get voters to turn out. Democrats (80 per cent) are more than twice as likely to favour legal abortion as Republicans (38 per cent) according to a Pew Research Center study.
Biden recently predicted a Republican-controlled Congress would pass a nationwide abortion ban. More elected Democrats could instead mean enough votes to codify abortion protections into law, or at least allow an exception to its filibuster rule (a process that allows a Senate minority to prevent passage of a bill with sufficient votes to succeed) to do so.
There are other signs that this might be a wake-up call for Democrat voters. Various national polls in the wake of the ruling put the Democrats up several percentage points over the Republicans, with 78 per cent saying the decision made them more likely to vote in November.
But could such optimism be overblown? Not only has there not been a meaningful uptick in voters' views of Biden, but many Democrat lawmakers have complained that the White House has not shown leadership on the issue. Democratic infighting on tactics and blame as well as an unpopular president could hurt.
REPUBLICANS RE-ENERGISED BEHIND DONALD TRUMP
Overturning Roe v Wade will also energise the Republican voter base. With the abortion rights struck down at the national level, control is now turned over to individual states.
Already, thirteen "red" states (that mainly vote for the Republican Party) had "trigger" laws that curtailed or severely restricted abortion automatically upon the Supreme Court's decision. Other states across the South and Midwest are expected to do so in the near term.
Republicans need only point to this ruling to show why voters need to keep (or put) Republicans in office and sign in state legislature to the same effect.
This could also solidify former president Donald Trump's influence among Republican voters. Trump has already taken credit for the ruling, saying he "delivered everything as promised" including the appointments of three of the five Supreme Court justices who overturned Roe v Wade.
But even Trump has privately fretted that the ruling may not be a good thing for Republican candidates, according to the New York Times. He believed the decision would anger suburban women, a key demographic which has leaned towards the Democrats in recent election cycles and is viewed as crucial to winning elections.
A poll conducted immediately after the Supreme Court decision showed that two-thirds of suburban women and 70 per cent of white, university-educated women opposed the ruling.
FRACTIOUS DOMESTIC POLITICS A DISTRACTION TO AMERICAN GLOBAL LEADERSHIP
Even if Democrat voters come out in force in November, they will make little practical difference in predominantly "blue" or "red" states. Roe v Wade will influence electoral outcomes in races that are very tight and extremely competitive, such as Senate seats in Pennsylvania, Georgia, Ohio and possibly Wisconsin.
Despite the general support for abortion rights and related issues, voters are more concerned about issues like inflation (which has hit a 40-year high), fears of a recession and rising crime, all of which are weak points for the Democrats. Any anger over abortion rights could well pale in comparison to economic and security issues if voters do not see progress on those.
Ultimately, this is yet another reminder of how deeply divided Americans and American politics are. And fractious politics at home may be seen globally as a distraction from the US' international role in these tumultuous times.
Viewed from abroad, the US appears to be a policy outlier at a time when the world is moving toward greater reproductive freedom and remains baffled by American gun laws.
Other recent Supreme Court rulings, including one hampering the ability of the Environmental Protection Agency to regulate carbon emissions in a blow to Biden's climate policy, make it difficult for the US to lead internationally.
Such issues are ones that also deeply divide Americans and will not be settled with one election. With policy continuity between administrations in doubt, the US' ability to be as effective internationally is as well. 
Trisha Craig is Vice President (Engagement) and Senior Lecturer of Social Sciences (Global Affairs) at Yale-NUS College. The views and opinions expressed herein are those of the author and do not represent the views and opinions of Yale-NUS College or any of its subsidiaries or affiliates.