Commentary: Is sustainable fuel a chance for 'dirty' flight industry to decarbonise?
As the world gets back on its feet, countries are relooking how we can be safer and more sustainable in all areas of our economy. The hard-to-abate aviation sector can get in on this green movement too, says Thorsten Lange, Executive Vice President of Renewable Aviation at Neste.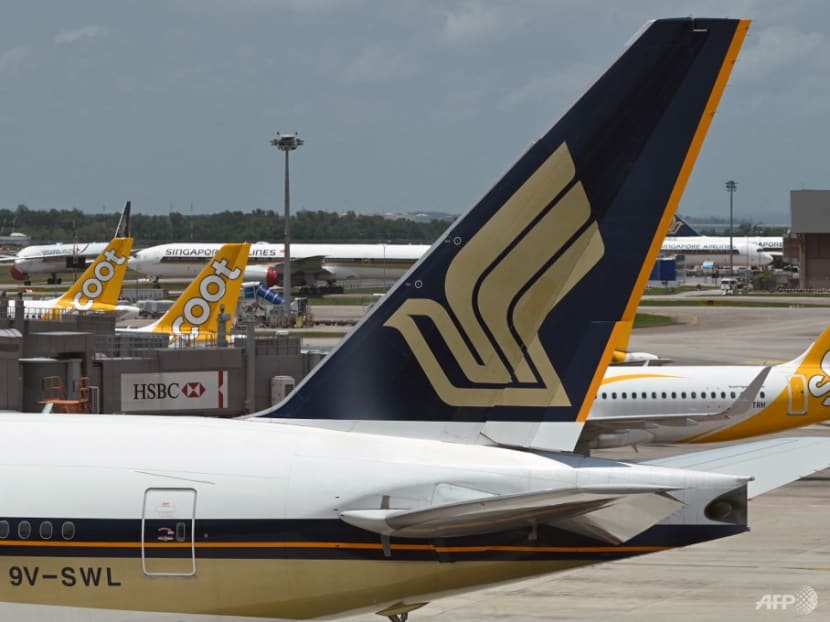 SINGAPORE: The world is slowly finding its feet again, after two years of global lockdowns and restrictions. This was evident at the recent Singapore Airshow 2022, which I physically attended after two years of virtual meetings with colleagues, partners and potential customers. 
Face-to-face interactions cannot be compared to that on video screens, so the mood was understandably joyous.
As the aviation industry recovers from the pandemic, the airshow was heavily focused on sustainability. Singapore, as the host nation, has also taken steps towards sustainable air travel.
It announced the start of a one-year pilot programme, which will see the use of Sustainable Aviation Fuel (SAF) provided by Neste in cooperation with ExxonMobil in all Singapore Airlines and Scoot flights starting from the end of July this year.
As air travel begins to build up again, why is there a need to look at how air travel has impacted the climate, and what is the most immediate solution to it?
CLIMATE CHANGE'S IMPACT ON THE AVIATION INDUSTRY
Aviation accounts for 2 to 3 per cent of all carbon dioxide (CO2) emissions globally, but looking at the non-CO2 climate effects, like the heat-trapping vapour trails planes leave in their wake, the total climate impact of aviation might be three times higher.
With scientists warning that the earth's temperature could reach a dangerous threshold as soon as 2027, action needs to be taken now.
The sector's contribution to global warming is set to grow, as air passenger travel showed signs of recovery in 2021 compared to 2020, according to the International Air Transport Association.
Air-freight volume has been steadily increasing year on year in Singapore since the pandemic hit in 2020. With Singapore set to reopen borders to fully vaccinated travellers and streamline COVID-19 regulations, the volume of air travel is also set to grow.
There is a growing awareness that this is an opportunity for change towards a more sustainable future. Greener ways of powering planes through hydrogen fuels and electricity are being explored. 
However, these are still in their infancy, with many years of testing and challenges ahead. Although hydrogen fuel is promising, there are several disadvantages, such as requiring significantly more storage and currently only having 1 per cent of global supply be produced using renewable energy.
Similarly, fully electric planes are still years away from being fully commercially viable, as the constraints of lithium-ion batteries have limited them to only short distance flights. With this in mind, we cannot afford to wait and will need to embrace more immediate solutions. 
The most viable one available today is SAF, which is the single largest way to reduce greenhouse gas (GHG) emissions in aviation. It is essentially a biofuel produced from sustainable raw materials, such as used cooking oil, animal fat from food industry waste or even municipal waste. 
Green hydrogen: Listen to CNA's The Climate Conversations discuss how this abundant element has much potential to become an alternative energy source:
Used in its neat form, it can reduce greenhouse gas emissions (GHG) by up to 80 per cent during its full lifecycle compared to conventional fossil-based jet fuel. It has been thoroughly tested based on the standards set by the American Society for Testing and Materials to meet the same quality, performance and safety requirements as conventional jet fuel.
As SAF is a ready-made drop-in solution, it can be used in existing aircraft without disruption to current infrastructure. SAF has been around since 2008, and although it saw limited use previously due to the higher cost relative to fossil jet fuels, it has since been used in more than 370,000 flights. 
Many airlines have pledged to use sustainable aviation fuel to reduce their emissions. In Asia, ANA, Japan Airlines and Cathay Pacific have committed to the target of 10 per cent SAF by 2030. 
NOT A SILVER BULLET BUT A KEY STRATEGY
However, the widespread adoption of SAF comes with its own set of challenges. COVID-19 effectively brought air travel to a standstill in the past two years, greatly affecting the aviation industry. 
The production of SAF is currently limited as market certainty regarding demand has been lacking. Though production is ramping up around the globe, SAF today is more expensive than conventional jet fuel, especially as it is in the early stages of commercialisation.
According to the International Civil Aviation Organization, there are already several refineries worldwide developing projects to invest in SAF production capacity.
However, actual production on a commercial scale is still limited, with Neste currently the largest global producer sourcing renewable raw materials from locations such as Shanghai and Melbourne. 
Nonetheless, with cost being continuously driven down due to ramping production capacity and economies of scale, the question should not be "what will it cost" but rather "what will be the cost if we don't use it".
So these are early days yet and there are some challenges in terms of cost and scaling up. But is it a matter of time before SAF becomes a necessity? Will its cost be priced into air tickets?
It will eventually have to be. This can happen through regulations that make use of SAF mandatory (as is now happening in Europe), or it can, at least initially, happen through voluntary contributions from end customers, as increasingly many corporations are now choosing to do.
Government support for the adoption of SAF is equally important. It will be key to helping to promote demand and the use of SAF, and we are seeing encouraging developments outside of Europe. For instance, New Zealand will develop a mandate for the use of SAF in 2022, and Japan's aviation industry targets to use 10 per cent SAF by 2030. 
Singapore is making considerable headway in tackling the carbon-intensive maritime and aviation industries. The Civil Aviation Authority of Singapore announced during the Singapore Air Show in February that it is developing a Singapore Sustainable Air Hub Blueprint by 2023 to guide Singapore's efforts in adopting SAF.
A GREENER FUTURE OF AVIATION
Responsibility for building a sustainable future for aviation does not lie with just big corporations and governments. Governments can introduce mandates to speed up the use of SAF and aircraft manufacturers are looking into jet engines that are more efficient and work better with SAF.
Consumers can make the conscious decision to support airlines that have voluntarily started using SAF, even if that means higher ticket prices.
The clock is ticking as the world transitions towards a sustainable post-pandemic future. As we emerge from COVID-19, vaccinated and resilient, travel will return with a vengeance, and we will get a chance to see loved ones and enjoy what other cities have to offer. 
While the aviation industry does what it can to get back on its feet, everyone can pitch in so that our much-awaited flights of fancy can be a little less guilty and a lot more green.
Thorsten Lange is the Executive Vice President for Neste's Renewable Aviation business unit at Neste.