Commentary: Why shouldn't stay-home dads who sacrificed career prospects get alimony?
We still see men and women playing traditional roles and have some way to go towards embracing true gender equality, says Tracy Lee.
SINGAPORE: What two things do Madonna, Kelly Clarkson and Janet Jackson have in common?
You'd have guessed the first one right — they're famous American female pop stars. The second is that when they divorced, their ex-husbands got alimony from them. (Jackson married three times and she sought alimony from her latest ex-husband, a billionaire).
For some, the idea of a man being financially supported by a woman can rankle but this is becoming a much more common reality, right here in Singapore too.
The Women's Charter was recently amended to minimise the impact of divorce on children. Chiefly, the courts can better enforce child access orders so the parent who cares for the kids cannot deny their former spouses access to them.
Importantly, to reduce prior acrimony when couples decide to split, a new option to divorce by mutual agreement has been included.
But one rousing issue brought up by Member of Parliament (PAP-Nee Soon) Carrie Tan was to rename the Women's Charter to the Family Charter - to reflect the intention to protect men, women and children in the context of family matters and tackle the erroneous impression of a zero-sum approach that only protects women's interests.
Ms Tan also suggested that husbands should be entitled to apply for maintenance from their wives if the distribution of labour favoured the latter's earning potential, building on the 2016 amendments providing space for incapacitated husbands to do so.
In the fight for gender equality, she laid out how as a general principle, the rights, privileges, powers, capacities, duties and liabilities of a married woman should be the same as those of a married man.
Just as society today probably expects men to shoulder household responsibilities to free women up to pursue their career expectations, such husbands who take on most care responsibilities and support their wives in earning more should be able to access maintenance post-divorce. There should be no double standards, she emphasised.
And yet the amendments to the Women's Charter were passed without these two suggestions incorporated.
Minister of State for Social and Family Development Sun Xueling in response said: "Renaming it now may send the wrong signal that we have somehow arrived, and so the proposal to rename the Charter should be for the future, when the social status and expectations of men and women have indeed become equal."
One can't help but feel it was a missed opportunity to set new norms of gender equality.
WOMEN'S CHARTER HAS COME A LONG WAY
The Women's Charter has come a long way since it was first set up in 1961 to safeguard the interests of women and children in a patriarchal society where men clearly had the upper hand.
In the Singapore of the 1950s, only about 20 per cent of women aged above 15 were economically active; 90 per cent of women had secondary education or less; the few who did work held mostly low-paying jobs, the rest were expected to become stay-home mums after getting married and relied on their husbands to provide for them.
As such, women were extremely financially vulnerable in the event of divorce — most had sacrificed their career prospects for their husbands'.
Women also tended to fight for custody of children but supporting them became precarious when many were not educated, had little work experience and no rainy-day funds. Strong legislation was thus necessary to address such a gendered power imbalance.
But times have changed and women in Singapore have made tremendous progress since. If trends in the US show almost four in 10 households have wives earning more than their husbands are indicative, this situation might be more commonplace than we think.
WOMEN AS WAGE EARNERS
The education gender gap has narrowed — among women aged 55 and above in 2020, 22.8 per cent had post-secondary or higher qualifications, compared with 34 per cent for men.
For 35- to 44-year-olds, the corresponding figures were 81.8 per cent for women and 84.2 per cent for men. For 25- to 34-year-olds, it was 90.2 per cent for women and 90 per cent for men.
Singapore's resident female employment rate has gone from 54 per cent in 2010 to 57.7 per cent in 2020. Women hold 45.6 per cent of all PMET positions here. Singapore's adjusted gender pay gap narrowed from 8.8 per cent in 2002 to 4.3 per cent in 2020.
As more women are better educated and move into demanding careers, family dynamics change too - 52.5 per cent of married households see both husband and wife holding down jobs, while women are the sole breadwinners in 7.4 per cent of married households.
A trend that will continue is the rise in the number of stay-home dads – this number increased from 700 in 2007, to 1,500 in 2017.
What all this means is traditional care-giving roles may be shifting.
ENTER THE ALIMONY QUESTION
Alimony, or maintenance, is the legal obligation a spouse has to provide financial support to the other spouse during, and even after a marriage, if the other spouse lacks the financial means to get back on their feet and support children after a divorce.
For example, for the spouse who was the homemaker and had given up a career to focus on the family, post-divorce, finding employment immediately is likely to be harder, especially if they had been out of the workforce for years.
Factors affecting the quantum of the alimony awarded today include the financial needs of the claimant, the income, earning capacity, age, property ownership, financial resources, financial needs, standard of living enjoyed during the marriage, the duration of the marriage, the contributions made by each party towards the family and the care of the children, and any physical or mental disabilities of the claimant.
This shift to acknowledge just how gender-neutral parenting or care-giving has become is a long time coming, and omitting a further step to allow husbands to apply for alimony was a missed opportunity.
In 2016 the Women's Charter was amended to create a "narrow exception" for an "incapacitated husband" (defined as being unable to earn a living or support himself due to a physical or mental disability) to seek maintenance from his wife.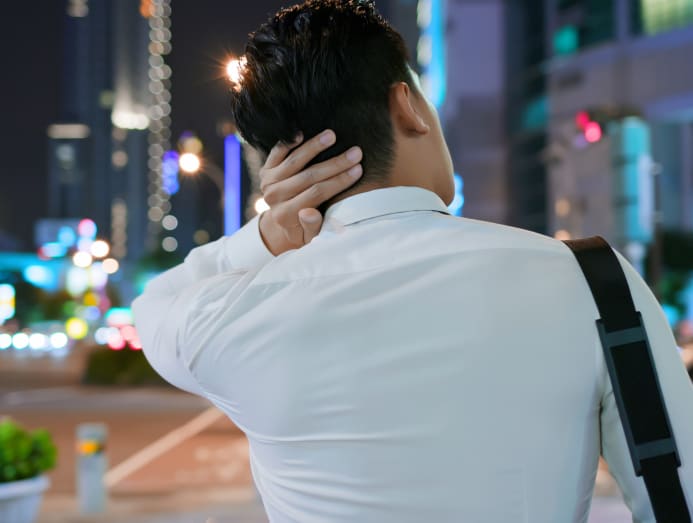 The implication being that any married man of sound mind and body is expected to have a paying job and to support the family, if not, at the very least, himself.
And the woman, even if she were in a well-paying job, or didn't work during marriage even though she was not "incapacitated", should be entitled to alimony should the marriage end.
This just goes to show how deeply-entrenched traditional gender roles are — and not just here.
OUTDATED IDEAS BASED ON GENDER
In 1979, the US Supreme Court had already ruled that alimony is gender neutral.
But four decades on, as the female lawyer representing Kelly Clarkson in her high-profile divorce recently told New York Times: "What amazes me is that many bright and sophisticated women don't realise they will have to pay (spousal support)".
At the same time, people took to Twitter to call the soon-to-be-ex "Mr Clarkson" a "parasite" and an "opportunist", and to ask "what kind of man sues his ex-wife for spousal support when he's perfectly capable of maintaining his lifestyle on his own salary?".
A study by the Institute of Policy released in 2020 is another example.
The majority of the 21 stay-at-home fathers interviewed said they had chosen to stay home to raise their children due to the difficulty of finding jobs or having a spouse who earned more than them.
But they experienced "acute stigma" in the form of derisive comments from their parents-in-law, who accused them of "wasting" their potential or "mooching" off their wives.
The study noted there were "powerful cultural scripts" which prevent stay-at-home fathers and their breadwinning partners from embracing their respective roles. It is a pity that the Women's Charter continues to entrench such thinking and a shame that the deeper reasons why we have demurred to make the changes not discussed.
But these dated beliefs extend to women too, some of whom have outdated ideas of what her other half should be earning too.
A survey of 690 singles in Singapore by dating service LunchActually found that 87 per cent of men would date a woman who earns more than them, yet only 39 per cent of women would date a man who earns less than them.
The issue here is this: If women here enjoy equal access to education and career opportunities, why do they still need to date or marry a man who earns more? Why are they implicitly relying on the men to pull in more money?
Does this mean that many modern women still see themselves as the "default person" shouldering the majority of the "traditional" non-financial burdens of relationship maintenance, such as household chores, emotional labour, and parenting?
I for one, would be open to a more gender-equal marriage where my partner supports me up the career ladder and is willing to mop up the hard parts of parenting.
If sadly, a marriage like that ends, the party who sacrificed for the family should be compensated, no different from women who gave up their careers to support husbands in previous generations.
That we feel men should not be entitled to apply for alimony, which the courts will adjudicate, just goes to show how far away from true gender parity we are.
Tracy Lee is a freelance writer based in Singapore who writes about food, travel, fashion and beauty.