Commentary: Asian countries must restrain hawkish AUKUS parties
The AUKUS pact signals renewed interest in shoring up military pacts in the Indo-Pacific. The challenge is whether Asian countries can keep competing powers in check, says Humphrey Hawksley.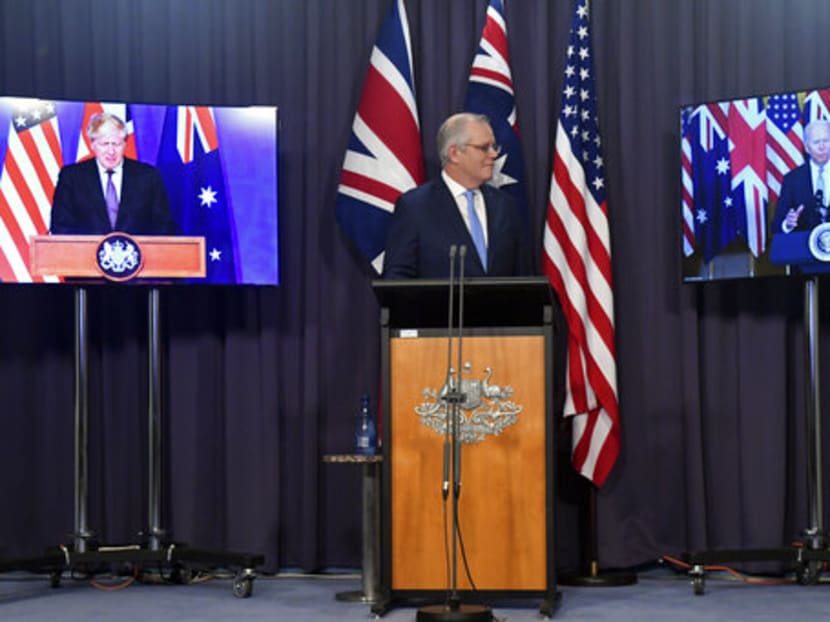 LONDON: Since leaving the European Union last year, the British government has decisively pursued two strands of policy that cement its tilt toward Asia.
Without much fanfare, it has applied to join the Comprehensive and Progressive Agreement for Trans-Pacific Partnership, the Japan-Australia led free-trade grouping with its market of half a billion people over 11 countries. More are likely to join.
And, with many headlines, acrimony and debate, it forged a new alliance with Australia and the United States last week, which revolves around nuclear submarine technology but, in the long term, is about much more.
The submarine element of the clumsily named AUKUS security pact tears up an Australian deal to buy diesel-electric vessels from France and replaces them with nuclear-powered ones built with technology from the US and Britain.
But as the years unfold, the arrangement is expected to extend into the most challenging and sensitive areas of modern defence technology, such as cyber, artificial intelligence, quantum and space.
For this reason, the tri-partite relationship has been dubbed the "forever partnership" and it underpins a number of geopolitical home truths about both Europe and Asia.
REALISATION EUROPE NEEDS ITS OWN SECURITY FORCE
France unleashed fury over being excluded from decision-making on the loss of its the multi-billion dollar submarine contract, taking the unprecedented step of recalling its ambassadors from Canberra and Washington.
But beneath the public anger lies a deeper issue. As in Asia, many European governments are uncomfortable with the prospect of having to choose, Cold War-style, between two powerful adversaries and the implications for European unity going forward. 
Many are making starkly different choices. While global Britain has Brexited and is following the US' lead in pivoting towards Asia, President Emmanuel Macron has long argued that Europe needs to shape its own "strategic autonomy" not reliant on the US.
The AUKUS pact adds ammunition to France's argument. Within France's corridors of power, it is seen as evidence that America cannot be trusted, thus bolstering the need for an independent regional security force.  
LACK OF MILITARY ALLIANCES IN ASIA
For Asia, the pact shows up the region's longstanding unwillingness to establish institutions robust enough to stave off big power hegemony.
Governments with differing political systems have forged an inclusive grouping of shared interests premised on consultation and consensus in a way that could never happen, for example, with the European Union, giving countries the space to advance individual foreign policy interests.
In this respect, ASEAN is one of Asia's most successful regional institutions.
But the disadvantage is that such a grouping is not designed to nor is sufficiently unified to tackle potentially divisive issues driven by more powerful nations.
One example of this is the South China Sea dispute where the militaries of US and China, two outside rival superpowers, are increasingly coming face-to-face in Southeast Asia. While Chinese boats have pushed into disputed waters and militarised islands, the US Pacific Fleet has stepped up freedom of operations there.
In Northeast Asia, democratic Japan and South Korea should have been naturals in leading the creation of a wider, local alliance. But they have not because of unresolved historical World War II grievances.
What should by now be multilateral military alliances that provide a stabilising force against adventurism, expansionism and challenges to the status quo in Asia are mostly bilateral ones that run through Washington.
WHY THE QUAD IS NOT ENOUGH
One resolution was the creation of the Quadrilateral Dialogue, comprising Australia, India, Japan and the US. But hard-nosed defense strategists in Washington recognised its limitations.
India's sense of non-aligned independence coupled with its reliance on arms from Russia could never tie it into a binding arrangement with the rest of the Quad when the chips are down.
Japan still maintains its pacifist constitution, limiting its shoulder-to-shoulder capability with America.
More decades might have allowed time for Asian institutions to strengthen and mature. But, seen through the prism of America, China's aggressiveness – in the South China Sea, against India the Himalayas and in trade with Australia - has added new urgency which needs to be addressed by an arrangement as bullet-proof as the AUKUS pact.
The three AUKUS governments are bound by shared culture, language, values and the formidable Five Eyes intelligence-gathering network which includes Canada and New Zealand.
THE UK'S RETURN TO ASIA
The AUKUS also underscores the UK's serious interests in Indo-Pacific security. The UK's involvement is far from gratuitous and runs much deeper than the sloganeering surrounding post-Brexit global Britain.
For some time, it has been looking for a mechanism to anchor its strategic contribution in Asia and safeguard its post-Brexit trade interests here that complements existing commitments and interests.
The UK is a member of one of the region's few multilateral alliances, the Five Power Defence Arrangements, set up in 1971 with Australia, Malaysia, New Zealand and Singapore. The FPDA's founding aim was to stop conflict around the Malay Peninsula, but appears to have focused in recent years on countering Beijing's South China Sea activities, with exercises there.
Under the FPDA, Britain keeps a naval logistics facility at Sembawang, Singapore, and is now expected to set up a base in Australia for its warships and submarines, giving the Royal Navy a permanent presence in the Indo-Pacific.
In East Asia, the UK retains a responsibility toward Hong Kong until 2047. China's tearing up the treaty with its 2020 National Security Law prompted Britain to offer tens of thousands of visas to Hong Kong residents. Britain is also a signatory to the United Nations command that oversees the 1953 Korean War armistice.
Ironically, France is the only other European power with significant regional interests. They include territory stretching from the Indian Ocean to the South Pacific with 1.5 million French citizens living there.
Despite the public anger, France's military cooperation with both the US and Britain is substantive. French and British aircraft carriers recently conducted joint exercises in the Mediterranean and France will continue to deploy through the Indo-Pacific.
Should open conflict ever break out, there is little doubt it would fight alongside it's English-speaking allies. Within days of anger flaring up, France reinstated its ambassador to Washington, and President Biden pledged US support for France in the Indo-Pacific.
The submarine row has acted as a catalyst to an inevitable strategic shift in the pushback against Chinese expansion.
Asia might not have comparable military and regional institutions. But its nations have a voice far louder and more coherent than during the Cold War. 
It is up to these Indo-Pacific voices to ensure that Australia, the UK, the US and China keep their more hawkish advocates in check and focus on the non-ideological Asian values of boosting trade and creating wealth.
Humphrey Hawksley is a former BBC Asia Correspondent and Beijing Bureau Chief. His latest book is Asian Waters: The Struggle For The Indo-Pacific And The Challenge To American Power.